I recently had a video chat with the founder of WPMU DEV, James Farmer, to ask all about their transition from managing over 100 plugins and themes to focusing on just a few, core products and services. The call was pretty insightful for the rest of us devs out there who are managing smaller plugin businesses. We often ask ourselves – is it worth developing another plugin to add to my portfolio? Wouldn't it be better to focus on building features or marketing the products I already have?
Well, the answer isn't a simple one, but James and his team had some good reasons for making the transition they did, so let's get right into it!.
James – thank you so much for taking this interview. Would you tell me a bit about yourself and how you started WPMU DEV?
Thank you for having me 🙂
So I didn't actually 'start' WPMU DEV, it was my co-founder Andrew Billits who set up the first version as a repository for WordPress Multi User (now Multisite) plugins – but it was the two of us that set it up as a business about a year after that where members could pay $250 a year to get access to all of the cool stuff we were making.
And that was basically it, we were making interesting plugins for Edublogs.org (that I'd started in 2005) and also – under the GPL license of course – for clients… and we wanted to be able to financially support ourselves enough to be able to develop them further and share them with the community… hence WPMU DEV.
At that time I'd just given up working as an editor at theage.com.au to pursue developing websites for people and also see if I could turn Edublogs (and Edublogs Campus, now CampusPress.com) into my own business… and Andrew and I had decided to do it together under the banner of 'Incsub'.
He was the coder, I was the client guy / account manager / kinda-maybe-product-designer (still not sure if I'm one of the) and 'business' person (pretty good joke as I had no experience whatsoever in any sort of business) and things developed from there until we mutually agreed to go our own ways in 2011 and the rest is history!
Let's talk about the "elephant" in the room, how did you guys end up with so many plugins? Were you going after profit, users, popularity?
Well, our original area of expertise was really the multisite plugins niche. We released many plugins for the wide variety of solutions needed in this small ecosystem, and then, later, we had tons of people coming to us for all kinds of use-cases you can imagine.
In many ways, we became known as multisite experts, and it was an easy win for us because we had the knowledge and skill set.
You could say we landed hard into the multisite scene, but we weren't chasing the money – we were chasing our expertise.
You don't do well by asking yourself how you can make more money, but by honing in your area of expertise and what you can really offer to users.Tweet
What were the biggest challenges of dealing with so many plugins? Wasn't your support load overwhelming?
Actually, the issue wasn't the support load. We've always provided great support, and I see it as an opportunity to talk directly with customers, understand their needs, and build the relationship. They will be your customers forever if you provide great support.
In fact, the real problem was the variety of sub-niches we were focusing on. It became too difficult to offer a smorgasbord of plugins that were supposed to work with multisites and also standard WordPress installs.
Subscribe and grab a free copy of our
WordPress Plugin Business Book
Exactly how to create a prosperous WordPress plugin business in the subscription economy.
Share with a friend
Enter your friend's email address. We'll only email them this book, scout's honor.
Thank you for sharing
Awesome - a copy of 'The WordPress Plugin Business Book' was just sent to . Want to help us spread the word even more? Go on, share the book with your friends and colleagues.
Thanks for subscribing!
- we just sent your copy of 'The WordPress Plugin Business Book' to .
Have a typo in your email? click here to edit the email address and send again.
The competition and knowledge that already existed in each product category was so tough that it wasn't really possible for us to build the best product in a space given our size at the time, and even now.
What was the specific reason behind dropping the majority of them and streamlining/focusing on just a few?
Well, we really outgrew multisite plugins, and all the plugins we had created simply didn't match up to leaders in the market. We covered so many areas – events, security, speed – plugins of all kinds – and we couldn't focus on the quality we wanted to deliver in each product.
It was kind of like buying all your clothes at the $2 store (what we have here in Australia) – the clothes are OK – but they aren't everything you'll always need, and there are many better options. We realized our plugins were much the same.
Also, when it came to marketing, there were tons of questions. What should we market when we have everything to offer? Jetpack is also trying to do much of the same thing, and, even though they have Automattic behind them, it's very, very difficult to offer everything and be the service that everyone wants. Most people will only want a few actual features from your service.
One example is that, in our case, we have many users who want to white-label our free products for their agency development, which is something that requires a paid plan – but these users often don't need or want any of our other paid features.
One other important thing to mention is that there are security risks when you have so many plugins. They require a lot of oversight to make sure you're keeping them up to date, managing ongoing bugs and hacks of all kinds in the ecosystem. It becomes increasingly difficult to manage all that risk when you have so many products.
Fortunately, nothing happened in the realm of security, but it often can be a matter of luck, and I don't like to pay with varying degrees of luck when it comes to business.
How did you choose which plugins to focus on? Was the decision profit driven?
The plugins that drove more sales were definitely a factor in the decision making process.
Our most successful plugins before the transition brought in 50-60% of our business, and the other 90 plugins we've stopped building were around 30-40% of our business.
Ironically enough, this also coincided with some of the plugins that we had focused on the most, and these already were some of the best of the group to begin with.
Smush, for example, has been our most popular plugin and the WordPress.org repository has been a hugely beneficial factor in our profitability of that plugin.
How did you actually make the transition? I imagine you would have to reorganize your team, and you might make a few users upset by no longer supporting the products.
Over time the organization has expanded significantly. We haven't let anybody go because of our changing business decisions – we have just redefined existing roles and to focus on what each person can do best.
We've made all the repos public of the plugins we've stopped building, and we offer some support here and there, but the community has taken them over, which is one of the most wonderful things about WordPress, in my opinion – the GPL principles.
The fact that you can build something for free for 99% of users, and the 1% who decide to pay you for your product or service are the ones who give you a fantastic business that lets you keep contributing more to the community.
is Hiring
Senior PHP Developer
Build the core of Freemius' products, services, and APIs and see your direct impact on WordPress plugin and theme businesses.
eCommerce Migrations Specialist
Manage the license migration and product integration process for plugin and theme businesses who are starting to sell with Freemius.
Content Marketer
Share our knowledge through actionable written, visual, and audio content about the best ways to sell plugins and themes.
We try to give back in every way we can, but the support from the community has been what has gotten us here today – and that all comes together on WordPress.org.
At first, I honestly had doubts that WordPress.org would be something sustainable for the long-term.Tweet
I feared it might become another CodeCanyon or ThemeForest, and get taken over or privatized, but it has stood the test of time for now.
Was it more profitable to make the switch in the long-term?
It was far more profitable in the long-term, and our revenue is growing twice as quickly after focusing on the core suite of plugins and services we offer.
To be honest with you, one of the biggest learning lessons we had that helped us make the decision was our experience with the Upfront Theme. We lost a huge amount of time and money investing in this product, and it ended up failing completely.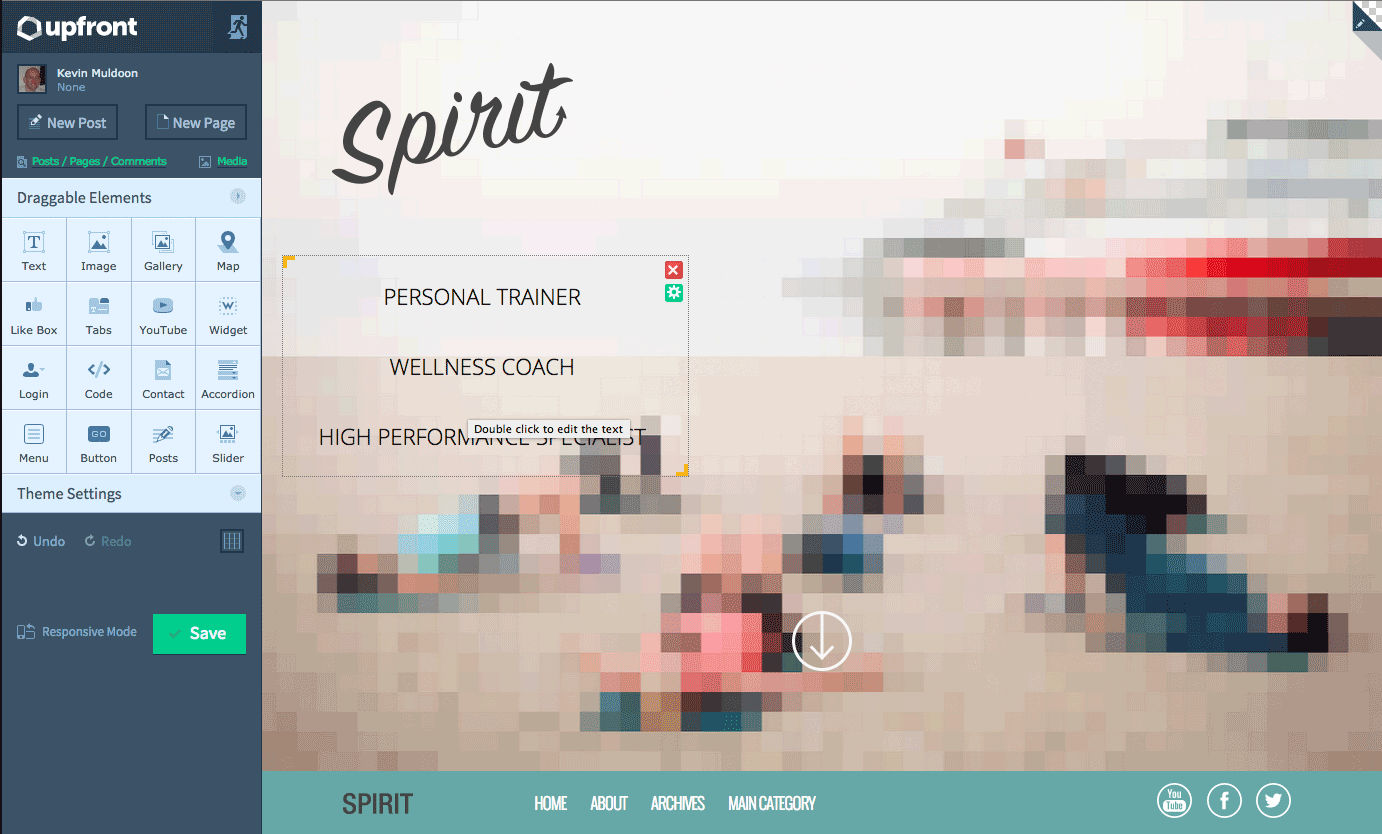 Source: WinningWP
This experience taught us so much about what we're good at, and it gave us the courage to make tough decisions to axe projects that simply aren't working. This courage is what inspired us to redefine our plugin setup and focus on our core – a suite of plugins, managing sites, providing support, and offering great hosting.
Our products are now vastly better than they were before in terms of performance and security, and it allowed us to take our plugins to the next level.
We now genuinely compete with all the big players, and not only directly in their niches, but also as a full-solution for agencies, builders, and users of all kinds. Even now, though, we only dominate a small part of the market relative to our competitors in each product category.
What sets your core plugins apart from the competition?
The UI and UX is something we've spent a lot of time on, especially after the transition to our core products. With a platform like The Hub, UX is critical, and it doesn't have to be super-pretty.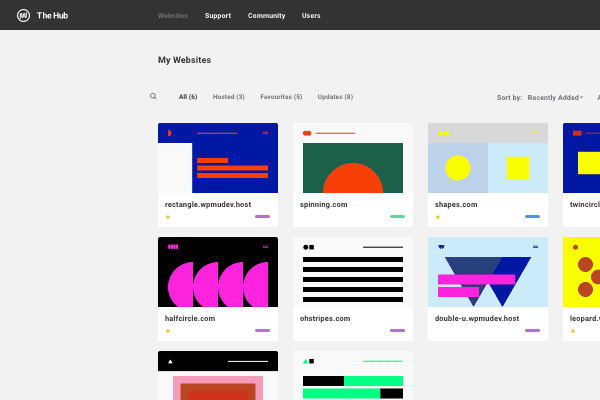 The main thing is that you need to have is the capacity to step back and approach your product as a user. We use testing of all kinds to help us "look over the shoulder" of our users when they're interacting with the product UX.
We also use rapid UX prototyping, where we go step-by-step through each product and quickly make high-quality improvements to the way products work and feel. I really like this kind of fast iteration strategy, and it definitely gives us an edge.
What advice would you have for other folks who are looking to grow their plugin businesses with new products or slim-down their product offerings to a few core products?
Mainly, I would be hesitant to bring on too many new products without thinking through how much time they will take to manage and the profitability that will come from that time.
It's important to have a core strategy that guides your decision making, and what we settled on was becoming a full-service platform for agencies and WordPress builders of all kinds, while avoiding spreading ourselves too thin and focusing on too many in-depth areas of expertise.
Whereas many other businesses that are starting small might take the approach of building incrementally and step-by-step in order to achieve the same end result we did, we had a bit more learning to do from experience, which is the case in every business. However, now you might have a little bit more background about our story that can help you make the difference in your approach.
James – thanks for sharing your journey and lessons-learned. Our readers will definitely find your insights extremely valuable as they plan on how to take their WordPress business to its next stage. How can people find you?
Ace! Happy I could be helpful. You can find me socializing on Twitter via @JamesFarmer.