Just as I was leaving the Freemius + WP Engine Makers Meetup last year at WordCamp US in St. Louis, Founder and CEO of MailPoet, Kim Gjerstad, stopped me at the door and asked to have a chat. I dropped the GoDaddy event I was heading to and spent the next 4 hours having some of the best conversation I've had in a long time. Kim's unique background and experience running MailPoet well positions him to be the subject of our interview today. Let's plugin!
Kim, thanks for joining us. I'm excited to pick your brain about how you've built such a successful newsletter solution for WordPress. But first, let's understand the person behind the product. Can you tell us a bit about your background, where you're from, and what got you into WordPress?
Yikes! Where to begin? I'm a mix of a lot of nationalities! I have a Norwegian father, French Canadian mother, and I was born in California.
My heart beats the Montréal vibe since I grew up there. My formative years as a young adult were shaped by Africa. I spent many years working in the Democratic Republic of Congo in media for the United Nations and in nature conservation.
Today, I settled for the comfortable weather of southern France where I dig hiking, swimming in the Mediterranean after work, and debating society's future with the French.
One of the most interesting things we connected over at WCUS was the fact that we've both spent time living in different parts of Africa – you in the Democratic Republic of Congo and me in Senegal. How has that experience shaped your approach to business and life in general?
The following is full of clichés, be warned. I'm not here to give anyone a life lesson, so bear with me.
You and I are part of the lucky few on this planet. Living in Africa is a daily reminder of this fact, but it sticks with you forever.
Despite tough living conditions for many Africans, I've learned to have a good time in hard places – and simply smile. It's not where you are that matters, it's who you're with.
I guess I've succeeded in life. But everything was favorable to me. I was handed a winning ticket during the draw at birth. Great parents, smart sibling, good education, safe society. Plus, I'm a male, which makes everything easier. 95% of my current life conditions were already set. I just needed to budge the extra 5% of my life. I firmly believe that our lives are dictated by randomness, a concept that Nassim Nicholas Taleb captures brilliantly in Fooled by Randomness.
I urge young adults I meet to ditch a spring break backpacking in Thailand and go live for a year or more in a poor country. Learn the local language, revisit your values. Yes, it's privileged tourism, but if you can do it, there's no reason you shouldn't.
I couldn't agree more. So after all of that, what led you to starting an email plugin + SaaS for WordPress?
After the heart of Africa, I headed to the mecca of technology. I landed in Palo Alto at the end of my twenties to work for a large tech agency. I think they hired me simply out of curiosity. My CV was rather strange.
Personally, I urged to quell my fear that I wasn't adapted any longer to the Western World.
In the US, it's all about hard work, learning fast, and being horizontal. I soaked in the lessons of Silicon Valley. I met plenty of entrepreneurs giving it their best shot. It inspired me to do the same.
At some random party at that time, I met someone who was creating an email plugin for Joomla. I bugged him for a year to do the same, but in WordPress. He finally relented, and we launched MailPoet.
Your company started under a different name, and since then you've gone through a rebranding process. Can you share a few tips about rebranding for developers who are considering changing the face of their product?
We launched in 2011 with the name WYSIJA ("What you send is just awesome"). What a terrible idea.
We quickly changed our name to MailPoet. We got inspired by WordPress' tagline: Code is poetry. Luckily for us, the domain was available for 10 dollars.
In all honesty, we've been average on marketing for far too long. Learn from us: invest in marketing your WordPress business early and consistently.Tweet
Today, I sometimes meet users that proudly say: "I'm a user since it was called WYSIJA!". This makes me smile everytime.
Rebranding for us was easy because the "WYSIJA" wasn't sticky. No one remembered how to spell it or what it meant. We were also still quite new, so we weren't that well known.
The only annoyance? We were stuck with "WYSIJA" in the URL of our plugin repository page. It was a minor trade-off. Eventually, we released version 3 of MailPoet, and we were able to get the slug we wanted on WordPress.org.
A good example of a rebranding gone wrong: ConvertKit tried to rebrand under the name Seva, but backtracked.
In the WordPress space, MailPoet is now one of the leading newsletter solutions, which is a pretty amazing feat considering the technical challenges and stiff competition. What would you say are the top few reasons you were able to become one of the market leaders?
WordPress users simply want to do everything within the context of the admin interface. That's our unique value proposition, and it sticks.
In the years since we launched in 2011, we have seen the emergence of many great players in the email space. This healthy competition has raised the bar in terms of what WordPress users expect.Tweet
Keeping the pace isn't easy. Developing a plugin has many drawbacks vs. a pure SaaS, such as dealing with various PHP versions or limited host resources. Our devs dedicate approximately 10-20% of their time working around capricious WordPress installs.
Where do we stand out compared to other email plugins? We're solving the real issues of WordPress users: sending emails that get delivered to the inbox – every time. Reliability is a silent feature. Admittedly, it takes a team (we're 14) to solve such issues, while many other plugins are indie dev style shops.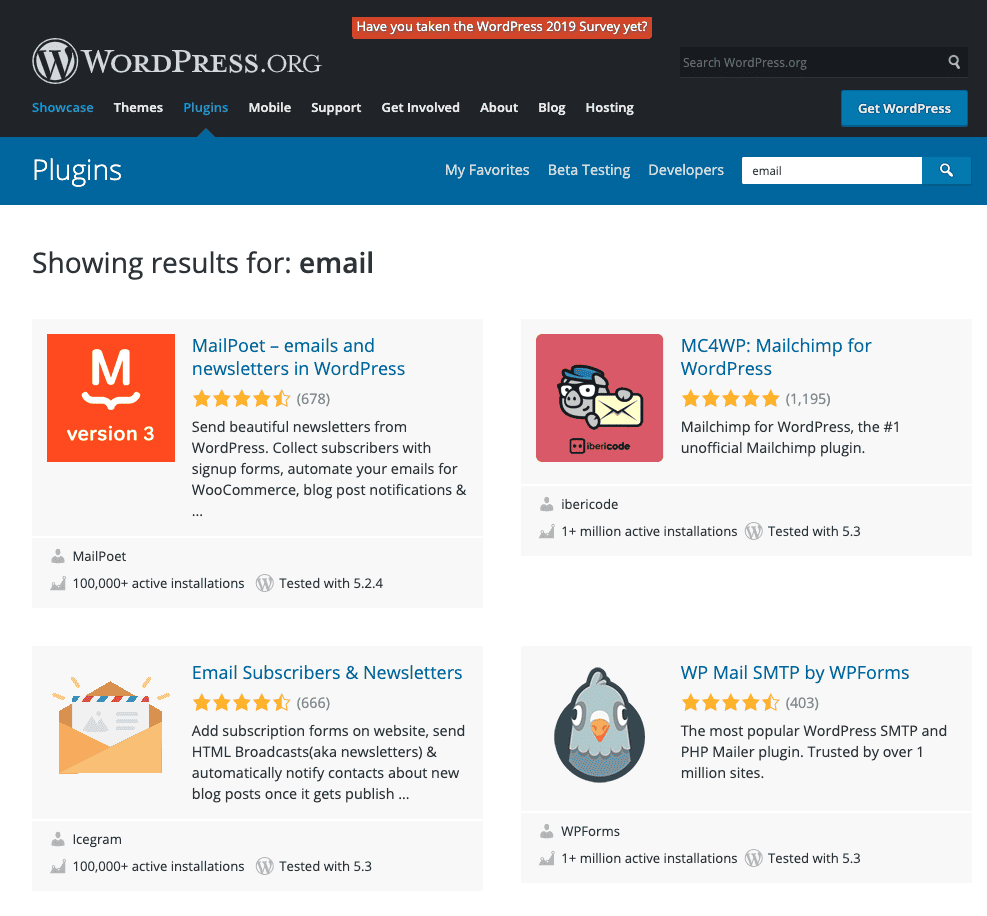 What have been your most successful data-backed marketing strategies you've tested?
In all honesty, we've been average on marketing for far too long. Learn from us: invest in marketing early and consistently.
In all honesty, we've been average on marketing for far too long. Learn from us: invest in marketing your WordPress business early and consistently.Tweet
Our excuse is that with MailPoet being a fairly complex endeavor, most of our energy has been spent on engineering.
As a freemium plugin, we heavily rely on the WordPress.org plugin repository. We make sure every month that we're ranked first in the repository for the keywords that matter. We've rewritten our readme.txt dozens of times. Then, we just make sure all forum posts are answered because it weighs so much in the algorithm.
SEO is a tough game. Google forces you to write your own little knowledge base, à la wikipedia, in order to start ranking properly. It's never been a better time to be a writer because of this. If you're not a natural writer yourself, go hire one and get ready to spend the big bucks because there are very few decent writers in our community. We don't do much AdWords spending, but maybe we should.
Moreover, translating our plugin has been a great vector to growth. We've paid for professional translations from WP Translation since 2016 in a dozen languages.
In terms of other vectors to growth, we currently don't sponsor WordCamps, since the return isn't measurable and the reach is too small. Our free plugin is our gift to the community! We do the occasional ads in newsletters, like wpMail.me.
We recently started offering affiliation, which I suggest you do once you have the time to deal with it. Affiliates require tedious work to ensure your brand is visible and properly showcased. We simply outsourced the bulk of this project to A is for Affiliation. One of the valuable lessons so far is that only 20 affiliates will drive 80% of your conversions.
Recently, we launched The Repository, a weekly community newsletter. Our community abounds with content, but much of it is promotional. We wanted a fresh stab at WordPress news, by bringing in tweets as quotes to generate a conversation. We're only starting now and getting a feeling for the response by the community. It's a newsletter because…we make a newsletter service ourselves!
Subscribe and grab a free copy of our
WordPress Plugin Business Book
Exactly how to create a prosperous WordPress plugin business in the subscription economy.
Share with a friend
Enter your friend's email address. We'll only email them this book, scout's honor.
Thank you for sharing
Awesome - a copy of 'The WordPress Plugin Business Book' was just sent to . Want to help us spread the word even more? Go on, share the book with your friends and colleagues.
Thanks for subscribing!
- we just sent your copy of 'The WordPress Plugin Business Book' to .
Have a typo in your email? click here to edit the email address and send again.
At WordCamp, you mentioned that your team has a 4 day work week. How does that impact productivity, hiring, and the overall motivation of your team?
Working 4 days instead of 5 will slow down production. If you're just starting out, don't do it.
Once your business is sustainable, the 4-day work week will draw talent to your team. Your colleagues will be sick less often, more creative, and just plain happier. It's a strong competitive edge when you recruit.
You can read more about our 4-day work week on our blog.
We talked a bit about how you manage product development goals and that you allow your dev team to pick from a set of features they want to focus on. Do you assign any specific tasks at a given time or do they rotate their work priorities pretty frequently?
Our 7 devs pick whatever they want from our Kanban on Jira. No one owns one part of the code. They're all replaceable, although we want to keep all of them!
Choosing what to prioritize in terms of product development is tough, and it will always be. Our talented Product Manager often bangs his head against the wall when setting quarterly objectives.
At MailPoet, we always mix in a bit of everything:
New features
Improvements to existing features
Refactoring
Bugs
Shop / account management
When we started, online resources on product management were scarce. There wasn't a single book on the topic! It's changed radically since. I've found Intercom's blog to be the best resource. We also like The Product Person newsletter.
Would you share how you measure your dev team's performance?
We use Velocity to get insights on developer performance. This allows each engineer to see how they perform overall and compares everyone against each other, which is quite motivating as long as the competition is healthy.
If you're curious to know more about our development approach, our CTO wrote a complete post about continuous development.
What platforms do you use to manage the backend of your business when it comes to things like licensing, sales automation, and affiliation?
We built our own store and account management in Node.js using Stripe's subscription API.
It's been a lot of work, and it constantly requires improvement and maintenance. We're happy with it, but today there are tools and services that simplify this greatly, like Freemius.
We use Atlassian products to manage our code base and product development. We're not in love with Jira, but it fits the bill. Our plugin is available on Github.
For affiliation, we use ShareASale, but we don't particularly recommend it. We haven't tried another platform to compare it to though.
You were mentioned in our previous article on Black Friday + Cyber Monday, and you shared that MailPoet has a pretty strict strategy with discounts. I know a lot of developers with premium plugins or themes struggle to find their optimal pricing strategy. Have you experimented with different pricing strategies and what do you suggest for others to find the right balance?
That's right – we only discount once a year, which drives a 20% increase in sales for a month.
That being said, we haven't changed our pricing much throughout the years, or even experimented as much as other businesses have.
It's important to note that we don't even warn our customers of price increases until they notice when they renew. Perhaps we lack courtesy, but we simply give discounts to those who notice. Shrewd and crude!
My suggestion is don't be afraid to change your pricing as much as you want – just experiment over a quarter. Most users only visit your pricing page once a year, so it's unlikely that anybody will notice, much less complain about it.
Kim – thanks for being with us – you are truly a wealth of knowledge and inspiration. Will you be at WordCamp Europe in Porto, Portugal?
Thanks! Yes, we'll be at WordCamp Europe. In fact, we're also making it our team meetup. We'll be wearing our bright orange hoodies, if it's not too hot.
See you there? Let us know in the comments!