Hello everyone! Today we are interviewing Raitis Sevelis, the Head of Product at Visual Composer. I had the pleasure of meeting Michael Makijenko, Visual Composer CEO, and Raitis at several WordCamps, including WordCamp Riga, Visual Composer's hometown, where I had the opportunity to give a crash course on building sustainable plugin and theme business in the subscription economy.
Raitis and I had the chance to hang in Tel-Aviv when we both attended Press4Word and then WordCamp US a few months afterward. Since then, I have regularly met with Raitis and Michael at various events and conferences around the globe, and we became good friends.
Raitis, thank you so much for doing this interview. Let's start by learning a little bit about you: Where are you based and what is your background?
Hi, Vova, thanks for having me!
I am based in Riga, Latvia, and this is also the Visual Composer HQ.
My educational background is in IT with a Master's degree in Business Informatics. I even managed to start Ph.D. studies, but I left early because it was tough to combine it with my daily work. The good thing is that I had a chance to share my expertise as an e-commerce lecturer for a while.
Before joining Visual Composer, I was running a web design agency focused on the local market. The agency was established in 2008, at the same time when the global financial crisis started, which also had a strong impact on Latvia.
Ironically enough, in 2008 Michael also left his job at an agency and started developing WordPress themes. It seems we both made some changes that year…
In late 2014, I felt ready to take on another challenge.
While I was studying for my Master's degree, I got in touch with a technology headhunter who turned out to be Michael's wife. She soon introduced me to Michael, which was a meeting that changed everything… Personally, I love traveling and I'm thankful that my job supports it (including regular WordCamp visits). I also love sports – boxing to be specific. It helps to clear my mind after a long day at work and keep you in shape. My father is a huge fan of martial arts so I've been around boxing and other related stuff since I was a kid.
I know that people tend to be biased about boxing. Still, I consider myself a very open and friendly person. If you see me in WordCamp, come by to say 'Hi' – It's always a pleasure to meet new people 🙂
What is your WordPress story and was it love at first sight?
Before meeting Michael, I didn't know much about WordPress. To me, it was "Just Another WordPress Site."
I discovered WordPress and an early version of Visual Composer (now called WPBakery Page Builder) on the same day.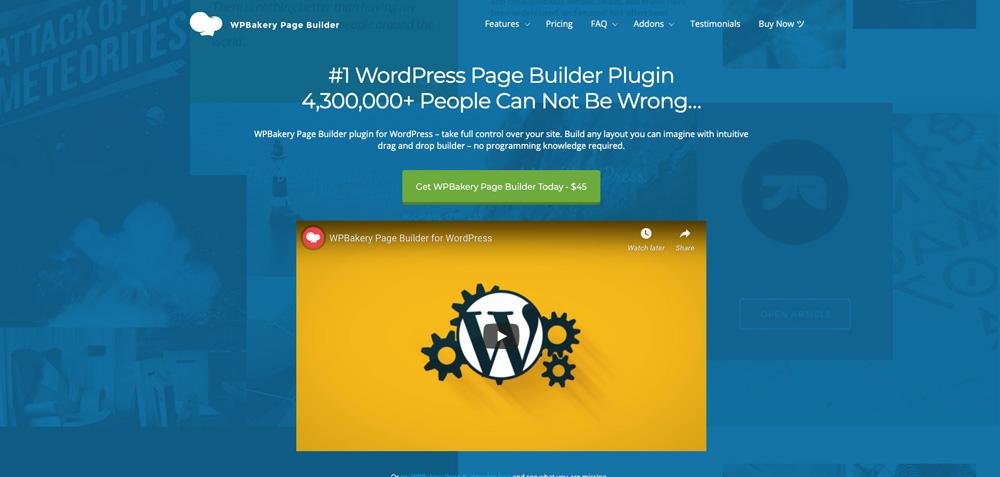 The cool thing about WordPress is that you don't have to be a highly skilled web developer to configure your website. At the same time, content management used to be a real pain and Visual Composer solved that problem for millions of users, although it only started as a backend editor when I discovered it.
At our first meeting, I proposed to Michael that Visual Composer should support front-end editing. He was thinking the same thing and asked if we could do this together.
While WPBakery (ex. Visual Composer) is the most popular plugin on CodeCanyon and one of the top commercial WordPress page builders, not many people know the story behind it – when you told me the story back when we met in Israel, I was fascinated. Can you tell us how it all started?
I heard such stories before but still had my mind completely blown when Michael shared the story with me.
He was working hard to develop WordPress themes and sell them on Envato, but many people were looking into easier ways to manage content instead of just putting up a new theme and struggling to place their content into it.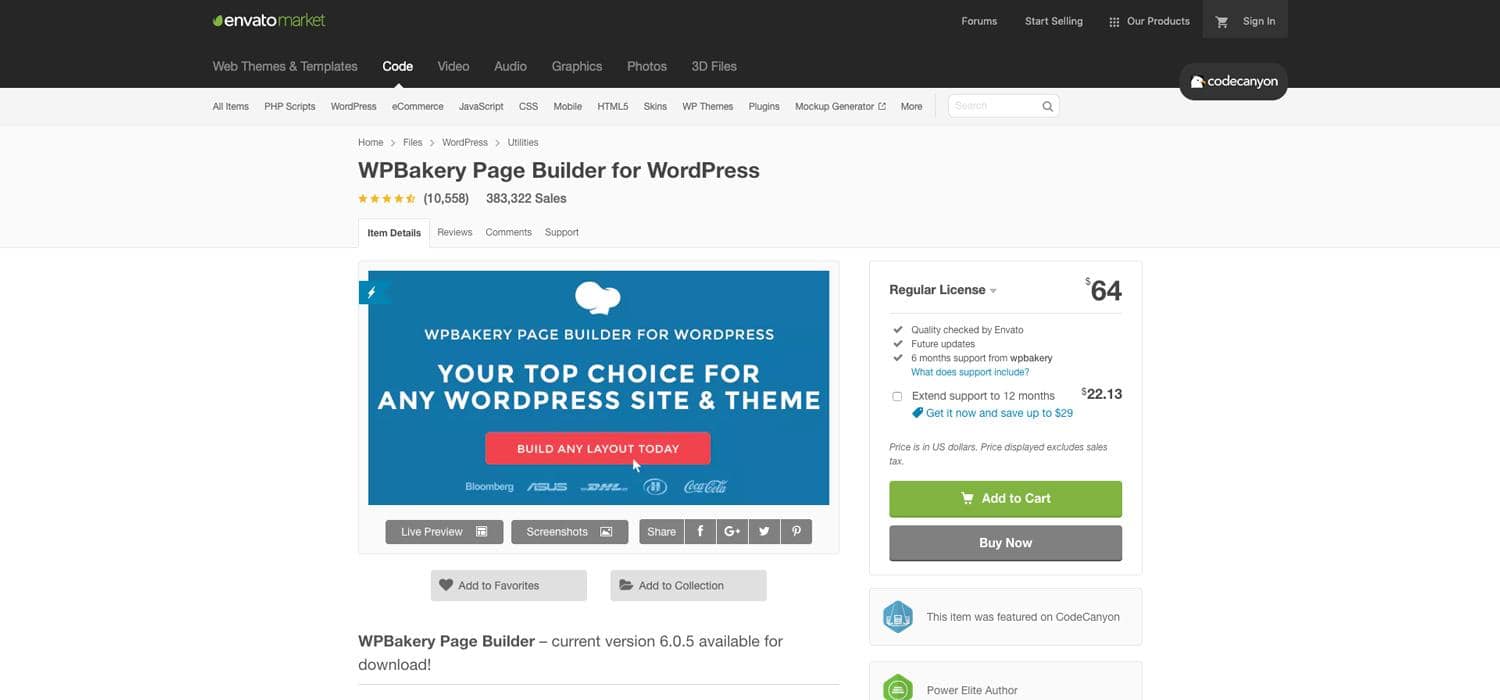 To help solve this problem, Envato created a contest that asked authors to develop a solution for easier content management. Thus came to be the first version of WPBakery.
It was not a standalone plugin at that time, just a "small" addition to a theme – something to complement it and maybe get a few extra sales.
The sales indeed went up. But what Michael saw was that people were purchasing themes not because of the theme options or design, but because of the drag & drop editor. In order to meet this demand, WPBakery Page Builder was released as a standalone plugin.
What is your responsibility in the company? What does your typical day look like?
I am the Head of Product which means I am responsible for almost everything that happens to Visual Composer.
Because we are keeping the company small and dynamic, in order to be able to adjust to any changes – it's necessary to fill several roles. For me, this means I'm actively engaged in product design, marketing, support, and public relations.
Every team member is responsible for customer support by taking regular shifts, and even Michael has his own support shift because it helps keep the organization more "flat", where we all contribute at different levels.
My daily routine consists of assisting team members and attending meetings. We run technical groomings every day, and the marketing and support teams also require my attention. The rest of my time is spent copywriting and designing content and visual assets.
A year ago you released a new free Visual Composer Website Builder. What was the reasoning behind releasing a free product after offering a premium only product for years? What are your plans for it? Is it a free version of Visual Composer? Is it something different?
WPBakery Page Builder is the first editor of its kind. It has changed a lot, but it has grown in terms of legacy code that needs to be managed and supported. We are powering more than 4 million websites worldwide so backward compatibility is vital.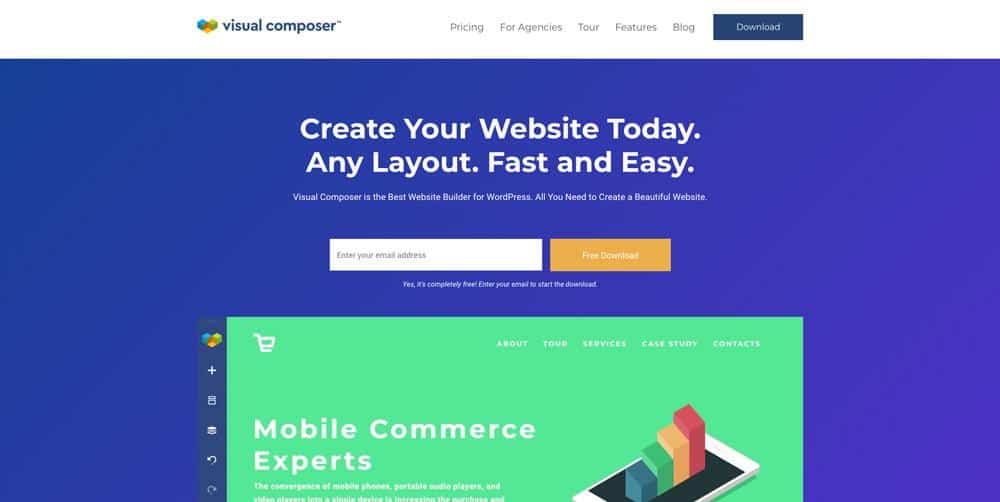 Still, we felt that technologies that were popular in 2011 have held us back from achieving our full potential. We see how some of our competitors have taken advantage of this weakness and even built their marketing around the cons of the page builder. We also had to get rid of shortcodes – which we did 🙂
With all that on the table and our experience over the years, we decided it was time to work on a completely new type of builder, and this is how the Visual Composer Website Builder was born.
As you already mentioned, Visual Composer Website Builder comes in two versions – free and premium. The free version is not just free – it is powerful enough to build a solid website – which was one of our goals. We see how the freemium business model has taken over the market and understand why. From the customer perspective, if you are really satisfied with the free version of a product, it's far more likely that you'll try the premium version at some point. Another important reason for offering the free version is that we have to thank the whole WordPress community for supporting us over the years and offering a great, free tool for building websites is one of the ways to do that.
In reference to the premium version, this is where our newest innovations come into play. We've seen many page builders are bloated with tons of functionality, so we took another approach. Visual Composer Premium gives customers access to the Visual Composer Hub – a cloud-based marketplace where people can download content elements, templates, and extensions for free. This helps to keep your site clean and optimized. As a site owner, you choose the exact functionality and assets you require.
In addition, Visual Composer Hub allows us to offer new elements and templates without updating the plugin. As we add new assets on a weekly basis, it is a huge benefit to not having to update each site where it's used.
In regard to our pricing model, Visual Composer Website Builder is billed as a premium subscription. To access Visual Composer Hub, customers need to continue renewing, which gives us the opportunity and resources to develop new features and improve our support.
At the same time, we have a strong policy of not locking content for our users. Even when your subscription expires or you decide to deactivate the plugin, there are ways to keep your content in shape without losing anything.
Not so long ago I've conducted in-depth research on CodeCanyon, which led to the conclusion that statistically, the chances for a new seller to make a living on CodeCanyon are very low. What are your thoughts on the marketplace as someone who has witnessed extensive market changes over the years?
The whole Envato market has changed a lot. It started as a community-driven marketplace for creatives, and, originally, it was great please to see how new and promising products would grow.
Right now, the marketplace is bloated with all types of products. This means that real gems sink without ever making it to the top. Recently, I heard that they are implementing a new approval and quality process to resolve it, but we'll see how it goes.
Another thing I find disturbing is the path Envato is taking that leads away from the needs of the community. We see new Envato services coming out that are focused on building their own business instead of supporting authors, upon who Envato relies. If you talk with any author on their plugin and theme marketplaces, you will see that most of them lack the tools to actually control their business and build their marketing.
Subscribe and grab a free copy of our book
11 Proven Techniques To Increase Your Credit-Card Disputes Win Success Rate by 740%
Share with a friend
Enter your friend's email address. We'll only email them this book, scout's honor.
Thank you for sharing
Awesome - a copy of '11 Proven Techniques To Increase Your Credit-Card Disputes Win Success Rate by 740%' was just sent to . Want to help us spread the word even more? Go on, share the book with your friends and colleagues.
Thanks for subscribing!
- we just sent your copy of '11 Proven Techniques To Increase Your Credit-Card Disputes Win Success Rate by 740%' to .
Have a typo in your email? click here to edit the email address and send again.
Addressing the elephant in the room – what are your thoughts about the Gutenberg project and the future of WordPress?
This question has been around for a while. I had to answer it a lot before Gutenberg came out.
I like what I heard someone from the community say once, and that is that there are things already available in WordPress and there are still plugins to expand it. The same situation exists with Gutenberg – it is not there to replace page builders.
Furthermore, because of Gutenberg, we have seen a spike in feature development by page builders, so there is increased competition and quality in the products being offered.
Because of Gutenberg, we have seen a spike in feature development by page builders, so there is increased competition and quality in the products being offered.Tweet
To me, what is more interesting is how the WordPress market will adapt to Gutenberg after the next few phases. I am referring specifically to changes in how WordPress themes work. The impact on theme authors seems to be bigger than it will be for the page builder market.
It feels like it's a golden age for page builders. I hear of new builders being released on an almost weekly basis. What do you think about that? Do you see this affecting your growth and market share? How do you think the page builder market will look 5 years?
The market indeed is saturated with page builders and there are few major players. I can't speak for all the products out there, but the market leaders surely have their pros and cons.
From the customer perspective, a saturated market offers freedom to compare products and choose the best fit for their needs. Let's face it, there's no all-in-one page building solution – different projects require different approaches and features. Of course, competitors are always analyzing each other to fill the gaps in their features lists, but – going back to this – the problem is that some products get bloated with tons of functionality and making things too heavy. Unfortunately, I don't think this problem will be resolved soon.
Today, most page builders are focused on covering the entire web design process. We went out of the content area to design headers, footers, and overall layouts. All this means that at some point people will use WordPress as a platform without even knowing it is there. At the same time, some page builders may become complex and suited for developers rather than regular users, like Adobe Photoshop.
Aside from being listed on CodeCanyon, what other distribution channels have you tried and which one has yielded the best ROI?
Apart from being on CodeCanyon, we are selling WPBakery Page Builder on our own website. As we started selling non-exclusively on CodeCanyon almost a year ago, our website is now considered our main revenue stream for the page builder. So, if you want to support an author of the plugin we would love to see you shopping at wpbakery.com instead of CodeCanyon (yes, Envato takes 70% commission from non-exclusive authors).
As for the Visual Composer Website Builder, both free and premium versions are available exclusively on visualcomposer.com. Additionally, we're running an affiliate program with a 40% commission rate and ongoing commissions for renewals. It's been live for less than a year but already generated solid earnings for our top affiliates.
Apart from that, we see how social media impacts customer behavior and being active there pays in the long term. It's a perfect place to communicate with your existing customers.
If you could go back in time, what are the things that you'd do differently with Visual Composer?
I think the biggest problem we faced was product confusion – WPBakery Page Builder vs Visual Composer Website Builder. It seems that we started our communication efforts a bit slowly, and we're still feeling the consequences.
I think the biggest problem we faced was product confusion – WPBakery Page Builder vs Visual Composer Website Builder. It seems that we started our communication efforts a bit slowly, and we're still feeling the consequences.Tweet
WPBakery Page Builder is our legacy product which was known as the Visual Composer Page Builder (pay attention to the page builder part). It is a shortcode-based editor that works with the content area of WordPress themes. Why shortcodes? Well, at that time it was the solution offered by WordPress so we relied on those standards.
Visual Composer Website Builder is our new editor, that goes beyond the content area. Yes, that means you can design a whole site, including headers and footers. Also, it is not shortcode-based. Instead, it is a React application that generates static HTML which means better performance. But the most interesting part is the Visual Composer Hub, which I described in details before.
While WPBakery offers only a premium version, Visual Composer Website Builder uses a freemium model. This means you can start for free and upgrade to premium once your business needs to grow.
Going further, some features could get less attention. It is great to sit down and tinker a huge feature of your product for a while, but it may also be a good idea to release faster. This is how you can get the valuable feedback you can use to improve the feature. Or maybe find out that the feature is not that appreciated and you just spent your time there.
On the other hand, you can't build something without making mistakes, right? And, you keep on learning on the go.
What's one good tip you can provide for developers who are looking to create a sustainable business around WordPress products or services?
Don't wait for your product to be perfectly polished – deliver quickly and the community will help you determine your key features. Just like with the early version of the page builder, it may be that only part of your product or service will be in demand from users. The sooner you discover this, the quicker you will be able to switch your focus, meet the needs of your community, and build a sustainable business.
The first version of the frontend editor came out in less than 2 months. Since then, our customers have always guided us towards the most valuable features by providing feedback and requests. Listen to what problems they need to solve and give them your best solution ASAP.
Raitis, your answers are inspiring! Thanks for your time. In case someone wants to contact you online for business related inquiries or just to chat, what's the best place to do that?
Thanks for having me, Vova! It was a pleasure doing this interview.
We have our public Slack channel, which is probably the best place to reach out to me or any of the Visual Composer team members. Also, this is the best place to catch up with all the latest news.
Hope everyone enjoyed this interview, and I will be happy to answer any questions in the comments.
The end 🙂