While the Freemius CEO Vova Feldman has been networking with cool people at WordCamps for years, there were a lot of "firsts" for me at WCEU 2019. Not only was it my first WordCamp (gasp! 😱), but it was also the first time I met so many plugin and theme developers face-to-face. Product people make up a relatively small percentage of the wider WordPress community, yet they play one of the most vital parts in the entire ecosystem, adding enormous functionality and expandability to the platform that empowers so many people and businesses world-wide. Not only do these people change WordPress – they change the world.
The experience of WordCamp re-energized my passion for WordPress because it validates all the effort I've put into making the platform work for businesses over the last 10 years. Meeting people from all walks of life that share the same commonality – their blatant love for WordPress – has been reassuring, inspiring, and intense!
As a first-time plugin developer, I'm lucky to be jumping in and joining Freemius at this unique time when we're making such a big change in the ecosystem. At WordCamp, I was able to hone in on the pain points, challenges, and successes of tons of fellow product developers & sellers, and I learned a lot of valuable lessons, like how to have a six-figure product launch (details coming soon!), among other very useful and relevant knowledge about building product businesses.
WordCamp helped me put faces to the names behind many of the plugins or themes I've used or heard about. It also encourages us to remember that we're all in this community together, and we each get to work on interesting projects while trying to make WordPress better, easier, and cooler. Sharing some drinks at WordCamp is a wonderful opportunity for all of us devs to get our heads out of our computer screens and focus on meeting other people who share the same passion and interests – and it makes working with WordPress just that much 👌 more fun.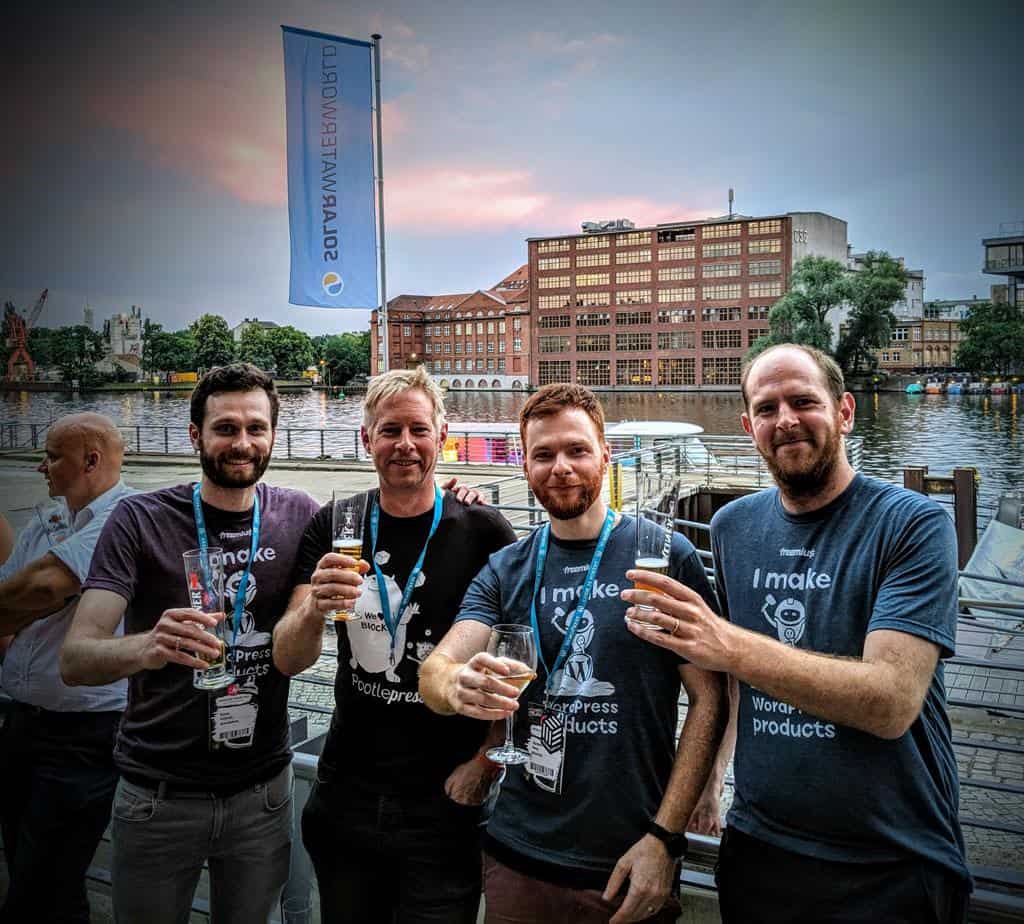 Left to right: Vova Feldman, Jamie Marsland (PootlePress), James Kemp (IconicWP), Brandon Ernst (me)
Another first for me was meeting the founder of Freemius, Vova Feldman (my new colleague/Head Freemian). We've only been working together for 5 months, but all those Monday morning Skype team meetings really make you feel like you know someone face-to-face (welcome to the new 'normal' of distributed work 💻 ).
Now that I got all that excitement for WordCamp off my chest, here's some valuable lessons you can take away from WCEU as a plugin or theme developer, and why I think WordCamp is great for everyone who works with WordPress.
WordCamp is an Opportunity
Whether you're a freelancer, agency, product person, consultant, or any other of the WordPress related experts out there – WordCamp is for you. Since going to WordCamp, I've read quite a lot of posts about why some people struggle to see the value of attending, but I think it's all about the mindset you have going into it. Regardless of your line of work in the WordPress community, there are interesting ideas being discussed all the time that can fuel all kinds of creativity and partnerships. You'll simply never know of the opportunities available if you don't show up and give it your best by networking, joining contributors' day, or better yet, volunteering (there's quite a few benefits to being a volunteer, including a free ticket to the conference – more about that in Vova's WordCamp US 2018 recap). WCEU 2019 was the biggest WordCamp ever, which shows the growth of not only the platform as a whole, but the value of the conference itself.
Furthermore, nobody knows all the answers or keys to success by themselves – you have to learn those things from someone else or figure them out for yourself through experience. Talking to people at WordCamp – movers and shakers of all kinds in the community – makes you think of new possibilities that can be applied across the spectrum of WordPress offerings and solutions. This is a serious opportunity for any person running a business – and the fact is that it's an easy, and inclusive open-source community to be part of.
Talking to people at WordCamp – movers and shakers of all kinds in the community – makes you think of new possibilities that can be applied across the spectrum of WordPress offerings and solutions.Tweet
It's so easy to get stuck coding or handling support tickets all day and forget the sheer humanity of what we're doing – and that's the magic of WordPress: It connects and empowers anyone who wants to contribute and get involved. WordCamp gives devs everywhere the opportunity to be AFK for 2-3 days to meet up and have a good time celebrating the platform that is the basis of our community.
Blocks Aren't Going Anywhere
Matt Mullenweg's keynote speech mainly focused on WordPress 5 and Gutenberg, and it was particularly insightful for me as the follow up discussion afterwards helped me realize how much Gutenberg blocks are changing WordPress. Think about it – Automattic needs to make WordPress.com compete with Wix, Squarespace, and other WYSIWYG website building platforms. The implementation of a page builder like Gutenberg will make things easier for new adopters of WordPress. The challenge is that it changes the way we think about WordPress layout and design and has caused disruption in the ecosystem because we must now all adapt our products to the evolving standards (sounds like most modern technologies to me…).
Subscribe and grab a free copy of our
WordPress Plugin Business Book
Exactly how to create a prosperous WordPress plugin business in the subscription economy.
Share with a friend
Enter your friend's email address. We'll only email them this book, scout's honor.
Thank you for sharing
Awesome - a copy of 'The WordPress Plugin Business Book' was just sent to . Want to help us spread the word even more? Go on, share the book with your friends and colleagues.
Thanks for subscribing!
- we just sent your copy of 'The WordPress Plugin Business Book' to .
Have a typo in your email? click here to edit the email address and send again.
The point is that Gutenberg Blocks are an opportunity as well. Making WordPress easier and more accessible for the masses is clearly the right way to go, and blocks are a major attempt at achieving growth in the usage of WordPress. By competing with other platforms and improving WordPress' UX, it benefits everyone in the ecosystem – there will be more users of WordPress and more people who want to buy plugins and themes (or what will likely be called "templates" for Gutenberg in the future). Why complain?
WordPress growth = More users = Successful product businesses 💰
Embracing Gutenberg by offering supported blocks in your plugin or theme can help you keep your product up to date and attract many of the new users who are going to be dependent on block building with WordPress in the coming years. As experienced devs, we still love the tried-and-true methods we're already familiar with (I'm not-so-subtly referring to all you – including myself – that installed the 'disable Gutenberg' plugin the day it was released), but I believe this change is good for everyone, and the new generation of WordPressers (post 5.0) are the first adopters who will think the old way is older than this funny grandma: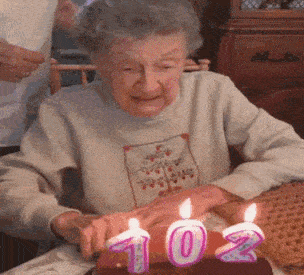 Food, Drinks & Ideas at the Freemius + WP Engine Makers Meetup
Freemius and WP Engine have been hosting this event for the last 4 EU/US WordCamps, making it an unofficially official-tradition:
Invisible to the plain eye, there's a group of like-minded WordPress product people scattered across the globe. The mission of our meetups is to build a strong community of product people by gathering those incredibly-smart makers into the same place so they can exchange ideas, share experiences, collaborate, and learn from each other, all in a relaxed and friendly atmosphere.
What started as a small 40-ish people meetup back in WordCamp EU 2017 in Paris, has grown to a more than 100 person event! This is a great indication showing the growth in the products community and the need for such a Makers Meetup. Here are the faces of some of the amazing people who joined us: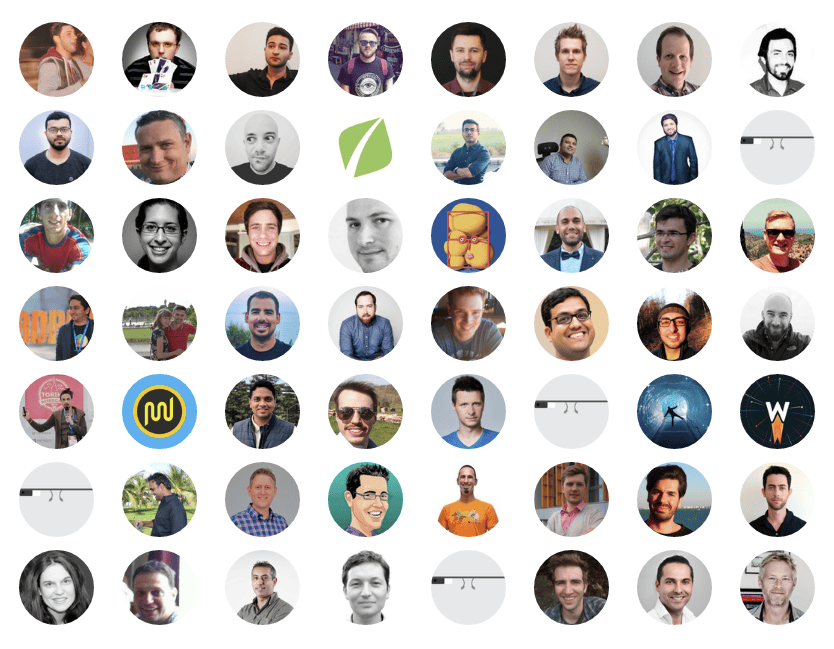 We had product people from all across the spectrum: Plugin and theme developers from the Freemius community, elite authors from ThemeForest and CodeCanyon, SaaS founders, sellers that are using EDD and WooCommerce, and Envato executives. This time we also invited the guys from webventures.io, a new $5M fund focused on investing in WordPress products, which is relatively unique in the WP sphere.
I was blown away by the success of the event – we ran out of the 75 bracelets (for food and drinks) we gave to everyone in less than 90 minutes and there were still 20 people left 6.5 hours after the party started! We were sharing great stories, ideas, and having a good time until around 00:30, at which point we retreated to the hotel to prepare for another exciting day. At the hotel lobby next to the conference area, we ended up having more conversation until 4am! Seems like the networking opportunities never end at WordCamp 🙂
We're really happy to be partnering with WP Engine on this WordCamp meetup. They've been a great partner to Freemius and our shared reputability in the community really helps attract a unique crowd that keeps growing every year. It's great because we get to meet so many totally new people (a couple of the same here and there) at each meetup whether it's in the US or EU.
Here's a recap video we made in timelapse 🙂
If you're interested in coming to our event and heading to the next regional WordCamps in St. Louis, Missouri or Porto, Portugal, get in touch and maybe you can come join the Freemius + WP Engine Makers Meetup!
If Meetups Aren't Your Thing…
There's still plenty to do all over WordCamp. You can chat with some of the latest and greatest tech companies making huge changes in how WordPress is delivered and managed. Sponsors like Amazon, Google, and WooCommerce were all showcasing their newest WordPress related features. Some services are much farther along than I previously thought, but there's still a lot of work to do for these behemoths to gain a full grasp of how freelancers and agencies work and how they can provide the best UX. With things changing as quickly as they are, having all these folks in one place lets you be selective about the valuable pieces of knowledge you want to discover.
Another thing that happened at WCEU 2019 was the second marketing breakout session organized by Alex Denning of Ellipsis Marketing.Tweet
Another thing that happened at WCEU this year was the marketing breakout session organized by Alex Denning. We caught up with about 10-15 product and agency people to have a short talk about best practices and updates on marketing. We're currently thinking on how to expand the gathering in terms of participation and ensure there is a strong focus on useful, actionable discussion in the future. The goal is to help everyone in the group learn about the latest marketing opportunities and successful strategies for their product business or agency. If you're interested in joining the next breakout session at a WordCamp in the future or via online follow up discussion, please feel free to get in touch with one of us.
Shout outs!
Here are some of the truly awesome product people we met at WCEU 2019 in Berlin:
Pictured (in no specific order):
Beka Rice & Max Rice from Jilt, David Vongries from MapSteps, Mathias Køllgaard Nielsen from Oliver POS, Caner Batmann of Bavoko Tools , Daniele and Eugenio from Codeat, Peter from WPPusher, Robbie from Beaver Builder, Steve from Gravity Flow & Gravity Forms, Vitalii Kiiko from MooMoo Agency, Iain Poulson from Delicious Brains, Nils from Composer/Packagist, Ziv & Ben from Elementor, Robert Abela of WP Security Audit Log & WP White Security, Konstantin from ThemeRex, Thomas from Advanced Ads, Igor and Roman from Setka Editor, Amir Helzer, the Founder of OntheGoSystems and the famous WPML plugin, James Giroux from Envato, Raitis Sevelis from Visual Composer, Babek Azimzade and Maziar Firuzmand from JupiterX, Brecht Vandersmissen & Birthe Vandermeeren of Bootstrapped Ventures, Maarten Belmans from Studio Wombat, Saad from WP Experts, Kyle from EDD, Puneet from IdeaBox , Devin and Matt from GiveWP
Asif from WeDevelopers, Andrew from Elegant Marketplace, Steven from WP Engine, Xaver from Mailster, Vinodh from InfiniteWP, Vito Peleg from WPFeedback
See you next time!
As a WordPress veteran (and a freshly minted product seller), I can't encourage participation in WordCamp enough. It's truly an awesome opportunity! We're also doing our best to make the Freemius + WP Engine Makers Meetups better and better, so I'm excited to see how the next WordCamp goes in St. Louis.
If you're going to the next WordCamp, you can also direct message us on the Freemius Twitter, where @Vova and I keep in touch with folks. If you've read this far, it means you must be a little bit interested, so let's find each other at the next WordCamp and see what we can create together 😉🖱🖥
Freemius is Hiring!
Join our growing distributed team and make an impact on millions of WordPress users! Our open positions: