WordCamp Europe 2017 has just ended, taking place in Paris this year (next year at Belgrade, Serbia, in case you haven't heard yet). While last year, at Vienna, only Stanley Macha and I were able to attend – this year, most of the Freemius team was there!
Now that everyone's safely back home, I thought I'd take the time to look back at the event and reflect on our experience as a product team who went, using the event as "an excuse" to unite our team and meet everyone face to face while also meeting other folks and teams.
I will not be covering topics such as the event location, contributors day, or the talks, as those topics are well covered on other great recaps of WC EU 2017.
Leo's Visa
At the beginning of this post, I would like to mention an unfortunate issue, which is the reason I can only write that most of the Freemius team attended WordCamp Europe 2017. Due to technical issues, our team member, and lead developer, Leo Fajardo, was unable to attend WC EU 2017. More specifically, the French government refused to issue him a visa.
Leo was not the only one who suffered the consequences of visa policy in France, as it seems that many who wanted to attend this WordCamp were unable to.
Leo lives in the Philippines, and we were all left in awe when we found out that his visa application was refused. We kept trying to help, sending emails and letters, trying to understand what was the exact problem with his application (their reasoning was vague, at best), but to make a long story short – we failed to help Leo get his visa, and he ended up staying at home.
Very frustrating, to say the least!
At least we were able to pick up some WordCamp Europe swag to send him: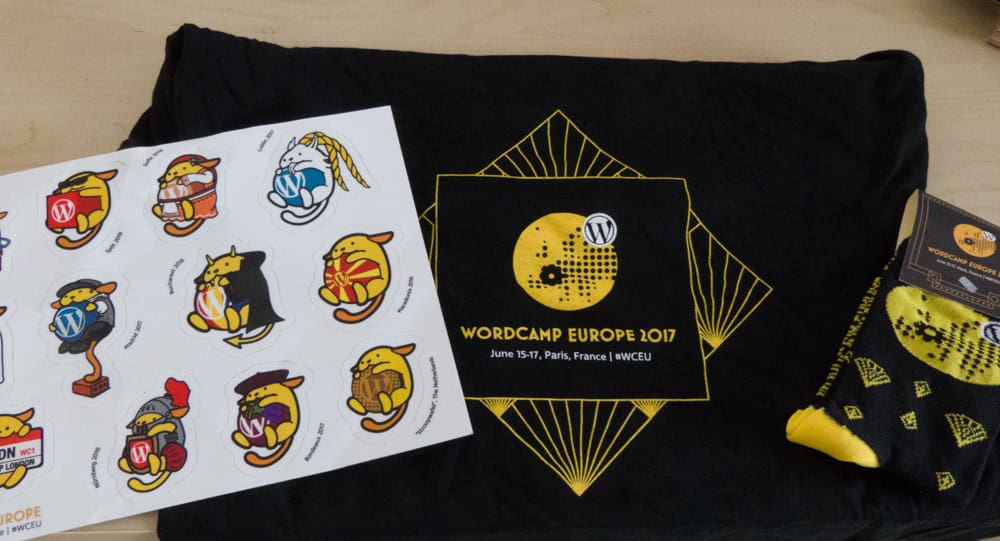 Our Experience, As A WordPress Product Team
Every person that attends a WordCamp has certain expectations and preferences regarding what they would like their experience to be like. I think large WordCamps tend to do an amazing job at catering for everyone, be it developers, designers, analytics people, project managers, etc. No matter their level, too.
As a WordPress product-oriented team our main preference is to be able to meet and talk to other WordPress product people, looking to exchange our experience and advice, and discuss the topics we're passionate about.
To that end, there are several "tools" at our disposal at WordCamp events:
1 – Tribe Meetups
As a lesson from last year's WordCamp, in Vienna, the organizers have repeated the successful tribe meetups and speed networking schedule, aimed specifically at WordPress professionals who are looking to meet other like-minded professionals in their field of expertise.
Tribe meetups started just after we finished our registration on the first day and it definitely delivered; instead of aimlessly wandering around looking for interesting new people to speak to – the tribe meetups serve as an easier starting point:
Making it easier to find professionals by concentrating them in one place for a certain period of time, as well as dividing them, according to their expertise.
The framing makes it easier for the shy ones among us to get a conversation going. Just standing at the designated spot means you're interested in having a conversation on the predefined topic. Just look at someone and open your mouth – the conversation will flow by itself.
The tribe meetups are a great initiative, and we hope that they make a habit out of it for any upcoming WordCamp, not just the official WordCamp Europe.
2 – Sponsor Booths
The sponsor booths are obviously there to help with sponsoring the WordCamp event itself, but for event attendees, who don't really have to be bothered with balancing the event's expenses, they serve as great anchors to start some very interesting conversations and cooperations inside the WordPress ecosystem.
For example, if you are the creator of a certain WordPress product – it could be interesting for hosting companies who wish to up their services game by adding your product as a feature they provide their hosting clients out-of-the-box. All of those hosting companies that are lined up in rows, looking to get new customers, could also serve as an opportunity just waiting for you to grab it (and grab some swag, while you're at it).
It doesn't get much easier than that!
Private Events
I'm not entirely sure who was the first person or company to ever rent a nearby located bar during one of the conference evenings and have it host some enthusiastic WordPress peeps for free drinks and food, allowing them a more laid-back environment for mixing business & pleasure.
Whoever it was – it's a great idea and I just love getting invited to those. In fact, I think that some of the most meaningful connections I've made were established during one of those night events, rather than at the WordCamp venue itself, where many people are usually in a hurry, following the tight talks schedule.
This time around – Freemius had hosted such a private event, together with WP Engine. We wanted to have an event specifically for WordPress product people. And that's exactly what we had. The idea was to gather WP product people in one special place and enable them to get to know each other, exchange ideas, chat about product and business-related topics such as marketing, business models, the new directory SEO, marketplaces, and learn from each other's experiences. Basically, help each other out through solid entrepreneurial advice and maybe even co-operations.
Here are just some of the pretty faces that showed up: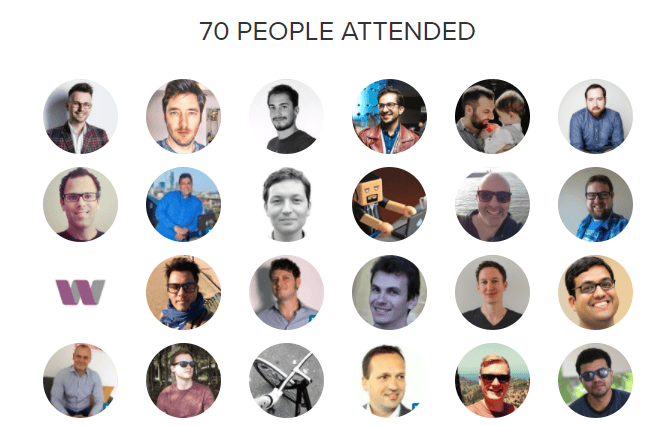 I must say that the event went great! We had 50 product people RSVP to it in advance, and have therefore extended the limit to 70, which also filled up quickly. I'm sure more people would have liked to come, but actually, we planned for a more intimate event with a correspondingly intimate venue.
The folks who showed up and had nothing but praise to say and expressed hopes about a sequel event next time around.
Here's what Vova Feldman, our co-founder & CEO had to say about it:
When I started Freemius 2.5 years ago, I wanted to replicate my success in the plugins business and help fellow open-source product developers to build prosperous subscription based businesses, while following their passion. I knew that if we want to build a market transforming company, we'll have to do things differently and engineer a network. Part of that network effect is building a strong community connecting developers virtually and physically.

Organizing a product-focused event was a no-brainer and WordCamp Europe was a great opportunity to do so. Witnessing 70 like-minded product people from leading WordPress businesses networking, exchanging ideas, and developing personal relationships in the same room is a dream coming true.

On behalf of the whole team, I want to thank all event attendees, which included some of our partners, plugin and theme developers from all over the world – you guys are Freemius' special sauce! Here's a small sample of the companies that attended the meetup: Addendio, Elementor, Envato, FooPlugins, GiveWP, Perfect Dashboard, ProteusThemes, rtMedia, SecuPress, SiteLock, ThemeIsle, VersionPress, Visual Composer, weDevs.
The People We've Met
Outside of our joint event with WP Engine we've thankfully been able to meet and greet with many fascinating people from the WordPress sphere. No doubt, WordCamp Europe is easily the best place to meet and catch up with a huge amount of people from all over the world!
Matt Mullenweg Q & A + Predictions
It seems like Matt is stirring the focus of the WordPress project this year towards an improvement of the WordPress page content and layout editing experience, trying to level up with leading WYSIWYG website platforms such as WiX and Squarespace. I think that this is a smart move that will help WordPress grow its market share by making the platform more accessible for non-tech-savvy users.
Sneak a peek at #WordPress Gutenberg Editor, now available in the plugin directory. Via @ExponentEnt at #WCEU. pic.twitter.com/2Ds4V3FM4G

— WebDevStudios (@webdevstudios) June 19, 2017
On the other hand, this move will likely have some effect on WordPress-based page-builder product companies like Elementor, Beaver Builder, and Divi. I find it hard to believe that Gutenberg or any other future editing-related project can get close to those page builders' capabilities, since that is their sole focus and expertise, but it is definitely capable of taking a certain bite off of their market share.
Thank you!
To conclude, I feel like praise for the people behind the WordCamp Europe 2017 scenes is in order. Organizers, speakers, sponsors, volunteers: you were all fantastic and helped shape a great experience from this conference for all 1,900 attendees who showed up!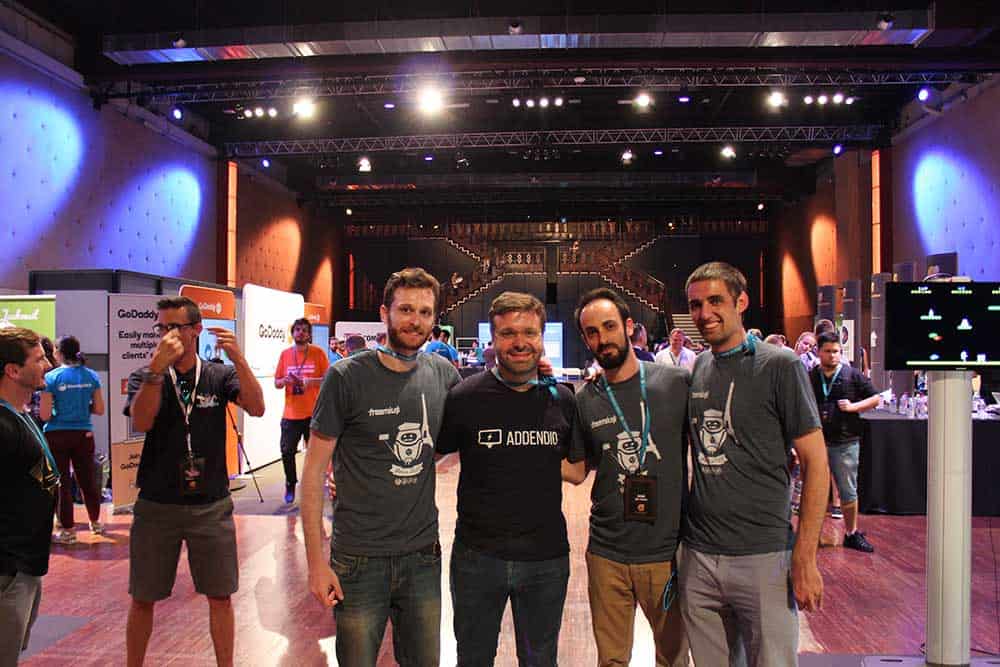 Thank you, and see you next year at WordCamp Europe 2018, in Belgrade – Serbia!