Top selling WordPress plugins make somewhere between 20-80 times more, per year, than an average WordPress plugin!
Your plugin's sales aren't going to just skyrocket on their own, so as a company that's focused on helping WordPress product developers explode their sales – we decided it was time to publish an action-oriented business book that focuses on the business and entrepreneurial side of developing and selling WordPress plugins.
We're giving this book away for free to WordPress developers who wish to learn all of the best practices and modern ways to run successful WordPress plugin business(es)!
If you've been in the WordPress plugin development field for a while you know that there's MUCH more to it than just writing a few PHP functions and deciding on a cool name for your plugin. If you're going to create a prosperous business around your premium WordPress plugin – there are a few additional things you're going to need to know and take care of:
Your business model
Pricing strategy
Payment gateways and checkout
Product licences
Automatic renewals
Coupons and discounts
Handling taxes, internationally
Invoices & Receipts
Product distribution (via a secure hosting)
Customer support
Marketing (via emails, a blog, cooperations, affiliation, etc.)
SEO
And much much more…
There's MUCH more to it than just writing a few PHP functions and deciding on a cool name for your plugin.Tweet
This book provides you with all of the information necessary to run a successful online WordPress plugin business. Among other things, you'll learn about the market opportunities, as well as the existing WordPress business community.
We've broken down this book into 3 main sections:
The WordPress business market & community and why it makes sense
What to do before you launch your plugin business, as far as business related decisions and models go.
What to do after you launch your plugin business to make sure you're making sales and keep growing, as well as what not to do.
Each section includes specific guidance and action items, based on years of successful experience in the WordPress business ecosystem. For your convenience, you can read each section (and chapter) independently, or you can just read all of the book's chapters, by order of appearance. It's really up to your personal preference and available time.
Click the image below to go download the book: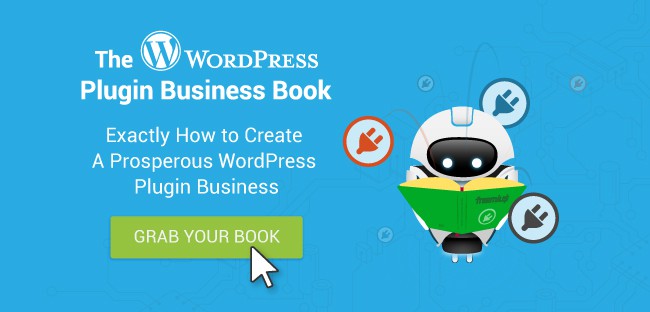 Together with all of the people who have contributed content (credits inside) we have worked hard on this book and hope you like it and make the most out of it for your business. We've tried to be as generous as we possibly could with the knowledge we share and the advice we provide. Nothing was held back here, so we know it is going to help you create and maintain a sustainable business out of your WordPress plugins.
Yours,
The Freemius Team