Well, the 2016 presidential race is definitely in full swing. The candidates for each party are set and not a day goes by that we don't hear something in the news about Donald Trump or Hillary Clinton. While their ever-presence in the media can definitely be attributed to the fact that the November elections are quickly approaching, the fact of the matter is, everything we read and hear about them at this point is all part of their ongoing marketing campaigns.
You might be wondering: If they already have their party's nominations, why do they need to bother with marketing? The answer to that is simple: because marketing should never stop—not for a presidential nominee, not for a brand, and not for a business. If you want to sell your product or service, it is crucial to always stay top-of-mind with your audience, and ongoing marketing efforts are a sure-fire way to ensure that will happen.
One of the things they don't often tell you when you're starting out is that, as a WordPress developer, you're not only responsible for creating your plugin, but that you have to market it too. (Unless you have the funds to pay a professional marketer to do it for you.)
As a WordPress developer, you're not only responsible for creating your plugin, but have to market it too.Tweet
Well, that sucks, doesn't it? Maybe you don't know the first thing about marketing and would rather spend your time working on new plugins or upgrading older ones than having to brag about the product you've just built. But it doesn't have to be that way. As long as you're willing to do some prep upfront and then carve out a little time each day, you can successfully market your WordPress plugin like so many others have been able to do.
7 Marketing Campaign Tips from the 2016 Presidential Candidates
If there was ever an example of marketing done right, the political arena would be the place to look to. Lucky for us it's an election year, so let's take a look at what the presidential candidates have achieved through their own marketing efforts and how you can apply those to your own plugin promotional efforts.
Marketing Tip #1: Believe in Your Product


You're probably thinking that if you've created a plugin to make the experience of web development or design easier, that people will find it and want to use it, right?
Probably not.
WordPress currently has 46,047 plugins in their free plugin directory. In addition, there are plugins offered through paid marketplaces like Envato as well as through developers' personal websites. That's a lot of competition your WordPress users have to sift through in order to find your plugin.
Whatever its purpose, you've invested a lot of time and effort in building and perfecting your plugin. Before you share it with the world—whether for free or for a fee—make sure you honestly believe in your plugin and have a solid understanding of what it will accomplish for WordPress users. If you don't trust or believe in your own product, it's going to be very difficult to make it stand out from others or to even motivate anyone to buy it.
Who's Doing It Right?
Bernie Sanders.
Each of this year's candidates had a unique selling point, but many of them often lost sight of the end result: what were they going to do for the country once elected. While Sanders didn't win his party's nomination, he was a great example of someone who consistently believed in and talked about his promise rather than on trading barbs and insults with the competition.
Marketing Tip #2: Develop a Well-Defined Image
Have you built a website for yourself as a developer? How about a website dedicated to your plugin(s)? If you want to set yourself apart from the competition, then you need to show your audience why your plugin is different from the tens of thousands of others available on the market. It's also important to give your audience a place to go in order to learn more about you, your product, and to make a purchase (or download).
According to branding and marketing expert Tim Calkins, "That is the first thing you need to do to build a brand; to get people to notice and not to fade away into the clutter that exists today."
Who's Doing It Right?
Donald Trump.
Regardless of how you feel about Trump, there's no denying the fact that he has a well-developed and easily identifiable brand persona. From his campaign slogan of "Make America Great Again" to his portrayal as a successful businessman, Trump's got his image down pat and his website mirrors that identity and messaging.
Marketing Tip #3: Invest Some Money
"You have to spend money to make money." Unfortunately, this quote is especially true when it comes to running a successful marketing campaign. A well-designed website and organic (non-paid) promotion of your plugin will help open some doors. However, if you're hoping to gain any real traction, you'll need to invest some money in additional marketing efforts.
Run pay-per-click ads on social media to introduce yourself to a new audience that might not have found you otherwise.
Add retargeting to your website to keep your plugin top-of-mind with WordPress users after they've visited your site.
Add your plugin to a marketplace (like Envato) to increase visibility and sales.
Investing at least some money into the marketing of your plugin isn't optional, it's a necessity.Tweet
Who's Doing It Right?
Everyone.
According to research conducted by Borrell Associates, ad spend in this election year is expected to reach an all-time high of $11.4 billion—a billion of which is in digital alone. AdRoll conducted their own research regarding those digital promotional efforts and found that the majority of this year's candidates used retargeting on their website and placed ads on social media.
Marketing Tip #4: Get Social Proof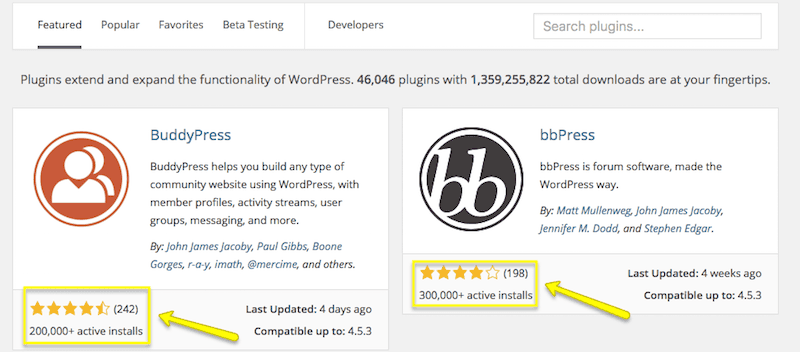 If you're new to plugin development, then you might not be aware of how important social proof is to the ultimate success of your product and brand. A quick glance through WordPress's "featured" plugin list will demonstrate this point quite clearly. And it's not just the number of installs or star ratings that will help boost your plugin's credibility.
The WordPress community is used to relying on the feedback of others to know when to trust a new product, so building the social proof (testimonials) around your plugin is extremely crucial to your marketing efforts. Find creative avenues to increase your clout: get your plugin in front of leading WordPress influencers, upload your plugin to the WordPress plugin directory, and share press releases announcing the launch of your plugin with WordPress news sites.
The WordPress community is used to relying on the feedback of others to know when to trust a new product.Tweet
Who's Doing It Right?
Hillary Clinton.
While Clinton had a number of supporters stand up and speak up in support of her political prowess at the DNC last month, it was the testimonial from President Barack Obama that spoke volumes about who she is as a person and where she will lead the country. She also has a multitude of connections with liberal news outlets and celebrities who endorse her candidacy on a regular basis.
Marketing Tip #5: Converse with Your Audience


Marketing campaigns can differ for a variety of reasons. However, there is one universal truth behind every effective marketing campaign: genuine communication. Your audience wants to know there is a person behind that brand and that you're listening to what they have to say.
One of the first places you should start engaging with the WordPress community is on social media. Get involved in conversations around WordPress topics, follow other WordPress developers, and keep it relevant and timely. Establish yourself as an expert in the space so that when it comes time to talk about and share your plugin, you've got an audience ready to listen. And don't forget about your blog or email either. You're talking to a multi-channel audience, so you'll want to capture their attention on all fronts.
Who's Doing It Right?
Clinton (email) and Trump (social).
Did you know that Clinton's email list is larger than Trump's? And not only that, but that her emails have a bounce rate of 4% (the average is 21%) and an open rate of 14%? Email can be an extremely valuable marketing tool and should be used to keep your plugin and brand in front of contacts, followers, and prospective users on a regular basis.
In terms of social media, Donald Trump knows that's where his strengths lie and he does it extremely well. If you've ever heard him speak, you know that his smaller, easy-to-digest phrases are catchy, often controversial, and translate really well to social media. He also always speaks up on what's trending or directly/indirectly related to his campaign, and he does so in a timely fashion.
Marketing Tip #6: Focus on Your Audience
WordPress users aren't looking to hear you talk about your education and years of experience developing plugins. They want to hear what your plugin can do for them. Does it make SEO easier? Does it increase their site's security? Does it provide advanced design capabilities? When you talk to your audience you need to answer the question: "What can you do for me?"
It's also important to communicate in a way that is simple and yet focuses on taking action. Focus on WordPress users' pain—especially if your plugin offers something better than other related plugin solutions. Use action-oriented language that invokes an emotional reaction. "Save Time", "Improve SEO", "Secure Your Site", "Download for Free".
Who's Doing It Right?
Too many to list.
Come election time, the American voter usually feels some sort of disenchantment with the state of the nation and most candidates know exactly how to frame their candidacy around a simplified version of that problem. The clearest example of this can be seen in various slogans used over the last few decades.
Donald Trump: "Make America Great Again"
Bernie Sanders: "Join the Political Revolution"
Barack Obama: "Change We Can Believe In"
Bill Clinton: "It's Time to Change America"
George H. W. Bush: "A Kindler, Gentler Nation"
This isn't to say that your plugin needs a slogan, but if you can easily summarize how your plugin can ease user pain, you'll be on the right track.
Marketing Tip #7: Rely on the Data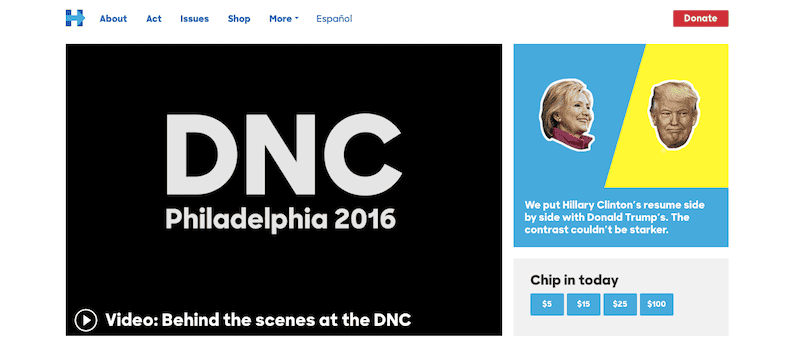 WordPress users are very vocal. If there is a known issue with a plugin, chances are good it's been addressed somewhere online already. That's why it's important to do your research, study the data, and listen to your audience before launching any new product to the WordPress community.
You can listen to what people are saying online about WordPress functionalities that may be lacking or problematic, and build a plugin to fill that need.
You can conduct research in order to find key stats that support your plugin's problem-solving capabilities.
You can use the results of your paid marketing efforts to find out more about your target audience so you can better tailor your plugin to what they need through regular upgrades, tutorial screenshots, and FAQs.
You can use analytics on your website and social media to ensure that your marketing efforts aren't going to waste.
Who's Doing It Right?
Clinton.
Joel Benenson, former marketing strategist to Obama and current strategist on the Clinton campaign, had this to say about the power of data: "We tend to be very aggressive analytically. You have to develop a 360-degree view of the competitive landscape in order to navigate the right path to win."
Based on the changes people have noted in her campaign marketing efforts as well as the changing face of her website throughout the past year, it's very clear that Clinton's team is relying on user data to keep her campaign relevant and fluid.
Wrapping Up
If you're a relatively new developer without a solid and highly trusted brand awareness to back up your product, all of the market saturation is going to make it difficult for your audience to find your plugin. WordPress is a platform loved by millions and its users trust that it will always provide them with the best-of-the-best website tools, so give WordPress (and its users) reason to trust your plugin by building an attention-worthy marketing campaign around it.
Each of the 2016 candidates has demonstrated a variety of strengths and weaknesses, all of which present people like yourself with an excellent opportunity to improve your own marketing efforts. Just keep in mind the following points and you should be well on your way to effectively promoting (and selling!) your WordPress plugin:
Believe in your brand and product.
Know your audience.
Get involved in the WordPress community.
Be wherever your audience is.
Keep it simple.
Have you noticed anything spectacular about any of this presidential candidacy marketing campaigns that's worth mentioning? We'd appreciate you taking a minute to let us know about it in the comments area below.