As promised, here's part two of four planned release notes over the coming weeks. Affiliate programs are an invaluable marketing tool for driving extra traffic to product pages. Many of our partners have had great success incorporating them as part of their growth strategies, which is why we've made some awesome affiliate-related updates to help you drive sales 💥 They've been a long time coming… but the wait is worth it.
Let's dive into the new features and functionalities we've added to enhance affiliate links, support, and traffic. What's more, we've also made it possible to manage affiliate reporting directly through the User Dashboard.
Affiliate Links Store and Account Levels Attribution
I'm excited to share that affiliate links now support store-level and account-level attribution! This new capability is vital for those who are selling multiple products with Freemius. By default, when a visitor clicks on an affiliate link of one product but purchases another, the sale won't be attributed to the affiliate. To change this behavior, navigate to the AFFILIATION section of any of your products and check the attribution that you'd like to support:

Note: Only a product owner has permission to activate this new capability.
What's the Behavior If a Person Is an Affiliate of Two Products?
If a customer purchases a license for Product2 through an affiliate link of Product1, the commission and other terms are determined by the Affiliate Program of Product2. On the other hand, if an affiliate is only affiliated with Product1, the commission is determined based on the terms of Product1's Affiliate Program.
This feature is not a substitute for store-level Affiliate Program capabilities. It is still on our list and we'll get to it in the future (probably in 2023).
Affiliate Management by Support Reps
Support reps now have restricted access to the Affiliate Platform for adding and managing affiliates.
Following feedback, we've picked up that there's a demand for a new Marketer user role that will have permissions in the Affiliate Platform, Coupons, and Reviews, as well as additional capabilities. If such a role is relevant for your team, please comment below, contact us via email, or use any of our other channels — we'd love to get your input!
Filtering Affiliate Traffic VISIT LOG by Date
If you need to investigate affiliate traffic, or a visit attributed to a specific affiliate to establish that it was successfully registered in the system, you can now filter the VISIT LOG by specific date:

Coming soon: If you manage a large network of affiliate marketers, you'll be happy to know that you'll soon be able to search affiliates by name, email, and ID.
Affiliate Dashboard Is Now Part of the User Dashboard
When we originally released the Freemius Affiliate Platform, we didn't yet have a User Dashboard. Since we had to give affiliates some visibility of their marketing efforts and performance, we launched the Affiliate Platform with a dedicated Affiliate Dashboard, which relied heavily on the Developer Dashboard's UI and UX.
Over the years, as more affiliates started using the Affiliate Dashboard, we realized that it's cumbersome and hard to navigate, especially when promoting multiple products through Freemius.
Long story short, we are excited to share that we've moved all previous reporting (and more!) straight to a new Earn section in the User Dashboard: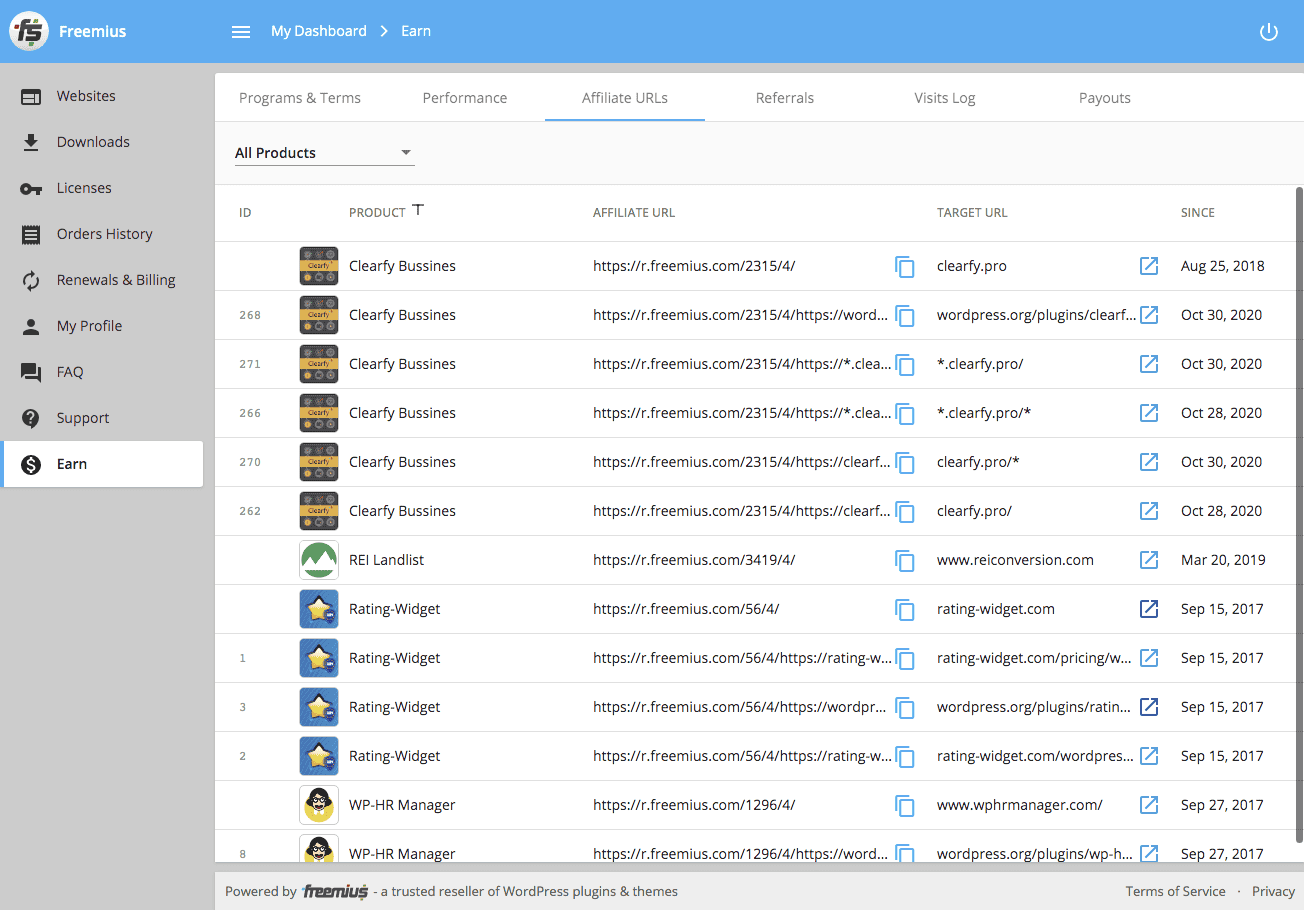 Affiliates who promote multiple products can now access and manage all of their data with a consolidated view through users.freemius.com without having to switch between products.
A new, sortable performance table allows you to analyze the best-performing Affiliate Programs.
All affiliate URLs are easily accessible through one page with helper copy icons.
A new Payouts section shows the history of all paid and pending payouts. It also allows affiliates to set up a single PayPal account for all affiliate programs.
Moreover, this brings more visibility to your affiliate programs since they will be exposed to all customers: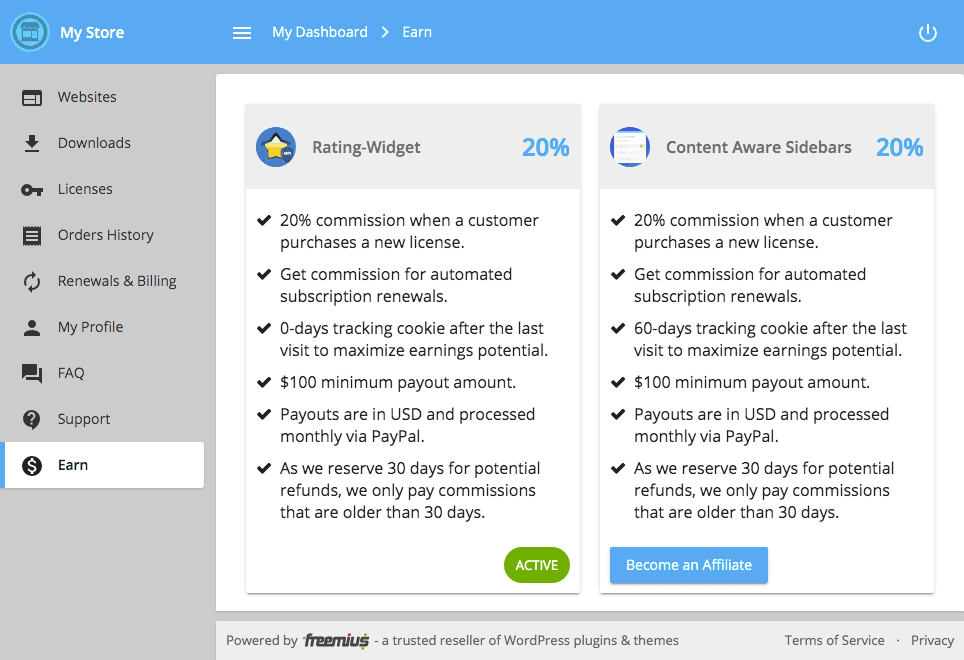 If you prefer to keep the program invite-only, no problem. There's a new Visibility switch in the Affiliate section that you can turn on to hide it:

What's Next?
As many of you already know, we've built a completely new analytics infrastructure that's fast, performant, and far more extendable than the previous iteration. Once out of beta, we plan to introduce a dashboard section for affiliates with useful charts to visually track performance.
Stay tuned for next week's release notes, which will cover additional enhancements to the User Dashboard.