This is the final part (Part III) in our series of WordPress themes & plugins market analysis, where we're looking at the unit economics of Envato, the company that owns ThemeForest and CodeCanyon. In this final post, I'll try to answer one simple but critical question – can a developer expect to make more money by selling plugins or themes? The answer will be based on the data from the two previous pieces of research.
Part I: ThemeForest By The Numbers: Thought The WordPress Theme Gold Rush Was Over? Think Again!
Part II: CodeCanyon By The Numbers: Can You Pay Your Bills Selling Premium WordPress Plugins on CodeCanyon?
ThemeForest Or CodeCanyon: Results By The Numbers
Let's start with unit-economics comparison combining data from the previous parts of the research.
ThemeForest Premium WordPress Themes
CodeCanyon Premium WordPress Plugins

7,986

WordPress Themes

(Out of 28,644 Templates)

4,861

WordPress Plugins

(Out of 19,006 scripts)

$286,355,625

WordPress Themes Gross

80.5% of all templates sales
(since 2008)

$53,906,191

WordPress Plugins Gross

71.6% of all scripts sales
(since 2009)

$138,600,378

WordPress Themes ARR

$18,658,758

WordPress Plugins ARR

2,532

New WordPress Themes

1,096

New WordPress Plugins

19

WP Themes Sold over $1M

(out of 7,986)

3

WP Plugins Sold over $1M>

(out of 4,861)

$13-$350

WordPress Themes Prices

$5-$299

WordPress Plugins Prices

$50.63

Avg. Theme Price

$18.91

Avg. Plugin Price

63.44%

Themes Sold > 100 licenses

38.4%

Plugins Sold > 100 licenses

13.1%

Themes Sold > 1,000 licenses

7.45%

Plugins Sold > 1,000 licenses

76%

Themes Earn < $1,001 / mo

97.6%

Plugins Earn < $1,001 / mo

$17,355

Avg. Theme ARR

$3,838

Avg. Plugin ARR

$52,992.50

Avg. Theme 5-year Earnings

$9,848

Avg. Plugin 5-year Earnings
The WordPress themes ARR on ThemeForest is 7.42x bigger than the WordPress plugins ARR on CodeCanyon!Tweet
WordPress Plugins Or WordPress Themes – Which Market is Bigger?
Many influential voices in the WordPress community were eulogizing the themes' market during the past 5 years. That may be due to the fact that more and more people are getting into the plugins world, I'm not sure. At any rate, it is difficult to argue with the market numbers. Since Envato owns the leading WordPress plugins & themes marketplaces and based on my knowledge and feel of the market – I would argue that it's a good representative of the whole pie.
If you agree with me on that, the conclusion is simple – the premium themes market is way bigger than the premium plugins market.
Why Are Premium Themes More Popular Than Premium Plugins?
Think about it for a second – every website needs a pretty design. And if it's a business site, paying $100 is a no-brainer when compared with the alternative of getting a costly custom design. That's why on average, every 3rd community member on Envato purchases a WordPress theme. And that's exactly why Wix and Squarespace are thriving – they simply sell beautiful website designs bound to their hosting and a WYSIWYG editor.
On the other hand, when we look at plugins, unless the plugin offers some core functionality that most website owners understand they need, the target audience automatically shrinks. For example, many sites act as simple one-pager brochures. Those are commonly used by SMBs (small and medium-sized businesses). If your plugin offers features related to blogging or eCommerce, you won't get any money from those site owners for sure. And that's a shame because unlike most sole bloggers, those SMBs are actually the users that have dollars to pay.
Even if we take a WordPress plugin that does backups as an example, in theory, every website should run backups – right? In practice, if you ask your mom what she needs for a website, she probably doesn't even know what website backups are. Many business websites are run by mom and pop shops that are not tech-savvy, knowing that your website should look good is obvious, having premium plugins with extra functionality is not.
ThemeForest Or CodeCanyon – Where Will You Make More Money?
If you plan to base your marketing and sales strategy solely on Envato, the answer to the question whether you should develop a WordPress theme or a WordPress plugin in terms of financials is clear – theme developers on Envato make 4.5x more than plugin developers on average.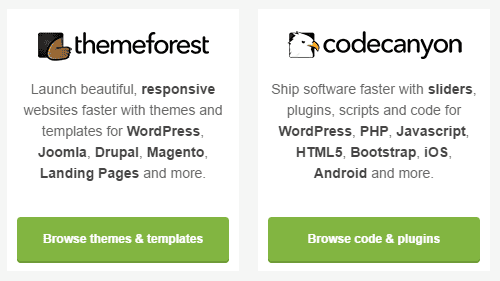 The expected 5-year earnings from a premium WordPress theme is 5.3x than the earnings from a premium WordPress plugin (there's a difference due to Envato's commission model – the more money you make, the lower the commission rates).
An average WordPress theme on ThemeForest generates 4.5x more gross sales per year than a WordPress plugin on CodeCanyon.Tweet
Should You Develop And Sell WordPress Plugins Or Themes?
There are many moving parts to this answer. So let's break it into categories.
Financial Opportunity
As we learned from the numbers, the revenue potential is much larger in the themes market than in the plugins market. While there's a similar number of WordPress plugins and themes (free and premium) – each theme earns greater revenue on average. Therefore, the financial opportunity per item is in favor of themes.
Winner: Themes
Business Owners Willing To Spend Money On Premium Themes
Envato's numbers prove that in their micro-ecosystem, every 3rd member purchases a premium WordPress theme. I'd like to extrapolate on that – I believe that the average business owner anywhere would prefer to pay for a theme rather than get a free one. Unfortunately, I don't have solid data to back my claim. Instead, I'll use logic – if a theme is free, there's a higher chance that it's being used on more websites than a paid one.
Think about it: if your website is using Twenty Sixteen there are another million websites that are probably using it. Having a business website that looks exactly like a million other websites could be embarrassing for a business owner that's using their website as a digital identity.
But, if we look at WordPress plugins, things are very different. Most plugins are performing actions behind the scenes, either in the WP Admin or at the code level (frontend or backend). Those things (usually) don't affect the branding or the identity of the site. So if there's a decent free alternative plugin, and usually there is one, many users would prefer that option, rather than save a few dollars.
Winner: Themes
Less Support When Selling WordPress Themes vs. WordPress Plugins
In theory, if you develop themes "by the book", which means they should mainly include UI and design related components without "touching" functionality, there are fewer things that could break or conflict. This means – fewer support tickets.
In practice, buyers want to buy "all-inclusive" themes that will do everything and more (multi-purpose themes). Yes, as developers we all know the different issues that can occur when binding dozens of plugins, builders, and who knows what else, together into a single theme. The hard truth is that most customers don't care about that. And this is not a hunch or my personal opinion, that's a fact. 12 out of the 19 premium themes that crossed the million dollars bar in gross sales have "multi-purpose" in their title. I can't even imagine the burden of having to provide support for those themes. My guess is that 90% of the tickets are actually not related to the theme itself but to the embedded plugins. But still, those are tickets that someone needs to read and address.
To summarize that part, if you develop a "skin" type theme that focuses on design and follows the WordPress.org theme guidelines, you'll probably have significantly fewer support tickets than if you develop a WordPress plugin. If you develop a multi-purpose theme (that's what sells best), you'll probably have at least the same volume of support, maybe even more than the average plugin.
Winner: "Light" Themes (not multi-purpose)
A WordPress Plugin Review Process Is Shorter Than A Theme Review
A Theme is a relatively more structured and simpler beast than a plugin (I'm not talking about the multi-purpose monsters). The file structure on themes is similar. If the developer is following best-practices and guidelines, a theme would include similar hooks and webhooks based on WP core recommendations, etc. A plugin, on the other hand, could do practically anything. Plugins like bbPress and WooCommerce probably have more code than the WordPress Core. So in theory, a theme's review should be faster than a plugin's review – right?
But here's what happens in practice. Since reviewers can't have (almost) any expectations about the functionality-implementation and structure of a plugin, it makes it extremely hard to actually review the whole thing. That's why plugin code reviews are usually fairly quick unless there are red flags like obfuscation and unclear API calls taking place without the user's consent. While with themes, since the structure is well known, it's easier to spot issues and incompatibilities. There's even a Theme Check plugin that automatically finds issues in themes.
Bottom line is that a plugin's review is significantly quicker than themes review, so you don't have to waste precious days just waiting for the product to be approved.
At the time of writing, the expected waiting time for new plugins and themes on Envato is:

On WordPress.org a plugin review usually takes between a day to a week, while theme review takes over a month. Since the theme review process is longer, the waiting queue for the review can take 3-6 months!
Winner: Plugins
It's Harder to Compete Over Beauty
As we already agreed, when an average buyer is scouting for a theme they are mainly searching for pretty design and layout that will match his needs. The thing is that "beauty" is a matter of taste. Something that is beautiful in your eyes might not be for others. Therefore, it's very hard to develop the best looking theme, even for a particular niche market. But, user-experience and ease of use are things which are hard to argue with. Unlike with themes, you can actually develop the most user-friendly / feature-rich / easy-to-use plugin. Therefore, it's easier to differentiate yourself with a plugin, and it's easier to market it when you know why  your product is better / different than others.
Winner: Plugins
There Are More Designers Than Developers
According to the US Bureau of Labor, there are 261,600 Graphic Designers and 148,500 Web Developers. Those numbers are from 2014 and only show the stats for the U.S. Nonetheless, it's clear that there are significantly more designers than developers. So by default, there's more competition on design. That's another reason why it's harder to develop the "best looking" theme.
Winner: Plugins
It's Easier & Cheaper to Hire A Designer
On the other hand, the fact that there are more designers makes the process of theme development less expensive. Those are simple market economics. The ratio between the supply and demand for developers is higher than for designers. Therefore, you can hire a designer for less than a developer, thus reducing the costs and time to market. It also means that it's easier and cheaper to scale a theme shop by hiring more designers to work on new themes rather than scaling a plugin shop.
Winner: Themes
Customer Lifetime Value & Upsells
Yes – every website needs a theme. But, every website only needs one theme (99% of the cases). An average lifetime of a website design is between 2-4 years. This means that if you only develop themes, you can't sell any additional products to the same website owner during that period. Yes, you can do recurring payments for continued theme updates and ongoing support, but in any case, your Annual ARPC (Average Revenue Per Customer) is capped at ~$100.
If we look at WordPress plugin shops that sell outside of a marketplace, there's nothing that stops them from marketing & upselling additional plugins & add-ons to the exact same customers. This is part of sales 101. Therefore, plugin shops like Ninja-Forms can pump up their ARPC to $500 and higher.
The reason I highlighted "plugins outside of a marketplace" is that marketplaces like CodeCanyon do not share the customers' details with the developers, so you can't really market to your customers unless you capture the details from within the plugin yourself or by using a solution like Freemius Insights.
Winner: Plugins
Your Passion
Building any business takes time. If you won't enjoy the ride and follow your passion, you'll probably quit before even getting to enjoy the fruits of your labor. So if you love 'design' and not code, plugins are probably not for you. And vice-versa: if 'design' is not your thing, you'll get bored with themes, even if you delegate the design task itself to a professional designer. The process of theme development is not always fun — moving pixels around, tweaking CSS rules — so if you are not passionate about design, you'll probably find this process very boring and repetitive. A straight path to burnout.
Winner: Depends on Your Passion
Summary
The WordPress themes market is way bigger than the premium plugins market – every website needs a pretty design. The average potential outcome of a theme is ~5x greater than a plugin.
The themes market is more mature and already has established players who lead the market, e.g. ThemeFusion, Genesis, Elegant Themes.
It's harder to compete over "beauty" because beauty is a matter of personal preference. It's easier to compete on functionality, user experience and ease of use.
The review process of a theme is much longer than a plugin. The review period is time in which you could potentially be making money.
In theory, theme support is supposed to be easier. In practice, the "money making" themes in the market are multi-purpose themes that come with a lot of plugin-like functionality and embedded plugins.
Business owners are more open to paying for premium themes, but the average revenue per site owner is capped at ~$100 a year, and you cannot upsell additional themes to that same site owner.
It's easier to scale a theme shop by hiring more designers. Designers are cheaper than developers, and there are more of them.
As you can see, there are pros and cons for plugins and themes. So what is the correct answer?
Here's a hint: WooThemes, ThemeIsle, NextGEN Gallery and Elegant Themes.
Do you see what those popular WordPress dev shops all have in common?
The answer is… do both! Develop plugins and themes to get the best of both worlds.
Match up with a partner that completes your skillset and passion, and work together on themes and plugins. That way, you can bite the larger piece of the pie (the premium themes market) and build a brand using your plugins. Leverage the themes part of your business to drive a wider range of customers, and pump up the lifetime value by upselling plugins. And most importantly, make a living from something you love doing.
Selling both WordPress plugins & themes is the best recipe to build a brand, increase a customer's LTV and bite off both markets.Tweet
Instead of selling plugins or themes – sell plugins and themes!