In this article, I'm going to have a thorough look at the most popular theme marketplace for WordPress themes. We're going to try and understand the pros and cons of selling WordPress themes on ThemeForest.
If you're a devoted reader of the Freemius blog this post's title may ring a bell for you. If it does, it's probably because of a post we've published here in the past, titled: "Is CodeCanyon a Good Place to Sell Your Premium WordPress Plugin?". As many of you know, ThemeForest is built and managed by the same company that runs CodeCanyon: Envato.
So if you've got premium WordPress themes you'd like to sell and are wondering if ThemeForest is a viable option for you – read on.
What's ThemeForest?
Themeforest is a gigantic marketplace for various website designs. The offered options include static templates, as well as themes for different content management systems.
Not surprisingly, the WordPress-oriented portion of Themeforest products is the largest and most popular one. In fact, at the time I'm writing this if you visit the ThemeForest homepage you'll find WordPress mentioned in their main copy:

According to this hero copy, WordPress themes are definitely a big thing on the ThemeForest marketplace, and if you want the actual numbers, just have a look at the following single piece of shocking data out of a study Vova Feldman had recently made, pinging the ThemeForest API:
ThemeForest Total Sales – $355,617,997
ThemeForest WordPress Theme Sales: – $286,355,625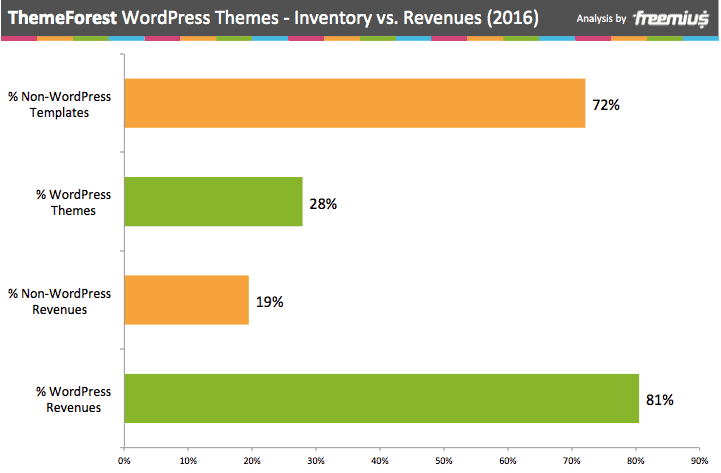 While only 28% of the Themes on ThemeForest are WordPress Themes, the WordPress themes are driving 80.5% of total revenues.
Amazing. I would never have guessed it was that significant.
Is ThemeForest Right for You?
Naturally, the answer to this question ultimately depends on who you are and what are your business goals. Let's have a look at the advantages and disadvantages to consider:
Looking at pros and cons to consider whether ThemeForest is right for your themes or not:Tweet
Pros of Selling Your Themes on ThemeForest
1. Lots of Traffic:
First off, being a big and popular marketplace, the first noticeable advantage for anyone who wishes to use ThemeForest as a platform to sell their WordPress themes is the large amount of traffic that flow in and gets exposed to the commercial themes. Some of that traffic will convert into a sale. In that aspect, ThemeForest is similar to a very large mall, in which many people prefer to do their shopping just because it concentrates many different shops inside it. That way, people don't have to cover large distances when checking out different stores as they're all located inside the same building.
2. Handling Everything "Meta":
ThemeForest makes selling your WordPress themes a breeze by handling everything "meta" and leaving you focused on creating themes (the product). In the e-commerce world, handling "meta" means they take care of receiving payments if someone decides to buy one of your themes. They also handle the distribution of your digital files. While this is, of course, all possible to do on your own, it is still a major time and effort saver, especially when you're just getting started.
3. Pretty Theme Demos:
Setting up a pretty demo of your theme on ThemeForest (with custom images and styles) can be very helpful for sales because it obviously allows potential buyers to experience what your theme might look like on a live website. Unlike the WordPress.org theme repository, not only are pretty and customized theme demos allowed on ThemeForest, it is actually a best practice.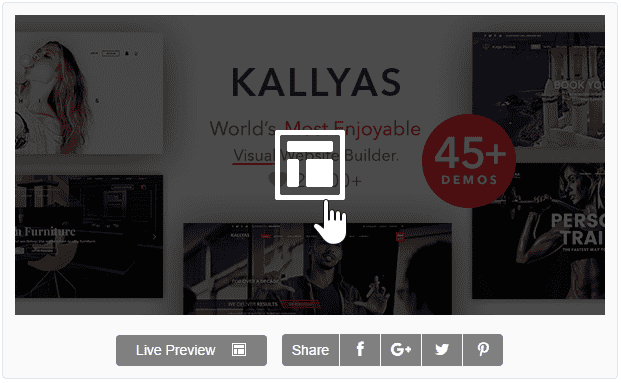 4. Code Review for Your Theme:
As a very popular marketplace, ThemeForest must be committed to high coding standards (much like the official WordPress.org repository). They allocate expert reviewers to go over your theme's code and make sure it is up to those standards. It's nice to have this reassurance about the technical level of your product.
Cons of Selling Your Themes on ThemeForest
1. Fierce Competition:
The immediate disadvantage that comes right along when talking about the traffic advantage (see above) is the fact that this traffic gets exposed to tens of thousands of other templates and themes on the same site. Granted, not all of those competitors are in the same WordPress themes category, but even if we're talking about only 9-10K other competitor products (the actual current number is 9,674 WordPress Themes in the ThemeForest market) – that's still a challenging arena to be competing in.
On ThemeForest, your theme gets a lot of traffic, but it is shared between all theme shops selling there.Tweet
2. No Communication with Customers:
A theme seller on ThemeForest does not have any direct/indirect relationship with the people who purchase their items. What that means is that you are tied into that platform, because even if you get a loyal customer base who comes time after time again to purchase your products – those people will be gone forever if you decide to take your business elsewhere, or if ThemeForest closes down someday. Why gone forever? Because you won't have any idea who they are or any way of contacting them, that's why.
3. Popular & Multi-Purpose Items:
The ThemeForest marketplace, much like any marketplace out there, is divided into categories, and then into sub-categories, to make it easier for customers to find what they're looking for. While it makes a lot of sense for any shop to place products that serve different purposes in different spots in the store, when entering a marketplace such as ThemeForest and looking to make a purchase – it is very easy for a customer to get drawn over to the "Popular Items" page, or simply go with some "Most Popular Responsive Multi-purpose Theme". This tendency seems to help already popular themes stay popular on account of other, not necessarily less worthy themes. Not to mention the fact that it also seems to decrease the overall sales number, because people seem to be buying these monstrous themes once and then reusing them for many of their projects, simply by assembling the theme's pieces differently.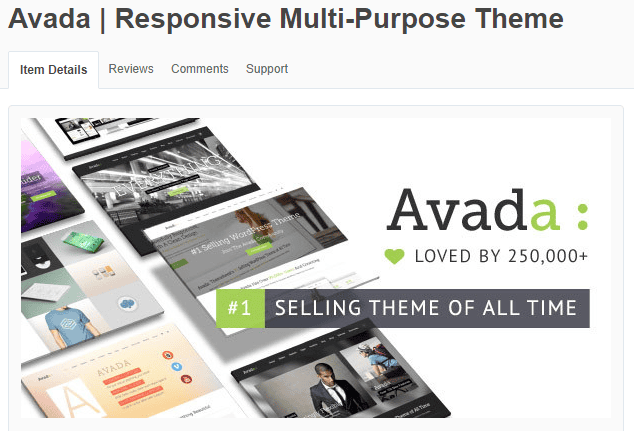 4. (Practically) Mandatory Support for Free:
At some point, the company that runs ThemeForest (Envato) realized that buyers who shop for themes on ThemeForest are wondering whether or not they are going to get support for the product they are about to purchase. This made them introduce their "voluntary" support checkbox. What this means is that unless you, as a theme author, are willing to publicly declare that you will provide support for your theme for at least 6 months, without getting any extra payment for it – your product will be marked with a sign of disgrace, stating that "this item is not supported". What it means is that unless you want to have zero sales – you have to comply with this and say you'll provide support to all those who purchase your theme. For free. For six months.
5. No Recurring Payments or Automatic Renewals
ThemeForest does not support the most popular way of selling software products online today. Instead, they are limited to a one-time payment for lifetime updates.
I just got an email notice from TF a couple of days ago about an update to a theme I had purchased back in 2011. They invited me to click and download the updated version, at no extra cost. That is money left on the table by that theme's author!
I would have gladly purchased that theme with recurring payment for a year in return for continued support and regular feature/security updates. And, with an automatic software license renewals mechanism in place, this theme author could have made SO much more money with each theme sale.
6. No Upsell to Multi-Site Licenses
ThemeForest theme licenses are limited to a single site. Because themes are mainly purchased based on their layout and design the chance that someone would buy the same theme twice is low. But, you can increase those odds by upselling the license to a multi-site one, throwing in a discount for the same transaction. Talk to any theme seller selling outside of ThemeForest and they'll be happy to tell you how well these multi-site licenses are doing when selling to agencies and freelancers.
7. Non-US Citizens May Earn Less:
Originally, Envato is an Australian company that had at some point decided, for different reasons, to transfer some of its activity to the US. What that meant in practical terms is that if you (the theme seller) are a US citizen or the country you live in has a tax treaty with the IRS – your theme sales earnings will be paid to you from the US. However, if you do not qualify, or do not provide Envato with a W-8 form – then 28% of your earnings will be held back by them and transferred to the IRS. This obviously comes in addition to the 30% commission rate that ThemeForest charges theme authors for selling through their marketplace, which leaves sellers from more than 100 countries with much fewer earnings from sales.
Choosing Your Path
There's no doubt that uploading your themes for sale on ThemeForest is a step forward in creating your themes' business, and it is indeed still considered a viable business to have. The question that remains is whether ThemeForest is the right path for you and your goals, and that depends on where you see your business going forward.
Building and growing your business inside ThemeForest means you'll be very much invested in growing ThemeForest and not necessarily in growing your own business. You'll also be very dependent on ThemeForest's ability to bring in the traffic and potential customers.
Inspecting a few possible paths when thinking about where/how to sell WordPress themes:Tweet
Let's inspect a few possible paths to choose from when thinking about where you'd like to take your WordPress themes business:
1. Launching Your First Premium Theme
If you're just getting started and have just finished creating your first couple of themes – it might be a great fit to test the theme business waters. A quick solution, taking care of marketing, sales, and distribution for you.
Later on, after you'll have invested many hours into it and have a better understanding of how things should or shouldn't work – you are likely to come up with slightly more technical reasons as to why ThemeForest makes for a good/bad solution for your needs, as a seller. It's also plausible that after selling your themes on ThemeForest for some time and receiving some feedback on your product – you'll be better equipped to make a wise decision as to whether or not this is something you should continue with.
2. Placing Existing Themes for Sale on ThemeForest, Too
If you already have themes you're selling through other channels – you still have the option of placing those same items for sale on ThemeForest. The main caveat here is that ThemeForest had already thought about this scenario, and has different guidelines defined for Envato Exclusive Authors (Authors who have items they sell on ThemeForest exclusively and are only charged a 30%-50% commission) and Non-Exclusive Envato authors who only get to keep 30% of the entire sale in their pocket.
While it probably "won't hurt" to have your themes presented and sold in this big marketplace – 70% is quite a hefty portion for you to be leaving in the hands of your distributor. You'll need to weigh the other options that are working for you if you are looking to understand whether or not selling on ThemeForest is still viable, despite the exclusivity restriction.
3. Going Full Premium Theme Shop
Of course, there's always the option of setting up your special place (store) on the internet and selling your premium themes on it. No strings attached to any specific marketplace or having to abide by their restrictions and rules.
Sounds good, no doubt. However, there are a few "minor issues" you'll have to deal with if you're going to be setting your own guidelines:
You'll need to have a secure payments mechanism for your themes
You'll want to set up pricing and different plans for your themes
You may have to provide refunds, in case someone asks for it
Coupons/discounts are nice-to-have
You might want to have a licensing mechanism in place to control the number of sites your theme is valid for
How are you going to allow theme updates for your clients?
Distribution of the digital goods you offer is important, so you'll need to think about hosting
If you would like to be able to sell in Europe, you have to figure out their slightly complex VAT collection methods, as well as maintain proper reports
Let's stop here (there's more) – I don't want to upset you 🙂
Going The Premium Business Model Route With Freemius
As you may have guessed already – Freemius provides a very interesting alternative, if you decide you want to start selling your themes as a unique brand, on your own website (a theme shop, in other words).
A service called Freemius Checkout solves all of the above-mentioned headaches for you and allows you to start selling your themes from anywhere in no time.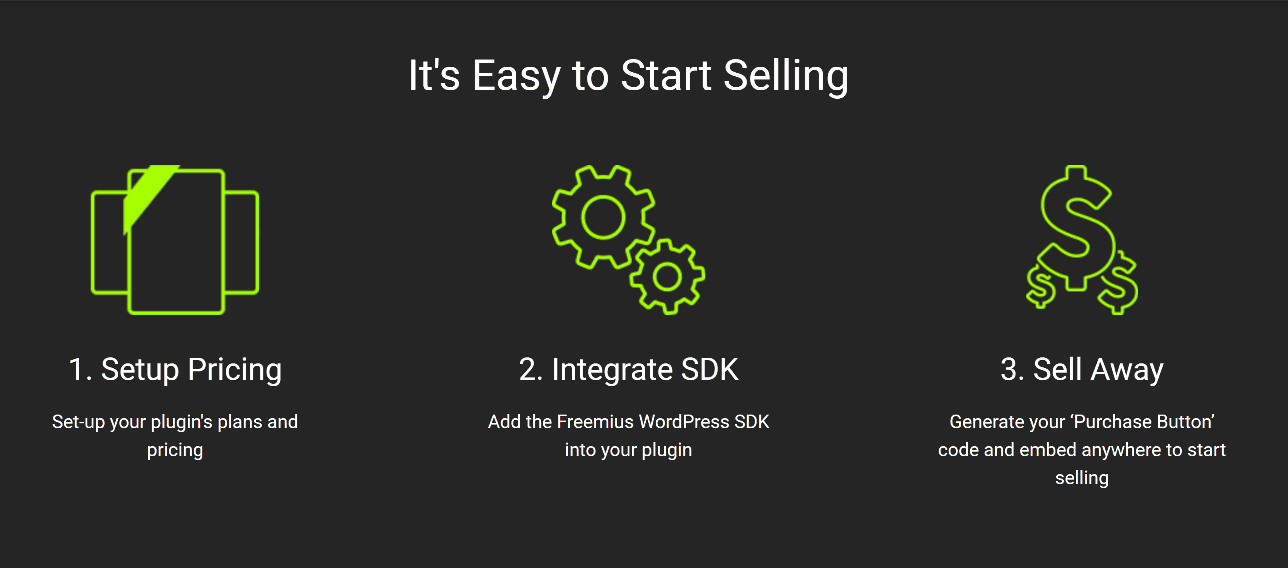 It's important to note that when setting up your own theme shop website – you are not left alone to wonder who are your clients and how you can communicate with them. Freemius Checkout is a Freemius product that comes with Freemius Insights for themes built into it! This means you'll be able to know exactly who is buying your themes and communicate with them and turn them into your loyal customer base.
Conclusion
Selling your themes on ThemeForest is an easy way to get started in getting some initial traction and $$$ for your work. However, in the long run, I think that dedicating yourself and your efforts entirely to selling on the ThemeForest marketplace (or any other marketplace, for that matter) is not sustainable for YOUR business.
So, for the initial steps – ThemeForest is a viable option.
When thinking ahead – you should build and grow your own theme shop brand, rather than invest all of your efforts in growing someone else's business.