Growing a WordPress plugin or theme business is hard. Apart from the obvious product development work, you have to deal with marketing, customer support, team growth, design, licensing, taxes, legal, and the list goes on and on. We've consolidated years of "wisdom" into a concise "cheat sheet" to help ease your business growth pains with actionable DOs and DON'Ts that you can apply throughout your WordPress product business journey.
The insights contained in the cheat sheet are backed by data, experiments, and accumulated first-hand experience from the makers of hundreds of WordPress plugin and theme businesses, including products many of us love and use, such as WPML, MailPoet, WPMU DEV, IconicWP, OceanWP, FooPlugins, StyleMix, and Blocksy.
Download the eBook
To dive into a treasure trove of information that's (quite literally) been years in the making, grab your copy of our WordPress Business Cheat Sheet for Selling Themes and Plugins here:
Grab a free copy of our
Cheat Sheet for Selling Themes and Plugins
A growth roadmap with concise, actionable tips for every milestone of WordPress product development.
Share with a friend
Enter your friend's email address. We'll only email them this book, scout's honor.
Thank you for sharing
Awesome - a copy of 'Cheat Sheet for Selling Themes and Plugins' was just sent to . Want to help us spread the word even more? Go on, share the book with your friends and colleagues.
Thanks for subscribing!
- we just sent your copy of 'Cheat Sheet for Selling Themes and Plugins' to .
Have a typo in your email? click here to edit the email address and send again.
Check out this free Cheat Sheet eBook by @freemius that covers everything to know about selling #WordPress #plugins and #themes!Tweet
What to Expect from the Cheat Sheet
The eBook takes you from start to growth, exploring key areas in every step of the journey to guide you through different dilemmas and questions to help you make smarter decisions: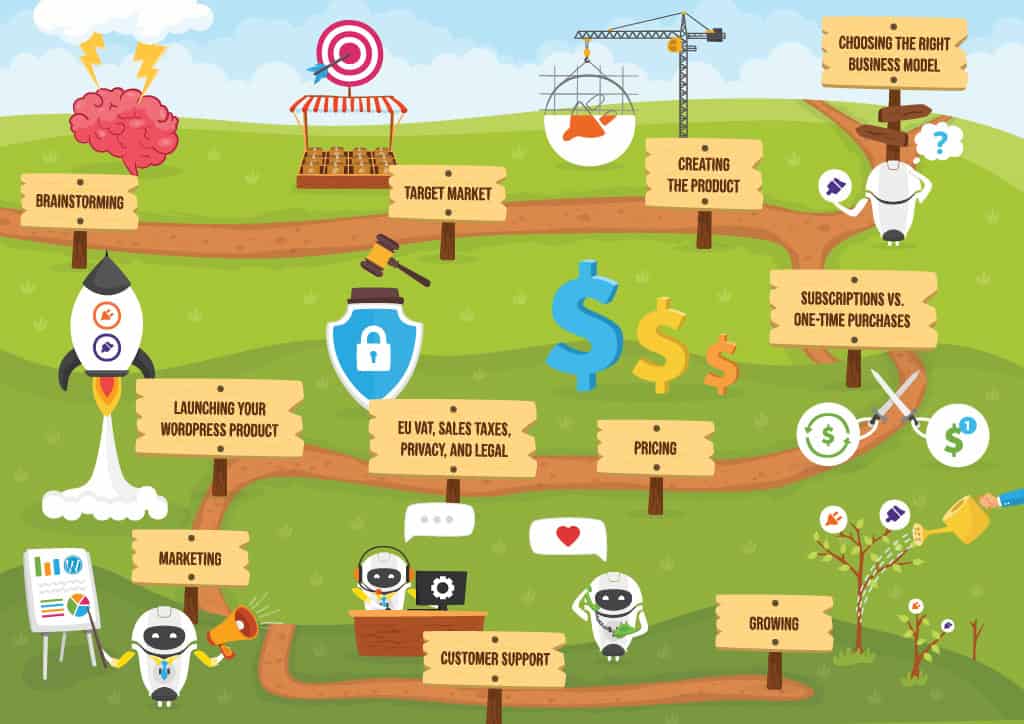 Brainstorming a WordPress Product Business Idea: This chapter will help you find inspiration and come up with new product ideas in the WordPress industry.
Analyzing & Understanding WordPress Markets: To make sure your product is viable and feasible, you need to do a little analysis and research of your own. This chapter will cover those aspects.
Tips Related to WordPress Product Development: Development is the core of any WordPress product and this chapter will guide you on how to develop a plugin or theme that holds real market value.
WordPress Product Business Models: This chapter will explore popular WordPress business models to help you choose the best one for your business.
Pricing Model Tips for Theme/Plugin Businesses: There are many things you need to consider when setting a price for your product. In this chapter, you will learn how to analyze the value and price of your product for maximum returns.
Subscriptions for WordPress Products: Subscriptions are the go-to solution for creating a viable business. This chapter will talk about subscriptions over one-time payments.
Taxes and Legal Compliances for Selling WordPress Products: Since you'll be running a business, it is important to make sure you've got all of your ducks in a row. This chapter will cover everything you need to know about EU VAT, sales tax, and legal compliances for running a WordPress plugin or theme business.
Preparing and Launching the Product: A well-orchestrated product launch sets the stage for success. This chapter outlines what you need to do to lay the groundwork from which to launch.
Marketing for WordPress Products: No matter how good your product is, it needs to be promoted. In this chapter, you will learn the proven marketing strategies for WordPress products and how you can implement them.
Managing Customer Support: Good customer support is the backbone of any WordPress product business. This chapter discusses the various aspects of customer support and how to become more effective at it.
Growth Opportunities and How to Make the Most of Them: Apart from launching and marketing, there are many other tactics that you can deploy to grow your business and take it to the next level. In this chapter, you will learn about various growth strategies that you can implement to boost your sales.
The Backstory
Over the years, we published a tremendous amount of in-depth content about running and scaling WordPress product businesses, from inspiring interviews to data-backed analysis on how to increase conversion rates and reduce churn.
The content we produce also helps our team members level up their eCommerce knowledge, which we find mission-critical to lead in our space. But, as our team grows, asking new teammates to read all of the content we've created over the years is just no longer feasible.
Also, as time went by, some of the older articles needed updating to sync with today's best eCommerce practices, which are constantly evolving.
Taking the above into consideration, it hit me. As we updated our content repository, we would produce a "cheat sheet" eBook that took all of our learnings and condensed them into a tangible, valuable asset for our team and the WordPress product makers' community.
Now to find the perfect person to execute the idea…

To ensure my idea was in good hands, we recently welcomed a super-talented WordPress content marketer to the Freemius team!
Yashwardhan Rana has been in the WordPress space for nearly half a decade and — with his first-hand experience in marketing and growing IdeaBox, a WordPress plugin business — he's the person I entrusted to make this eBook rich and useful, yet concise and to the point. For over a month, Yash thoroughly went through, analyzed, and summarized over 160 articles to distill the best actionable insights about running a WordPress plugin or theme business. That's almost half a million words combined!
I'd like to thank Yash, who took on the task like a champion and condensed weeks of information into this cheat sheet. Vitalii, our visual magician who created the eBook as a true collectible piece of art. And Scott, our new Head of Content, the conductor of the entire process who assured the content's quality and precision, and took care of the finer details.
Let us know what you think of the cheat sheet eBook by sharing your thoughts below!