I've had the pleasure of talking with two amazing young guys from the Republic of Moldova, Sergiu and Andrei, the creators of Blocksy and founders of CreativeThemes. Blocksy started as a free theme and was recently supplemented with a paid plugin. They shared their journey – how their product came to life, and their path to creating a successful digital product business.
It's great to connect with you guys! Your theme is fairly new, yet your success has been amazing, but before we get to that, can you give us a bit of your background?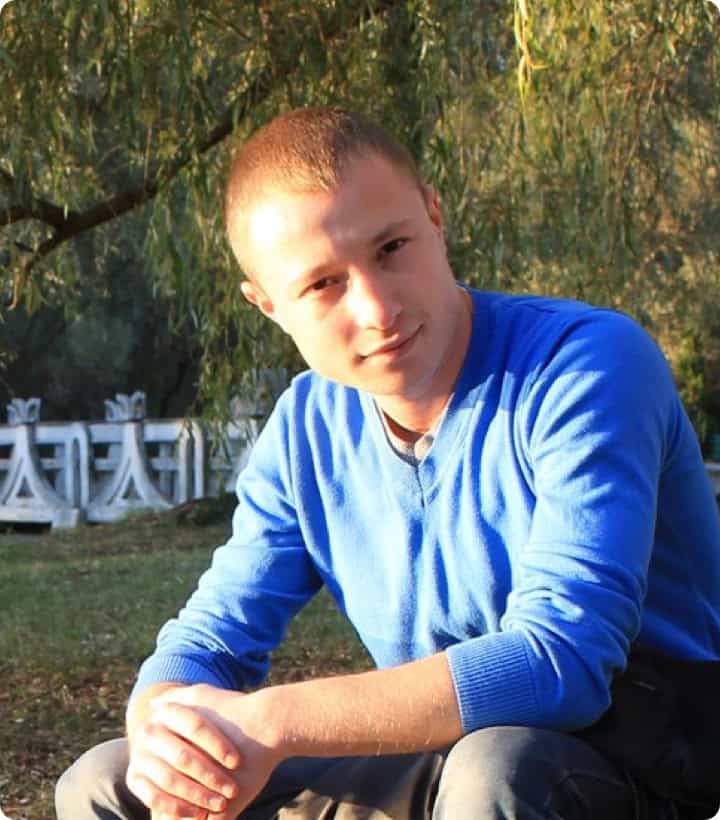 Sergiu: Mainly, I'm a designer, I went to Art school, and a friend of mine introduced me to Photoshop and Web development, so I invested some time and developed these skills. I love to code and develop new things, but design is my thing. I discovered WordPress through Pavel from WPZOOM and through trial and error built my first WP Website.
You can get a glimpse of where I work every day: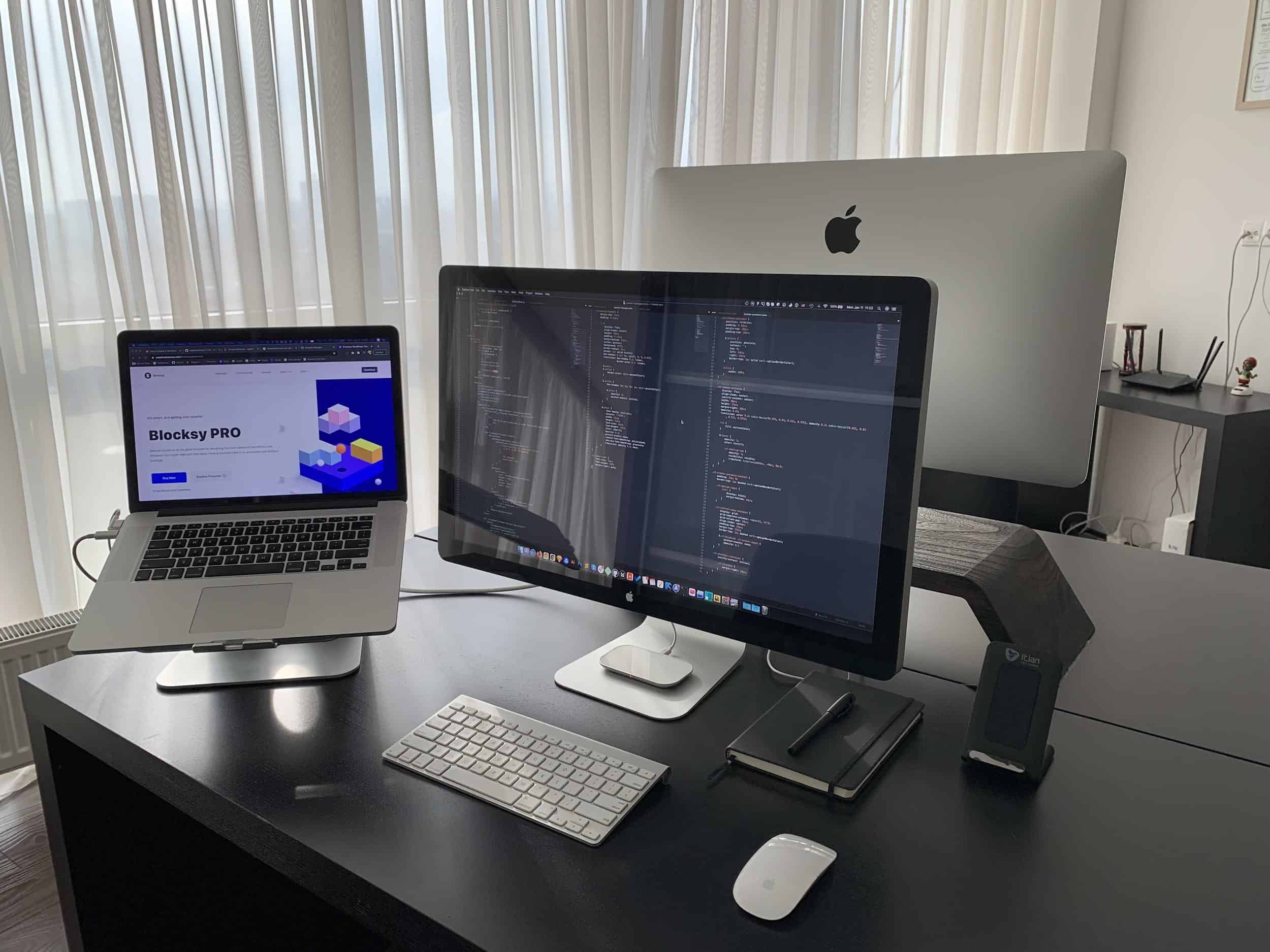 After making a few websites, I realized that's what I wanted to do and by chance met Andrei.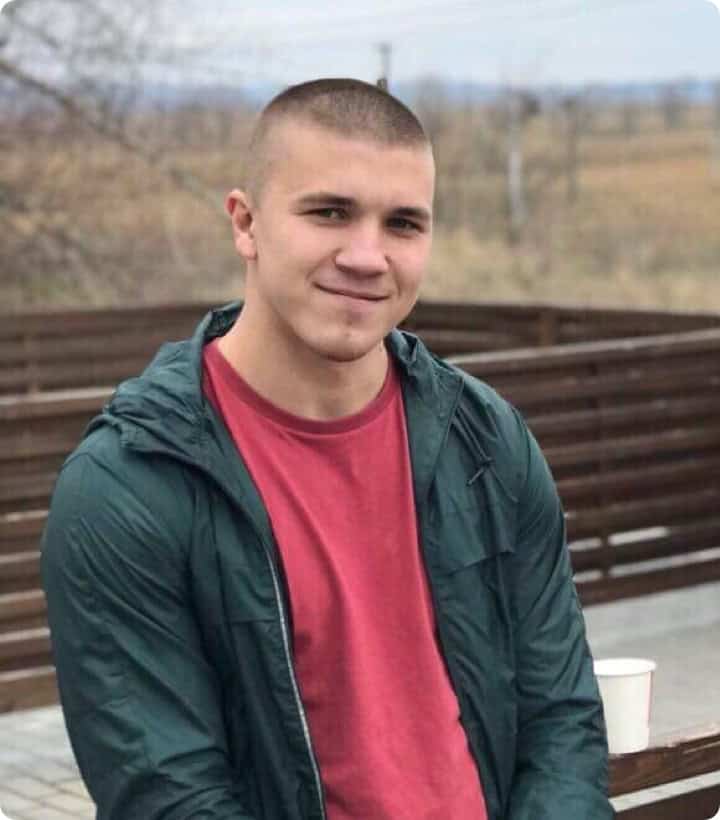 Andrei: At the time, I was still in high school. After I met Sergiu, we started working together on some smaller projects, and it went really well. During my university, four or five years ago, we decided to build something together.
My workspace has gotten better over the years 😉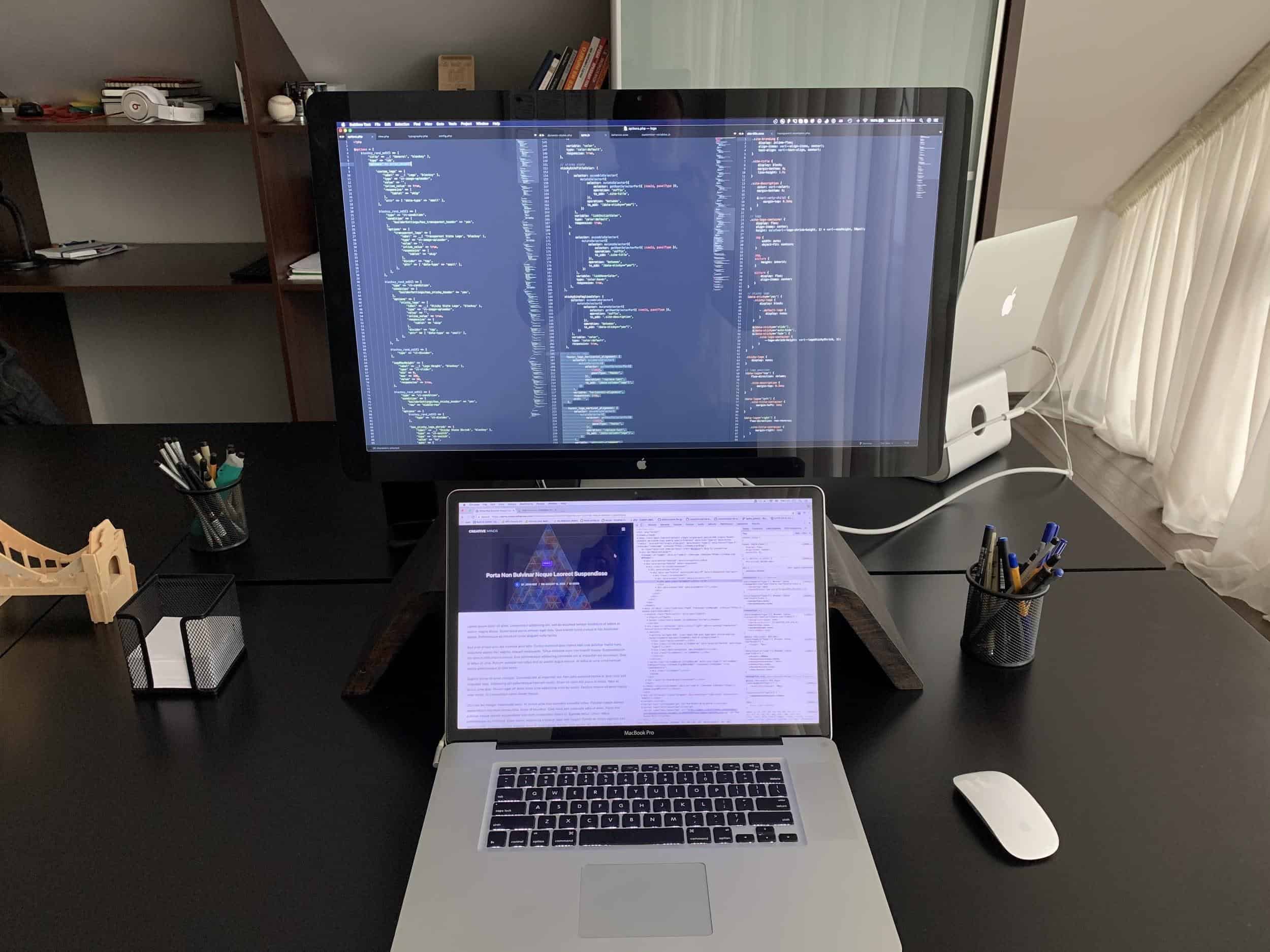 Our first project was a WordPress theme, and we have invested 2 years in it, but eventually realized it wasn't going to take off, so we gave up on it, with the idea to start something fresh. Gutenberg was starting at the time and that's how Blocksy came to be.
We have worked on the free version for two years, making it stable and polished. It was hard, but worth it. That way we proved that we are capable of making something work and that people actually enjoy using.
We did this by creating a new project, a new theme, and our own framework that fits our needs. We have investigated many themes and invested in brainstorming ideas, such as how to make the theme user-friendly, how to make a good user experience – we wanted to make it so simple that users won't need to read any documentation because everything just works!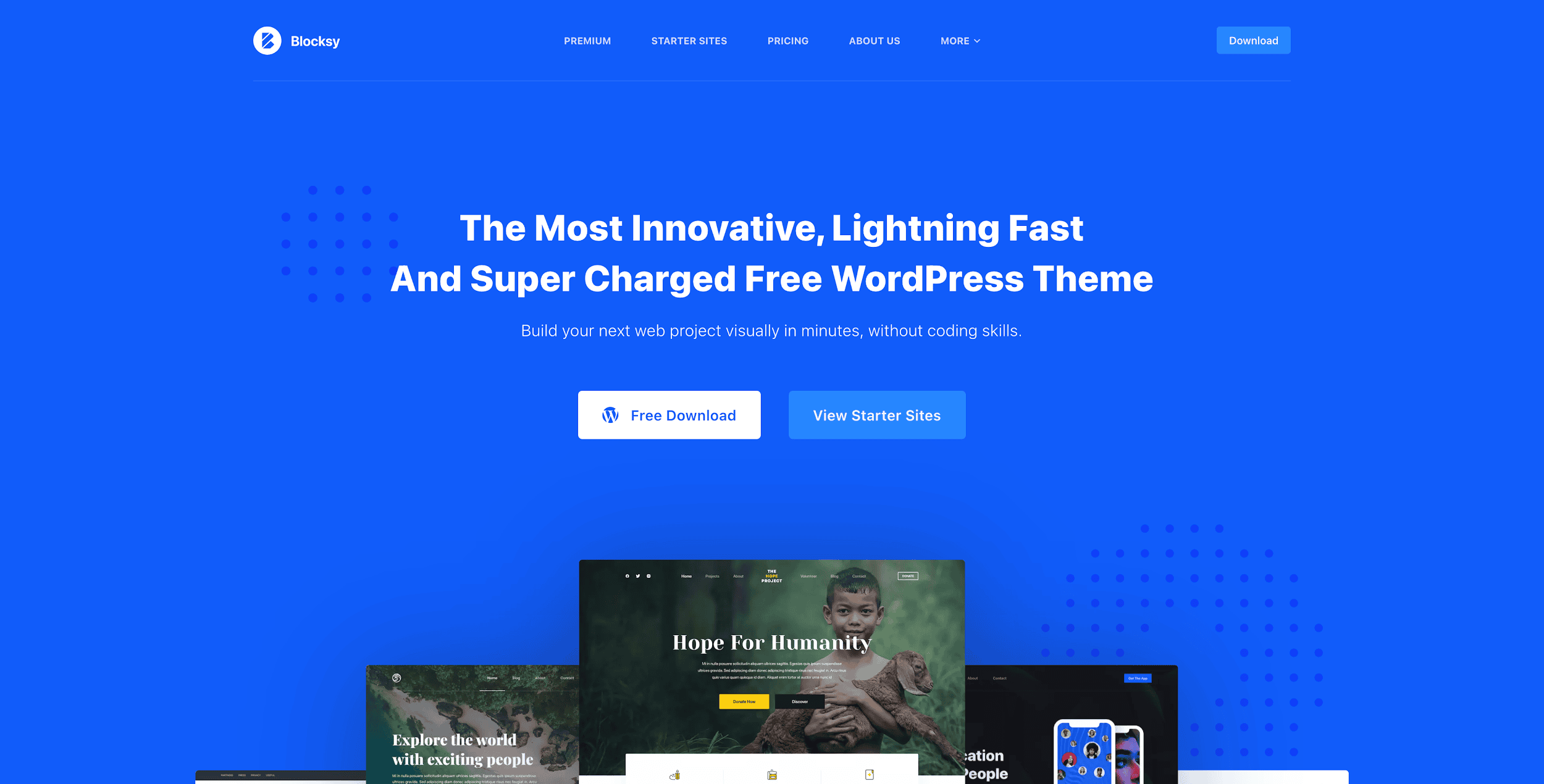 For every new functionality, we would spend a lot of time ideating and prototyping. For instance, we have spent two months thinking, drawing and sketching the transparent header and sticky functionality. It only took a week to develop it, but the idea was the hard part.
With Blocksy, we wanted to make it work with beginner as well as advanced users, offer a lot of features, but still keep it clean and lightweight. One example is that files are lazy-loaded only when needed upon activating a certain feature.
Perhaps we are too perfectionist; it has both a good side and a bad one. The bad one is that it's very difficult, but at the same time you're giving your users a very polished product, and in the end that's what's most important.
How did you first hear about Freemius?
When we just started to create the free version of Blocksy, we were thinking about how we are going to sell our Pro version. We initially started on wp.org, but pulled it down and delivered the updates for the free version using EDD.
We did that for a year or so. As a two person team, we discovered it's very hard to manage all these things. We needed a simpler solution.
We considered WooCommerce, Fastspring, Paywith, debating a lot of possibilities, and we were discussing with our friend Alex from Brizy about the extra money you have to pay for setting up an affiliate program and other options.
You have to have a good system that works in every aspect, not only to sell and get money from the user, but you have to take care of things like EU VAT, while at the same time making sure the product actually works and gets updated.
Subscribe and grab a free copy of our
WordPress Plugin Business Book
Exactly how to create a prosperous WordPress plugin business in the subscription economy.
Share with a friend
Enter your friend's email address. We'll only email them this book, scout's honor.
Thank you for sharing
Awesome - a copy of 'The WordPress Plugin Business Book' was just sent to . Want to help us spread the word even more? Go on, share the book with your friends and colleagues.
Thanks for subscribing!
- we just sent your copy of 'The WordPress Plugin Business Book' to .
Have a typo in your email? click here to edit the email address and send again.
We found Freemius, started to read and learn more about it. Though we have seen some user concerns about privacy, that didn't stop us. We realized that Freemius is actually the only platform being transparent on what data they collect. Other platforms – EDD, WooCommerce, Elementor, are tracking everything, but they are not saying it, so their users are not complaining because they are not aware of it.
Freemius is saying openly what they're tracking and because of that they get exposed to criticism.
When releasing the Pro version, we have decided to go with Freemius for monetization. We have already been running Freemius to get the analytics on our free version for about 9 months, so we were familiar with the system.
How long did it take you to integrate Freemius and make it all work?
It was very fast, not more than two days. For all issues, there was available documentation. For instance, to automatically deactivate the free version when the Pro is activated, I didn't know how to implement it but very quickly found the documentation, and it took me an hour to get it working.
How was your experience with the Freemius team?
We did bother the technical team a bit 😂 but they were very friendly and sent us detailed responses, and we are very thankful for that. We also had some conversations within the Freemius developers' community – we are helping each other, sharing experiences – and we'd especially like to thank Benjamin from Stackable.
At this point, I think we like everything. With Vova and the support team's help, everything went very smoothly.
Is Blocksy your full-time project?
In the past, we had some additional projects to sustain ourselves and support development, but 80% was Blocksy. Now, it's a full-time job for us.
How big is your team?
Besides the two of us, we have just hired another developer, but over time we're planning to expand and build more cool things.
And how do you balance development, support, marketing?
We enjoy development the most – coding, designing, implementing features; marketing is not our strong side. So far, we have done everything ourselves – marketing, social channels. Our goal is to expand the team in marketing and support, so we can concentrate on development – what we actually enjoy doing.
You have launched the Pro version just before Black Friday and had amazing sales results in your first month. What did you do to prepare for the launch and how did you promote Blocksy?
We have a closed Slack group with a few developers, where we discuss what features they need for their agencies, and within the first minutes upon launch, they went ahead and bought the Pro version. We also shared it with our Facebook community and sent a newsletter to our contacts, but no special promotion or campaign otherwise.
We have a closed Slack group with a few developers, where we discuss what features they need for their agencies, and within the first minutes upon launch, they went ahead and bought the Pro version.Tweet
Probably the thing that helped the most was building the free version and making it stable during this long period of time. There were people who were already using Blocksy and wanting the features we were building. They were waiting for some of the functionality for a while and pushing us "When is the Pro version coming"? 🙂
That's a nice way for your users to say thank you for an amazing free theme! Can you share with us what's in the kitchen and what do you have planned?
Next, we want to focus on making Blocksy even more stable, integrate it with additional plugins, like Lifter LMS, and we have a lot of other features planned. In 2021, we're planning on bringing more starter sites, both free and Pro, and more WooCommerce functionality.
Once we reach the stability point, we'll be working on a second product. Again, we'll start slowly, make it free at first, so that people actually use it, enjoy it; and maybe one day there comes a point when we monetize it too. With Freemius of course! 🙂
What are your favorite Freemius features?
We love the Beta program! There are many other great features – like automatic deployment, a really cool one is the cart recovery, coupons, and also the affiliate platform. We even customized the User Dashboard to match our website really nicely.
What would be the takeaway from your journey so far – do you have any advice for fellow developers or people considering to start a plugin/theme business?
You know, we had a really hard time, so I think the best advice would be to believe in yourself and keep going no matter what. Believe in your dream and your idea. It will make you get up in the morning, it will give you the motivation. There are tough moments, but not giving up is the right way. We had a lot of hard times, but every time we met a challenge we told ourselves "Everything will be fine, everything will be good, we will make it!"
And this is the most important thing – don't give up, believe in yourself.
That's beautiful! Thank you for sharing this and for sharing your story!
Like to read additional inspiring stories of WordPress plugin and theme shop founders? Here's our latest 3 interviews: