This time we are interviewing an exciting entrepreneur from France. Benjamin Denis is the creator and owner of several WordPress plugins, who focuses (when he's not working full-time at a web agency) on building and growing SEOPress – a WordPress plugin (freemium) that helps website owners optimize their SEO.
Benjamin, thanks for agreeing to provide an inside look at your WordPress product operation. Why don't we dive right in – how did you get into the business of 'SEOPress'?
Everything started back in August 2016, when I was looking for a plugin idea to develop. I had already had two freemium plugins (WP Cloudy and WP Admin UI), and with the experience gained from them, I wanted to go further. So, I hopped on the official WordPress repository and grabbed the most downloaded plugins, noticing that the SEO topic was very frequent on the list.
My main (future) competitor is Yoast SEO (an 'All in One' to a lesser extent) who was, and still is, dominating the rankings. So, why attack these two behemoths? After having used this plugin on more than 50 WordPress sites, the more the updates came together the less I and my customers were satisfied: a complex interface, not intuitive, very changeable. It consequently generated an abundance of Customer Support.
I am one of those who think that there is room for everyone and that anyone can engage in creating a WordPress theme or extension.
And so, the project was launched!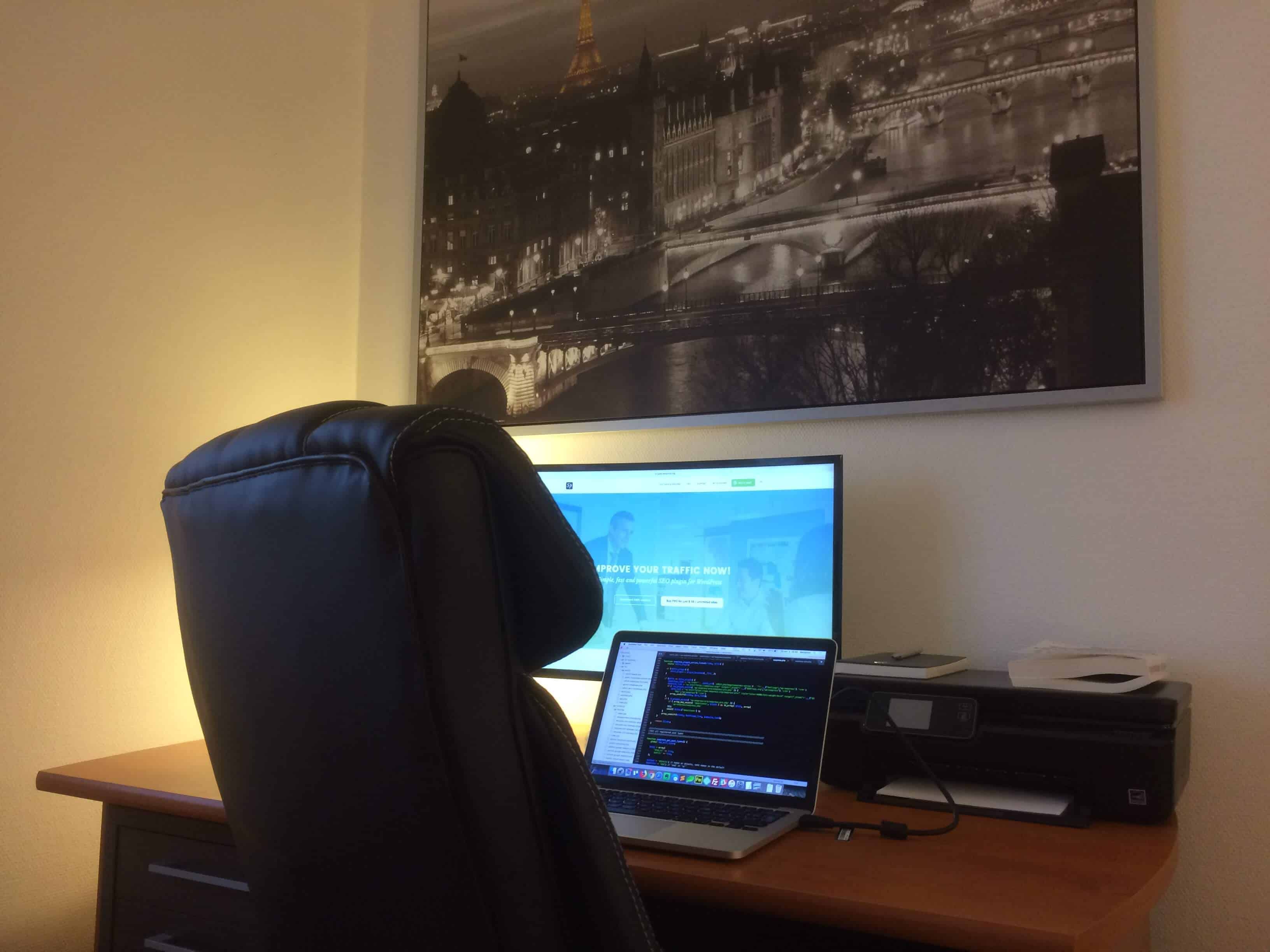 How was the development process handled? How did you choose which features to focus on first?
The development took several weeks, in order to obtain a beta version in November of 2016. 'SEOPress' was (and still is) developed in my free time, as I was (and still am today) a full-time employee in a web agency of the Basque Country. The main difficulty was to choose which features to integrate at the start in order to get the most feedbacks through the beta, and then fix the bugs.
It is also very important to always ask if a feature is part of the primary purpose of the plugin and to try to gauge the demand and estimate the time needed to create it. A very common mistake is to develop for oneself, and not for your customers.
Try to gauge the demand for a certain feature and to estimate the time needed to create it. A very common mistake is to develop for oneself, and not for your customers.Tweet
December 2016, first public release on WordPress.org. Feedbacks & reviews are very positive, but the extension is still not at the level of competition.
During the next 5 months, the catch-up gradually takes place, the addition of functionalities intensifies, while trying to minimize the requests for support. Talking about support, the number of tickets created in relation to the number of customers was very low: around 0.9, which is very important when you sell code (creating good documentation, FAQ, and videos helps a lot).
January 2018, after 1 full year, the milestone of 10,000 active installations is crossed (with 90,000 downloads). I'm rather proud because my first plugin, released in 2014 (WP Cloudy), has reached this only very recently.
That's an impressive start! Can you talk a little about the business model you've chosen?
SEOPress is a freemium plugin with a yearly subscription. This is an effective way to enlarge its user-base while reducing the churn rate. This was one of my mistakes in selling paid add-ons for WP Cloudy 4 years ago without a subscription. You have to constantly look for new customers, and it's extremely more difficult to maintain your code in the long term. A subscription helps to retain your customer, and in return, you offer support and updates. This is a win-win situation for both parties. Recurring revenues are clearly the key.
In addition, being present on the official WordPress repository (and therefore visible from any WordPress backend) is another crucial factor that helps make this plugin business financially sustainable.
Being present on the official WordPress repository (and therefore visible from any WordPress backend) is a crucial factor that helps make a plugin business financially sustainable.Tweet
How did you go about making your premium pricing choices?
I asked myself: What's the most popular WordPress theme shop?
ElegantThemes (with almost 500K customers).
So, I based my pricing on their price model, offering an annual subscription, without limiting the # of sites, and for a derisory price. Customers love simplicity when it comes to pricing.
What guided you when you came to choose a business licensing model: Annual subscriptions vs. Monthly subscriptions vs. Lifetime (1 payment)?
I don't believe in a lifetime purchase. In the short term, yes, you can earn more money and get cash quickly, but in the mid-long term, it's definitely not a good thing for maintaining your code and providing support.
I prefer that my customers pay for an annual subscription: on one hand, you do not have to talk about money, renewals, and payments with your client… only once a year. It is also less stressful for you when responding to a ticket for example, and it offers a clearer financial forecast. On the other hand, the plugin is very inexpensive. A monthly subscription would not make sense in my case since I am selling a plugin, not a SaaS.
Subscribe and grab a free copy of our book
11 Proven Techniques To Increase Your Credit-Card Disputes Win Success Rate by 740%
Share with a friend
Enter your friend's email address. We'll only email them this book, scout's honor.
Thank you for sharing
Awesome - a copy of '11 Proven Techniques To Increase Your Credit-Card Disputes Win Success Rate by 740%' was just sent to . Want to help us spread the word even more? Go on, share the book with your friends and colleagues.
Thanks for subscribing!
- we just sent your copy of '11 Proven Techniques To Increase Your Credit-Card Disputes Win Success Rate by 740%' to .
Have a typo in your email? click here to edit the email address and send again.
Why have you not opted to sell paid add-ons, which is a proven model that works for some?
I have already tried the add-ons model with my first plugin, WP Cloudy. But it's much more complicated to make sales, to maintain the code-base and to manage your website. So, I quickly switched to a plans model with everything included.
How do you handle taxes when selling in Europe (EU VAT)?
Currently, it's not a problem for me because my status (micro-entrepreneur) allows me to sell products and services without including a VAT. Everything is sold with all taxes included. But, it's temporary, because the allowed limit of a business turnover is relatively low, forcing me to change quickly to a more evolved status. I will, therefore, have to incorporate VAT management.
What kind of data do you have on the users of your plugin? How do you manage that, and how do you use the data to help the business grow?
The only data I have is what's provided by WordPress.org on the free version of the plugin. I don't include further tracking within the plugin. And I don't plan to do it in the short term. I prefer to focus on user feedback and set up (still in progress) a system of ideas à la WooCommerce.
You've done a great job with your plugin business in terms of marketing, especially when taking into consideration the fact that your niche was already dominated by very strong players. If that's not enough – you're running a (part-time) one-man-show. Any marketing-related tips you can provide for our readers?
Doing marketing is actually something new for me, but after 7 months of "developing" this aspect for SEOPress, here are some lessons/feedback that I can give you:
Internationalize immediately, at least English and your mother tongue (French in my case). It is a very good way to increase conversions. In order to have as many languages as possible, in exchange, I offer a professional license to the translator. To date, SEOPress is translated into 10 languages, soon an eleventh (working on Danish).
Ask for reviews via Twitter: works pretty great (currently 36 reviews, 4.9 / 5), and this is very important to get downloads quickly.
Optimize your readme.txt to get better SEO on the repository (be careful about WordPress repository rules, especially the title, to avoid being removed)
Get backlinks from blogs: avoid paid posts, it doesn't work really well. Natural/organic backlinks are much more efficient (give guest blogging a shot).
Create discounts for special events like Black Friday or Cyber Monday. It gives a huge boost in sales.
Create a partnership with other plugins/services. This works well for me, as I'm present in all of the c-panels of a French web host (O2Switch), in the client area of the WP-Rocket cache plugin, and on the blog of Majestic open apps for example.
Invest in a web designer to have a decent website to sell your product on (thanks, Marina). Do not use a premium theme or the default WordPress theme for that!
The key is to test, test and test again to find the best methods. There is no one magic solution in marketing.
In retrospect, what are some of the biggest challenges in the creation of a premium WordPress plugin business?
A constant challenge is making decisions about which features should be free or paid. You have to satisfy your Pro users to get their subscriptions renewed, and your free users to get future pro customers.
Although, the very (too?) aggressive price of $39 per year with unlimited license (i.e. unlimited sites) does make sales easier.
Another big challenge is prioritizing. When you launch a plugin, especially on a monopolized sector, you have to juggle development and marketing. Neither should be neglected.
When you launch a plugin, especially on a monopolized sector, you have to juggle development and marketing. Neither should be neglected.Tweet
What does the near future of SEOPress look like? Do you have any concrete plans?
New features for the plugin, of course
Translating the sales website into Italian, Spanish and German
Test paid promotions with Facebook ads, maybe Twitter and/or LinkedIn Ads
Add more hooks for developers (currently 56 available)
Sponsoring events (not sure about this one yet)
Listening to the community to get the best product ever made!
Benjamin, I think this was VERY informative for any aspiring WordPress developers who are looking to create a sustainable business around their WordPress plugin in a relatively short amount of time, while maybe even continuing to do other things like work on another WordPress product simultaneously 🙂