eCommerce is booming now more than ever. The space evolves every single day and we are here to make sure our partners stay at the edge of modern practices. This release is all about helping you increase conversion rates and reduce churn through special contextual discounts.
In the past 12 months, our team has mostly focused on shipping features and capabilities to help you reduce support load and operational costs, focused around improving the "commercial experience" for your users & customers.
While COVID-19 brought a lot of uncertainty to the world, it's undeniable there's a natural rush to digital, as businesses realize they have to shift their mindset towards online-first if they want to survive this pandemic. This comes with a positive effect for plugin and theme developers due to a growing demand in the market.
To keep up with this positive financial momentum in our industry, we decided that it's good timing to prioritize a few innovative features that will help you increase your eCommerce competitive edge even further during this critical time.
Special Coupons
We're excited to introduce a brand new section in the Developer Dashboard for special coupons. You can access it by navigating to COUPONS and clicking on the new SPECIAL COUPONS tab: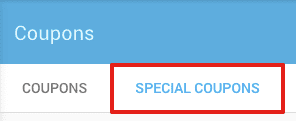 There, you'll be able to set 3 types of special discounts using coupons:
Cart Abandonment Recovery Discount
Exit Intent Discount
Manual Renewal Discount
Let's dive into each and every one of the special discount coupons to see what they're all about.
Cart Abandonment Recovery Discount
To help you increase the performance of the Cart Abandonment Recovery mechanism, in addition to surfacing your money back guarantee and encouraging users to subscribe for a trial (if you have one) in the automated emails to missed customers, you can now easily offer an extra incentive in the form of a discount to encourage more prospects to complete the checkout.
Simply create a coupon with the preferred discount. Then, switch to the SPECIAL COUPONS tab and choose the coupon you've just created: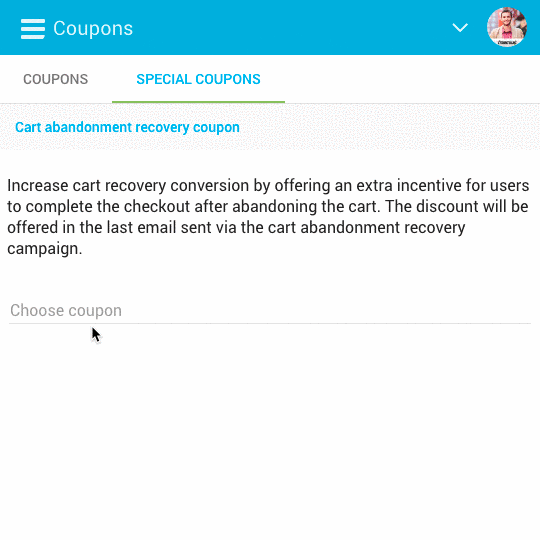 Tip: Since the search is based on the coupon codes, when you create the coupon we recommend to use a code that will include "CART_RECOVERY" in it.
Once the coupon is selected, a discount will be automatically offered in the 3rd email sent via the cart abandonment recovery campaign, as the last resort to win the customer: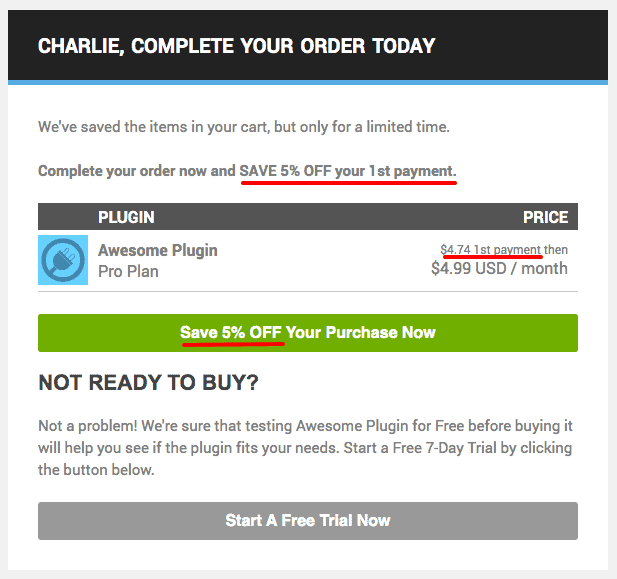 We built the special discounts logic on top of our coupons infrastructure so you have the flexibility to control whether the discount will apply only to the 1st payment or for 1st payment and subscription renewals.
Clicking the purchase button will open the checkout with the context of the saved cart and will automatically apply the discount without revealing the coupon's code: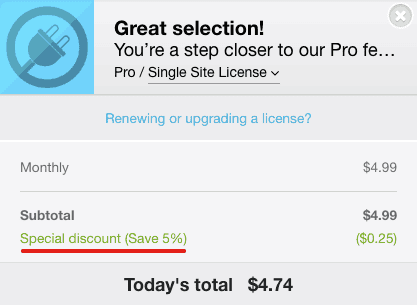 Exit Intent Discount (with 1hr FOMO)
An average of 69% of online checkouts are left incomplete, so capturing abandoned carts is one of the biggest opportunity areas to have a meaningful impact on your revenue.
Why? Users who have previously opened your checkout have already shown some level of intent to obtain your paid offering.
While we already tackle abandoned carts through an email campaign, an email cart recovery mechanism is fully dependent on the user entering their email address before abandoning, which is why exit-intent is a great complementary mechanism for recovering abandoned carts.
After working closely with the OceanWP team and seeing firsthand the power of exit intent discounts, we realized that this strategy fit very well into our checkout mechanism and works within the WordPress space effectively, so it's a great way to encourage more people to complete the checkout.
You can now easily create a coupon and set it as your exit intent discount: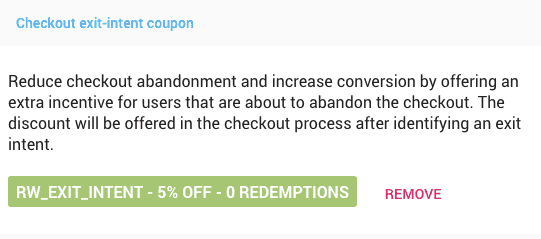 Once you have set the coupon every person that will show an exit intent before filling out their email address will be prompted with a beautiful FOMO dialog, including a 60-minute timer, where they can choose to apply the coupon. If the coupon is applied, a FOMO countdown timer will appear right next to the coupon row: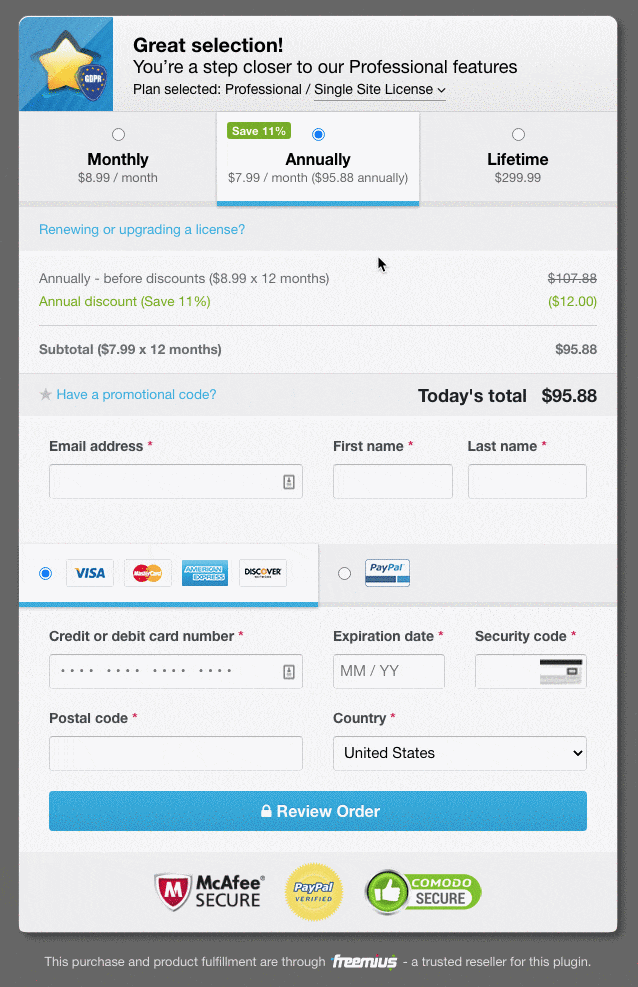 Think about it, this is an easy way to make a major difference to your bottom line without the need to spend any additional marketing resources to acquire more traffic.
You can start with a symbolic 5% coupon and track the change in sales. If 5% doesn't have any meaningful impact, we would recommend to keep bumping the discount by 5% increments until you get to 20%. Depending on your profit margin, you may be able to test with even larger discounts.
I know that some of you are concerned about potentially devaluing your offering, which is a fair concern, but think about it from a financial standpoint: If you could acquire a user through paid ads for 5%, 10%, or even 20% of the money they end up paying you, wouldn't you do it?
I know I certainly would 🙂
You can easily consider it part of your customer acquisition cost. Obviously, there's no guarantee that it will work for you, but we have a strong feeling that this new capability will make a significant difference for many, so we highly encourage you to give it a try.
P.S. We will be monitoring the impact of exit intent discounts on the network level and hope to report back with concrete numbers on the change in the checkout's conversion rate.
Subscription Renewal Recovery Discount
To incentivize users that already canceled their subscription renewal before the license expires, you can now configure a manual subscription renewal discount:
Once you set a renewal coupon, the discount will automatically be incorporated in the manual renewal recovery email campaign, helping you to capture those customers that are on the fence of potentially renewing before their license expires.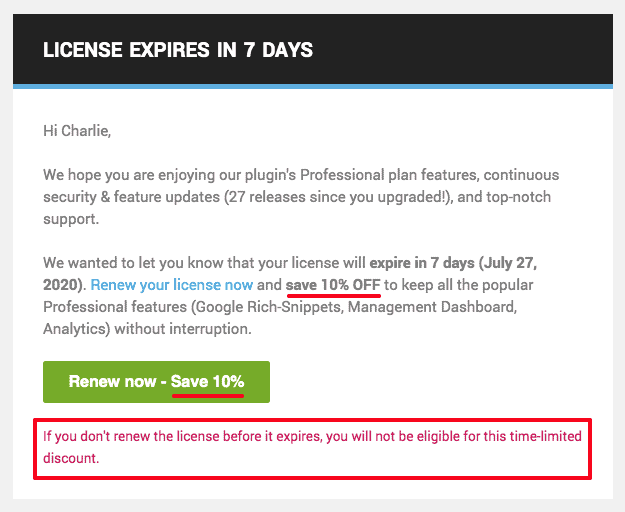 Clicking the button will open the checkout with the discount applied without revealing the coupon's code. A nice FOMO countdown will be shown to encourage users to take action and align the expectations properly that the discount will expire when the license expires: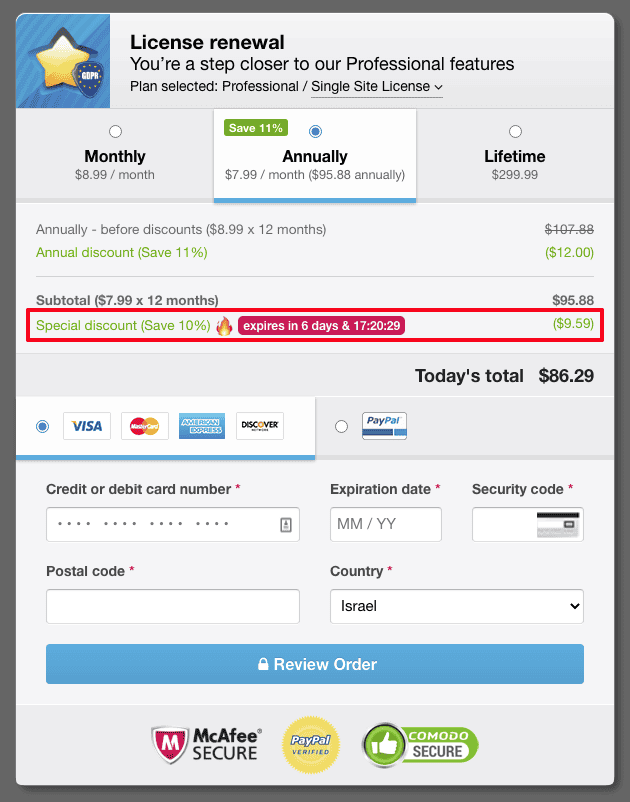 Unlike the automatic renewal discount that you can configure in the PLANS -> RENEWALS DISCOUNT section (which discounts renewals for active subscriptions) this coupon serves the exact opposite purpose.
If you've been following our journey, you already know we are not fans of discounting automatic renewals, and we are glad to see that more businesses are shifting away from that practice. If you do not offer a discount for automatic renewals, we most definitely recommend to utilize this coupon as a way to win customers and reduce churn.
If you do offer a discount for automatic renewals, we would actually recommend avoiding the manual renewal discount, as we already emphasize that subscription cancellation will cause the loss of the automatic renewals discount, so offering a discount for a manual renewal will contradict that message.
If you do choose to offer both, our recommendation is to use the exact same discount.
is Hiring
eCommerce Migrations Specialist
Manage the license migration and product integration process for plugin and theme businesses who are starting to sell with Freemius.
What's next for Coupons?
There is one more special discount that we'd like to introduce to help you fight subscriptions churn. Currently, when a customer chooses to cancel their subscription from the User Dashboard, they will be prompted with a warning message that if there will be a price increase after canceling the subscription, their current pricing won't be grandfathered-in: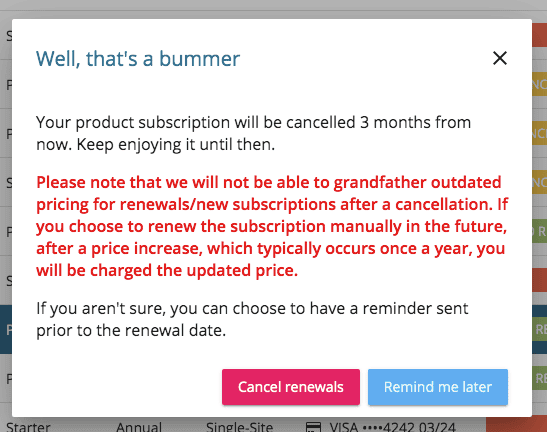 We would like to introduce an optional subscription cancellation coupon, so you can offer a discount for the next renewal payment (or all future renewals) as a way to convince customers to keep the subscription active.
Since we don't store payment information and don't want to require the customer to go through a checkout process again to create a new subscription with updated payment details, we decided to postpone the development of this feature to a later stage due to the complexity of implementation.
I hope you're excited by these new features and the huge potential they have. We're looking forward to seeing you utilize these powerful contextual discounts.