There are so many paid promotional options when you're looking to market your plugin or theme that it's hard to know which sites will actually have a positive impact on sales. You can pay for coverage of your plugin or theme with reviews, ads, banners, directories, newsletters, guides, walkthroughs, and so much more. To help make the decision a bit easier, I put together this list of 9 plugin and theme promotional sites (with some tips on getting in contact with them) that we'll do our best to continue adding to in the future, so it stays up to date.
The Deets
Before suggesting any of these sites myself and including them in the list, I tried to reach out to the owners/founders/admins so I could make a more personal connection with them and get their insider recommendations. I like to have a chance to review the marketing content they write to assess the quality and even ask other developers what kind of results they've had on their paid promotions. These tips and tricks should help you approach these sites in the right way as you embark on getting your product out in the world 🌎🌍🌏
Inspiration
The last Black Friday + Cyber Monday 2019 was an inspiration to start building the best list of promotional sites I can for 2020 since a lot of these sites do roundups on all the discounts and deals offered during BFCM – without any additional cost for sponsorship or inclusion of your offer in their roundup. Talk about some awesome free marketing to get eyes on your deal when it matters most!
Why Domain Authority?
I decided to rank the sites by Domain Authority (DA) because having quality content about your product on relevant sites with a high DA can often lead to the strongest SEO effect in the long-term. This isn't a "silver bullet" to success, but it is a useful measure to compare these sites when there's not really any other way to tell before you sign up which sites will give your sales the biggest boost 🚀
Subscribe and grab a free copy of our
WordPress Plugin Business Book
Exactly how to create a prosperous WordPress plugin business in the subscription economy.
Share with a friend
Enter your friend's email address. We'll only email them this book, scout's honor.
Thank you for sharing
Awesome - a copy of 'The WordPress Plugin Business Book' was just sent to . Want to help us spread the word even more? Go on, share the book with your friends and colleagues.
Thanks for subscribing!
- we just sent your copy of 'The WordPress Plugin Business Book' to .
Have a typo in your email? click here to edit the email address and send again.
Partner Perks
If you're a Freemius Seller, you might be eligible for discounts on some of these offers through our Partner Perks – just check your email inbox after you've made $1k in sales or get in touch with us for questions 😉
Run a Promotional Site?
If you run a site that offers promotional opportunities for plugin and theme developers that didn't make it on the list yet, please make a submission here.
Share your top promo sites + experience!
This is definitely not a holistic list of promotional sites – there's a lot of room to grow – so please share your top sites in the comments below to help other devs identify opportunities and we'll consider including your suggestions in the list 😉
The List
ThemeGrill
Domain Authority: 80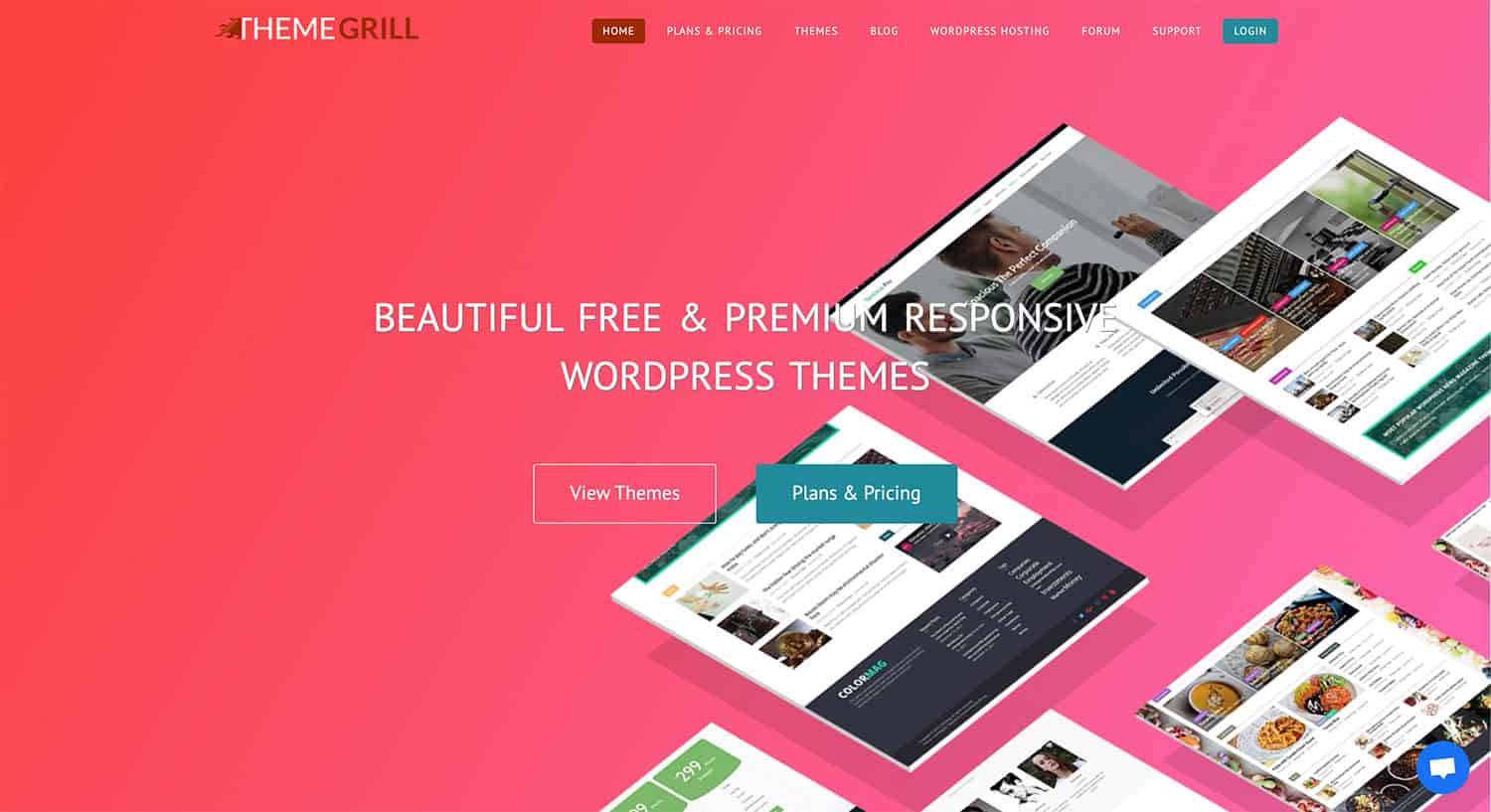 Based out of Nepal and founded by Sanjip Shah, ThemeGrill has been around since 2014 and offers their own plugins and themes as well as a blog containing "listicle" articles of recommended products. Although they intermingle their own products into their recommended lists, they don't overdo it, and their listicle posts are pretty useful if readers are considering using the products for a WordPress site.
With some of their advertising options, they allow you to pick which recommended lists you want to include your product in, so I suggest to go through their blog before you submit your product and contact them with a ready-made list of articles where you want your product included because it's up to them where they want to include our products. I talked to Sanjip directly about some of the benefits of promoting plugins/themes with ThemeGrill – here's what he told me:
"More than 90% of visitors to our blog come from search engines. So, sellers can expect more potential users/buyers of their products when paying for promotions or collaborating with us.
For listing products in our articles, there's a 1 – 3 day turnaround time once we decide that the product is the right fit for the chosen article. For review articles, it can take between 1 – 3 weeks. However, we rarely do paid reviews nowadays because we prefer producing them for co-marketing or cross collaboration where we can both promote each other's products.
In terms of tracking, we leave it to the developers to check if the listing is popular or not in search engines. Once the product is included, developers can check the number of visitors that land on their site via analytics. Our pricing for Normal and Featured Listings is based on the popularity of the article that would include the product. Our theme and plugin listings are popular, so once a developer advertises with us they usually keep coming back 🙂
As long as the product continues to be supported and updated, the product will remain in the listing for life. So, in the long run, developers get lots of visitors and potential customers. Most of our advertisers with more than 1 advertisement get 1000+ visitors on a monthly basis to their sites."
Cost: Starting from $150
Types of promotions: List-based articles, featured product in lists
WPExplorer
Domain Authority: 56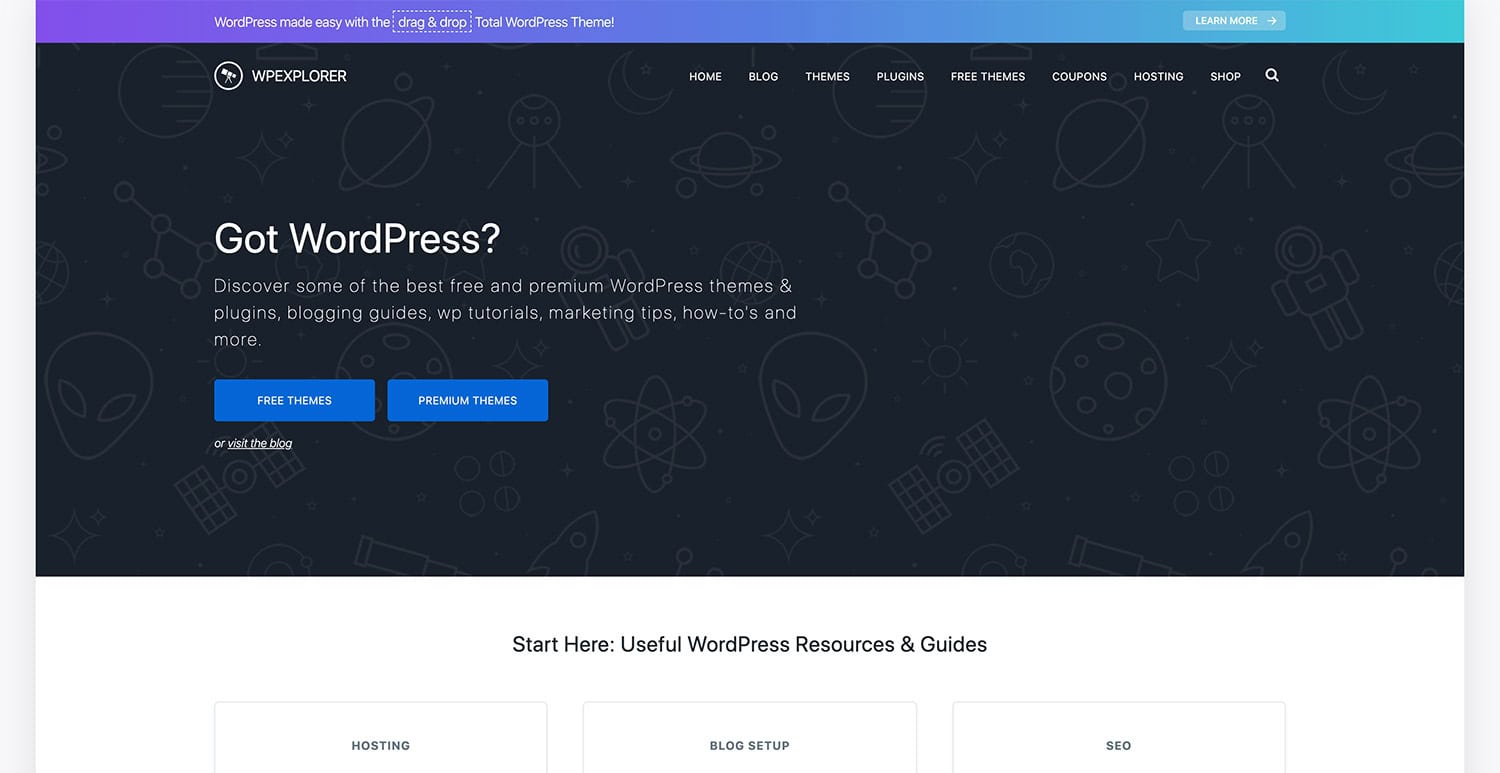 WPExplorer is highly selective about what kind of content they'll write about, and it's limited to reviews on plugins or services. They don't review themes, and don't share any analytics about the content they post.
In order to get some kind of review on their site, developers just need to reach out with a link to what you're hoping to have reviewed, and they will handle all the content development. After receiving a submission, they'll have a look at your site or sales page and decide if they want to move forward. Pretty simple and easy.
Cost: No prices listed
Types of promotions: News/blog
Tidy Repo
Domain Authority: 56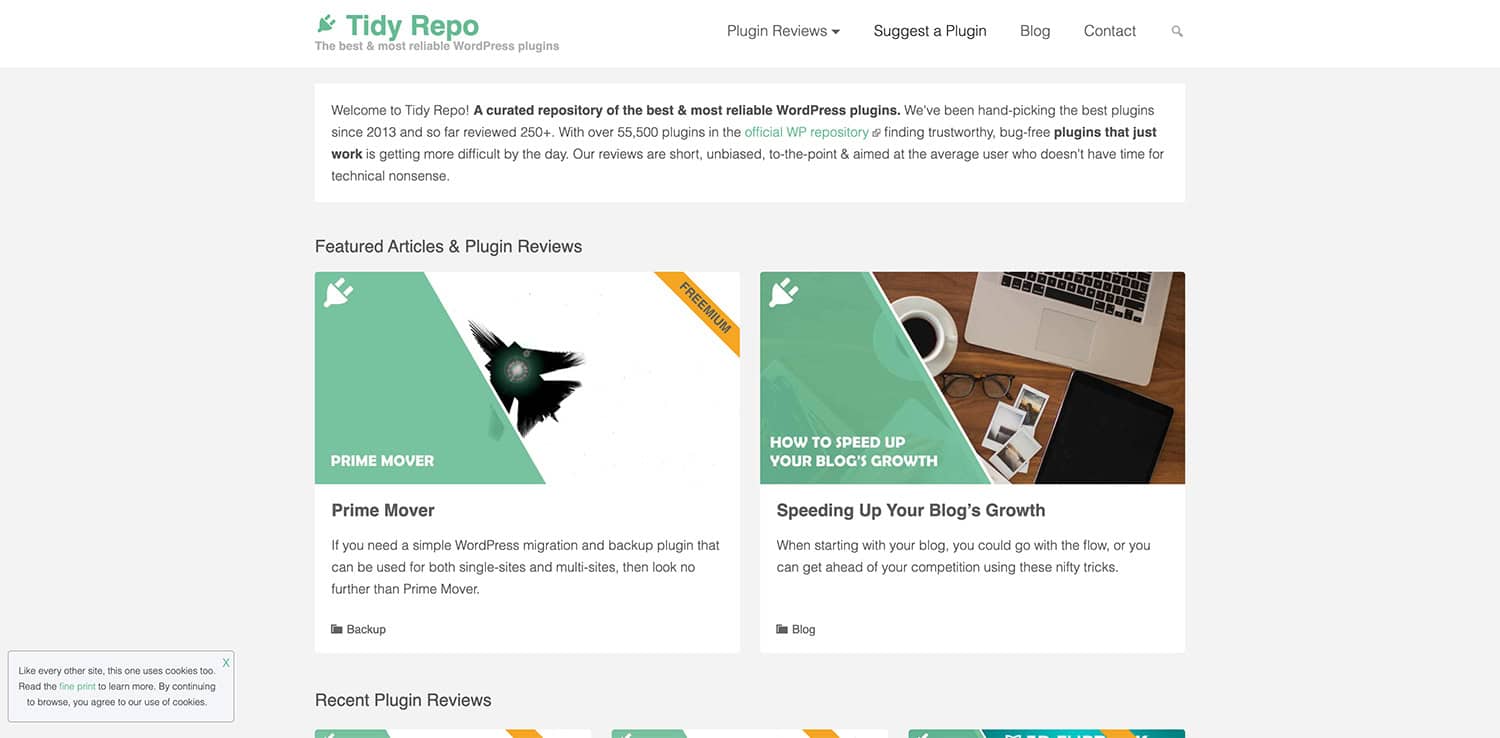 With a powerful 56 Domain Authority, Tidy Repo has a lot to offer, especially because they offer a free plugin listing if you're already on the WordPress.org repo and meet Tidy Repo's quality standards. What's better than free?
Additionally, their paid opportunities aren't too pricey either given the high DA. Worth checking out no matter what kind of plugin you have!
Cost: Free – $149
Types of promotions: Sponsored Listing, Mini Sponsored Listing, Free Plugin Listing, Sponsored Article
Promotional offers page
WPLift
Domain Authority: 50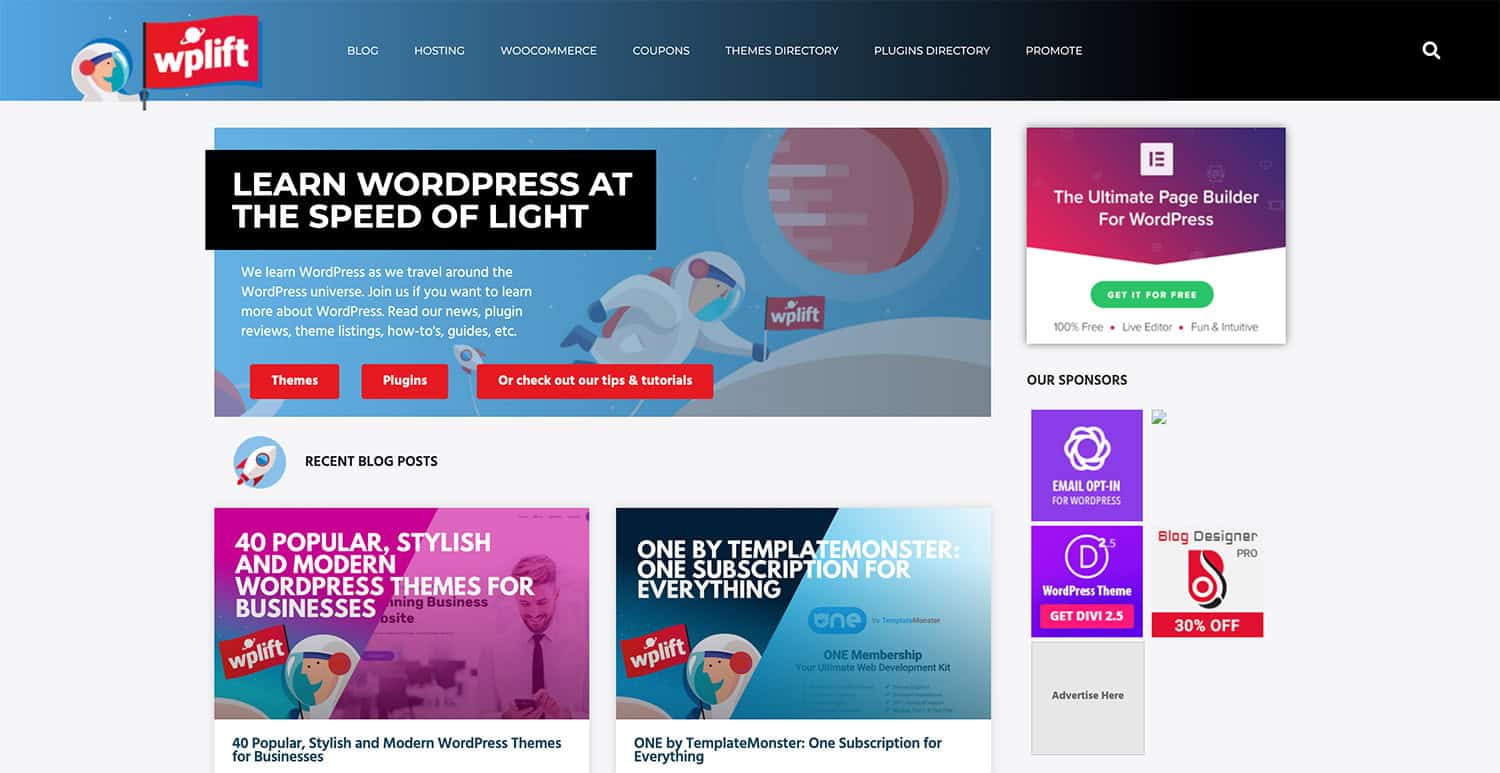 WPLift has been around since 2010, and it's one of the most respected sites in the community run by a professional we've had the pleasure of working with. In terms of promotions, WPLift offers reviews, a feature in their newsletter, directory placement, banner ads, or coupons. If you deliver high-quality input material and give their reviewers a lot of good information to work with, your review is likely to be far easier to write and will speed up the process.
A written review takes around 5-10 working days to get published, depending on how busy it is at the time for them. Directory placements are usually published within 24-48 hours. All articles can include UTM link tracking, URL shorteners, or their own branded affiliate links to your product.
If you prefer not to pay for promotions and would rather have an affiliate relationship with WPLift, I would suggest reaching out to them with your request (though they're pretty selective) and offering a coupon code they can share on their coupons page.
Cost: $59 – $449 or affiliation
Types of promotions: Reviews, newsletter feature, directory placement, banner ads, coupons
Promotional offers page
WP Mayor
Domain Authority: 47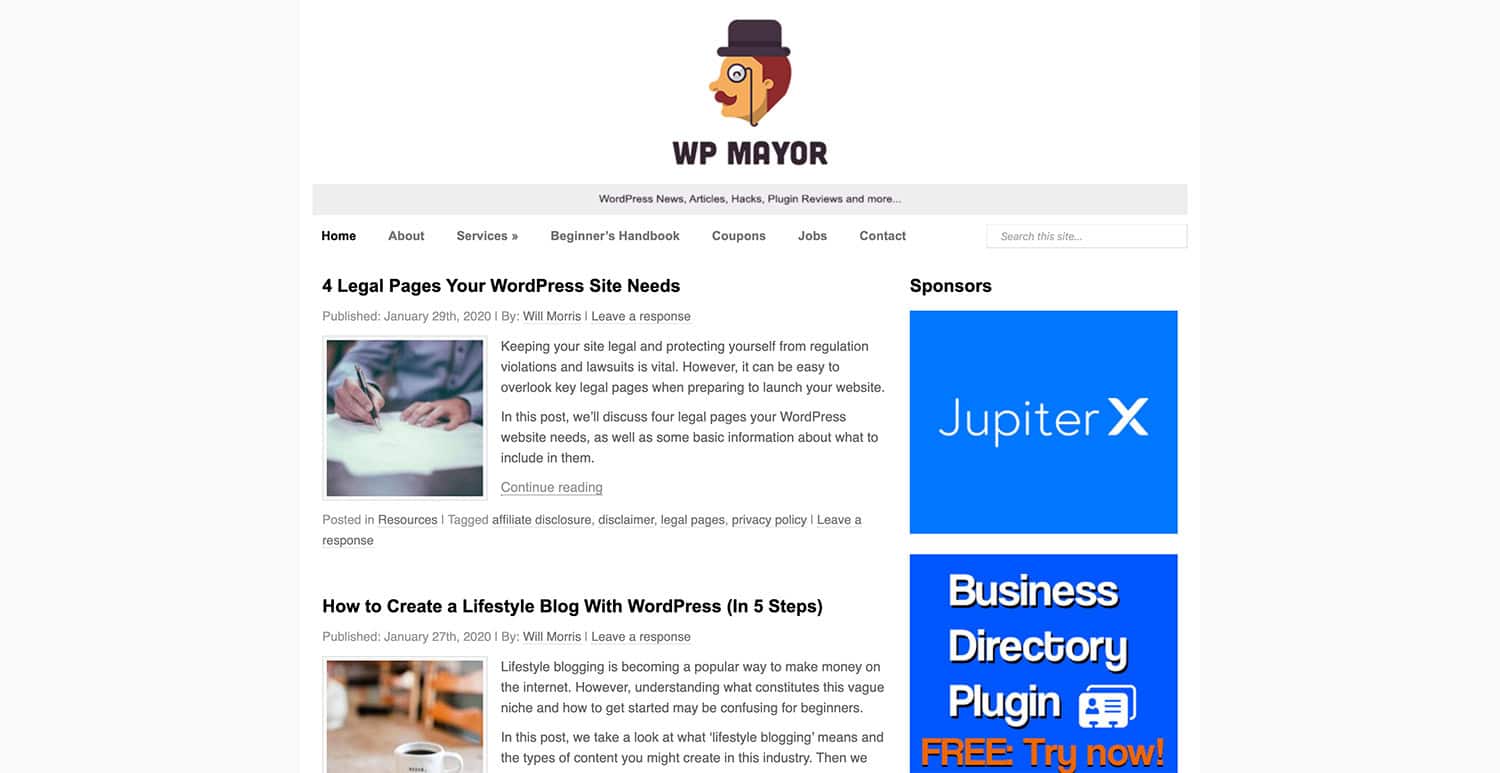 WP Mayor offers a wide variety of promotional options, and they strive to put the focus directly on the product or service being promoted or reviewed, showcasing its best qualities to their audience. Once a promotional order is placed, they work with the developer to ensure that they have all the details necessary to put together the best possible article.
During their testing, should their writers face any issues with the plugin or theme, they will pass this on directly to the developer to investigate. If there are any bugs, they maintain open communication to help the developer in any way they can.
Once the post is finished, they'll share a preview with the developer to get their feedback, and if there are any concerns or areas that were missed, they'll revisit the post and make required updates.
On the other hand, if they find any glaring issues that the developer would like to address before publishing, they are willing to hold back from publishing the post upon request. At the end of the day, their aim is to help you understand where your product's strongest and weakest areas may be.
This is a great opportunity for first-time product developers who want useful and critical feedback on their product – with opportunity for improvement – as well as experienced developers who are launching something new.
Once a post is published, your product is put directly in front of tens of thousands of site owners and implementers. Many of their articles receive a steady flow of traffic for years after they have been published, and since their readers come to WP Mayor in search of WordPress-based solutions, the audience is in learning mode, curious, and primed to buy.
Typically, product analysis and promotional articles take between 1-3 weeks to write up, depending on how busy they are at the time. Following the developers' approval (if required), the post will be published within the following 1-2 weeks. Other content, such as giveaways, are typically published on the following Monday. Tracking methods like UTM links can be used for any promotions, and they are willing to include up to two "dofollow" links per promotional article.
Cost: $100 – $999
Types of promotions: Product Analysis, Promotional Article, Newsletter Sponsor, Giveaways, Promotional Tweet, One Month Sponsorship, Be Listed on Our Deals Page, Sponsored Post on WPNewsDesk.com, Sidebar Banner Ads Direct from Us, Sidebar Banner ads via BuySellAds
WPEka
Domain Authority: 38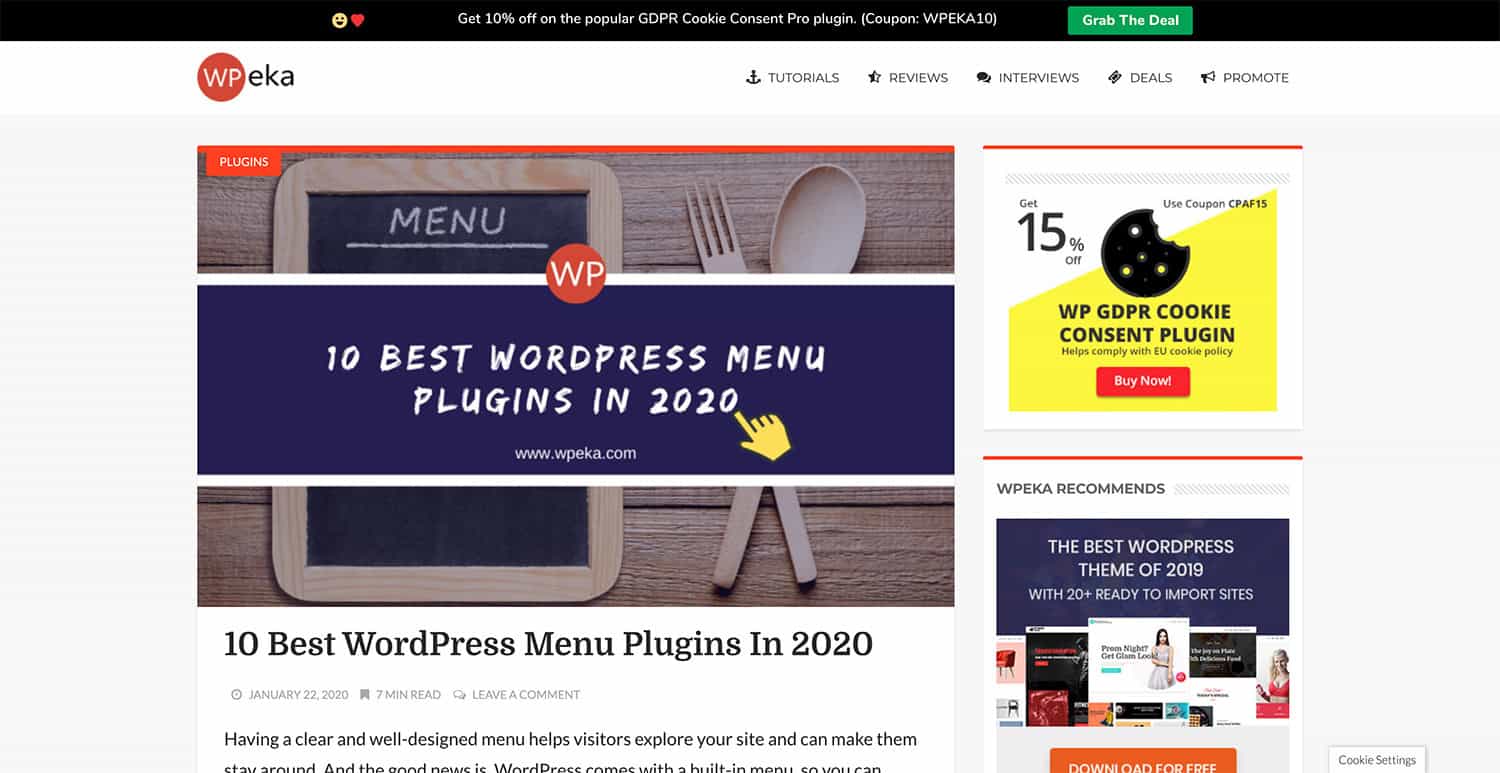 WPEka has a pretty diverse lineup of promotions, including directory placement, written reviews posted on their blog, video reviews, and inclusion in their newsletter. As a bonus, they even offer UTM parameters with referrer backlinks, so you will have full visibility over referrals and conversions if you have Google Analytics set up properly and you should see a positive impact on your search engine rankings because of the refer links.
Paid reviews are published throughout the year by their in-house WordPress experts who review your product or service and write a fair, unbiased review, documenting their findings. Once they submit their content to you and you're happy with it, they'll publish on their website and distribute accordingly. They will accept any GPL compliant WordPress products or Software as a Service (SaaS) apps.
Cost: $50 – $450
Types of promotions: Directory placement, review articles, video reviews, newsletter
Promotional offers page
WPCrafter
Domain Authority: 32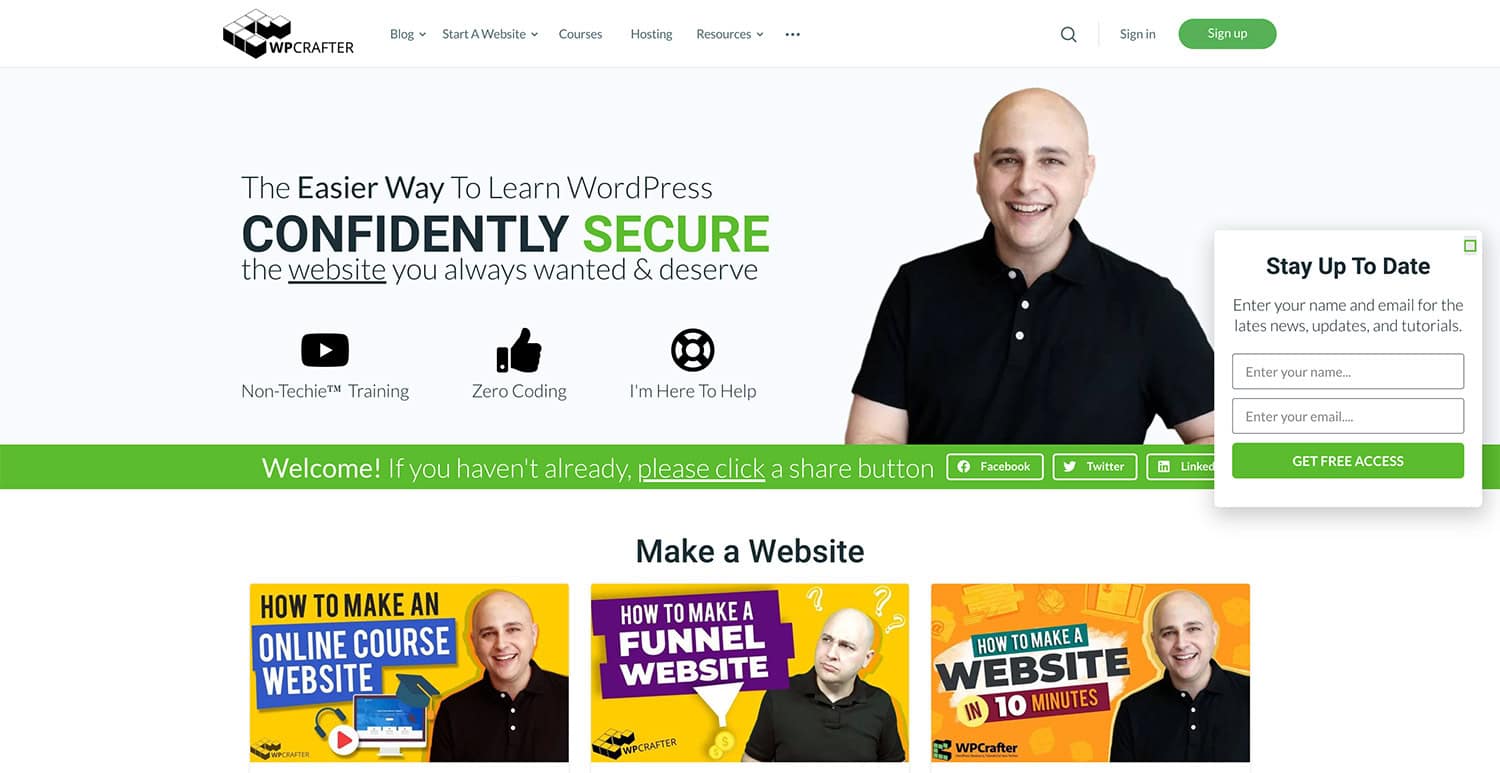 We met up with Adam Preiser from WPCrafter at the last WordCamp US in St. Louis, and I got to see how he really works firsthand. He's a super-intelligent guy who has unlocked some secrets about promoting plugins/themes through high-quality video reviews on YouTube as an affiliate of your product.
Because he has developed such a strong reputation for his reviews, his partners tend to have great success rates working with him, so although he might charge a pretty high percentage for promoting your product as an affiliate, it's pretty unlikely that you'll regret working with him. With a whopping 144k subscribers to his YouTube channel as of January 2020, there's little debate about the fact that WPCrafter is definitely one of the best places to promote your product – that is – if you can get reviewed by him. Adam is pretty selective about the products he reviews, and claims to have used all the products he talks about first-hand (and I believe him!).
I talked to Adam a bit before including him in this list, and he suggested sharing some advice with the community on how to approach influencers like him because most people do it all wrong!
It's definitely not a good idea to reach out to an influencer asking for things like reviews, opinions, feedback, or anything else like that. The key is not making the influencer have to do any work – like inviting them to join your affiliate program. While you may think your affiliate program is "all that" – influencers generally don't care because everybody has an affiliate program.
So, what can you do to break through the noise and get noticed by an influencer?
First of all, try becoming known in subtle ways by commenting on videos, their blog, and adding value in some way. Follow the influencers where they go and appreciate what they do – meaning join online communities, show you like their content, and don't ever promote your product.
When you decide to make initial contact (maybe after getting a like or two – or five 😉- on your engagement with them), offer a free lifetime license that you've set up for them completely, so they don't have to do any set up.
If you're going to mention your affiliate program, you can set up special terms, e.g. – if you normally offer 20%, give them a premium of 30%+ (Adam recommends 40%) as well as a symbolic 5-10% coupon they can offer their audience.. Although this may seem like a lot of money to give away, the impact you'll have with their influence is much higher than what you would get with other types of promotions.
Cost: Negotiated affiliate rate
Types of promotions: Review/walkthrough videos/posts
Contact page
IndexWP
Domain Authority: 30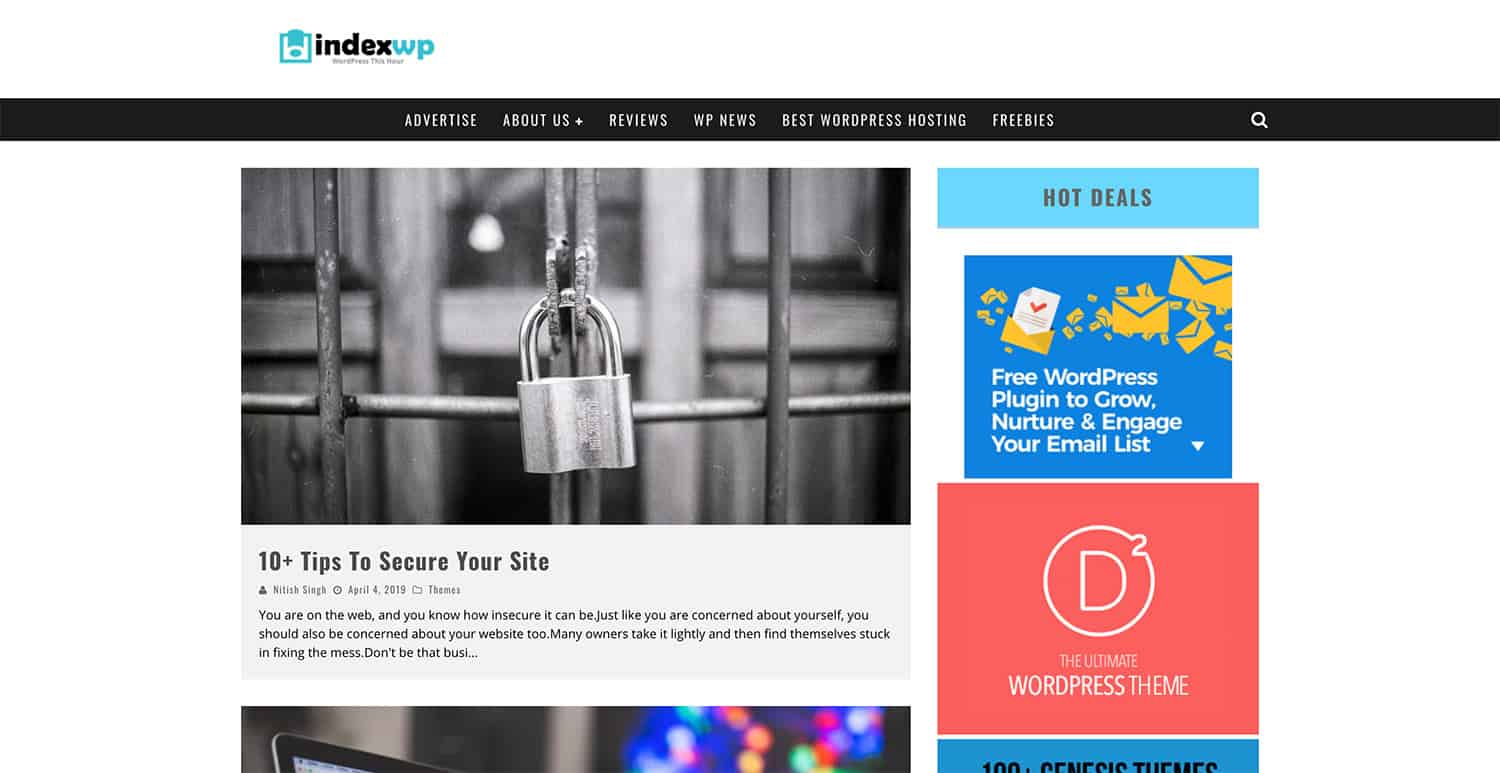 IndexWP offers both plugin and theme promotions in the form of banner ads, sponsored news, and sponsored reviews. While I couldn't get in touch with them for "insider info", their advertising page is written in a really friendly tone, which makes them seem warm and open to work with.
Their site doesn't say anything about the tracking methods they offer, but after hovering over some of the links and banner ads on their site, I found UTMs and affiliate links, so I would suggest asking about these options if you connect with them. Their Privacy Policy does include a statement about the fact that a lot of the content on their site is promoted affiliate content.
This is a site that is built for reviews, news, and advertising, so coming to them with your pre-designed banner ad, detailed content about your product, screenshots, and any other relevant information would be a good idea.
Cost: $40 – $500
Types of promotions: Banner ads, sponsored news, sponsored reviews
Promotional offers page
WPEntire
Domain Authority: 15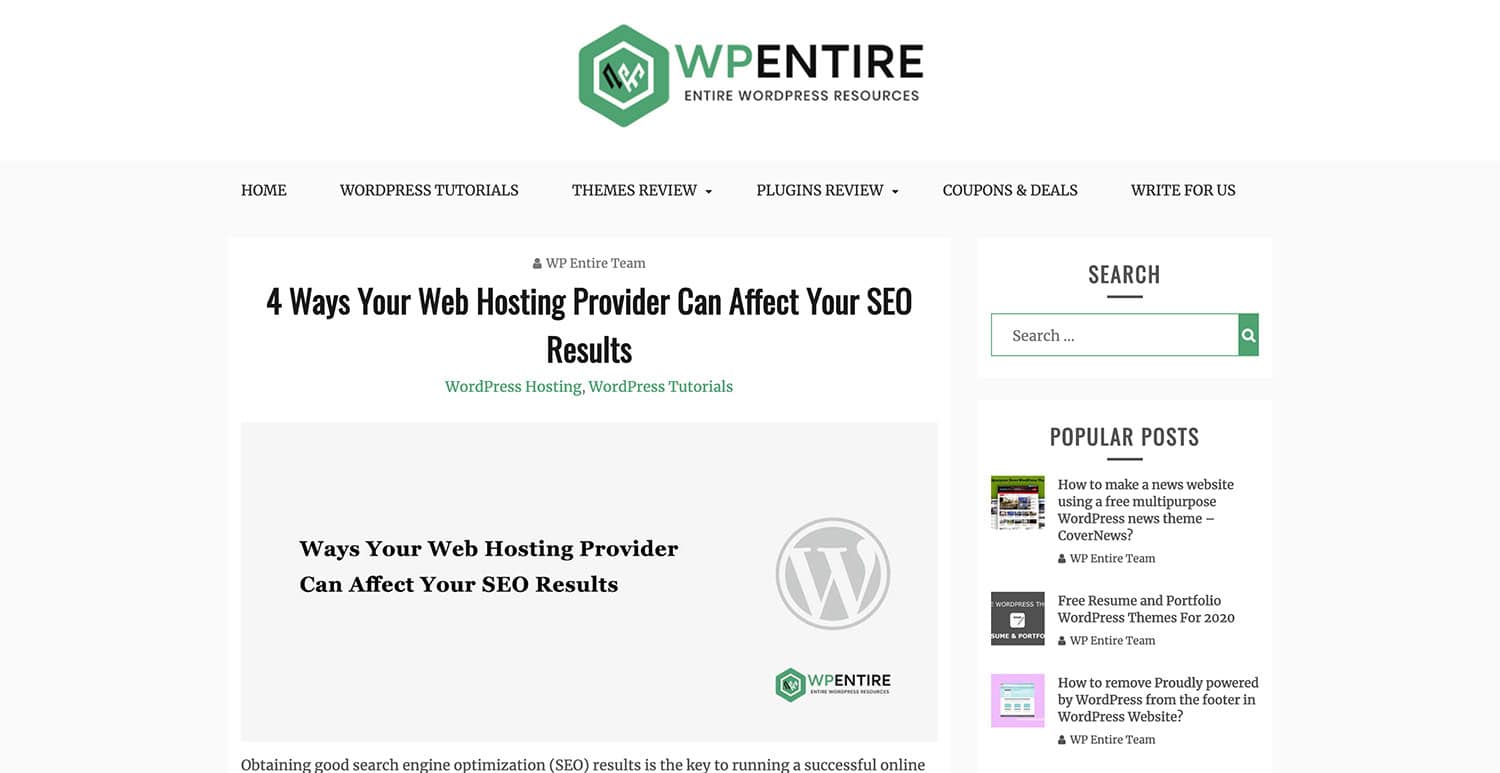 When approaching WPEntire for a theme or plugin promotion, it's best to come to them with a pre-written (unique and original) article about your product that matches the style of what they already publish or if you prefer to only provide basic product information, they will write the content for you. This is a pretty good opportunity because they include one "do-follow" link in the article, which should have some impact on search engine results.
You can expect a 7-10 day turnaround time after submitting your article and making payment, at which point they'll get back to you with publishing status. Unfortunately, there's no tracking method offered for referrals, but WPEntire may selectively offer affiliate opportunities in addition to their normally paid promotions, so you can contact them directly to talk about that if you don't want the paid options up-front or if you'd like to track the sales they refer.
Cost: $100 – $350 and/or affiliation
Types of promotions: Reviews, QA, demo, documentation
More coming soon!
Don't forget to post your suggestions or feedback in the comments so we can keep growing the list and making it even more useful. If you run a site that offers promotional opportunities for plugin and theme developers and want to get on this list, please make a submission here. Happy promoting!