1981 was the year when MTV exploded into the world. The introduction of music videos forever changed the way we consume and enjoy music. Around the same time, a British pop band called "The Buggles" released one of the most groundbreaking pop songs of that era called "Video Killed the Radio Star". Other than being a really great song, in those times of the rise of MTV – it was kind of a "prophecy" that symbolized a new age – the age of video.
Fast forward 39 years into the future – record companies have risen and fallen – but video is stronger than ever! If you think about it – where do you go on the internet when you want to learn something new?
In 2019, YouTube is the second most popular search engine on the world wide web.Tweet
In these times, internet connections are faster than ever, information and knowledge are public domain, and anyone, anywhere can learn anything and teach anything. In this context, it makes sense that videos are the best way to deliver messages and share knowledge online.
According to research, video content is processed 60,000 times faster in the human brain than textual content! This combination of spoken word and visualization makes it so that you can even call YouTube the DIY university of the world!
There is no doubt – if content is king – video is the crown, and we here at Freemius are ready to join the royal family.
Jack of All Trades
Allow me to introduce myself – my name is Ben Lev, and I'm Freemius' new video content creator. I'm an Israeli actor/director/writer/performer/teacher/educator/jack_of_all_trades_millenial, but above all, I consider myself a creator and curator of content, through any medium. Even though my background is in the performing arts field, I have always been drawn to technology and tried to find a balance between my two passions.
So, when Vova Feldman, Freemius' CEO and founder, asked me to join the team – it seemed like a great opportunity to put all of my skills and interests into practice in one place.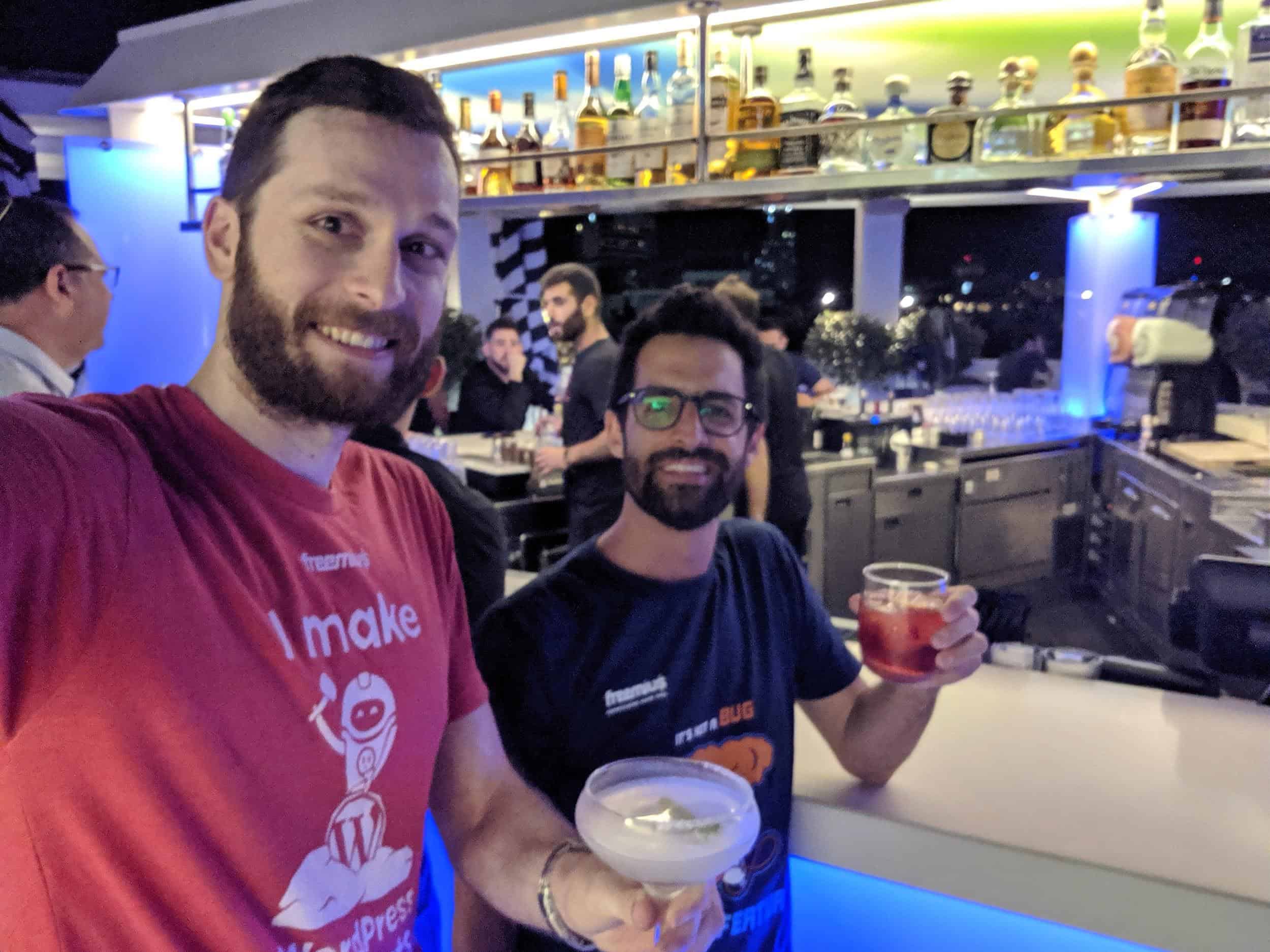 My Very First Freemius Video!
Before diving deep into all the details of video content creation, I'd like to proudly present the official teaser for my very first video! "Selling WordPress Add-Ons: Is it the Best Business Model for Your Plugin or Theme?" – The full video will premiere next week on Wednesday, December 11th. Take a look!
The Vision
Freemius' goal from the very beginning was not only to make WordPress developers' lives easier by creating a platform through which they could sell their products and manage subscriptions – but first and foremost, our vision has been to share our experience with the WordPress community. We believe that ideas and knowledge should be available to anyone, anywhere.
We started to make this vision come alive with our blog, releasing educational business content with data-driven research instead of relying on prejudice and market consensus, conducting interviews with experienced product people from the community to share their wisdom, and generally – not being ashamed to talk about money and best practices to help developers build more sustainable companies for the long-run. We also tried to make it a bit more accessible by adding the audio transcription feature to each post, and now – the video revolution begins.
We started by taking some of our most valuable pieces of older content, and, with updated insights in mind, we rewrote them into concise and informative scripts. This led to a series of short (less than 10 mins each) presentation-style videos with me discussing the content, and beautiful supportive animations crafted by our amazing designer Vitalii, to make it easier to understand 🙂
Much more is yet to come, and we're looking forward to producing useful videos about how to grow your WordPress business – make it profitable – and increase recurring subscription revenues.
How's it going to work? We're going to upload new videos regularly on topics of all kinds, from "How to optimize SEO for your WordPress product" to "Pricing premium features – the right way!" All you have to do is subscribe to our YouTube channel and click that play button!
Why You Should Get Into Video
First of all, as a plugin or theme business, not having a working YouTube channel these days is like not having an online business. Video is the best way of communicating with your users because you create brand awareness, share your knowledge with your users – and simply put, if you're not there – you're missing out!
Creating a great product is kind of a given, especially with all the competition around, but not all businesses realize that establishing yourself as an expert in your field can make you stand out above the rest and get recognized. After all, you are a professional in your own specific field – you just need the right medium to spread your message with your users.
Creating great video content is not "just for the experts". Anyone, in any business, can start creating videos easily in an instant with almost zero cost:
Take a camera (the one in your phone could be good enough).
Write an easy to follow script that tells an easy to follow and concise story.
Stand in front of a window in a well lit room.
Hit record and convey your message to the world!
Technically, it's that easy.
You may not feel comfortable speaking in front of a camera. Thinking about it, I don't know many people that felt natural on camera from their first try. But if you give it a try and step out of your comfort zone just a bit, it'll be worth the effort! Trust me, you'll get better every time you do it, and the good thing with video is that you can always shoot another take and edit it before making it public. Another option is to remain behind the scenes, write the script of the video and then hire an actor from a site like Fiverr to record the video for you.
If you're still not sure whether you want to start doing video – don't take my word for it – see what Adam Preiser from WP Crafter – has to say about it:
If you are a product owner and you are not on YouTube – you are missing out. Don't be a fool and get on YouTube!Tweet
Videos for WordPress Products
Of course, this is not the only way to create video content that is relevant to your community. Sometimes, the best way to explain something related to your digital product is by using a simple screen recording of your product with audio commentary and explanations.
The most important thing about screen recordings is to write and edit a concise script before recording – unless you are a really fluid and coherent speaker, don't just go "freestyling". In most cases, it can become tedious for the average viewer.
The kind of videos you can create for marketing plugins and themes is limitless – as long as they get to the point and offer authentic value.Tweet
Another great type of videos are testimonials. When you visit your next WordCamp or have a good relationship with a customer, you might ask them to share on camera why they are happy with your product.
Simple animated videos can easily be created using online tools like VYOND and Powtoon, or if you have an in-house designer they can create custom videos for you.
These are just a few examples of ways to share professional advice, thoughts and news about your product, tell a story, interview someone you appreciate, and share your work process to gather people around your brand and build an audience that wants to hear and learn from you.
What's Important in a Video
Be Original
While considering all these different kinds of videos, the most important thing is to deliver content that comes from your own personal experience and expertise. Be original.
Hitting the "best" keywords and maximizing SEO is important, but nothing can replace an authentic and concise voice. Creating high quality footage is second to creating authentic content – but still very important.
Choosing Equipment for a Professional Look
A professional looking video can be much more appealing and taken more seriously at first glance from potential viewers. If you want much better quality, this is probably the point where you'll have to invest some money (not necessarily a lot) on equipment – but I can guarantee that it will be worth the effort in the long run.
After many hours of filming, I can recommend to focus on three main factors: lighting, sound, and camera.
*** Disclaimer – All the examples presented here are of brands that we use and appreciate. We are NOT affiliated with any of the companies mentioned below and we urge you to do your own research and find the best products suited for your personal needs and budget.
Lighting
A well lit video is one of the key factors of making your video approachable.
If you use the strategy I mentioned before (positioning yourself in front of a window in a way so that light hits your face), it can work out well. Unfortunately, this can also be a very limiting factor for shooting – part of the video might be too dark, there may be a limited position of the camera depending on the room structure, and so on.
With a small investment of around $100 – $150 you can achieve significantly better lighting for your videos without being dependent on anything other than electricity.
If you are shooting videos more focused on someone's face – a simple LED ring can easily do the trick – it gives great light coverage and can be positioned almost anywhere. If you need more versatility, you can get a starter softbox kit and get much more control over the position and direction of the light, adjust illumination levels and achieve a deeper 3D texture by using a backlight on top of the front light.
Sound
Having a clear and crisp sound in your video – whether there's a presenter in it or just a voice-over – makes your video feel more professional. For achieving a much better sound quality than what you get through the built-in microphone on your phone or camera (which is usually very bad) – I recommend using an external microphone.
We use a "shotgun" style microphone that mounts on top of our camera when we need to shoot dynamic or moving objects, and for interviews or a "still" shoot, we use a "Lavalier" style microphone that attaches to a shirt (just like you see on talk shows or the news). If you record the audio using a smartphone – pay attention to the fact that you'll need a special microphone – this kind of mic will not work if you record the audio directly through the camera.
Camera
Now we come to the most important and valuable piece of equipment you'll ever own when shooting videos – the camera of course. Even though a lot of modern smartphones available on the market today can match the video quality of any budget or even mid-range camera – it is still recommended to invest some money in buying a professional camera.
There are many factors that can affect your decision. I'm not going to get into the details of because you can easily spend all day talking about cameras, but I will recommend a great website to start with. There, you can find check the details and compare hundreds of cameras. We recently purchased a new Canon EOS 90D that was released in August 2019 and replaced the 80D model.
Editing
One last thing to consider is the editing process. A well edited video is definitely much "easier to digest" than a single "long take" of someone talking. On one hand you can pay an expert to edit your videos professionally, and on the other – there are many offline and online user-friendly editing programs. You'll of course have to spend a decent amount of time to properly edit your first few videos and you'll most certainly face a bit of a learning curve – but all the information and tutorials you need on any program are available on the second most popular search engine on the internet!
There's also the middle road for people who don't want to spend time editing themselves and don't have the budget for an expert. There are plenty of semi-professional freelance video editors using platforms like Fiverr. You'll be able to find someone that can do the job quickly for as low as $10 – $20, but don't expect the most professional job possible. A cheap price may not give you the best quality, but for most businesses just starting to release video content would be enough.
Spreading the Knowledge
Creating great content is just the first step. You also need people to hear and see it. As many as possible – otherwise, what's the point?
Content doesn't exist without an audience.Tweet
There are many ways to distribute your videos to the world and structure how you release them. At Freemius, we've decided to release full-length videos on our Youtube channel, and share "teaser" videos on all major social networks that will show a short preview of the upcoming topics.
Social networks encourage native content created on their platform more than links to content on external sites as they want to maximize the time users spend on their site. Therefore, a video that is uploaded directly to Facebook will get wider exposure to viewers compared to sharing a YouTube video. We'll use the teasers to build up some anticipation on our social channels and drive that traffic to our YouTube channel.
Subscribe and grab a free copy of our
WordPress Plugin Business Book
Exactly how to create a prosperous WordPress plugin business in the subscription economy.
Share with a friend
Enter your friend's email address. We'll only email them this book, scout's honor.
Thank you for sharing
Awesome - a copy of 'The WordPress Plugin Business Book' was just sent to . Want to help us spread the word even more? Go on, share the book with your friends and colleagues.
Thanks for subscribing!
- we just sent your copy of 'The WordPress Plugin Business Book' to .
Have a typo in your email? click here to edit the email address and send again.
On the topic of video length, we got some insight from Jamie Marsland of PootlePress about his experience optimizing video for the right length and getting your videos noticed:
"We've grown our Youtube channel over the past year. We now have 650 subscribers and 400 daily views. We mainly focus on tutorial videos that solve specific issues around WooCommerce, and we try to go into as much detail as possible on the videos.
We started seeing growth when we increased the length of our videos. It's slightly counter-intuitive, but youtube ranking seems to reward long videos that increase average view-time (which is something you can check on YouTube analytics)."
The bottom line for distribution is trying to appeal to the audience that will be most interested in your content (like in specific Facebook groups) and strategically improving distribution channels as you go along based on data, like traffic sources, conversions, etc.
Confused?
Want to start creating video content but don't know how to start? No worries! As part of our commitment to our partners, you are more than welcome to contact us with questions about creating video content for your business, and we'll be happy to help.
What Content Means to Me – A Conclusion (For Now)
In Hebrew, the literal meaning of the word "content" is "what is inside", but it is usually used as a word to describe "essence" – and that is how I see my role in Freemius – to present to you, our community, the essence of best advice and practices accumulated over many years of experience in the world of WordPress monetization.
Thanks for reading and don't forget to subscribe to our channel, watch our videos, and tell us what you think in the comments! Hope you enjoy!
Remember, video killed the radio star, but also all the others!