Hi Aravind, thanks for joining us today! Please tell us about yourself, your interests/talents, and where you're from
Thanks for the opportunity! My name is Aravind Ajith, and I am from Kerala, a state in the Southern part of India. I head up Awsm Digital Innovations, a WordPress company that I founded in 2010.
I started as a web designer and my favorite thing to do is UX designing. When not at work, I love traveling.
How did you get into the world of WordPress, and why is it so appealing to you?
My first job was working as a junior website designer, where we were still mainly developing websites with tables, some inline CSS, and Dreamweaver. I wanted to launch my own portfolio website and I knew I wanted something more than tables and Dreamweaver-generated layouts. I stumbled upon WordPress somehow and built my first website myself. Back then, WordPress was supposed to be used only for blogs, but I still wanted to find my way around to building a portfolio website. It was an instant connection. The 'blogging feature' actually encouraged me to start writing blogs and that's what made me what I am today.
Your company Awsm Digital Innovations strives to deliver best-in-class design and development for cloud-based products. Tell us about the company, its history, and how your previous plugin/business experience informed the vision.
It was my fascination with WordPress and recognition of its untapped potential that gave me the courage to set out on my own. In 2009, I left my full-time job to start my own development company. Our first major client was Nokia, and within two years I had built a small team and completed 100 WP projects.
We always dug deep into how developers at WordPress do things, and we tried to follow all the best practices to build even our smallest projects to the best level of quality.
Backed by the experience of working with various clients, we slowly turned to plugin development, and in 2015 we released our first plugin, Embed Any Document.
Trust, Freedom, and Happiness. Please expand on how these core values help to elevate your team's work and set you apart from similar businesses.
When it comes to WordPress, it was not just the product I was fascinated with. How the WordPress community and Automattic as a company work inspired me to form a culture of our own in Awsm. I am personally a huge believer and supporter of people's privacy and personal freedom. Experiences from one of my previous employers also helped me form a clear vision of how I should develop a team of my own.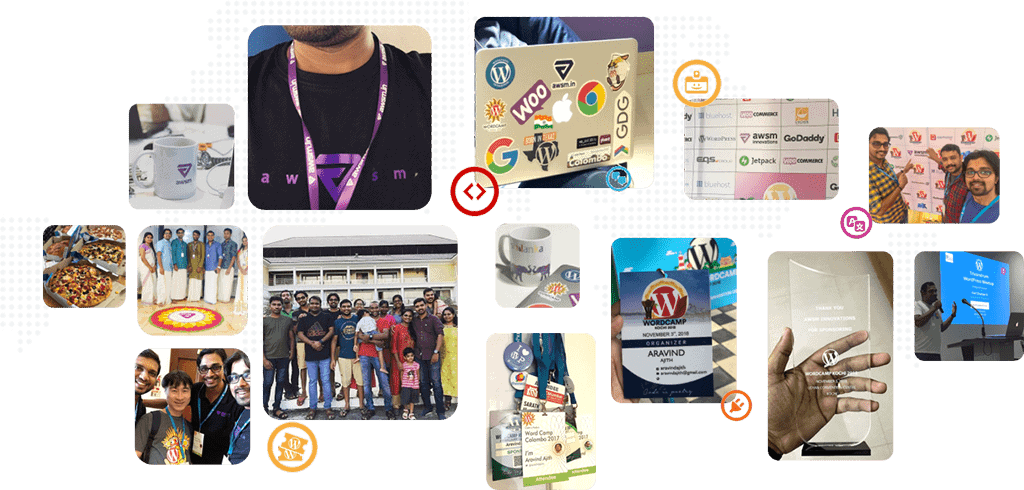 We strongly believe in relationships, and trust is the glue that holds them together. We do not micromanage or limit personal times. Everyone in the team has the freedom to choose the time they want to work.
We are also firm believers in the concept of happiness. We have added happiness as one of our core values in every aspect of our work and personal life. We take all the core decisions based on a scale of happiness. We try to avoid any decisions that reduce the happiness of our clients, teammates, or partners. That's why we are generous in our refund policy too. Our products may not be suitable for every client that purchases them. We want to see them happy, so we happily refund them.
The WP Job Openings plugin has 10k active installs and a 5-star rating — that's awesome, well done! Where did the idea for the plugin come from, and what convinced you that the market opportunity was worth the time/resources/investment?
Thank you! It's a story that's similar to how most other plugins are born. There was a time when we were developing a lot of corporate websites in WordPress. We found ourselves developing the job listing page over and over again using form plugins, custom post types, and sometimes we'd even have to create custom plugins. None of the existing plugins were found to be usable for the purpose. I noticed that most of the developers were using Job Board plugins for that, but it did not make sense to use those types of plugins for a simple career page. That's how (and why) we built the free version of WP Job Openings.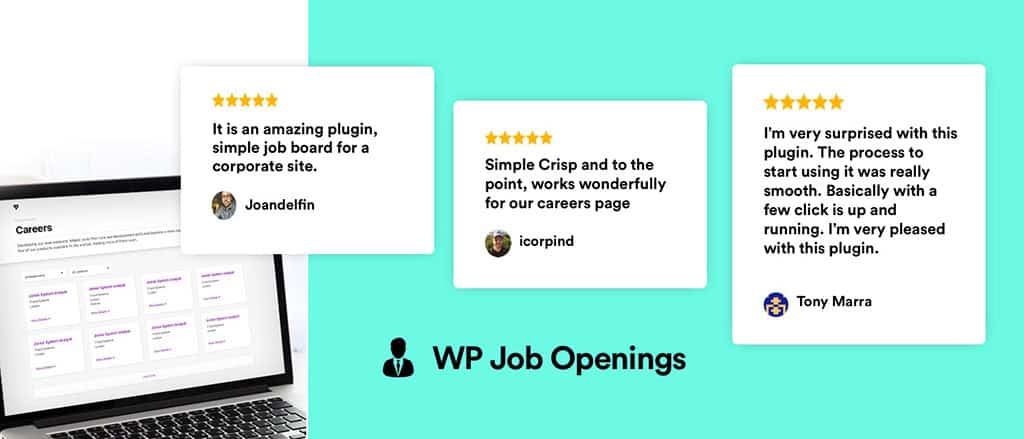 Even without any marketing, the plugin received 100+ active installations in a month. It took us nine months to develop the Pro version of the plugin. By then, we already had 2000+ active websites. What fascinated us was the conversion rate of our plugin from the free version to the Pro — we currently have a solid 18% conversion rate. While moving the Pro version from CodeCanyon to Freemius, we had 1500+ Pro users for the 8000+ active websites.
What made you decide to stop selling the plugin through CodeCanyon?
When we started working on premium plugins, we had not given them the attention they deserved. We had no idea there would be so much demand for the plugins. So we just developed plugins and we put them in CodeCanyon because it was the easiest way to sell plugins at that time.
When the sales started to grow, we started realizing the challenges — in releasing updates, validating and managing licenses, and providing customer support. We particularly felt limited by the lack of control we had over how our plugins were being sold.
There were agencies contacting us for better licensing options and non-profits requesting discounts and sponsorships. As much as we wanted to help them, we felt our hands were tied. That's what led us to take the decision of moving the plugin out of CodeCanyon.
Tell us about the plugin's '360-degree approach to the recruitment process'
The name WP Job Openings may give you the impression that it is just a job listing tool. But the plugin is powerful enough to help users with their complete recruiting process. The 'HR user' role helps recruiters log in to the website and manage job listings easily. All the applications received can be reviewed within the dashboard itself and shortlisted or selected for interviews.

Throughout the process, different members who are part of the recruitment can review the status and leave their comments for each applicant. Once they select candidates, they can mark it hired and close the application. The plugin essentially can handle all the tasks involved in a recruitment process for most typical small and medium companies.
There are a few more additional features we are so excited about which are to be released soon, which will make WP Job Openings an even more powerful recruitment tool.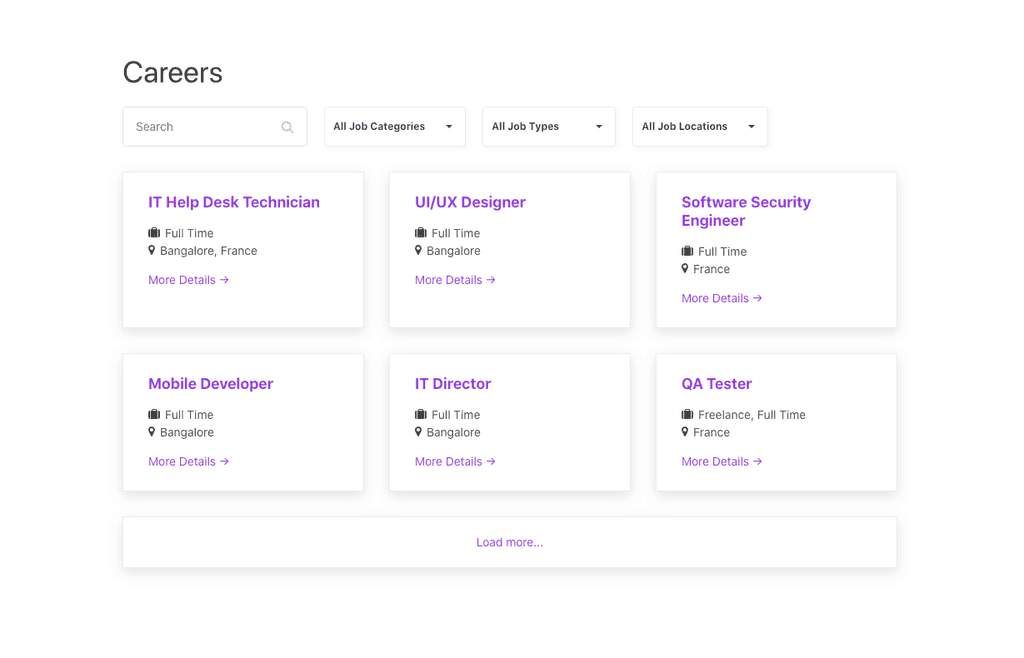 Sounds interesting 😉 So let's show some love to the talented team who'll be implementing those features! Who are they and what skills do they bring to the project?
WP Job Openings is the fifth plugin we've released. All of our plugins are the result of some long late-night calls and brainstorming sessions with development head Adhun and frontend lead Sarath. Before WPJO, we did not have a dedicated team for product development. The success of WP Job Openings gave us the confidence to put together a team dedicated to product research, development, and support.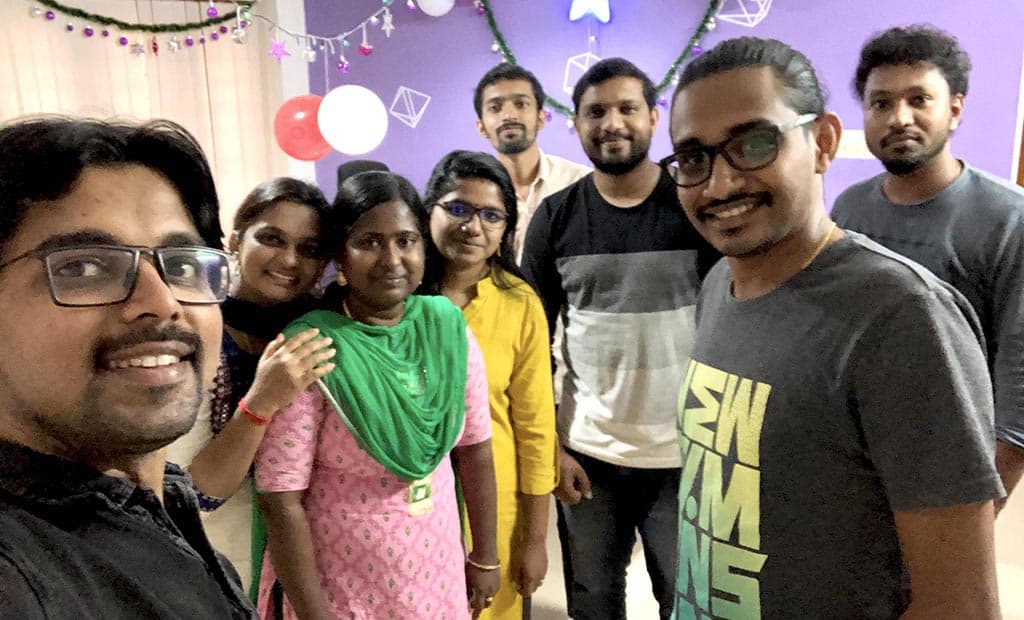 The Awsm Digital Innovations product team
The product development team is led by Anantajit, who himself is a WordPress Core Contributor. Nithin, John, and Sruthy are the senior developers on the team. Support and product research is led by Vidya KV, one of our first team members. We all take turns with support to understand the pain points of our clients and to help them out. But that's not all, everyone in our nineteen member team contributes to the products in one way or another. It's all about teamwork 🙂
I'm interested in the marketing/promotion deployed for WP Job Openings — could you elaborate on the tactics you used?
There are no tactics, honestly! Active marketing is something we are yet to begin! (Thanks to your tips @Vova 😉)
The growth has mainly been organic. We shared the plugin in our WordPress Kerala local meetup communities to get the initial traction and gathered their feedback. I have also personally shared the news in some of the Facebook groups I am a part of. We got most of our clients through word of mouth.
We are just taking our baby steps in marketing with some sponsorships and advertising. As part of the marketing activity, we plan to use our Twitter profile, blog, and YouTube to generate helpful content for our users and potential customers.
We have also recently launched our affiliate program (again, thanks to Freemius for the fantastic feature!).
How did you find out about Freemius and did you explore any other solutions? If so, why did you go with Freemius over alternatives?
I do not remember how exactly I came to know about Freemius. I have seen many developers talking about it on different platforms. Even before I decided to move the plugin out of the marketplace, I had been a fan of Freemius's content for WordPress product owners. I think Freemius puts out the 'best of' analysis and content for WordPress product developers and marketers. So when we decided to move the plugin out of CodeCanyon, Freemius was a top consideration.
But we wanted to be absolutely sure of the platform we chose to sell, so we spent months learning the positives and negatives of all the options. Then we made a list of our expectations from the platforms, along with priorities. We tried building stores with all the different options we had, and finally, Freemius had a clear upper hand with most of our requirements.
How was the migration process from CodeCanyon to Freemius?
The migration part was something we were worried about so much. We have seen it backfire for so many product companies, resulting in negative reviews and users dumping the products. We contacted the Freemius team to find out if they had any recommendations on how it could be done smoothly. The support team instantly got back to me with solutions and shared a plugin which would help the existing clients to exchange their Envato purchase code for a Freemius license.
It worked flawlessly!
Yes, our support inbox was flooded with questions for the first few weeks after the migration. Our customers had the hassle of downloading the purchase code from CodeCanyon, submitting it in the form, and then getting the new license and revalidating their plugin. We could have handled the process even more seamlessly if Envato had given us access to the list of our customers (which is one of the main reasons we migrated!). But our awesome customers were very cooperative with us.
Grab a free copy of our
Cheat Sheet for Selling Themes and Plugins
A growth roadmap with concise, actionable tips for every milestone of WordPress product development.
Share with a friend
Enter your friend's email address. We'll only email them this book, scout's honor.
Thank you for sharing
Awesome - a copy of 'Cheat Sheet for Selling Themes and Plugins' was just sent to . Want to help us spread the word even more? Go on, share the book with your friends and colleagues.
Thanks for subscribing!
- we just sent your copy of 'Cheat Sheet for Selling Themes and Plugins' to .
Have a typo in your email? click here to edit the email address and send again.
Tell us about your experience with the Freemius platform and team so far — you can be honest 😉
To be completely honest — I can't be happier!
I had so many apprehensions about the decision. A wrong choice could have potentially killed our product. But Freemius gave us everything we wanted and more! We did not realize Freemius had so many features to support the sales and marketing of the plugin until we started selling through it.
The Freemius team always quickly responds to our questions and suggests better solutions. Unlike other platforms, I get a feeling that the Freemius team truly cares about their customers. Special mention to Vova! He is one of the most amazing people I have met in the community. He occasionally takes the questions himself and helps us with them. He even invited me for a call, patiently answered all my questions, and shared some of the best tips and insights to improve sales!
Are there any Freemius features that stand out to you?
Staged Rollouts — we did not even know Freemius had this feature when we migrated! For every major update, we still get nervous for our users. Staged Rollouts give us great peace of mind. We rely so much on the Staged Rollout feature to make sure that the updates do not break any site.
Great mention! We're glad Staged Rollouts have worked so well for you (and will continue to help with your success in the future 😉).
When you look back on your journey, what are your biggest takeaways and how can they help other WP product makers forge profitable careers?
I believe the WordPress product marketplace is a unique space to be in. WordPress products are used by people from all walks of life — they are being used by school students all the way through to enterprise businesses. The key is to keep your products accessible for everyone. Users will start loving you and they will become your followers and — eventually — brand ambassadors. Plugins like ACF and Yoast have been great inspirations for us.
Personally, the biggest takeaway from my journey so far as a WP product maker would be this — don't work just on assumptions. Always validate the problems you are trying to solve. Study the solution well, its demand, and its scalability.
There are so many great quality plugins that have very few active users in the repository. It doesn't matter how great the plugins are, the problems they solve might not be that big for users. The three plugins that did well for us are the ones we developed for ourselves to solve our own problems — plugins we developed based on pure assumptions failed miserably.
I assume some of your 'top secret' plans follow the same rules of validation. Can you pull back the curtain and give us some spoilers for the future?
Haha, sorry but no spoilers to share. We have everything in our public roadmap. In addition to what we have here right now, I have a plan to completely redesign the plugin.
I mostly try to share the progress through my Twitter handle. I seek feedback from other product developers and existing users before we introduce a new feature or make a breaking change, like this tweet, for example.
Thanks for sharing your story, Aravind — you've given us deep insight into what it takes to launch and sustain a successful plugin business. Any final words for our readers?
Thanks again for inviting me for the interview. Delegation is the key to scaling up any business. We should keep on finding people to delegate some of the shares of our work, and it is the same in the case of processes as well. If we find the right tools to delegate much of the manual processes, we are buying time to work on more important things. That's exactly what Freemius did for us!