Successful WordPress plugin developers agree – a great customer support system is mandatory if you want your plugin to make it in the market.
There are lots of great customer support solutions out there but which platform is best for you? You'll want to choose one that best complements how you work and what your customers need while also matching your budget and customer service priorities.
In this article we'll step through the features of popular customer support systems from Help Scout, Zendesk and Desk.com to help you decide which one is right for you.
Let's get going!
Help Scout Is an Easy-to-Use and Collaborative Support Platform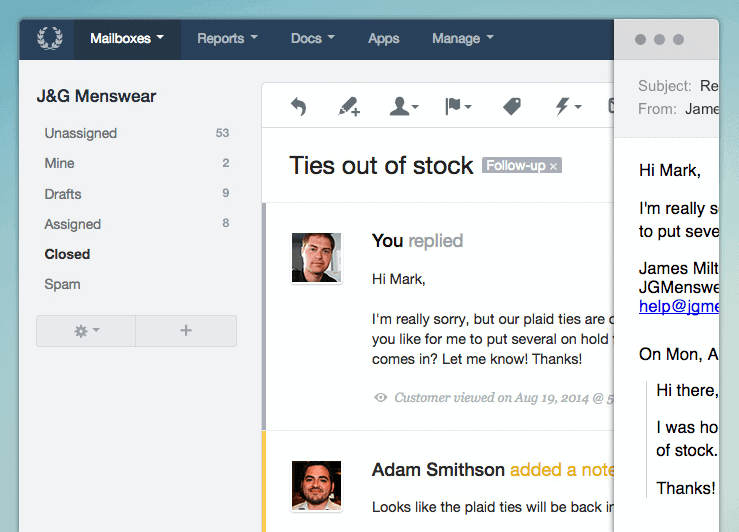 Users love Help Scout because it's easy to set up and offers an intuitive layout. This service provides a shared inbox for you and your team which lets you collaborate on customer response. Help Scout offers email, phone and ticketing options but not live support.
This scalable customer support system lets you assist customers across a wide range of platforms: Windows, Windows Mobile, Android, iPhone and iPad options are all supported in addition to standard desktop browser access.
Help Scout offers full support for users in the USA, UK, Canada, Europe, Australia, and Latin America. If you find that many of your customers still use Blackberry or are located in, say, Africa or Asia, this might not be the solution for you.
We asked Gregory Ciotto over at Help Scout about what he saw as his product's chief advantages:
Support software often reminds me of those "remotes made for grandpa" that people post on Reddit with a bloated collection of features. Many businesses end up blocking out the junk they don't use. They want software that keeps the personal touch, but that can grow with them; after all, who wants to be forced to switch down the line?
Help Scout hits the "just right" temperature for teams of all sizes: we have teams with just a handful of users, and companies with over 600 users. Our product is designed to not waste space, and it's exciting to see so many great WordPress companies—from the Yoast team, to WMPU, to Pippins Plugins — make the switch from cumbersome forums or confusing "customer service software" to an email solution that lets them keep standards high and support response times low. – Gregory Ciotto, Help Scout.
Help Scout offers a free version for up to three users but this doesn't include access to its API or reporting options and all outgoing emails will contain a branded Help Scout link.
Their fixed-priced edition is $15 per user per month. This includes unlimited mailboxes, email integration and storage, over 40 third-party integrations, and reports and satisfaction ratings. You'll have access to their help desk and knowledge base and can also add Docs for an additional $25 a month. A free 15-day trial is available via their pricing page.
Zendesk Has Over 40,000 Clients Worldwide Including Groupon and Zappos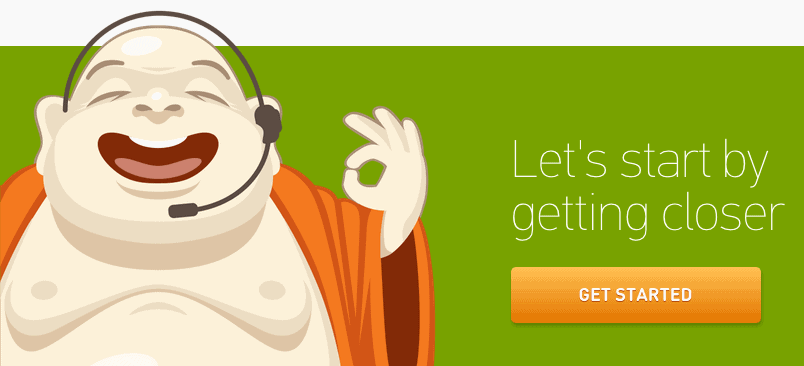 Zendesk is popular with small business as well as large multinationals. 
In a recent online presentation, Zendesk Director of Platform Maxime Prades stressed the fact that Zendesk features can be embedded anywhere on the web or mobile. Their mobile SDK and APIs let WordPress plugin developers custom build and embed customer support directly into their plugins.
This help desk solution can handle thousands of tickets every day and can be used just as easily from desktop or mobile. 
It helps you stay organized and on top of customer response by pulling emails, web, chat and social media all into one place for easy response and tracking.
Zendesk offers email, phone, and live support along with training and ticketing options. It can help you assist your customers on Windows, Linux, Blackberry, Android, iPhone, iPad and Mac. In terms of region support, you are covered in the USA, UK, Canada, Europe, Asia, Australia, Latin America and the Middle East.
Zendesk has five subscription plans:
Starter plan: Per-agent billing at $1 per month annually, or $2 if you pay monthly, with a ticketing portal for three agents.
Regular plan: Per-agent billing at $25 per month annually or $29 monthly. This includes customer satisfaction ratings and domain mapping.
Plus plan: Per-agent billing at $49 per month annually or $59 monthly. This includes Insights, access to their internal knowledge base and time tracking.
Enterprise plan: Per-agent billing at $125 per month annually or $139 monthly. This includes Launch Guidance, free light agents, ticket forms and custom roles.
Enterprise plan: The Enterprise Elite plan is $195 per agent per month and is only billed annually. It features elite support and a 99.9% uptime SLA.
You can start a 30-day free trial at the Zendesk pricing page.
Desk.com Lets You Communicate With Clients in Their Native Language

Desk.com (formerly Assistly) collects customer interactions from all channels including phone, email, social networks and chat. This gives your agents one central place from which to monitor and respond.
You're free to customize your own custom support center by choosing a color scheme and tweaking contact forms. You can even edit the CSS and HTML to make it match your site.
Desk.com also gives the option of communicating with customers in their native language through the 36 languages it makes available via its CMS.
With Desk.com, you can support customers who are using Windows, Blackberry, Android, iPhone, iPad and Mac. Regional support is available for the USA, UK, Canada, Europe, Asia, Australia, Latin America and the Middle East. 
 Desk.com offers email and phone support but no live chat.
Desk.com is available in four basic packages:
Starter plan:  Per-agent billing at $3 per month for up to three users with access to multi-channel support, case management, reporting, self-service support, integration, and security features.
Standard plan: Per-agent billing at $30 per month with support for unlimited email inboxes plus Twitter and Facebook accounts. This plan features case management tools such as custom fields, case routing and agent achievements along with a knowledge base and a customer support center (in English only). You'll also have access to full customization and integration functions.
Pro plan: Per-agent billing at $60 per month. This plan has all the features of the Standard plan plus unlimited data access in reporting, self-service support available in 36 languages, and a sandbox for testing your configuration changes.
 You can also add a part-time agent for $1.75 per hour on a pay-as-you-go basis.
Business Plus plan: This option provides unlimited multi-brand capabilities, interactive dashboards and custom agent roles and positions.
You can access a 14-day free trial of Desk.com on their pricing page.
Before You Choose a Support Platform, Consider Your Clients' Needs
When considering which support program is right for you, it's important to consider your clients' needs, location and platform along with – naturally – your own budget.
If your clients are English-speaking, living mainly in North America or Europe and mostly using, say, Android, Help Scout could be the perfect choice for you – especially if you're looking for an affordable, easy-to-use option.
If you support a lot of clients using Blackberry, you'll want to consider Zendesk or Desk.com.
Looking to custom build and embed customer support directly into your plugin? Then Zendesk might be for you.
One thing's for certain though, all three platforms provide a strong set of features at affordable price points for every level of business.
What's your most important consideration when choosing a support program? Get in touch via the comments section and let us know!