Gone are the days in which you could wrap a few PHP functions into a WordPress plugin or even quickly convert a PSD file into a generic WordPress theme and successfully sell them as an end product to thousands of site owners. Even though the WordPress' market share only keeps growing – in today's market, this does not fly. There's just too much competition out there for selling WordPress plugins and themes, and the average customer now knows exactly what they're looking for and is less likely to buy a pig in a poke.
This complete guide includes all of the best practices for selling WordPress plugins and themes from your own website: from deciding on a sustainable product and a business model that makes sense, then narrowed down to pricing it correctly, while collecting usage data and user feedback. All with the final goal of turning it into a thriving business in today's rugged commercial WordPress ecosystem.
This complete guide includes all of the best practices for selling WordPress plugins & themes from your own websiteTweet
While the market is indeed becoming increasingly crowded and difficult to navigate, it is important to learn how to separate the wheat from the chaff and focus on what has the biggest potential of increasing your business' sustainability and bottom line. This is something we, at Freemius, have been focused on for several years now: selling WordPress products of our own while helping hundreds of WordPress plugin/theme sellers do the same by constantly inspecting their commercial data, optimizing and tuning up their success. Over the years, we've taken many different routes, some more fruitful than others, and in this article, inspired by our CEO's talk at WordCamp Riga, we give rise only to the best advice that will help grow your WordPress plugin/theme business.
Now, enough with the prologue, let's get to it:
For your convenience, here are direct links to the main sections of this huge article. You can navigate to each separate section according to your specific needs, then rinse and repeat:
Should You Be Selling WordPress Plugins OR WordPress Themes?
If you choose to sell WordPress plugins it is very likely that you will be a technical, development-oriented person. It doesn't necessarily mean that you have to have a computer science degree or work experience. In fact, many of the plugins that are currently being sold in the WordPress ecosystem are created by self-taught developers and designers.
On the other hand, if you go with selling WordPress themes you definitely need to be passionate about design because the first thing potential theme customers inspect before they decide whether or not a certain theme is good for them is the way it looks and feels to them.
Market Size
The biggest advantage of the WordPress themes market over that of plugins is the size discrepancy: The themes market is 7.4 times larger than the plugins market!
This means that, at least in theory, you could potentially build a business that would be more than 7 times bigger if you base it on themes. The reason it's a much larger market is that every commercial or business website needs a premium theme because that's one of the main ways for them to differentiate themselves from their competition. In many cases, the way the company and its brand are represented on their website makes a huge commercial difference for them, and with a premium WordPress theme, they can achieve that relatively easily. For a business, investing $100 for a premium theme that makes their online presence look professional, slick, and compelling is a no-brainer. While with plugins, since in many cases the actual added-value/functionality is not even visible on the site, if there's a free plugin alternative that can handle the job many site owners would prefer to get that.
Product Pricing
Instead of paying tens of thousands of dollars for a completely custom-made website which is built from scratch, they can purchase and install a premium theme for about $100, customize it to their heart's content by changing the pictures and logo, and maybe even the general look & feel, and they quickly have something unique that works great for them. Going for a free theme is not an option for a business, simply because it's too generic-looking and usually lacks customization options. It would, therefore, be considered unprofessional of them to use as a representation of their brand online.
As a consequence, the premium WordPress themes market is highly saturated. There's quite a lot of competition, due to the great commercial potential, and also due to the fact that it's considered quite easy to enter this market as a theme creator.
As you would expect, and also with accordance to the way the "commercial jungle works", themes are becoming an easy-to-come-by commodity and, as a result, their prices go down. On the other hand, the average price for a commercial plugin is higher.
Review & Approval Queue
If you choose freemium as your business model of choice then you're probably going to upload your free version to the official WordPress.org repository. For themes, there's a much longer queue and it therefore takes much longer to get your submitted theme reviewed and approved (expect at least 3 to 6 months), whereas with plugins it can take a day, or maybe a week.
Flexibility For Creativity
With themes, there's a very structured model to which you're supposed to adhere. If you go over and perform all of the necessary steps in the themes' handbook you will become a theme developer. The differentiation between various themes is then primarily reflected in the way theme developers choose to design them.
Conversely, plugins are far more flexible, and less shaped into a specific paradigm. This means that, as a plugin developer, you have a lot more room for creativity in the way you plan and code features and solve problems with your plugin. In turn, you are also more likely to get support requests and your maintenance workload is going to be heavier with a plugin than it would with a theme.
Winner?
Ultimately, it seems like a logical decision with regards to whether you should sell WordPress plugins or WordPress themes – depends on several factors, which I've detailed above, but first and foremost, it depends on your natural inclination and passion. If you don't enjoy the ride and follow your passion, you'll probably quit before you get to enjoy the fruit of your labor. So, if you lean towards 'design' and not towards code then plugins are probably not for you, and vice-versa. If you're not sure about that either, then at some point in your business' life, you should try creating and selling both WordPress plugins & themes – that would be the best recipe to build a brand, increase a customer's LTV (lifetime value) and take a bite off both of those markets.
Whether you should sell WordPress plugins or WordPress themes depends on your natural inclination and passion.Tweet
Oh, you should probably take a few minutes to read this research results, which discusses whether WordPress developers who sell products on Envato's marketplaces should go for CodeCanyon (selling plugins) or with ThemeForest (selling well… themes).
Now that we've explored the two most popular options for WordPress product sellers, let's have a look at yet another viable alternative you could go with: Add-ons.
Why You Should Consider Selling WordPress Add-ons For Existing Popular Plugins/Themes?
Remembering we're still at the initial stage of choosing the "weapons" with which we're going to charge at the market – so far we've looked at the two most popular options to go with: WordPress plugins & WordPress themes. But, what if I told you there's a third option for you to consider, which actually has an added benefit to it? I'm guessing you want to hear more about it.
In case neither of the above-mentioned options makes sense for you at the moment (nothing wrong with re-examining them at a later point in time), there's another option for you to consider, called Add-ons.
When we discuss 'add-ons' we're essentially referring to dependant plugins. Why dependant? Because add-ons effectively extend the capabilities of existing (usually successful & popular) plugins or themes. This is also where their principal benefit stems from because when selling add-ons for existing & popular WordPress plugins or themes you're effectively piggybacking on top of their success, and also use several other factors to your commercial advantage. Let's dive a little deeper by looking at a specific example:
We've recently published an interview with the developer and seller of an add-on called WooCommerce Builder for Divi. This is a great example of a product that's taking a smart commercial strategy by riding the success of Divi and WooCommerce, and using it to its advantage in several manners:
Divi Builder is a paid only product, which means that the target audience is already okay with paying for plugins. That is a great start. In that sense, WooCommerce Builder for Divi is targeting the intersection between WooCommerce and Divi, which is even better, an audience that is okay with paying for plugins (Divi Builder) and which also uses the product for their WooCommerce store, making it beneficial for their actual business!
In fact, the plugin and business owner himself, Abdelfatah Aboelghit, states that:
"Divi Kingdom and its products are built to make Divi Builder more powerful. After I realized how powerful and big the Divi Builder market really is, and since Divi Builder doesn't provide a way to customize WooCommerce pages, I knew that this is a big opportunity for me to fill the gap. So, I decided to make the plugin available for everyone and start selling it."
This is how the mind of a great entrepreneur works, and this is a solid description of some great and timely decision making.
"As its name suggests, the WooCommerce Builder For Divi plugin gives the non-tech-savvy user, as well as the talented designer, the ability to use Divi Builder to build custom layouts for WooCommerce pages instead of creating child themes and overriding templates, which require development skills and a lot of time. Anyone who can use Divi Builder can use my plugin automatically."
A great example of piggybacking an already highly successful product that left an open niche for the grabbing!

Subscribe and grab a free copy of our
WordPress Plugin Business Book
Exactly how to create a prosperous WordPress plugin business in the subscription economy.
Share with a friend
Enter your friend's email address. We'll only email them this book, scout's honor.
Thank you for sharing
Awesome - a copy of 'The WordPress Plugin Business Book' was just sent to . Want to help us spread the word even more? Go on, share the book with your friends and colleagues.
Thanks for subscribing!
- we just sent your copy of 'The WordPress Plugin Business Book' to .
Have a typo in your email? click here to edit the email address and send again.
Should You Go with A Niche or Mass Market Product
After we went over the different kinds of products you can potentially choose to build & sell in the WordPress ecosystem, narrowing down the sea of options even further, let us now touch on the considerations you'll want to tackle when trying to decide on the market in which you want your product competing.
When picking out a market type for your product you are inevitable also coming closer to deciding on the actual product itself, but not quite there, just yet. Before that, let's try to first work on defining your product's target market, or in other words, should you target a niche or lean towards the mass market with your commercial WordPress product? This decision can easily make or break a product's success so it's important to give this the right amount of thought.
Niche vs. Mass Market: The Main Difference Is In The Marketing
A niche is a division inside a certain market in which the product exists. Naturally, the target audience is going to be smaller in size, and for this reason, it is often also much more laser-focused and easier to target: Unlike when marketing to the generic mass market, more specific niche marketing focuses on an audience with needs and desires which are more transparent and easy to identify and use for targeting purposes. Conversely, mass marketing is a strategy to market across a multitude of characteristics, which at times can seem too random. With that said, both marketing approaches have their advantages, so let's inspect those.
A mass market WordPress plugin or theme will try to reach as many new users as possible, and couldn't care less about who's installing it and on which websites. One great real-world example in the WordPress space is JetPack by Automattic. Try to think about their marketing strategy: can you identify a specific target audience, or is the minimum requirement just to have a WordPress-based website? If you know JetPack then you know that the answer is the latter. Their goal is to simply get installed on as many WordPress websites as possible, with no discrimination 🙂
Other great examples are plugins that help optimize a website's SEO, backup or security plugins, generic themes, and even accessibility plugins – all of which are simply interested in gaining as many installations as possible, without concerning themselves about who's behind them. When you employ a mass marketing strategy and market to everyone you are obviously looking at a larger audience and more potential sales, however, it is going to require a massive investment of both time and resources.
Additionally, let's remember that the current state of the WordPress market isn't similar to what it was back in 2010 when a developer could quite easily release a mass market WordPress theme or plugin and onboard tens of thousands of users and thousands of sales within a few months. When you compare that to the potential today, even though the entire market keeps on growing steadily, that sort of success is becoming exceedingly rare, mostly due to the commercial competition, which grew unevenly. It may be unfortunate for newcomers, but much of a mass marketing product's success is determined by the state of the market, being first to market, and overall execution. Without a solid stand on all fronts, mass marketing will have a hard time being truly successful, but when it all lines up for – you can hit the jackpot.
Marketing A Niche WordPress Product
A common thought among product creators is that narrowing down your potential target audience has a negative effect on sales, simply because there are less potential customers around. However, discovering a niche for your product could actually mean the contrary, as many niche WordPress product owners have already found out. By focusing on a specific niche you actually get a chance to make your product the leader of that category. The ultimate objective is to position your product or entire WordPress shop as the first option people check out when they're looking for a product within your chosen niche. This is something that would be so much harder to do when going after a mass market solution. I'd even say it's on the verge of impossible nowadays, with all the existing players.
As a result of having a clear target audience in mind when niche products are involved – products tend to have a more direct and clear marketing language, allowing them to speak directly to their audience and reach them, despite all the marketing noise around.
If you're into WordPress products you've probably noticed that the WordPress product economy has been showing signs of maturity in the last few years, while also becoming highly saturated. Setting your product apart from the competition is quite a challenge, because competition is fierce and growing at an impressively rapid rate. If you are able to recognize the factors which make your product or service better than your competing alternatives – it will provide you with a competitive edge that sets your shop apart, and that is exactly what you want. When shaping your chosen niche to serve a specific market you are effectively setting your business up for that competitive advantage, which so many products crave in the economy.
If you do elect to go for a niche WordPress product, first, you'll have to inspect the landscape with strategic eyes: try to figure out who is the competition in your selected niche? What makes you or your product better than them? Who is your target audience of potential users? How are you going to communicate and convince them that your product is better?
What About Niche WordPress Themes?
Currently, as we all know, the WordPress theme market is highly saturated. It was just a few years ago when multipurpose WordPress themes started shining and made huge success for some of their creators . WordPress theme developers have a choice to make when they set out to build a theme – do they dive into the crowded pool with another multipurpose monster or do they make a calculated choice regarding a certain niche you wish to go for and aim your efforts more precisely.
As an example, the folks behind AudioTheme have built a successful WordPress shop selling themes and plugins built specifically for "people who make music". By narrowing their offering, AudioTheme is now positioned as one of the leading WordPress theme and plugin shops for bands, musicians, and record labels, and much of that success is directly attributed to their content marketing strategy. A large part of AudioTheme's keyword strategy is that they're consistently publishing content tailored specifically for musicians. By hyper-focusing on marketing to their specific audience, they're able to jump ahead of any competition that is marketing to a much wider field. Going niche has provided them a competitive advantage to become the best in their specific industry of music.
It would seem like the future of most WordPress products will favor niche markets – there are so many of them to pick and dominate, as people want quality WordPress products that perform like they are built specifically for their needs, and that is something that mass marketed products will have a hard time competing with.
Choosing The Right Business Model For Your Product
Gradually advancing with the decision making funnel that's involved in selling WordPress plugins and themes: after discussing the kinds of WordPress products you could potentially choose from, as well as the market you may prefer to tackle with your commercial product – now let us get to grips with another very important aspect in the process of building a WordPress plugins or themes business: choosing the right strategic business model for it. Let's looks at the 3 most popular business models in the open-source ecosystem and break down the arguments for and against each one for WordPress product owners.
The 3 models we should discuss first are: Free, Premium and Freemium. Then, we'll get to the question and considerations of whether you should opt to sell licenses to different plans of your product, or maybe sell separate add-ons for it, but first:
Free WordPress Products
"Free" is the most palpable option for new WordPress plugins & themes in the market if you are looking to contribute something to the open-source community and get your active installs going quickly. In its simple form – it basically means maintaining a WordPress product and allowing free access to it for anyone who wishes to download and install it on their WordPress website.
However, if you can't make money off of your WordPress product – your attention to the project can never reach its full potential. Thousands of great plugins and themes on the WordPress.org repository get abandoned because developers received no financial return on their investment, and eventually had to stop working on them. That's why, for the sake of this article, which deals with selling WordPress plugins and themes – we will settle for mentioning the free option, but will not dive too deep into it. Instead, let's focus on the two remaining models, which are very commercial:
Freemium VS. Premium
First, let's have a quick look at the pretty much self-explanatory Premium model. It is indeed as simple as it sounds: create a product and then sell it, as is, to customers. This is the common way to do commerce / eCommerce. One of the quickest ways to set that up, if you wanted to sell premium WordPress products off your own website, is to register an account with Freemius, integrate the SDK into your product and start selling. Premium is definitely an easy & clear business model that enables you to generate a straightforward income from all the hard work you put into your WordPress product.
If you have a great product that offers functionality with little competition (go niche!), then going straight to market with a premium offering is definitely a viable route.
Next, let's quickly explore the Freemium model inside the commercial WordPress products ecosystem:
A "freemium" WordPress product is a plugin or a theme that, in addition to offering and distributing a free version, offers paid add-ons or a premium version (or service, like support). Employing the freemium business model enables the product owner to enjoy both the distribution & marketing advantages of the free model, which we've mentioned a few sentences back, as well as the financial benefits of the premium world.
One of the greatest benefits presented by the official WordPress plugin and theme repositories is the ease in which WordPress website owners can search and install the plugins or themes they require. For the creators of those products it's a constant influx of incoming users who stumble upon their WordPress product, install it on their websites and take it for a spin. If they think it's any good after that – they will, most likely, keep it. There's no extra cost in doing this for you, because it's hosted and served from the official WordPress.org repository to your users for free (including version updates), so, except for the burden of having to support free users it's really a no-brainer, and, at the same time, you'll be gaining more exposure and users for your WordPress product.
Upgrading free users into paying ones is, by far, the most persuasive commercial argument to be made in favor of the freemium business model. While they may not be paying you a dime, on account of their being "free users", it does not mean you cannot convert them into paying users/customers somewhere down the line. As a matter of fact, you should!
Add-Ons VS. Plans
The freemium model does indeed offer numerous advantages and benefits to those who apply it, but there is yet another strategic decision you are going to have to make before you can start selling: are you going to sell licenses to different plans of your product, or should you sell separate add-ons, which add functionality to it?
There are plenty of examples in the WordPress business sphere of successful products that favored the add-ons monetization model. To name a few of the well-known ones: WooCommerce, iThemes Exchange and others. If it worked for them, maybe your WordPress product is a great candidate too? Let's examine the benefits and optimal conditions:
What Are The Benefits of The Add-ons Model?
Lightweight Core – Employing an add-ons monetization model means you are inevitably going to make the core of your plugin or theme include pretty much only the bare essentials of your product. This will render that "core code" lightweight and probably also easier to configure.
Modularity – Creating separate extensions for your WordPress product pushes you to build a modular and abstracted core. This makes your codebase much easier to maintain in the long run.
Easy Feature Maintenance – Add-on related features are much easier to test, debug, and deploy changes to. Simply push an update to that specific add-on, without having to release an entirely new product version.
No Dual Code Base – There's no need to maintain two separate code bases for your core product, like you do when offering a free and an upgrade to a premium version. Instead, you can simply focus on your pro add-ons.
Prices Start Lower – Due to the fact that everything is modular and maintained separately – users can purchase only the exact features they require. Since it's only one specific feature or functionality with every add-on it is probably offered for a relatively affordable price. It makes the decision to purchase easier when compared with premium product plans, which tend to be pricier.
Potential Higher LTV (lifetime value) – When you monetize through add-ons each and every customer is potentially worth much more to your business. Let's think about a scenario where you have 100 add-ons for your product: someone could potentially purchase all of them, and you can make quite a lot of money from just one user. When you monetize with premium plans, however, you are usually more limited in that aspect. When you monetize with premium version plans though – market price ranges are already set so it would be very hard to charge more than $200 / year for any of your plans for a single site license. This means that the max annual revenues you can get from a user is essentially $200.
On Point Marketing – If you decide on selling add-ons you could market each one separately. This is beneficial because it enables you to emphasize each feature in a way that targets users who are looking for that exact functionality. Having an informative page for each add-on is great for SEO too because people often search for specific functionality, making these pages a great lead generation source.
3rd Party Extensions – If your core code is well-documented you could quite easily create a marketplace of your WordPress product. By allowing 3rd party developers to build extensions for it you'll be adding even more value to your plugin, while hardly adding any work on your end. Those developers will happily do that, as long as they have a commercial interest and financial justification. In fact, if you offer to advertise and sell those add-ons from your site (the main/core product) the developers are likely to be interested; you can then charge "a marketplace commission" for each sale (normally 20%-30%).
Partners Traffic – Add-ons are a great way to generate traffic from partners. If your add-on provides a valuable integration of a 3rd party solution with your plugin or theme then it makes sense for the other solution to promote or feature your add-on. This will tell their customers that they are "covered" if they will use your plugin because they firmly recommend it. MailChimp is a great example of a company that took it a step further and now promotes its partners through a directory of integrations.
What Are The Drawbacks of The Add-ons Model?
Harder to keep up-to-date – If you have 20 add-ons, it means that you will actually need to maintain, test and deploy, 20 different code projects. When you need to make a change to your product's core it can potentially affect all of your add-ons and may require pushing updates for all of them, depending on the change.
Complicated to change core functionality – Making changes to the core of your plugin or theme will suddenly become more complicated. You will need to be careful with the changes that you make so they don't impair compatibility with any of the add-ons.
Compatibility and versions fragmentation – We all know how challenging it can be to have users updating your plugin or theme often or when new versions are released. Now when you have add-ons, think of the version fragmentation mess you'll get. This means you will need to support compatibility across all add-ons and your core plugin versions. This can get painstakingly daunting.
Performance degradation – When you develop your plugin with the add-ons model in mind you're going to have to make it flexible by incorporating code hooks (actions & filters), so it's easy to connect your add-ons to it. Keep in mind that every time a do_action() executes it consumes additional resources. Having many actions will have a certain effect on performance. In addition, every plugin/add-on that is active on a site adds performance and memory overhead, due to the way the WordPress core plugins mechanism works.
A Lower Price Per Sale – With the premium/freemium model, you can aggregate a set of essential features and charge $150 per year (on average) for all of them through one plan. With add-ons however, if your killer feature is a single add-on, since the whole concept of add-ons is providing a very light addition, it would be very hard to sell that add-on for $150. The most you will likely be able to charge for an extension is $70 for a single site license (prices of eCommerce add-ons can be higher and go up to $300 per year). The way plugin developers try to workaround that is by selling add-ons bundles to increase the revenue from each sale.
The Pareto Principle (AKA the 80–20 Rule) – According to many WordPress add-ons sellers, 70-80% of their total revenues come from roughly 20% of their add-ons. Consequently, you are likely going to end up with add-on maintenance that only serves a few users (or none). You will still need to support & maintain the other 80%, even though they fail to justify their existence.
Extensive Marketing – When running the add-ons model you need to provide information and high-quality marketing material for each and every add-on you sell. Premium plans, on the other hand, allow you to focus on highlighting only your killer features.
Managing Everything Is Complex – It is easier to sell only one product than 100. When you sell 100 different add-ons, potentially, there are 100 times more things that could go wrong and that you would have to deal with.
Decision To Purchase Is Harder – Selling many add-ons for your plugin can be very confusing for end users. There are over 200 add-ons on WooCommerce, so which one am I going to go for if I start a store? Many users do NOT know what they want or need. Therefore, selling premium with plans actually helps guide potential users through upgrade decision more smoothly. The process of contemplation and having to research what each and every add-on does is daunting and adds a lot of friction to the purchase process. Plans like "Starter", "Professional", "Business", "Agency" are much easier to grasp and choose.
So Should You Go With Add-ons?
As evident above, there are multiple benefits as well as drawbacks to choosing the add-ons model for your WordPress plugin or theme. Add-ons load a lot more complexity on top of your business from a technical point of view, but they also provide many worthy commercial benefits. If your plugin or theme is a good candidate for a product which would have a lot of different integrations, features and extensions, possibly more than you can ever develop and maintain yourself, then you should definitely take the add-ons model into consideration.
On the other hand, the majority of WordPress plugins and themes are trying to narrow things down and going niche, for many of the reasons I've detailed in a section above, so, in those cases, monetizing your WordPress plugin or theme using an add-ons model is probably not the best route to go.
At the end of the day, you can't always know in advance what's going to be the very best model for your WordPress plugins and themes. Developers should not be afraid to A/B test different monetization models to find that out.
Pricing
Now that we're done going all of the options for the type of product you may want to create and the kind of business strategy and model you may want to fit it with, it's time to dive into the important topic of how to price your products. Pricing is naturally one of the most crucial things you want to heavily consider and constantly monitor for its success. If you get pricing wrong and don't do anything about it – it could be the one factor that holds your business from growing, or maybe even causing it financial losses.
How to Price Your WordPress Product?
So, first things first:
Research Pricing in Your Product's Market
Every plugin or theme is different, and yet they're still part of some category or vertical which likely has its product pricing already set out, taking demand and competition into account. That is not to say you cannot tip the boat and change your specific market's standard pricing ranges, but let's not get ahead of ourselves. Usually, you can tell what the specific market you're aiming for is "willing to bear" by looking at existing product prices and recognizing where the pricing clustering occurs.
Your initial analysis of price ranges and market limits should be enough to get you a general pricing ballpark. With that identified, it's time to dig deeper with your research.
Understand Your Product Value
Now it's time to get more specific by analyzing the exact value your specific plugin or theme introduces for its customers and try to inspect where its particular feature set sits within the overall market offerings.
For example, if you can say with certainty that your product can save its users time or money, you can probably get away with it even if you set your pricing on the higher end of the market's range. If the product offers some unique functionality which cannot be matched by competing solutions then it is another rationale for pricing it at the upper echelon.
Calculate Your Costs
Factoring in your internal costs is something many forget to do when they first come to price their product. Your costs and overheads definitely need to be taken into your pricing considerations. You also shouldn't forget to factor in your ongoing and future work and expenses relating to new releases, testing, marketing, documentation and support. Exact numbers are going to be hard to determine in advance, but at the very least, you want a forecast range relating to expected costs and sales covering best-case, neutral and worst-case scenarios.
In case you don't have a clear picture of what type of revenue numbers you need to produce to be able to keep the lights on then this may turn your pricing trial and error process slightly longer. Create a simple spreadsheet which contains your research data, which will serve as a tool for running potential real-world game plans across different pricing points.
Don't Join The Race to The Bottom
If you're an inexperienced developer, you may feel tempted to join the race to the bottom and compete on price, hoping you'll be rewarded through purchase volumes. This is a risky strategy which can end up making your product a magnet for the very worst type of customers. When you're confident enough about the value you're delivering, you should be confident about charging as much as the market can bear for it.
Understand The Underlying Psychology of Pricing
Reading up to learn and understand pricing psychology for products sold on the internet can be important to your store's success. There are different ways in which you could be optimizing your prices and the way you present them to your visitors. As a quick example, here's why you should consider using the number 9 in your pricing choices:
Every shop you've ever been to probably uses this little psychological trick by simply ending prices with the number 9. It's definitely not a coincidence, because studies show that prices ending with 9 outperform the sales of their closest rounded number by 24%!
The idea behind this strategy is that it simply enables the seller to reduce the left digit by one, without actually losing any money on the sale because it is effectively only reducing the price by one cent. For instance, instead of selling a WordPress plugin or theme for $70 per month, you'll "only" be paying $69.99, which seems like significantly less.
When your plugin or theme is on a special sale, it would be wise to pair the discounted price with this "trick" and to end it with 9 as well.
Another useful psychological tactic you could use would be the decoy effect. One of the most common ways of incorporating this into the shopping experience when selling WordPress plugins and themes is to first offer two pricing plans, one that is fairly high, and another that is much lower in price, which also offers fewer bells and whistles.
Your goal is to get the shopper to go with the more expensive option, plan #2. But you know they are probably thinking of the budget they had planned to spend on this, and might therefore be leaning toward the cheaper, plan #1. In order to reduce sticker shock, you add your decoy, plan #3, which should be priced even higher than plan #1, even though it carries pretty much the same features. The decoy should cause your potential buyer to more carefully mull over the idea of buying product #2. They are likely to compare the benefits they get when purchasing plan #3 and plan #2, while product #1, the lower-priced option, usually gets lost in the shuffle. The decoy plans may seem useless but are actually there to improve the sales of the most popular plan simply by being there.
Test & Optimize Your Pricing Decisions
Developers seem to be afraid to test pricing models and strategies because they worry that things will completely turn sour. But, experiments are part of the learning experience, and yes, it may cost you a little, but if you go at it wisely by performing A/B testing properly, even if things don't turn out the way you planned them, it shouldn't have a devastating impact on your business.
Here's a little pricing experiment to learn from: When RatingWidget only got started, all of its features were priced at $1 per month. The developer behind the product was sure that everyone would rush to buy it (given the ridiculous price), but that turned out to be a misguided assumption. Only 1% of the users have actually upgraded to a premium version. Seeing this poor conversion rate, the developer decided to change the price to $3 per month, but that did not change anything either.
The developer then took a completely different whack at it by removing some features from the first plan and added another plan next to it, kind of like with the psychological decoy effect. The price for that plan was set to $6.99. All of a sudden, the conversion rate jumped up to 2%! After some further testing and refining of the price tag, and adding yet another plan – they ended up with the perfectly balanced offering that seems to work ideally:
Cheapest = $4.99 Middle (most popular) = $8.99 'Premium' = $34.99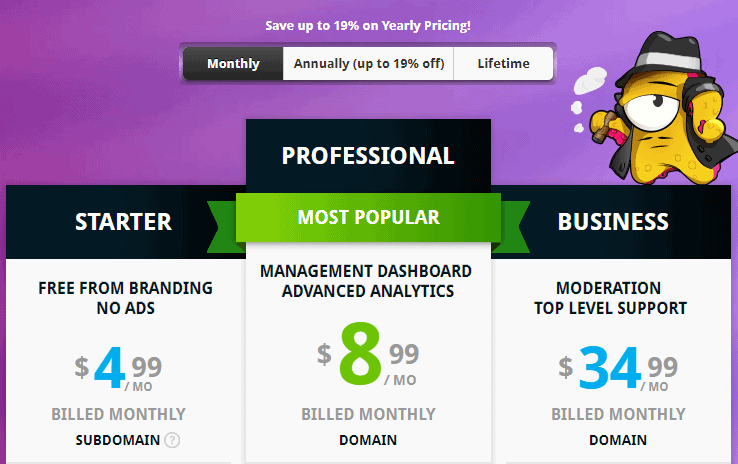 Currently, the conversion rate is pretty stable at 3.7%, and with some additional experimentation I'm positive it can be optimized even further.
"The Price Is Value"
Pricing seems to pose a big headache for plugin developers who are not sure how to tackle it. When you turn methodical about it, taking an experimental approach to slowly figure out the best prices for your WordPress plugin or theme, while maintaining the focus on the value it can deliver, pricing quickly stops being an issue.
Recurring Payments
Needless to say that when you come to set your WordPress product's pricing, especially if you're looking for the right price to reflect the value your WordPress product is able to provide, each product is going to have its own criteria and inputs to take into consideration. Some products do better with just a one-time payment and may even not be able to justify recurring payments, but others actually base a large chunk of their revenue on that.
Looking at the WordPress plugins and themes market today, the most widely used monetization model is "support + software updates" for a period of a year. To keep getting updates and support beyond that for your purchased plugin or theme, you'll have to purchase a license for another year. When you come to think about it, everyone is really selling recurring-payments licenses for their WordPress products, only without the automated renewals. When you start to think about it this way, as a WordPress plugins or themes seller, you may suddenly feel a little irrational for not incorporating auto-renewals into your monetization operation. This is pretty much the only thing missing from turning your products into WordPress SaaS-like.
We constantly hear about how the SaaS model is a great option that aids many online businesses have a more steady and predictable revenue stream. Our recommendation would be to have many more WordPress plugin or theme businesses leverage the SaaS' business-model.
It turns out that in one of his interviews from quite a while ago, even Matt Mullenweg came to the same conclusion regarding Automattic's products.
"We had subscriptions… but they didn't actually renew! So you had to come back every year and re-buy everything. Which naturally has a higher churn rate than if you renew it, which every company in the entire world does, it turns out that every company does because our revenue pretty much started doubling! as soon as we did renewals. As I think about all the years we didn't do renewals, I feel a little silly."
The Beauty of Selling WordPress Plugins and Themes with Recurring Revenues
As mentioned above, one of the great things about recurring revenues is the fact that you can estimate how much money your business is going to make at the end of the month (MRR – Monthly Recurring Revenues). Following that, you should also be able to project your growth when you've got your effective growth figured out by simply reducing your churn off of that. Recurring payments will enable you to turn your operation into a data-driven business by knowing all your KPIs (key performance indicators). These metrics are crucial for budget planning towards hiring new team members, your marketing budget expenses, and so on.
Keep in mind though that monthly recurring payments are usually smaller, which can make it harder at the initial phases for a business. Once your customers base grows tough, you will be better equipped to create a sustainable and scalable business. The main difference between recurring payments and the one-time payments model is that one-time payments are much less predictable and are easily affected by market shifts and trends. For example, when you push your Black Friday promotion you can make a lot of money, but what is going to happen on the next month? Can you predict that? How will you keep that BFCM momentum going?
As another, slightly less cheerful example, let's think about a scenario where your WordPress plugin or theme's main distribution and exposure channel is the WordPress.org plugins or themes repository. If you've been around long enough you know that it is inevitable the changes will happen from time to time on those repositories. Changes that can directly impact the way your product gets found on them. For example, the search algorithm can be revamped. Such sudden changes in to your main source of traffic can cause a lot of instability for a business, and may even be deadly.
Things look different when running a recurring revenues based business. Even if there's some sudden change, which makes all your organic traffic disappear – you are still going to see a similar income to what you did in the previous month (minus your monthly churn). This provides some serious buffers for your business, making sure it is not going to experience a swift death some day, due to some change that's not up to you.
Nullify The One Downside To Recurring Payments
Recurring revenues do have one obvious downside to them when you're selling WordPress plugins and themes, and that is the fact that some customers don't like to have their payment automatically renewed. We can understand how frustrating it can be to track down any unauthorized payments and having to dispute them through your chasing after my credit card company. However, if you design the customer experience in a manner that's very transparent during the checkout process, highlighting the fact there are recurring revenues involved, and also sending a notification email enough time before the next payment (a week or a month) with a very simple link to cancel the payments account, then you should be in good shape on that front, maintaining the high conversion rates, even with recurring payments and automatic renewals. If they expect that payment then there's no reason for them to be unhappy.
A Surprising Advantage To Offering Monthly Recurring Revenues
An average annual premium WordPress plugin license costs about $125. Looking at it from the consumer's point of view, it's less "risky" to pay $10 to test-drive the premium version for a month, instead of making a bigger commitment and pay the entire amount of $125. So, when you offer monthly recurring payments you are effectively adding a layer of flexibility and letting customers use your premium plugin features, even if they only need it just for a short period, like short-term websites and landing pages, etc.
When you think about it, many of your users are SMBs (small-medium businesses) who use your plugin on their company site. These kind of customers could definitely do without forgetting to manually renew the license to your software possibly ending up without your latest security patch. They are running a business, and have other important things on their minds. Incorporating auto-renewals will only make their life easier, and I wouldn't be exaggerating if I said that customers nowadays actually expect premium software to have an automatically renewed license.
What's Going To Happen If You Added Automatic Renewals Right Now?
Looking into some data, we see that the average manual license renewal rate stands on 10%-30% (those are WordPress products which do NOT auto-renew licenses and customers have manually do that on their own). Those numbers are very low when compared with products that incorporated automatic renewals into their software licensing operation, which stand on 60%-95%!
Naturally, businesses with an auto-renewal mechanism get more refund requests to process, as well as chargebacks (these depend on your product and on how transparent you are regarding the next payment that will be charged). Nonetheless, the difference is at least 30% (worst-case scenario – usually it's more like a 50% difference), which is huge on the long run!
Lifetime Licenses
After discussing why you should offer automatic renewals to your customers to save them the headache of manually renewing their license themselves, let's talk about a specific license that contradicts the concept of renewals by nature: the lifetime license. Just like its literal meaning suggests, the lifetime license renders renewals redundant simply because the customer purchases a license that allows it to use it "for life". But, let me come out and say this right out the gate: WordPress is one of the only ecosystems that grasps the "lifetime license" as an unlimited one. With most software licenses lifetime does not equate to unlimited!
Thinking about it, this is actually horrendous for WordPress plugin and theme developers, because they continue to support, maintain and develop their products without getting any return on their investment, which ultimately leads to a financial lose, forcing them to shut down operation. If you want to know more – read this great guest post, where Amir Helzer, founder of OnTheGoSystems (makers of WPML and Toolset) goes into detail about why they moved their products from lifetime licenses to automatic renewals, and what were the immediate financial and commercial results of that move.
So how can lifetime license still be great for your product? If we simply remove the concept of unlimited from a lifetime license and swap out "sites" with "domains", lifetime licenses can actually become a great thing for us and for the bottom line of our businesses. To dive a little deeper into this – first, let's first understand how to price our lifetime license, if we do indeed choose to offer one.
How much should you charge for a lifetime license?
The vast majority of transactions in the WordPress economy are generated by small businesses. This category includes agencies and freelancers alike, and while freelancers can be a one-man-show business – they are still a small business.
What is the Lifespan of a small business?
Based on data published by the Bureau of Labor Statistics, only 44% of all small businesses actually stay in business for the duration of four years. So, about half of your theme or plugin's customers will not even be around after four years.
What is the Lifespan of a website?
In 1997, Brewster Kahle, the founder of The Internet Archive, found that the average lifespan of a web page is 44 days. Based on an academic study in IEEE Computer in 2001, Alexa, an Internet analytics company, estimated that the "rate of decay" for web pages is about 75 days, and in 2003, a Washington Post article indicated that the number was 100 days. That article has many references online, but the original post has, funnily enough, vanished from the face of the web… another one bites the dust, right? It's safe to say then that the average website's lifespan is not longer than five years. Therefore, if you base your license on a domain, the average customer will not be able to renew your WordPress product's license after 5 years, since the site isn't likely to be there.
BTW, this is not to imply that you should become mean and obligate them to purchase a new license when a business decides to change its domain. The domain limitation is simply there to protect you from a case where a customer buys a lifetime license and then recycles it with ten different companies/domains down the line.
According to the average numbers it is very rare to have a customer pay you for 5 years in a row: first, their customer's business needs to stay sustainable for 5 years, second, they need to keep working using the same website, and lastly, there's also their need and desire to continue using and working with your product for 5 years straight, without wanting to either switch to a competitor, or remove that capability off of their website's arsenal. Oh, and I almost forgot – your product business also needs to survive those same 5 years… 😉
Taking all of that into consideration, if we do manage to convince a customer to pay for a 5-year license in advance, we should maximize the income we are able to get from them. The point I'm trying to make here is that the way you can validate the commercial value of such a lifetime license for your business is by charging 5 times your annual price.
Lifetime Price = 5 X Annual License Price
As a tip: to incentivize the upgrade with a decent discount – you could price it at an amount equal to a 3 or 4 annual licenses.
How much should you charge for an N-domain lifetime license?
For your bulk pricing, a good formula would be to charge N times the annual lifetime license, and then possibly add some kind of discount on top of that:

So, if a customer purchases a license for 10 domains they only pay for 8 (get a 20% discount). If they purchase a license for 20 domains they only pay for 16, and so on. That way, the discount grows in proportion to the N variable.
How to Make The Lifetime License Work for Agencies?
When a certain agency is out scouting for a new plugin to add to its toolbox one of the factors they usually evaluate is the pricing: "How much money can we save by purchasing plugin-X vs. plugin-Y vs. plugin-Z?"
You can use this question as an advantage and have them pick your product at any given day simply by thinking about it this way – what if you could generate extra revenue for that agency, instead of merely saving them on costs?
Well, the truth is that unfortunately, we can't, but, that's not to say we can't make them believe we can. See, it's all about marketing psychology: What if instead of marketing a "20% discount when buying a license for multiple domains" you actually offer that agency to provide all of its customers with an exclusive 10% discount for your plugin? And they would also get 10% of the revenues that come in through their referrals for the 1st year.
In that case, it's a really simple win-win affiliation situation. The agency becomes even more valuable for its clients, by getting them an exclusive discount for a plugin they require, AND it also makes money for being your affiliate. The best part is that you don't lose anything here, because it's the same 20% discount you were willing to offer them anyways, with a slight change of purpose.
When you offer an unlimited license the incentives are not aligned between an agency and the product business. Plugin or theme sellers aim to minimize the number of sites on which their product is installed using the same agency license, while the agency itself doesn't really care.
But with the affiliation approach, it suddenly becomes in everyone's interest to "sell" your plugin to as many clients it can.
Monthly Plans
In order to decide whether or not a monthly billing cycle would be right for your WordPress plugin or theme, you need to first ask yourself if your plugin provides continuous value, or is it more of a one-time action. As an example, if your plugin is an exit intent pop-up then as long as it is active it continues to generate value for its site owner by capturing and adding more and more leads to the list. On the other hand, if your plugin is a migration plugin from Drupal to WordPress, then it does one important action, but that's it. After the migration is done it ceases to provide value and the website owner doesn't need the plugin any longer. Hence, a monthly billing cycle for a personal license of a migration plugin would not make a lot of sense as most customers will cancel the subscription after the first month. With that in mind, I do think that selling a monthly license to agencies/freelancers/developers could work, as they do migrations for their clients all the time.
What Do Customers Think ABout Paying Monthly?
When you ask website owners a very simple question: "Would you prefer to pay $120 a year or $10 a month for a plugin?"
Here are the results of this short poll on the Advanced WordPress Facebook Group: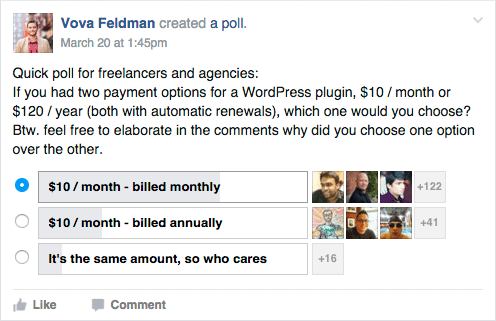 7 out of 10 people prefer the monthly billing cycle.
67.5% prefer to pay monthly.
23.7% prefer to pay annually.
8.6% don't care.
The most common opinion of why monthly is preferred was that it gives the ability to test the waters, both from the product side, as well as the technical support behind it. Additionally, many bothered to stress the fact that they would only go for an annual plan if there's a discount in place.
At any rate, if you decide to try selling a monthly billing cycle – make sure you block the premium features after license expiration. It makes perfect sense for you to want to protect your business and block the features right away if a user stops paying.
The market is maturing, and there's a very good reason for why everywhere outside the WordPress ecosystem the common monetization model is monthly subscriptions. We've yet to receive even one complaint about blocked premium features upon monthly license expiration.
If you are using Freemius, you can configure to block the features after license expiration, keep the features, or only block them when the customer subscribes to a monthly plan while keeping them when they subscribe for an annual plan:

Make Monetizing with Support Work Monthly
If your monetization model only includes support, without any premium features, you should calculate the cost of a complicated ticket and then price the monthly plan with a nice buffer on top of that. When support is the main offer behind an upgrade users will usually upgrade because of a certain issue he/she may be having with the product.
Following the results of the poll, it's clear that the majority of people prefer to pay on a monthly basis. So, if we bring that together with the fact that this model has a very high chance of increasing your business' bottom line – it looks like selling WordPress plugins with a monthly and annual billing cycles is a win-win for everyone.
If you are still uncertain about testing out the monthly plan for your WordPress product – I would first test adding an artificial discount. Something like: "Usually $150, today $100". This seems to be working well for many businesses who are testing out new strategies, as it adds "urgency" as another psychological factor to the overhaul purchase decision.
Offering Trials
Trials for software has been standard practice for a long time now, and it is considered a great way to improve your product's sales and conversion rate.
What Types of Trials Can You Offer?
There are three well-known trial offerings that are currently popular on the market:
A free trial without a payment method – Free Trials without a payment method are a simple way to let prospects try out your premium product in exchange for their contact detail (email address). This is the safest and "cheapest" trial for consumers as they don't need to provide any payment information.
A free trial with a payment method (e.g. credit card, PayPal) – With this variation, you are asking the user to provide their payment method along with their email address, without actually charging their Credit Card or PayPal, until the trial period officially expires. Due to the fact that the user needs to show a certain amount of trust in your business and feel confident enough that you will not scam or charge them unexpectedly – it is likely that fewer users will subscribe for this Trial. It also adds the hassle of providing their payment method details and also remembering to cancel it in case they're not interested in continuing to use the product once the trial is over. The benefit of a Free Trial with a payment method is that users who go through that funnel are generally considered more "serious", and are therefore more likely to keep your product on their website – they've already made the hardest step and provided you with their credit card.
A paid trial with a significant discount during the trial period – Paid Trials are usually camouflaged as coupons for the first payment. For example, when a seller offers a Black Friday 40% discount coupon, in many cases the discount will only be applicable to the first-month' payment (the Trial period). This way customers are able to test out the product for a much lower price, before actually committing to the full amount.
What Are The Main Benefits of Offering a Trial?
Better Conversion Rates
Here are some numbers we can expose from WordPress plugins and themes that sell through Freemius:
The average conversion rate from a Free Trial without a payment method to a paying customer is 18.78%. This means that almost every 5th user that starts a trial will become a paying customer.
When we come to examining and compare that to the conversion from a Free Trial with a payment method to a paying customer we discover a crazy rate of 69.66%. 7 out of 10 users who start a Trial with a payment method will become customers!
While these numbers are amazing you need to remember that when you offer a Free Trial, your bottom line conversion rate also depends on the number of users that will actually start one. While you are likely going to have an amazing conversion rate from trial to paid, the general amount of users who give it a shot may significantly decrease, but that definitely shouldn't discourage you from giving it a go. In fact, this is the exact same strategy used by Netflix – If you go to their homepage you'll see that there's no way to become a customer without going through a month of free trial: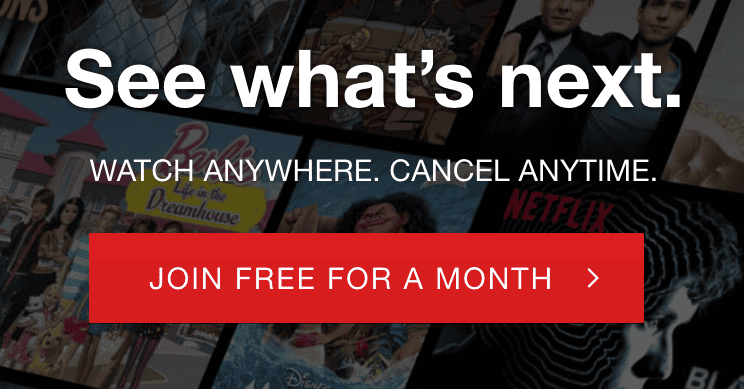 Lead Generation
One of the great benefits of a trial is the ability to ask something back in return for it. The most common thing to ask is their email (but you can ask for additional things too). Once you have their verified email address you can add them to your Trial marketing funnel. The obvious one is email marketing, but you can also retarget them with ads on social media platforms like Facebook and Twitter by adding them to a Custom Audience or retargeting them with AdWords. All of these efforts will help you bump up the conversion rate from Trial to Paid.
Is Your Product Right For A Trial?
Ask yourself the following three questions:
Is your product used for a short or for a long period of time?
Does your product provide value over time?
Is it harder for a user to migrate to a competing solution over time?
If your WordPress theme or plugin is mainly used for a short period, it doesn't become more valuable over time, and it's easy to switch to a competing product, you should probably not offer Free Trials. For example, products like 'data-export' plugins or 'coming soon' themes are bad candidates for Free Trials. If you offer a 30-day Free Trial for a coming soon page there's a high chance that your premium theme will actually be needed for less than that. The same goes for data export plugins, which many site owners rarely use.
On the other hand, if a product provides more value over time it means that the longer the user will use them the more vested they become, and it would, therefore, make sense to offer a trial for such a product. If we look at themes as an example, most WordPress themes are harder to switch from over time. Not necessarily because they provide more value to the user, but mainly because the website owner had already invested time tweaking the settings, customizing the widgets, uploading images, and maybe even adding some custom CSS. Switching to a different theme is going to be a big hassle at that point. In that case, it would make perfect sense to offer a Trial, luring a user to give it a try, while you realize that once they really try out your product and customize it for their website the chances of them switching are getting slimmer over time.
Some Final Trial Best Practices
Trial Period – The most popular Trial lengths in the market are 7-day, 14-day, and a 30-day Trial, but, there's no magic number because every premium plugin or theme is different. What you do have to make sure is that your trial is long enough for your prospects to be able to adequately evaluate your offering, and hopefully, get "hooked". On the other hand, avoid from offering very long Trial periods, because those could eliminate the urgency of actually trying out your product and ending up not using it at all.
Support During Trial – Yes. When a prospect is testing your premium plugin or theme they are not only evaluating your product features but also your support quality and response rate. Therefore, you must include support for trials and in fact, you should probably prioritize your Trial users over the rest of your customers, just to show them how good support is.
The Importance Of Data And The Product Feedback Loop
Unfortunately, many WordPress plugin and theme developers actually do their work while wearing a blindfold, and they have no means of learning how their work improves or deteriorates the product. As such, they don't understand how their work is influencing the product's success in the ranks of its target audience.
As it turns out, apart from WordPress plugin/theme creators, no other digital product creator out there knows so little about their product's usage and their users. For the most part, the main type of feedback we rely on is either angry customers who ask for support or delighted ones who are thrilled about your product and take the time to leave a great review (not very helpful).
In fact, when the person/team that's responsible for working on and improving the product has no access to the type of data they require, it means that instead of evolving in the desired direction and according to the users' real needs the product is likely going to end up in stagnation. It's important to remember that users do not have to stick around if they're not happy. They can switch to the competition if they think it better addresses their needs.
The Feedback Loop
Product development is a cycle. A product developer's presumptions get tested through the creation of a product that fulfills those presumptions. The performance of that product is then measured using data and it is then decided whether or not a certain feature is going to be kept, ditched, or improved.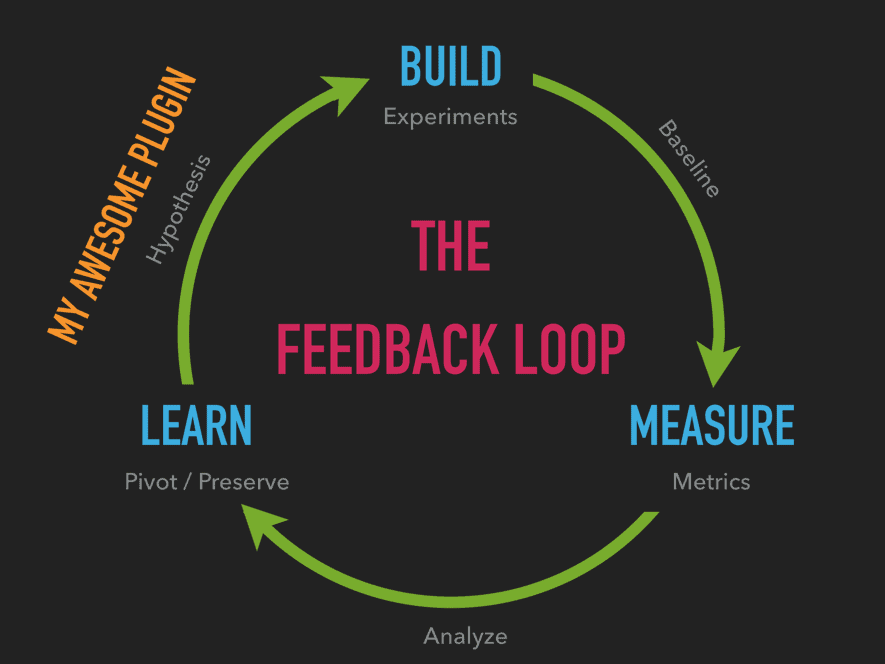 The Feedback Loop is a never-ending-cycle which should constantly be running to improve and scale your product.
The Feedback Loop is a never-ending-cycle which should constantly be running to improve and scale your product.Tweet
Usage Tracking
Live usage data can help you to improve your products by answering any question you may have regarding your product's usage: help you realize what specific features are missing from your plugin or theme, and understand why your customers are abandoning your product. You'll be improving your product based on real data, and not on biased customer feedback.
The two key metrics you should be tracking are to improve and scale your WordPress plugin/theme are:
Acquisition Rate – how many new installations your WordPress plugin/theme is getting per day/week.
Abandonment (Churn) Rate – what's the amount of uninstalls your WordPress plugin/theme registers during that same period.
The next step is to combine the two metrics (acquisition rate & abandonment rate) to understand your Effective Growth. Your product's Effective Growth is quite simply: Acquisition Rate minus Abandonment Rate
Effective Growth = Acquisition Rate – Abandonment Rate
The desired goal would naturally be to maximize the product's Acquisition Rate and to minimize its Abandonment Rate, thus helping it grow and prosper.
For WordPress themes, if your Abandonment Rate is around 1% – that's great! There might be little you can do to make it work any better as far as user satisfaction goes, and it would probably make more sense to focus on marketing it to more people, rather than on improving it. On the other hand, if your Abandonment Rate is 80%, then that is a sign of a problem with the product itself. In that scenario, spending dollars on marketing is not likely to do any good, because it's going to get abandoned by 80 out of every 100 new users. Instead, focus on improving your product!
Choosing The Right Platform to Monetize Your Product
After we've tackled most of the important topics a WordPress plugin or theme developer needs to know if they're setting out to create a sustainable business around it – it turns out there's still a bunch more things you'll need to take care of if you're going to sell a WordPress product online, and it's a lot more than just a checkout form & gateway fees. It involves 3rd party products and services which you, as the product seller, will need to use to get your product out there doing its thing for your clients.
Host Your Digital Product – You're going to need to find a secure hosting service to serve your product form. The quality of your hosting will depends on your budget and priorities.
Purchase an SSL Certificate – To secure your data and transactions you'll need to get an SSL certificate for your website with one of the trusted sellers.
Gateway Fees – Online sellers have to pay a fee for the services that pass transaction data around the internet to either authorize or deny a deal. There's a bunch of these services available for you to choose from, according to your specific needs.
Software Licensing – To control the number of sites your product license is valid for, as well as what happens after a purchased license expires, you're going to need to manage software licensing somehow.
Support System Integration – One way your customers are measuring the quality of the product you are selling to them is the support you provide for it. You'll need a way for your customers to communicate with you, and for you to manage that communication in an efficient manner.
Analytics & Usage Tracking – We've discussed why you must know how are your users using your product. There are many tools to help you learn that so make it a habit to regularly consult at least one.
Marketing Automation / Email – Having data is awesome, but what do you do with it? Enter marketing. When you have all of your user-base data figured out it's time to put that into use and start marketing to them in order to increase your sales. If there's one thing that's better than marketing it is automated marketing. In other words – it's marketing so smart it is done automatically, without you having to lift a finger. Now that's scaling!
CRO (Conversion Rate Optimization) – With all of these processes in place you'll naturally want to perform improvements and tests in order to optimize them, to make sure they are performing at their best for you and for your product sales.
Seems like quite a lot of work ahead, just to properly start selling, but as it turns out, there are some great services out there that can handle all of those aspects for you. In fact, there are four very popular options you could choose from to monetize your WordPress product:
WooCommerce: A self-hosted eCommerce solution (a WordPress plugin) mostly focused on selling tangible/physical goods, but also used for selling digital goods.
EDD (Easy Digital Downloads): A self-hosted hosted eCommerce solution focused on selling digital goods like PDFs, audio, images, as well as software like WordPress plugins and themes.
Freemius: A managed eCommerce platform exclusively focused on selling WordPress plugins and themes.
Using any one of these options would save you a lot of time and headaches, but each one has its merits and disadvantages. For an in-depth look at the differences between these four services – check out this comparison.
Conclusion
An in-depth article that includes all of the best practices for selling your WordPress plugins and themes from your website is quite ambitious, and if you read it this far, I hope I was indeed able to offer you advice that will provide you with a head start over your competition. Hopefully, it can save you a lot of trial & error, as well as many potential headaches. There's obviously a LOT of decision making involved in setting up and operating an online business of selling WordPress plugins and themes, but hopefully now, when you have the bigger picture in front of you – you can make quicker and better decisions.
If there's one key point to make I'd make it this: don't let the difficulties break your spirit or make you give up. Keep grinding until you make it – competition will dwindle on its own as you continue to move forward.