The goal for all WordPress plugin and theme businesses should be to provide 5-star customer support. From a marketing perspective, this is one of the best ways to build long-term customer relationships and loyalty. However, it's not easy keeping every customer in your support queue perfectly happy – there are inevitably frustrations you can't always resolve right away.
If you're doing customer support in-house and you're struggling to keep up, one of your options is to contract third-party representatives to manage support on your behalf. There are a number of ways to do this, including hiring direct support staff, hiring a contractor, and another that has gained traction recently: working with a "Support as a Service" platform. In this article, we'll go through the pros & cons of working with a Support as a Service platform and when it might be the right decision for plugin and theme sellers.
Before we get started, it's important to mention that there are a few strategies that will help you minimize your support load before choosing to outsource support. Here are a few to ponder:
I'm sure you're already familiar with some (or all) of these options. So:
Who Should Consider Working with a Support as a Service platform?
Michael De Wildt, COO & co-founder of Influx, says that to consider working with a Support as a Service platform "you usually need at least 150 tickets per month". Furthermore, there are two primary use-cases for working with a Support as a Service platform:
"First, many WordPress theme and plugin businesses work with a Support as a Service platform to focus most of their time on product, design, and development, rather than spending their time on resolving customer support issues.
The second use case is for when a WP product is changing or growing actively. When the future is unknown, an on-demand support team gives you the flexibility to grow quickly if needed – ie, launches – or scale back if things don't go as planned."
Many WordPress theme and plugin businesses work with a Support as a Service platform to focus most of their time on product, design, and development, rather than spending their time on resolving customer support issues.Tweet
If your business fits within those two categories, you should at least consider a Support as a Service platform to help you manage your customer support. There may also be other use-cases, but those were the two most common scenarios specifically for WordPress plugin and theme sellers.
Why Work with a Support as a Service platform?
There are a number of reasons why you may want to work with a Support as a Service platform, and equally important are the factors to be aware of before jumping in. One of the biggest barriers to overcome when outsourcing support for your WordPress theme or plugin business is that it requires putting a LOT of trust into a 3rd party. It can feel nerve-wracking to put so much trust into someone else to manage your most important assets – your customers!
Outsourcing support for your WordPress theme or plugin business requires putting a LOT of trust into a 3rd party.Tweet
Support as a Service platforms claim to offer all the benefits of in-house customer support while avoiding the pitfalls of outsourcing. But how good can they really be at representing your brand, style, and tone when interacting with your customers? We'll deal with this and many other relevant questions in the Pros and Cons list below.
As a side note, some of the most widely used Support as a Service platforms in the WordPress community are LevelUP and Influx. While the purpose of this article is not to compare their features, they'll be referenced below a few times to help with explanation and it's worth checking out their websites to better understand the features of major players in the industry 😉
Subscribe and grab a free copy of our
WordPress Plugin Business Book
Exactly how to create a prosperous WordPress plugin business in the subscription economy.
Share with a friend
Enter your friend's email address. We'll only email them this book, scout's honor.
Thank you for sharing
Awesome - a copy of 'The WordPress Plugin Business Book' was just sent to . Want to help us spread the word even more? Go on, share the book with your friends and colleagues.
Thanks for subscribing!
- we just sent your copy of 'The WordPress Plugin Business Book' to .
Have a typo in your email? click here to edit the email address and send again.
Pros to using a Support as a Service platform
Time-saving
This one may seem obvious, but sometimes support tickets can be pretty extended and take away time from your team's other priorities. Passing the work off to a trusted partner can be the right choice if you value your team's time and believe it should be used for purposes other than customer support, like product development or better yet, marketing!
Most of the time, working with a Support as a Service platform will ease your support load, otherwise, paying for their service just wouldn't be worth it! We'll dive deeper into the trade-off between saving time and the cost of a Support as a Service platform later.
Faster Response Times
Dedicated support reps have one job, and they aren't managing a business like you are. This means that they'll be able to respond much more quickly than you can to each ticket that comes in to your support queue. This not only frees up time to let you focus on other priorities, but you can offer much faster response and resolution times for customers that submit tickets.
Some Support as a Service platforms even offer 24/7 response times, which Influx describes as a benefit on their homepage.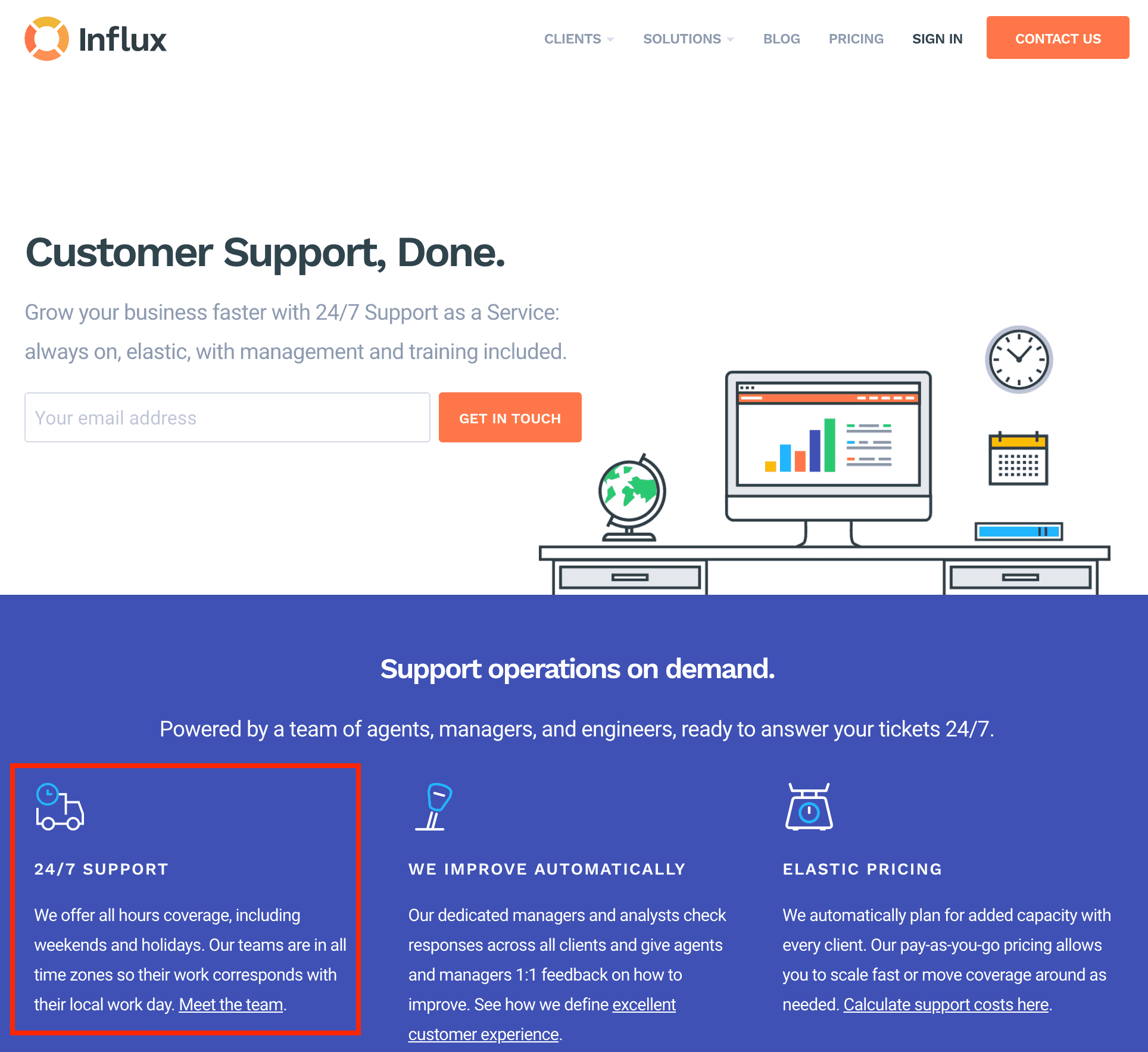 Is 24/7 support really necessary for a WordPress plugin or theme business? Not unless you have thousands of customers all over the globe and many of them are businesses that need things done quickly (which can often be the case). Even if you don't have tons of business customers though, offering 24/7 support can be very useful and greatly improves your customer support journey because customers will feel like they're taken care of really quickly.
Customer support is one of those pivotal experiences that will either make or break your customer's satisfaction with your company or product because it's most common that customers are trying to resolve some kind of problem or challenge when contacting you, so anything that can make the experience more positive and quick to resolve is a very good thing.
Adoption of Your Ticketing System
The ticketing system you're already using can likely be integrated seamlessly into the workflow of most Support as a Service platforms. This makes the onboarding process pretty quick and easy, but before committing yourself to a specific service, find out if they can use your current ticketing system or if you'll have to start fresh. It can be a bit of a tedious onboarding process if your existing ticketing system works well and you have to change it over to meet their requirements, but for most WordPress businesses there shouldn't be a problem.
Cons to using a Support as a Service platform
Personalization of support experience
When you outsource support, you expect that the support rep can independently handle tickets while using your company's voice, style, and tone. Support as a Service platforms claim to represent your business accurately because they try to learn about your brand as much as possible through training sessions, feedback, and other methods. Some platforms may be better at this than others, and it's really hard to gauge before signing up. It may be a good idea to learn more about a platform's capabilities in this area by asking for introductions to other plugin and theme developers that use their service so you can get a less-biased perspective.
Inevitably, some of the personalization that you could provide in your support experience will be lost or changed by having someone else manage your support tickets. That's because nobody knows your product like you, so it may be difficult for external reps to achieve personalized, "red-carpet" support that leads each customer directly to a solution every time.
Support as a service reps don't know your business like you do
Knowledgeable front-line support agents are the best filter for the majority of support requests your business receives. If tickets can be quickly resolved by one friendly support agent — customers will be happy. Support as a Service platforms should be able to get a good handle on most aspects of your WordPress product so they can provide your customers with high-quality support. The quality and depth of 3rd party support reps is up for debate, and some platforms will be better than others. The basic fact is that we're back to the same issue as before – nobody knows your product as well as you do.
Educating front-line agents can take a lot of time, and if they are unable to handle an adequate amount of support requests, this can slow down the support process by adding an extra step for customers to get in touch with the needed level of support. The chart below describes the customer journey and the 3 main tiers of customer support.
If you're an independent developer, your 2nd and final tier will be the same. The longer it takes customers to get to a resolution (the more tiers of support they need to pass through), the higher the cost, as the ticket has now not only used the time of 1st and 2nd Tier support reps, but also the time of your final tier support reps (usually developer support from yourself or a team member).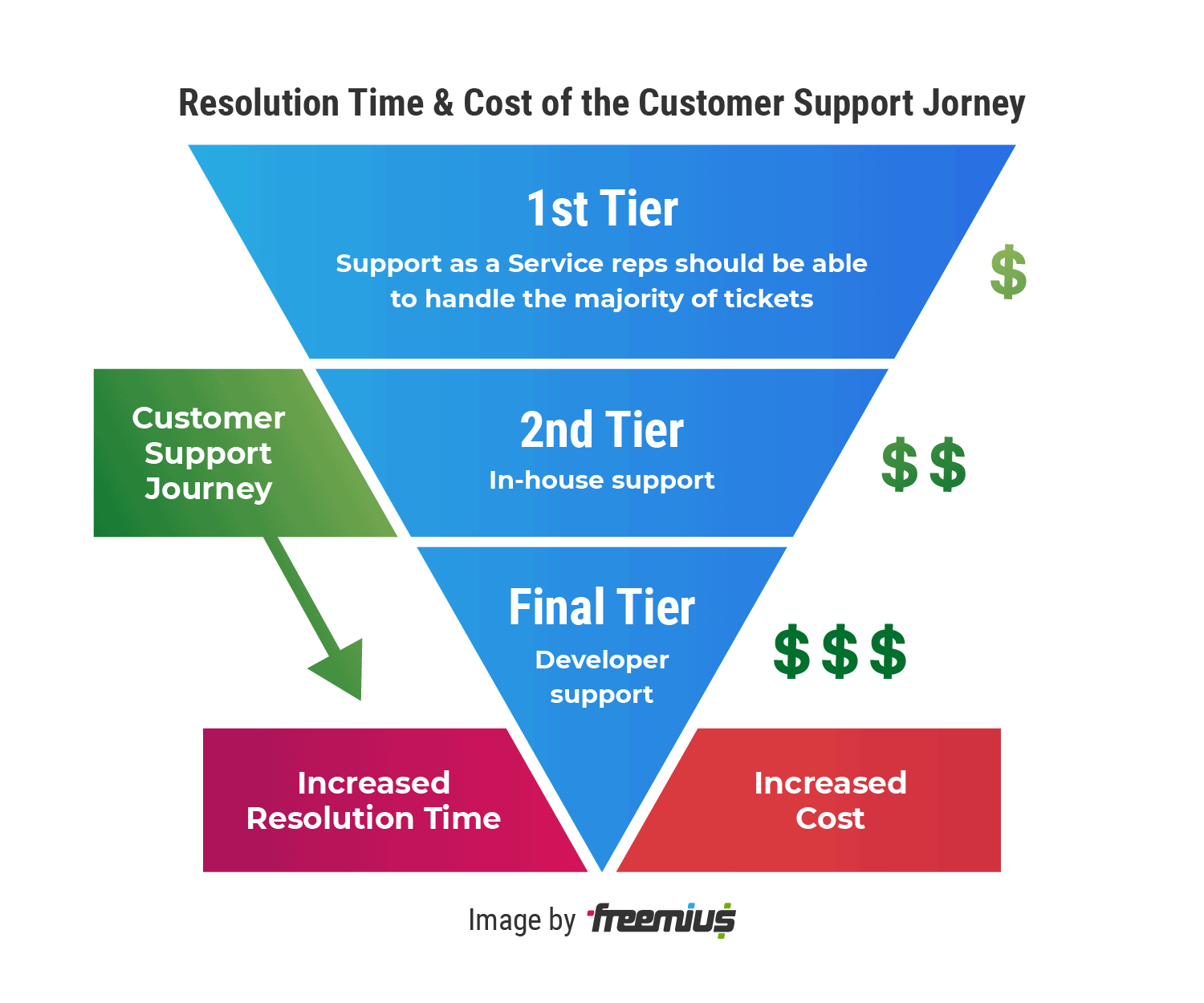 1st Tier support reps should be able to handle a large portion of support tickets for your theme/plugin business in order to justify the cost of a Support as a Service platform. If you decide to sign up with a Support as a Service platform, ensure they can handle enough of your tickets to decrease your overall cost, otherwise you may end up paying more than you should for providing customer support. This will largely depend on the complexity of your product and the documentation you've already prepared.
Cost
Of course, there is a cost to almost everything in life, except free advice 😉
Support as a Service platforms have fairly standard pricing based on the number of "responses" your tickets require each month. Check out the Influx and LevelUP pricing pages for details on how they charge for responses, but the main thing to consider here is whether or not they are cheaper than the alternatives. Here's a simple cost comparison of the various options you have available to you for providing support:

Doing it all Yourself
Handling all your own customer support inquiries is not the most expensive financially, but in many situations, it is probably costing your business more than any of the other options available because it's taking time away from you building your business. As an independent developer, you can choose an amount for your hourly rate and multiply that by the number of hours spent resolving support tickets and that will be your support cost.
Hiring Employees/Contractors
The cost of hiring part-time or full-time employees or contractors depends on how much time you hire them for on a monthly basis, but the benefits they provide would not be the same as a Support as a Service platform.
Mainly, employees or contractors aren't available all the time, will require a lot of training, and their hourly wage doesn't always make sense for the varying frequency of support tickets. The price you pay for employee or contracting support will depend on the average hourly rate of the people that handle support on your team. Based on this article from codementor.io and another article from techuz.com, the average freelance developer hourly rate is between $10 to $250 (but generally below $150/hour for most WordPress businesses based on our experience). The reason I'm bringing up developer pricing is that your support rep will need to have some technical experience, but also needs to be a customer-facing support representative, so it's a mixed skill-set that not everyone has. Depending on the skill level you're looking for, you can keep your part-time employment expenses pretty low or go full steam ahead and train someone full-time. Here's a guide to building a support staff for your plugin business.
Support as a Service Platform
A Support as a Service platform may cost you less than a part-time support agent on a monthly basis and, in some cases, can provide far more benefits. To make it more clear, here's a chart we put together that shows the pricing of the Support as a Service platforms we've mentioned:
Support as a Service platform Pricing

You'll have to calculate for yourself whether or not the cost is worth the benefit you'll get from a Support as a Service platform, but we hope we've given you the stepping stones to make the right decision.
So What Should I Do Next?
You can potentially save time, money and greatly improve your customer support experience by delegating some of your support to qualified personnel from a Support as a Service platform.
Just keep in mind the pros & cons I've mentioned when thinking through whether this is the right decision for your business, as well as the two primary use cases identified near the beginning of this article. Do more research on the platform websites and look through all their features and benefits to better understand what they can offer your business.
Share your experience with a Support as a Service platform or outsourcing support in the comments section below!