Today I'm interviewing David Braun, the CEO & co-founder at TemplateMonster: one of the leading marketplaces in the WordPress products ecosystem. If you have ever considered starting a marketplace for WordPress themes and plugins, or you are just curious to learn about some of the challenges in running a successful marketplace business – I have a feeling you are going to enjoy this one very much. We are going to dive deep into the strategic and tactical aspects of launching, running, and scaling a digital marketplace.
Hey David, thank you so much for doing this interview. A little confession before we start: marketplace dynamics and network effects are two of my favorite topics, so I have like a million questions to pick your brains with 🙂 Before we get down to the nitty-gritty details, maybe you can say a few words about yourself and your background?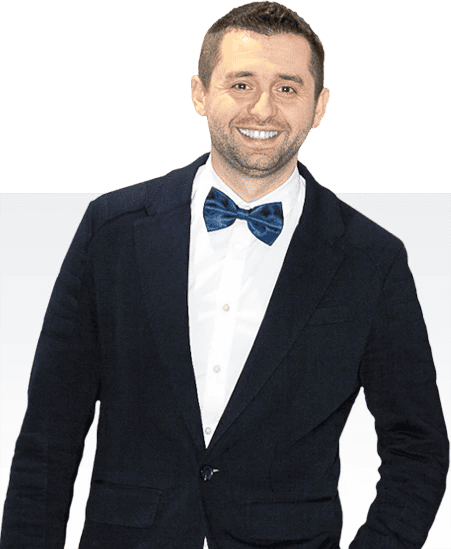 Thank you for inviting me to this interview. I was born and lived in Georgia for some time. In 1992, during the war, moved with my parents to Ukraine. As for my education, I entered the European University to study marketing. The university in my city had just opened and it was the first set. And in the third year I was told that, except for me, there were no other marketers there. They offered me to study the finance specialization or to find another 10 people who are ready to learn marketing further. I found them. Then, I got into a consulting company. After this, the will of fate sent an American guy my way. He offered to start a project: he would find web design orders in the US, and we will execute them here, in Ukraine.
TemplateMonster was launched about a year before WordPress. What was the trigger for starting a premium HTML templates marketplace?
Initially, we were a fairly successful web design studio. We had large customers, even companies from the Fortune 500 list. But this business wasn't suitable for scaling. That's why back in 2002, we decided to sell some kind of packaged factory product. However, didn't know which one. Luckily, one of our designers was amazingly fast and productive. In Photoshop, he used his own hand-made library of drawing elements, which allowed him to create layouts very quickly. And then, we decided to provide web designers and programmers with some kind of a semi-finished product that would help speed up the process and make it more beautiful.
Initially, we were a fairly successful web design studio. We had large customers, even companies from the Fortune 500 list. But this business wasn't suitable for scaling.Tweet
TemplateMonster is a really cool name and you guys also have an awesome mascot. How did you come up with it? Do you feel that including the word "template" in the name was beneficial for your branding vs. choosing a more generic brand name?
Well, actually, it's much easier. For the first time, we encountered the term "template" from a directory on Yahoo. At the very beginning, we didn't even know that this was the name of our product. In addition, at that time, brands with the word "monster" were very popular in America. Thus, we decided to call our project TemplateMonster. I believe that every business should be focused on the targeted audience, and this name helped us to show our purpose.
TemplateMonster and WordPress
Only 4 years after your launch you got into selling premium WordPress themes. How did you first cross paths with WordPress and what was the "aha" moment which made you decide to include a WordPress inventory in your marketplace?
Our business has changed a lot – back in 2000-s, we started with PSD themes and Flash-oriented templates. And now, TemplateMonster is increasingly switching to a marketplace model. We always work to meet the requirements of modern trends. To be honest, we did not get along with the WordPress community at first. As a representative of a commercial business, I could not find the meaning of the open-source world. However, after several WordCamps, we have corrected our vector. We've become a part of it and made great contributions to WordPress's growth. Furthermore, we released, under the GPL license, our central WordPress Framework (Cherry Framework), as well as many plugins and templates. And it pays off. You become more popular, and your products – more valuable.
About a year ago, I did an in-depth analysis on ThemeForest and CodeCanyon. One of the most interesting data points that I managed to collect was that while only 20% of the plugins and themes inventory are WordPress products, those are actually driving 80% of the marketplace's revenues. Do you guys see similar numbers? Are WordPress themes the lion share of your revenues today?
WordPress has been a primary platform for TemplateMonster since 2011. For now, WordPress themes are also a very important part of the business. They make for about 30% of the total revenue. Besides that, I have data that every fourth website on the Internet is made on WordPress. But when different visual composers appeared (some of them more convenient to use than this platform), WordPress began to fear losing investments. And then the upgrade started. However, due to different factors, it will not be easy for them. In order to secure ourselves, WordPress templates occupy no more than 40% of the sales portfolio. Though, it is hard to control. Anyway, browser technologies are growing and it is very difficult to predict something.
Subscribe and grab a free copy of our
WordPress Plugin Business Book
Exactly how to create a prosperous WordPress plugin business in the subscription economy.
Share with a friend
Enter your friend's email address. We'll only email them this book, scout's honor.
Thank you for sharing
Awesome - a copy of 'The WordPress Plugin Business Book' was just sent to . Want to help us spread the word even more? Go on, share the book with your friends and colleagues.
Thanks for subscribing!
- we just sent your copy of 'The WordPress Plugin Business Book' to .
Have a typo in your email? click here to edit the email address and send again.
Marketplaces
How did you tackle the notorious chicken and egg challenge when you just started TemplateMonster? How did you attract the initial sellers to generate the supply? And how did you drive the first buyers into the marketplace?
Due to the fact that there was no online adv, the employees went through Internet directories and manually collected various businesses and their email addresses. In the evening, it was all sent by mail to The Bat via Dial-up. The message was like this: "Hello, we found your massage saloon website, and its design leaves much to be desired. Come to us, we have 30 design options". And it worked. Thus, we became self-financing.
How long did it take until you achieved the required critical mass for the network effect to start scaling the marketplace? What was the sign that made you realize that you had gotten there? (e.g. customers #, # of listed products for sale, # of sellers, etc.)
Really strong growth set the ground for the launch of our affiliate program. At that time, site owners had very limited monetization opportunities: either to sell banners or to participate in gray programs (casino or adult) or Amazon, but there were very low-interest rates.
Then we thought: what if we allow everyone to open their own TemplateMonster? We did all the operations: made calls, confirmed payments, sent products, and so on. And the site owner received his share. The idea of owning a business is always closer to a person, so it worked.
For three years, we have accumulated over 270K affiliate partners around the world. As a result, for the request "templates" or "web-templates", Google showed the first three pages consisting of us or our affiliates. We made all of the themes ourselves. In 3 years, our business had grown 30 times. It was 2007.
Many of our readers are developers, including myself. Like many people in the core WordPress community, when I start a website I use some free starter theme and build on top of it. What is the typical persona that buys premium themes and plugins from a marketplace? What is the typical journey of a prospect that ends up buying a theme on TemplateMonster?
Previously, everything was simple – 90% were developers. Mostly, programmers who had their special sense of beauty. Now, end-users are prevailing – business owners who don't want to pay huge prices for sites. Our premium themes are the perfect choice for them. In addition, our premium templates offer lifetime support and updates. And it is very important. If you want to be sure in your website's functionality and quality it is better to be on the safe side. Being a premium customer of TemplateMonster gives you a pledge of lifetime support from the TemplateMonster team.
What were your top 3 distribution channels when you started and how have they changed over the years? Why do you think they worked/work well for you? [Are you guys doing paid ads? If not, why? If yes, what are the most effective channels and mediums?]
Previously, everything was much easier. There was no such fierce competition as there is now. It was possible to get a conversion from everywhere. Even porn traffic gave conversion. Comments on any forum, for some reason, brought sales. We did cold emails to webmasters from Whois and received some percent of conversion. We didn't really know how to measure the percentage. Simply did everything that came into our heads and looked at the sales counter – if it grew, we continued, if not, we simply switched to something else. And the best invention in those days was an affiliate program that allows you to sell templates under your brand.
And now … Now everything is different. The market is changing very quickly, competition is increasing every day. YouTube, Facebook, Twitter, Instagram. So many digital sources. Today, with all these updates of Google's algorithms, it became quite difficult for a partner to get search traffic. So the main selling partners are those who have already focused on traffic and simply post information about us, converting traffic into sales of templates. I believe that if you are fairly successful and useful among your targeted audience, you don't have to spend a lot of money on advertising.
One of the main challenges with marketplace dynamics is growing the market share while growing the number of sales your sellers make. How do you tackle this challenge and what techniques do you apply to protect the marketplace from over saturating?
Actually, we've tried, I guess, all the classic online marketing techniques. And found a surprising solution. Customer support. TemplateMonster has the ability to communicate with consumers and feel their needs directly. Besides that, if you keep connections with your customers even after they installed a template, you get many chances for upselling and cross-selling. In addition, we have a group of analysts who work with the trend. For example, at the moment, the WordPress trend is Elementor themes/templates/addons and everything related to them. Therefore, our way out of the situation of marketplace saturation is professional analytics and direct requests from the client.
One cool thing I noticed you guys were doing are upsells like a manual installation of the theme for the buyers. What percentage of your revenues is driven by those upsells? Also, how do you scale the process of those manual tasks, did you manage to automate some of them?
Almost a hundred years ago, Theodore Levitt said: "People don't want to buy a quarter-inch drill, they want a quarter-inch hole". And it's so true. People don't buy your goods or services, they rent them to do or to get something. Customer success depends on helping your customers change how they work. It is important to understand what the client does with your product. Then, you can establish a productive communication with him. Actually, upsell technology helps us to establish a more trusting relationship with customers. Approximately, it helps to increase our sales by 15-20%.
Of course, if you do not think about customers, but only impose expensive and unnecessary services and goods on them, your upsell will turn into a trash can and alienate the audience from you. You have to offer customers what they really need. Let it be a little more expensive, but the person will feel that you care about them. We have implemented upselling tools on our website, into the mailing system and of course in our customer support.
Customer success depends on helping your customers change how they work.Tweet
The Themes Market
The themes market became very competitive in the past 4 years. As I speak with many theme shop owners, theme authors are exploring alternative revenue streams. For example, I've already seen several great free theme shops that are making their money strictly through affiliate marketing. Do you see a reduction in your customer acquisition rate?
It is no secret that in the past few years we have been actively selling and offering affiliate products. But this does not signal a decline in our product history with a clear fixation only on the templates. The market is always moving. Previously, it was enough for us to accumulate and concentrate our internal expertise on three or four products, and to earn good money through a powerful marketing machine. Now, everything is moving much more dynamically and we do not have time to overgrow with internal expertise in order to still have time to recapture our investment in the product before the trend will have changed. The world is becoming more dynamic.
The rise of WYSIWYG page builders together with the upcoming release of Gutenberg in WordPress 5.0 may seem like a threat to the premium WordPress themes ecosystem. What is your take on that? Do you feel it has already started affecting the theme marketplaces and how? How will it affect marketplaces like TemplateMonster in the long run?
Traditionally, strong and popular engines are losing their share, yielding to proprietary engines like Shopify, Wix, Squarespace, and others. There is no tendency towards a monopoly or an oligopoly. There will be many solutions – browser technologies are growing. Following it, sales of templates are falling too, this is natural. That's why we are working at an accelerated pace on the world's first visual constructor – Do It Yourself, where websites for a user are created in our studio, and then our client gets access to the convenient control panel of these sites. Our strategic goal is to convert all TemplateMonster designs into designs which are compatible with this platform in order to give end-users the opportunity to get a website with one click.
Watch the comparison video Wix vs WordPress.
One of the top complaints I hear from developers about marketplaces is the lack of an option to sell subscriptions. Is that something that you guys plan to address for TemplateMonster sellers? If not, could you explain why?
I even envy a little bit those who switched to the SaaS model many years ago. We didn't because it was mentally hard. Although we were among the first ones to think about it. Our business was actively growing and there were a lot of challenges associated with growth, so it always got postponed for later. This is the biggest mistake of any businessman – to stop thinking 3-5 years ahead and only concentrate on improving current processes. In addition, we planned a hybrid model. Transactional – for end-users and subscription – for developers who need templates on an ongoing basis. And considering that we have reached the level of the marketplace, in the future many new things are waiting for us.
Tips & The Future
In the past few years, I have witnessed a bunch of failed attempts at starting new premium WordPress plugins & themes marketplaces. It seems like it's a holy grail that only belongs to early players, like yourself. Why do you think this is happening?
According to a Gartner study, in 2 years, 85% of the businesses will compete solely on user experience. That is, all the products will somehow become the same. You can "make a hole in the wall" using 20 different kinds of devices from different manufacturers. Only the one who learns to work correctly with the client and to build a quality user experience will remain in the market. All the rest will leave, however cruel it may seem.
What would be your one tip or secret sauce for anyone who is starting a templates-based business in 2019?
My advice is adaptive marketing. I came to this realization through pain and tears. Therefore, I try to tell people about it at an early stage. From the very beginning, you need to design your system while taking into account the need to micro-segment. And, as I've already said, the future of the company will depend on good user experience. You need to make everything very accessible to customers. Be in touch 24/7.
From the very beginning, you need to design your system while taking into account the need to micro-segment. And, as I've already said, the future of the company will depend on good user experience. You need to make everything very accessible to customers. Be in touch 24/7.Tweet
Where do you see TemplateMonster in 5 years from now?
Will we create templates in 5 years? I do not know… I do not think we will. Rather, we will be "templating" something else. This year we finally switched to the marketplace model and are actively running side by side with the hypermarket of goods for small business. I still have a dream of connecting many services and SaaS products in it. Then we can talk about a five-year perspective in such a turbulent time.
David, thank you so much for sharing your knowledge and providing such insightful answers. I have personally learned a lot from this interview and now have a better grasp of marketplace dynamics in the WordPress ecosystem. In case someone wants to contact you online for business related inquiries or just to chat, what's the best way to do that?
It's my pleasure. Thank you for inviting me. You can always contact me on Facebook by looking for David Braun.