We've written plenty of articles about improving plugins/software and growing your business. But this time, we're unpacking a totally different subject 👀 A WordPress network is one of the most valuable assets you can have as a solopreneur in the ecosystem, and building one is not as daunting as it might seem. Grab your business cards and pack your briefcase — Freemius is going to be your guide to networking in WordPress 🗺️
There are thousands of articles about why WordPress is more than just software: Its success is attributable to the synergy between people in the community. For any solopreneur new to the industry, networking online and at events offers a critical opportunity to make connections and build rapport, get your business and brand in the limelight, and unlock help and feedback from fellow WordPressers to improve your products/services.
Recently at WordCamp Asia, it became apparent to me and other team members that Freemius founder and CEO Vova Feldman is something of a magician at networking and making new connections. I did my own research and sat down with him to get his insights on how WordPress entrepreneurs and anyone new to our industry can learn the art of networking and use it to secure a seat at the WP table.
As there's a lot to chew on in this article, we've included some handy jump-to headers should you need them:
A Guide to Networking for WordPress Entrepreneurs
The WordPress community has its own dynamics and characteristics. While basic networking etiquette — smiling, saying thank you, not taking the last croissant — will get you far, understanding the unique nuances and following our guide to networking in WordPress will help you navigate and seize new opportunities more effectively.
WordPress Events Are More Than Conferences
"People in WordPress are friends," Vova says. "Most WordPress network interaction actually takes place online — via social media or contributing, for example. Yes: WordCamps and related events are indeed opportunities for networking and doing business, but they also offer an opportunity to hang out and have fun once or twice a year in an exotic foreign city. And often, the real WordPress networking takes place in social situations."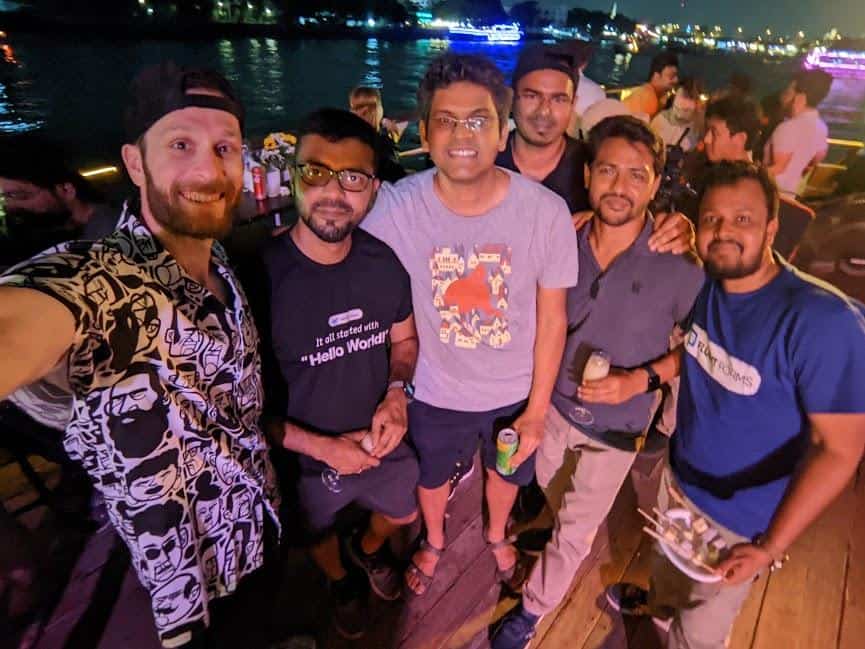 Hanging out on the GoDaddy Party Ferry — proof that networking is fun 🍻
Personally, the most meaningful WordPress network connections I made at WordCamp Asia in Bangkok — check out this article about the Freemius team's time there — happened while I was having a good time. For instance, my conversation with Andrew Palmer while sharing beers aboard the GoDaddy Party Ferry led to me organizing an interview with him to get information for another article I'm working on — watch this space 👀
Learn to Engage With Introverts
Many WordPressers are introverted or shy by nature (most geniuses are 😎). This means it's often challenging for them to initiate conversations and approach new people spontaneously. As an entrepreneur looking to expand their WordPress network, you could use this to your advantage.
"Many introverts attend events and conferences specifically to network with people outside of their personal or professional circle," Vova says.
If you see someone by themself, introduce yourself and raise an interesting topic. People will appreciate this almost 100% of the time, and it's an easy way for you to foster a firm connection.
Embrace Your Personality and Share About Yourself
The WordPress community is a vibrant melting pot of individuals from various backgrounds, cultures, and interests. It's also the reason people are so passionate and protective of the ecosystem: It's an inclusive, safe space with room for everyone. Individuality is championed.
"A persona is a big asset," Vova says. "People will value you sharing about yourself and learning about your interests outside of WordPress. Personally, I'm a fresh dad, Capoeira practitioner, a big fan of psytrance music, and I love cats. Talking about these things has created many a connection."
Now that we've established the benefits and special know-how of forging a WordPress network, the next step is getting the party started.
How to Start Building a WordPress Network From Scratch
Okay: Let's sketch a square one scenario. You've built a (great) WordPress product, but you still don't have an audience and you're new to the community. What's a dev to do?
You might not be aware of this, but it's a golden window of opportunity to sow your first WordPress network seeds and improve your offering while you're at it. Asking other WordPressers for feedback is an effective tactic to put yourself on the map.
Side note: If you're still figuring out who's who in WordPress, be sure to check out our article about 56 WordPress Experts to Follow Online.
Research influencers, thought leaders, and entrepreneurs that should have a good grasp of your market and — preferably — your target audience. Think about the makers and shakers that you respect and love and would value feedback from. Once you've plotted a frame of reference, it's time to roll up your sleeves, track down the contacts, and engage. People are curious and love to learn about new, exciting stuff, especially when they get a sneak peek before the rest of the world.
"When you reach out, a good approach is offering to pay people for their advice and time," Vova suggests. "However, they'll probably be willing to give feedback for free — the WordPress community is friendly and helpful like that."
For context, have a look at this YouTube video where Jason Cohen — founder of WP Engine — discusses how he validated his idea for the company by reaching out to consultants for advice in exchange for money, and none of them wanted a penny.
Reaching out for help does more than break the ice, though:
It creates a meaningful connection because you'll discuss something technical rather than make small talk. "It places you in a position of humility and the other person in a state of authority. People find it flattering when someone values their advice," Vova clarifies.
It allows you to harness the power of novelty. "There's magic to new things," Vova says. "If you're building something fresh that offers a unique solution or is an improvement on an existing one, it presses the curiosity button. People are always excited by new journeys and will want to follow your progress and help you succeed."
While we're on the topic, let's digress for a moment. Once the novelty factor has worn off and you're no longer a new addition to the WordPress community, how do you continue growing your WordPress network?
Networking in WordPress After Building a Base
The beauty of networking is that it's a force multiplier — over time, your network will become extensive, but it will never be complete.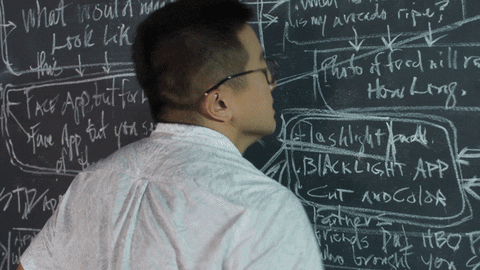 In the beginning, the best way to grow your WordPress network beyond the people you reached out to is by asking them to introduce you to their connections. In time, as you become an established figure in the WordPress ecosystem, you'll pay it forward for newcomers in turn. It will play to your advantage because they'll be eager to help you down the line and introduce you to their WordPress network.
Finally, once you've managed to draw a sizable circle of connections around yourself, find ways to offer help and give back to the community. It will create value by positioning you as an authority and a (humble) force to be reckoned with.
Back to getting started on your networking journey — remember when Vova said that most networking in WordPress takes place digitally?
Your Online WordPress Network
While our focus is mostly on networking at events, it'd be unwise not to discuss how social media, content, and contributing can boost and bolster your WordPress networking journey. The ecosystem lives online: consequently, it's where the bulk of the conversation takes place.
Social Media
As mentioned, the WordPress community is highly active on social media — Twitter, in particular. While the platform is great for getting to know WP politics 😉, joining the conversation by tweeting is an easy way to position and establish yourself.
Social media offers other benefits, too:
It helps you to raise awareness about yourself before an event, which makes introductions much easier. "Reach out to people you'd like to connect with and schedule some time to chat with them," Vova suggests. "Doing so is also courteous because it helps them to come prepared."
If you've already managed to establish some clout on Twitter and made a few connections at events, social media becomes your personal PR platform. Saying something good about someone you'd like to connect with on socials is a great way to win them over and creates a positive interaction before you've even met them in person.
Social media helps you bank on free promo. Before WordCamp Asia, the Freemius team updated our social media profile pics to show us wearing Freemius t-shirts that were specially designed for the occasion. This helped to hype our attendance.
While social media is a front-row ticket for online WordPress network participation, putting out something of value will lend you authority.
Content
Much of what gets discussed at live events is based on online activity. As such, putting your name on a blog or podcast is an easy and awesome way to build cred for yourself. I know — this is easier said than done if content creation isn't your forte. But making an effort to address a subject or problem you're knowledgeable about will open new doors for you.
If you manage to get a blog or podcast going, you can invite (and curate 👀) influencers to contribute. It's a triple-win: You get to expand your WordPress network, add content to your inventory, and offer influencers a stage to reinforce their authority even further.
Finally, lending a helping hand will help you win the hearts (and minds) of the community.
Contributing
Contributing to WordPress is crucial for building a WordPress network. It creates a favorable reputation because it positions you as a team player.
"It helps you meet people in your field and could even lead to business opportunities or job offers," Vova says. "Plus, getting those WordPress.org badges for your efforts elevates your status."
Moving from the meta to the physical — let's take a look at building a WordPress network in real life.
Networking at WordCamps and WordPress Events
Building your WordPress network at events shouldn't be daunting. By making a few necessary preparations and refining your game plan, it can actually be a whole lot of fun.
Let's say you've booked a hotel room and tickets for an event like WordCamp Europe in Athens, Greece (which Vova and Zee Hazan, our Head of Video, are attending). What should your game plan/strategy be?
Planning for Networking at an Event
First order of business is to have a look at the publicly available attendee list and figure out who you'd like to connect with. Then, reach out to schedule a time to meet whether it's for feedback on your product(s) or service(s), collaboration, or whatever it is. This can be done beforehand via social media or cold emails, or at the event itself.
You should also make a point of researching attendees online and finding out what they're up to. This also applies to existing contacts. "It helps you set goals," Vova explains. "Building a WordPress network doesn't only involve meeting new people. It can also be about discussing opportunities with those that are already in your network."
Before the event, commit to taking notes and writing down what was discussed during every fruitful interaction. "This helps you remember who you need to follow up with after the event and what you need to talk to them about," Vova says.
Networking During an Event: A Few Pointers
Now we get to the fun part 💃🕺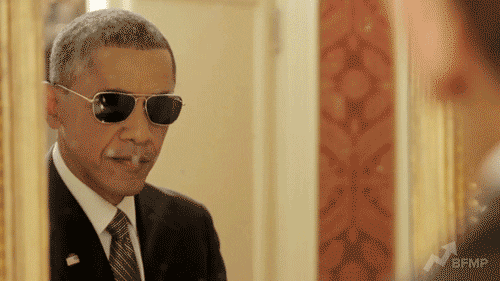 Take me to your leader (I'd like to network with him)
The first thing to note is that no matter how much you plan, as much as 40% of interactions will be random/spontaneous — from meeting new people to attending social events outside of the main one. "You need to account for this, too," Vova advises. "Prepare by creating a list of answers to questions people will probably ask, like What do you do? or What was your favorite session so far?"
However, don't let random interactions interfere with your goals. "If you need to excuse yourself because there are other people you need to talk to, that's fine: you need to learn how to control your time," Vova says.
Understand that not everyone comes to events to build a WordPress network. At WordCamps, for instance, some people will be there purely for learning and watching presentations.
On that note, you should learn how to read people and understand when they might not be open to talking or otherwise engaged. "It's nothing personal," Vova says. "Reading the room also involves understanding when an occasion calls for a certain topic and when it doesn't."
Taking selfies helps you create connections, and it's also a useful reference for remembering people you met later on.
On the topic of selfies: be active on social media during the event, and tag people you've connected with or would like to connect with in your posts.
Don't make false promises. "For instance, suppose you're a plugin developer and a customer approaches you about creating a new feature. Don't say you'll do it just to be polite," Vova advises. "Instead, explain to them why you don't feel it's the right move. It's more genuine and they'll appreciate your honesty." As a win-win, schedule a meeting with them after the conference. "There's every chance that their suggestion is actually valuable and could improve your product," Vova says.
Pace yourself — get enough sleep, drink enough water, don't skip meals, and take a breather if you need to. Events like WordCamp are fun, but they're also hard work. "At WordCamp Asia, I was going 24/7 and felt like a rockstar, only to lose my voice on the second day of the conference," Vova laughs. "As irony would have it, I was a guest on Elementor's live panel about open-source software companies in WordPress that very morning!"
Compliments are a great way to form stronger connections with people and expand your WordPress network. "It can be about anything," Vova says. "If you see someone wearing cool sneakers, tell them. It shows you're confident and kickstarts a conversation on a personal level."
Pointers in place, what needs to go in your briefcase?
What to Take to an Event
You don't need much, but:
Taking your laptop to conferences is essential. "You can create positive interactions by showing demos or ways to solve problems," Vova says. "Just be sure not to take it to after-parties or social events. People are there to have fun, and drinks spill easily."
A good power bank is also a must. "You're going to use your phone A LOT and likely won't have time to plug it into an electrical socket," Vova says.
Taking video gear (if you're able to) is useful because you can shoot interviews and testimonials for your YouTube channel and website.
A bonus: "Pack some honey, lemon, and tea in your bag," Vova insists. "It's no fun losing your voice at a WordCamp!"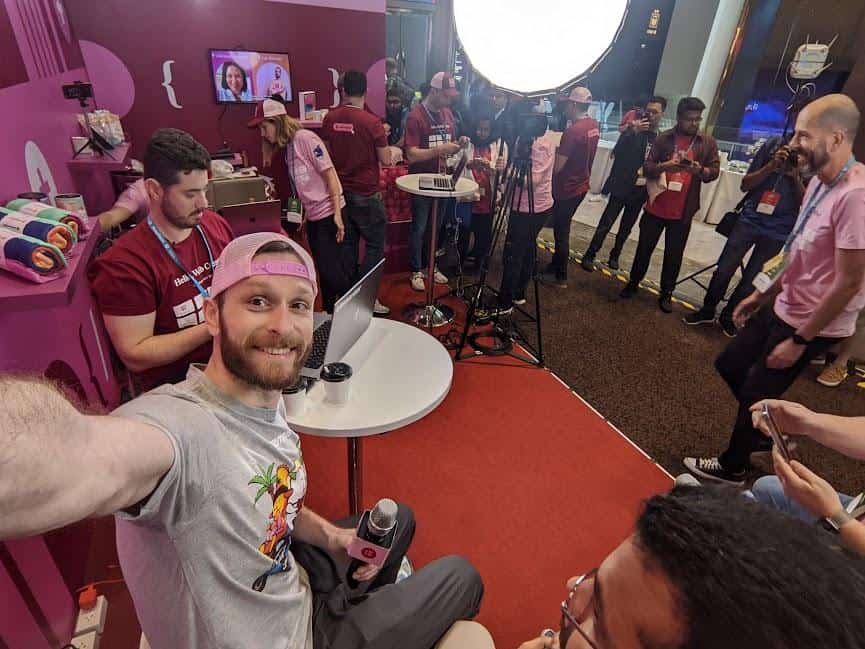 At the Elementor panel discussion
In addition to the above, there's one piece of WordPress networking tackle that warrants its own discussion.
Business Cards: Yay/Nay?
Handing out a business card isn't as good as sealing the deal by connecting on social media or scheduling a meeting after a conference. But you still need to have them.
Business cards make you look professional and communicate that you mean business. Additionally, they offer a non-intrusive way to connect with someone. For instance, you don't have to ask them to take out their phone and follow you on Twitter, which can be awkward if they're just being polite.
While we're talking about handing things out…
The Swag Area
Take it from someone who has everything from a thermal water bottle to a passport travel wallet after returning from Bangkok — there's tons of swag available at WordCamps, and plenty of it is really cool. "If you see swag that you like, compliment the people behind it," Vova says. "A lot of creative work and sweat goes into making it, and people love getting positive feedback."
The only problem with swag is that there's way too much on offer for you to take everything home. The Catch-22? Not doing so ruins possible connections. It's usually best to take merchandise from people, even if you don't plan on using it later.
The only exception to this is if you don't want swag due to ethical reasons. However, be sure to politely explain this to the person handing it out. On that note: I didn't take a t-shirt from someone at WordCamp Asia for environmental reasons but didn't think to clarify. If you're reading this, a South African dude with long, curly hair says he's really sorry 🙏 I'll buy you a drink at the next WordCamp after-party I attend.
Speaking of after-parties…
Socializing 101
I've mentioned that a lot of the real connections happen at social gatherings — building a WordPress network doesn't end once a conference itself is over. If you attend an event like WordCamp, there's every chance you'll get invited to a get-together.
"Let's not beat about the bush — socializing usually goes hand-in-hand with drinking," Vova says.
Using alcohol is fine if you do drink, and doing so can be useful because it helps everyone relax. However, make sure you know your limits. I try to drink a glass of water for every unit of alcohol because it helps me remain articulate and not feel worse for wear the next day.
To summarize: be in the moment and have fun, but make sure you stay sharp.
After an Event
When you get back to your hotel room after the day's proceedings, do a quick recap and write down who you need to follow up with. While it's useful to make notes during events, there isn't always time for this.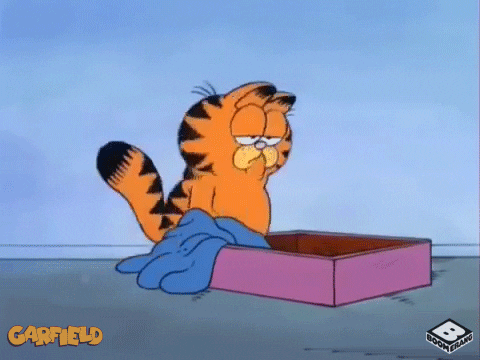 "Remember to connect with people on LinkedIn/Twitter, but realize that this doesn't mean much initially," Vova says. "To establish a real connection, you need to interact with them again in person at future events. The more they see you, the more they'll learn to associate you with the WordPress community and consider you to be an active and influential member."
Let's look at what to put on your WordPress network calendar.
Important WordPress Networking Events
This list is by no means exhaustive, but the following events are fantastic for expanding your WordPress network:
There's a reason we make a point of hosting Makers Meetups (besides having a great time with top-tier peeps, of course). Building a WordPress network has been instrumental in our success, just as it can be for solopreneurs.
The Importance of Networking for Solopreneurs
Networking is an oft-touted business buzzword and, as such, it's become somewhat of a platitude. What I'm trying to say is, why would you leave the comfort of your home office chair and air fryer (I know you own one 😉) to talk to people you don't know?
There are quite a few reasons, actually (besides collecting swag or Wapuus):
Staying Up to Date in the WordPress Ecosystem
Building a WordPress network is an opportunity to access market intelligence. "It gives you a glimpse into the bigger picture, beyond what is being published in the media," Vova says. "WordPress is a tight-knit community, so the topics you read about online are usually the things people are comfortable writing about — not the juicy stuff. Networking in WordPress reveals what's happening behind the scenes and helps you keep your finger on the pulse."
Bigger Circle, More Opportunities
The more people you know, the more things you can do.
"A WordPress network can help you achieve multiple objectives because it creates opportunities," Vova says.
As a perfect example, Freemius just launched the first two episodes of season one of plugin.fm, our very own podcast. It's been two years in the making, and a major — perhaps the biggest — contributing factor to making it happen was the quality of the guests we interviewed. I'm pretty sure they wouldn't have agreed to be on the podcast if they had no idea who I was or what Freemius does. Guess how I established credibility? That's right — by going out and expanding my WordPress network.
But the opportunities don't end with podcasting. A WordPress network is the key to unlocking business opportunities like collaborations, potential partnerships, and more. "It's amazing what a good conversation, a few laughs, and buying a round can lead to," Vova jokes.
Getting to Know the WordPress Business Mindset
WordPress is an entrepreneurial industry, and like any enterprising playground — be it Silicon Valley or your local neighborhood goods market — there's a prevailing mindset among the traders.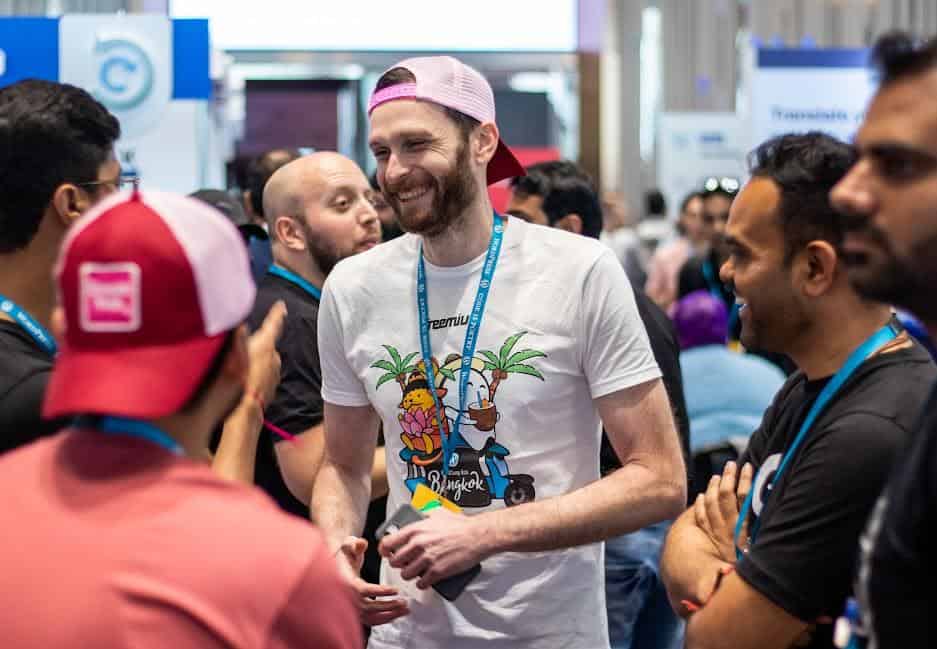 Vova networking at WordCamp Bangkok, February 2023
"A lot of WordPress networking is digital, be it threads on Twitter or discussions on Slack," Vova explains. "The thing is, there's a lot that you just can't get from text on a screen, of which the most obvious are social cues and reactions. Interpreting and responding to them in real life will take the conversation to new personal and intellectual levels. These interactions are invaluable for understanding how successful WordPress entrepreneurs perceive and approach the industry."
Establishing Yourself as an Expert
"I think one of the biggest goals for an entrepreneur is to be recognized as an expert in their field because it lends them credibility," Vova muses. "And part of becoming number one is being involved with people, opinions, and current events."
By creating a WordPress network and interacting, you're able to share your knowledge and expertise, which builds your reputation as a trusted authority. This is not only beneficial for your personal brand — expanding your WordPress network while cementing your rank can unlock doors to opportunities like partnerships and collaborations, too.
Marketing and Business Promotion
It might seem obvious, but expanding your WordPress network is one of the best ways to market and promote your WordPress business and your products. The most clear-cut way to do this is by pitching or discussing them with fellow WordPressers, but it's the ripple effects that end up making the major waves.
The WordPress industry is made up of product makers as well as speakers, podcasters, YouTubers, bloggers, and influencers. By pitching your brand or product to them, you can:
Get promoted in absentia via word of mouth.
Have your product(s) or service(s) reviewed on well-known platforms, which will inevitably lead to sales and traction (assuming what you're offering is good, of course, 😉).
Receive feedback that'll help you improve your offering.
Speaking of feedback…
WordPress Networking Leads to Community Support and Collaboration
Although the WordPress market is competitive — like any healthy market should be — the community is incredibly supportive and passionate about helping others improve their products. It's all part of WordPress's open-source nature, which I discussed at length in Contributing to WordPress: The Good, the Bad & the Polyglot.
Believe it or not, competitors can be your biggest allies when it comes to promoting your business. "Suppose you've made a connection with someone who offers a product or service similar to yours," Vova says. Down the line, a potential customer/established contact wants to make use of their product or service, but they (your competitor) realize that their offering is lacking a prerequisite function that yours possesses. They'll be naturally biased towards your product or service and will readily recommend it."
Roll a Snowball
Figuratively, that is.
How not to build a WordPress network
The journey of creating a WordPress network has an undeniable snowball effect — one meaningful connection could lead to countless new opportunities and introductions. "All the like-minded people you form relationships with are likely acquainted with other people that you'll also want to connect with," Vova explains.
As your WordPress network grows, your exposure to other people's WordPress networks will increase exponentially. It's simple math: every node [read: person 😂] that you add to your WordPress network potentially connects you to all of the nodes in their WordPress network. If you persist, then at some point you'll be able to reach out to virtually anyone for whatever incentive you're after.
Developing Social Skills and Building Confidence
Growing a WordPress network isn't only about expanding your professional circle: it offers an opportunity for personal growth, too. The more you engage in networking activities, the more you'll develop social skills, build confidence, and refine your communication style.
And becoming better at networking in WordPress will do more than help you get through stressful family lunches/go on more dates.
"Good social skills are an essential part of any entrepreneur's toolkit, whether they're a technical or business founder," Vova insists. "You need to be able to go out there and meet people to expand your WordPress network and create new opportunities. It's very hard to grow and propel your business if you don't have the skills to convey your vision to others."
Assuming you're convinced that stepping away from the air fryer and the office chair has perks 🤝 … Let me show you why the proof is in the pudding.
How Building a WordPress Network Has Helped Freemius
Networking has facilitated various opportunities that helped our company grow. "Many of our larger partners came onboard thanks to networking, often when an existing partner or contact recommended us," Vova says.
But apart from business benefits, creating a WordPress network has also opened the door for impactful marketing collaborations. These range from inviting guests to our new podcast plugin.fm and getting featured on other podcasts to participating in panel discussions and guest-blogging on other sites.
The WordPress ecosystem is equal parts software and community — two hands that wash one another. And building a WordPress network isn't only about expanding your business or improving your offerings. Being welcomed into the community means having access to a global support network of like-minded peers with shared interests. Whether you're interested in learning about a new online trend or planning a trip to another city (like Cape Town 😉), you're assured of people who have your back and your best interests at heart.