The freemium business model is popular among WordPress and SaaS solutions because it increases the likelihood of users upgrading to paid licenses. It typically includes a free product and the option of a paid upgrade for extra benefits, such as advanced or additional features.
Increasing the freemium model's rate of success, the WordPress.org repository provides a convenient way of distributing free plugins and themes at scale — and because it only offers free products, it's one of the most effective and popular options for WordPress businesses.
This is because converting free users to paid users is essential for commercial success with the freemium business model, and most of the products using it can achieve a 1-2% conversion rate. At the top end, this goes up to ~5%. While these numbers can go higher, this tends to be limited to plugins and themes with a non-standard free version. For instance, a version that is effectively a demo of the paid version.
In the past, you just had to exist to succeed with freemium: you release a free product, people use it, and it being free is enough. This is rapidly changing because WordPress is maturing, and offering a free version without implementing a wider marketing strategy is no longer sufficient.
If you're going to do freemium, you need to go all-in and treat it as a marketing channel. With anything less, the business model becomes inefficient because 98 or 99% of your free users never convert. You need to market your free version with the same intensity you would when promoting a paid tool, paying special attention to onboarding, upgrade flow, and visibility.
This post looks at freemium upgrades, and how to get way more of them for your WordPress plugin or theme. We'll look at:
Onboarding to help users achieve more with your product
Upgrade flow to tease paid features and encourage conversions
Visibility through SEO, WordPress installs, and reviews
Let's jump in!
Onboarding: How to Hook Your Free Users
Get Users up to Speed With Your Plugin or Theme
The onboarding process helps customers get set up. This is vital because free users are less likely to upgrade if they haven't used the product successfully.
In-product onboarding does require a fairly significant amount of development, and some product owners struggle to prioritize it because they don't feel it improves their offering and would prefer to develop new features.
While that opinion is fair, I'd argue that if your customer isn't set up properly, your product's other features provide very limited value. Good onboarding reduces the abandonment rate, which optimizes conversion so that you can turn more free users into paying customers and increase your effective growth.
Dedicated Pages
After users have installed your product, they can access your dedicated page from their WordPress dashboard, and this often becomes the starting point for onboarding.
This is not limited to plugins or themes: you can also take inspiration from WordPress version updates. For example, after installing WordPress 5.7, users are introduced to new features and changes, with tabs that provide further information on topics such as privacy.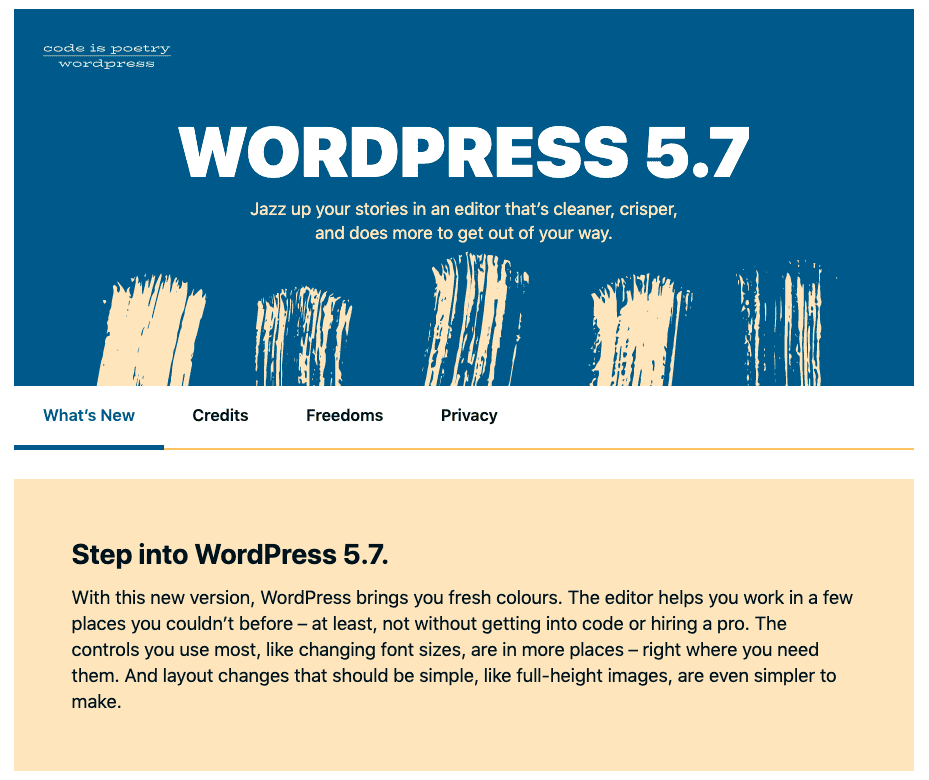 Users who scroll down the page will find further details, an onboarding video, and screenshots.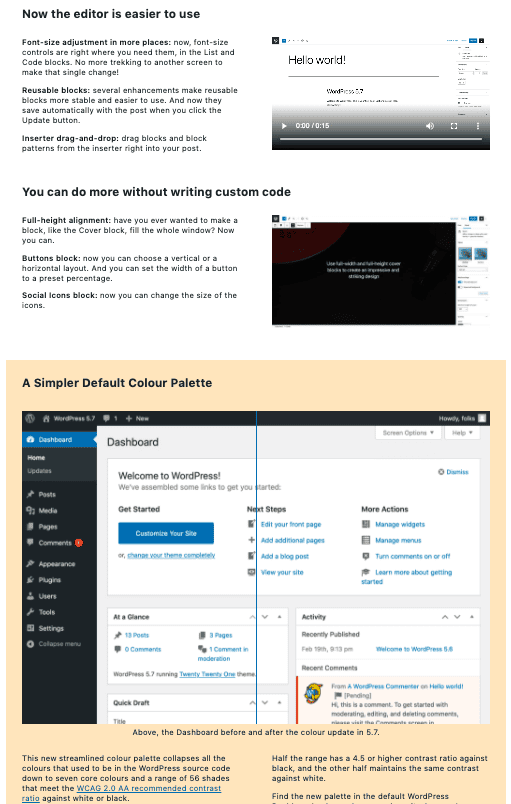 Much of the information is contained on the page, but it closes with a link to the WordPress 5.7 Field Guide, which signposts to various guides that dig into the specifics.
While WordPress 5.7 isn't upselling, this is a good example of simple onboarding that provides a route to more detailed documentation.
BlogVault's dedicated page uses less real estate but provides a lot of content, helping the free user get up to speed with the technology while demonstrating the brand's good reputation and promoting the paid version. It includes a:
video walkthrough
positive testimonial
free back-up to encourage first use
list of benefits
dedicated box upselling to the premium version
selection of customer brand logos demonstrating popularity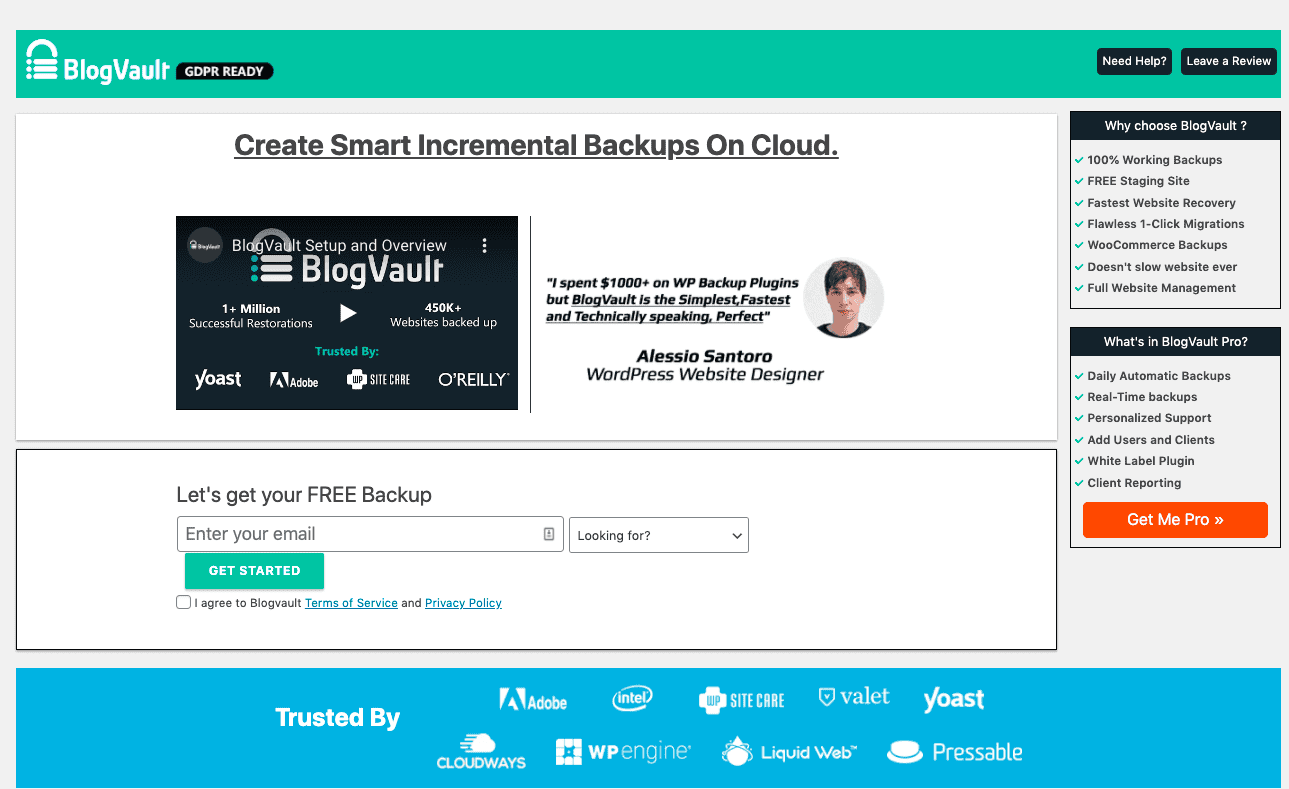 Full-Screen Wizards
Dedicated pages can also link to interactive guides of full-screen wizards, or you may wish to auto-redirect to this. MailPoet uses this to help new users get set up. It's quick and easy to complete, leaving the impression that the plugin will be equally user-friendly.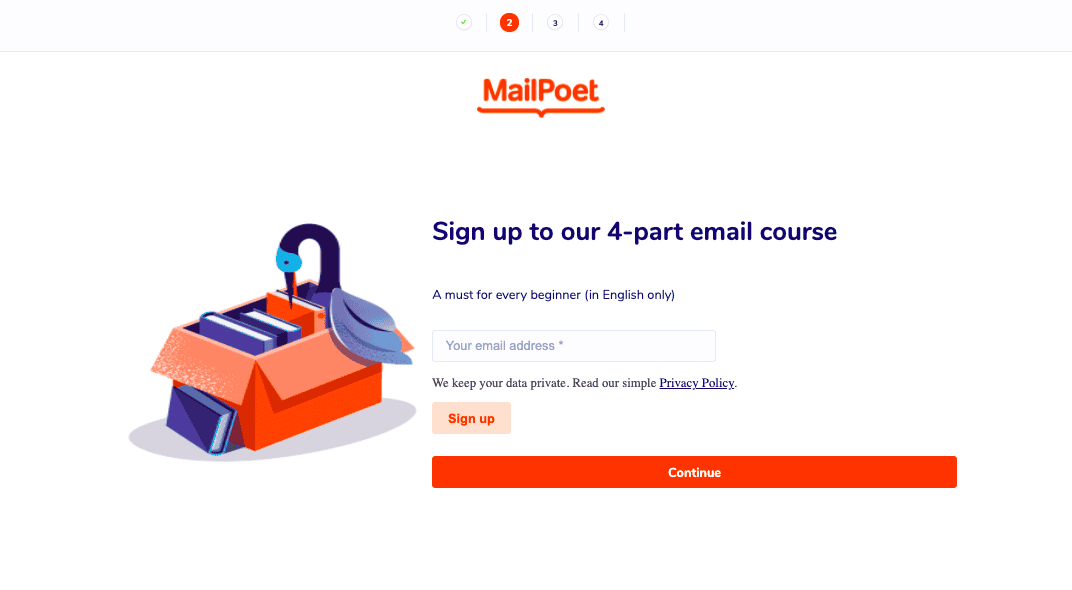 During the onboarding, MailPoet promotes an email course for beginners. Presumably, this training will focus on helping users get comfortable with the concept of email automation and using the plugin. Capturing email addresses at this stage is really valuable because email campaigns provide you with a vehicle for educating users and getting free-to-paid conversions, which I'll cover more below.
To finish, MailPoet highlights its paid upgrade, which remains free until you exceed 1,000 email subscribers.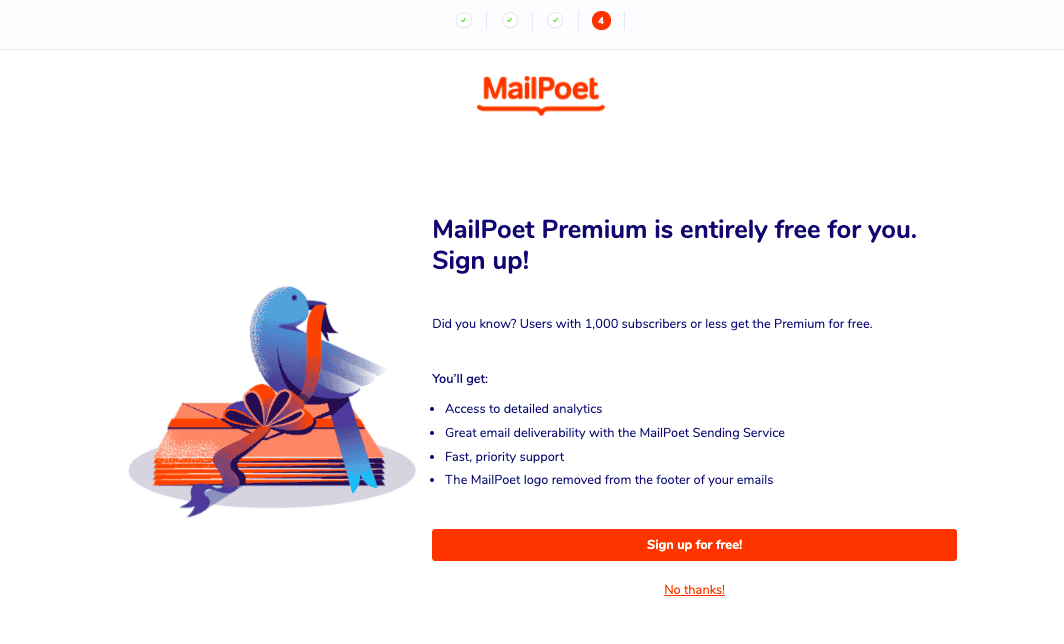 Steps you can take:
Create a dedicated page
Embed a video and links to documentation
Add a call-to-action that encourages users to upgrade
Promote a free course that includes some sort of lead generation
Build an onboarding wizard to complete the setup
Look to remove blockers to user uptake or conversion
Use Email Automation to Teach and Convert
Collecting emails from free users means you can set up an email automation sequence to provide them with useful information. Emails are a great way to inspire: you can reinforce the benefits of your product and encourage people to use it while providing a space for you to upsell, possibly with a time-limited discount to create urgency.
Strong email onboarding campaigns will usually combine educational information to get users up to speed, blog content that they'll find interesting and will strengthen the connection with your brand, and opportunities to upgrade to the paid version with an exclusive discount.
Sleeknote has shared its own email sequence, which includes:
A selection of their best blog posts
Promotions for live training
Exclusive offers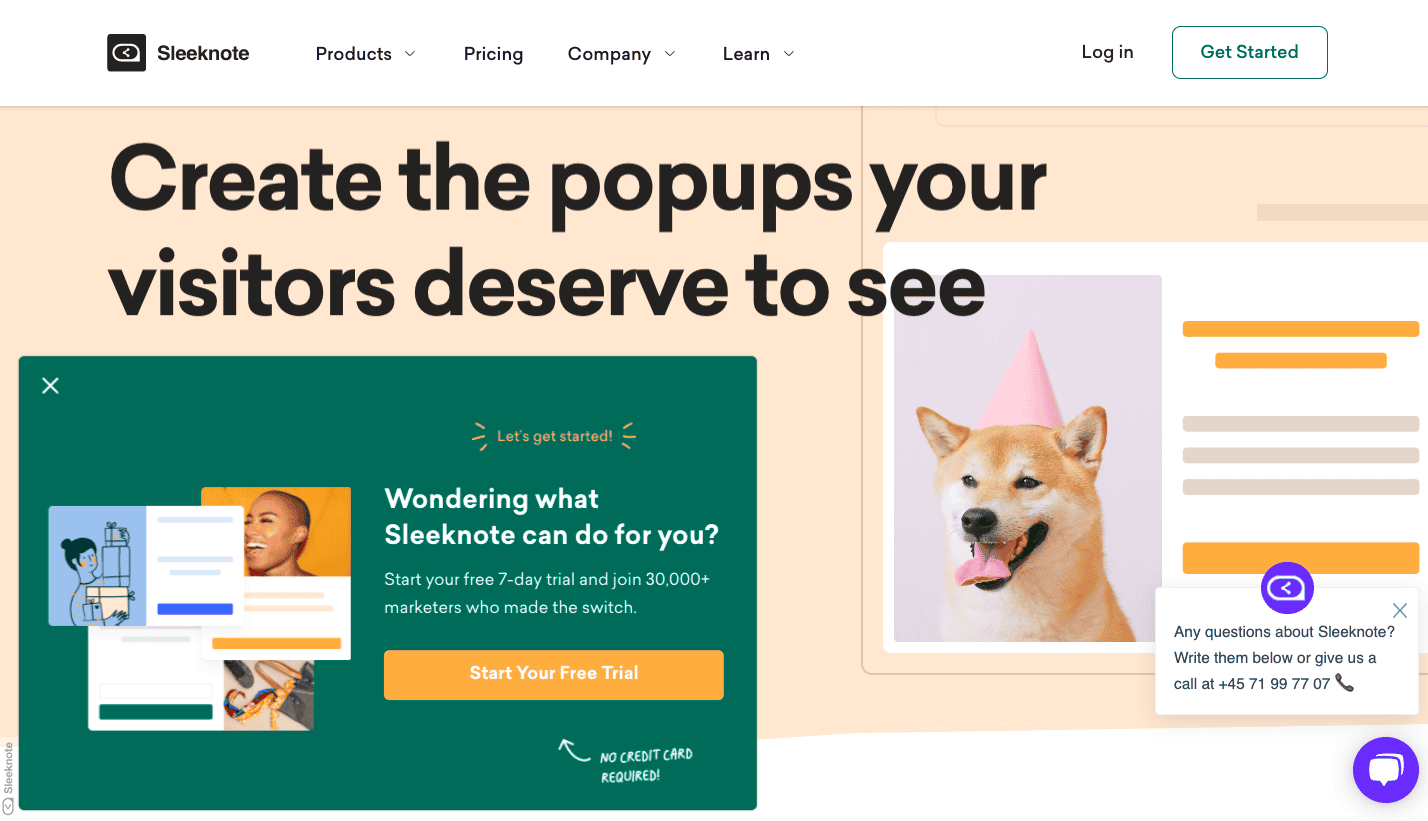 What Sleeknote does well is personalizing emails to suit each buyer's journey. The first email gets users to segment themselves by clicking a link that best describes them (think "I own an eCommerce business" or "I work for a SaaS startup" or "I am a product owner").
They use this information to provide relevant content and continue to segment the user journey based on whether the free user takes up the training or exclusive offers.
Another good example of how email content can integrate upselling comes from WordPress.com. Its newsletter provides marketing tips, blogging inspiration and tutorials, and a call-to-action, which might promote an educational feature like a course or webinar or a paid feature. In this case, it's encouraging an upgrade by highlighting design customization features available with a paid plan.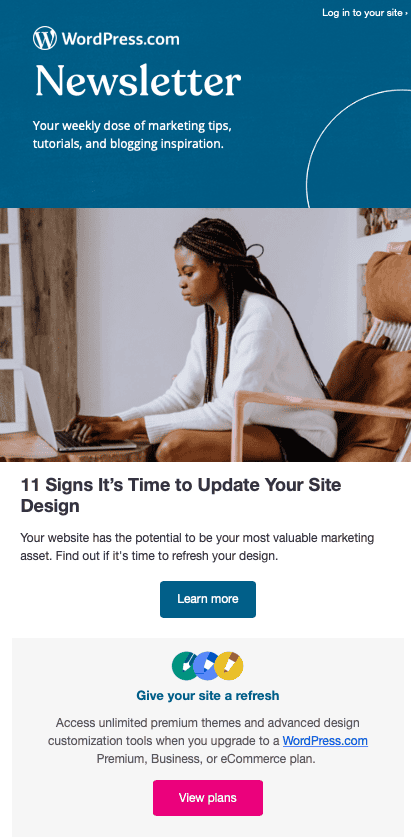 Before we move on from emails, one final note: you need to collect email addresses with proper permissions, making sure your users know what they're signing up for. The most successful plugins and themes ask for emails after installation, promising information about new features and security updates, plus marketing. Solutions such as Freemius can, of course, make this easy for you.
Make Support Easy to Access
Customer support is a powerful tool when used correctly, and products with very high review rates typically make it super easy to access free support.
How much support you provide — and for which types of users — is up to you. Some plugins and themes provide live chat support for all users, which is a generous use of your resources when the majority of your users aren't paying. Others have clear information on how to get help, including estimates of how long different methods take.
For example, you could provide a link to the WordPress.org forums that your team checks a couple of times a week, and encourage users to post there, setting expectations by making typical response timescales clear.
You could also provide a second option, like an invitation to join a Facebook group you run, where they can get unofficial support from the community. This is useful if they are more likely to get a faster response from the community than official forums. A great example of a Facebook group for user-to-user support is the Yoast unofficial support group.
is Hiring
eCommerce Migrations Specialist
Manage the license migration and product integration process for plugin and theme businesses who are starting to sell with Freemius.
Upgrade Flow: How to Convert Free Users to Paying Customers
Improve the Visibility of Paid Features
Upgrade flow is the most effective conversion tactic for freemium products. Basically, you make sure free users know about your product's paid features by listing them in the free version while blocking their usage.
Upgrade flow is the most effective conversion tactic for freemium products.Tweet
This works for conversions because while free users haven't made an initial financial transaction, they have made a time commitment and an emotional investment. From here on, you can upsell to people who already have a relationship with your product.
Let's say your free users have your product set up and running when they realize it has an upgrade option with a feature they need. Tease a paid feature they desire and they are more likely to upgrade with your product than try a competitor — all they have to do is click a few times and pay what's usually a relatively small price.
Your product feels familiar, it's already installed and waiting to be extended, and there's no need for them to spend time or energy researching, testing, or configuring a new tool all over again.
It's a no-brainer, but few businesses capitalize on this.
Take the FooGallery plugin for instance: the free version offers a number of features for tailoring the appearance of your image gallery. For more customization functionality — unique gallery thumbnail filters in this example — users are encouraged to try out the PRO version of the product via a 7-day free trial or a paid upgrade. It won't take too much to convince users who are familiar (and happy) with the plugin to jump straight to the paid plan.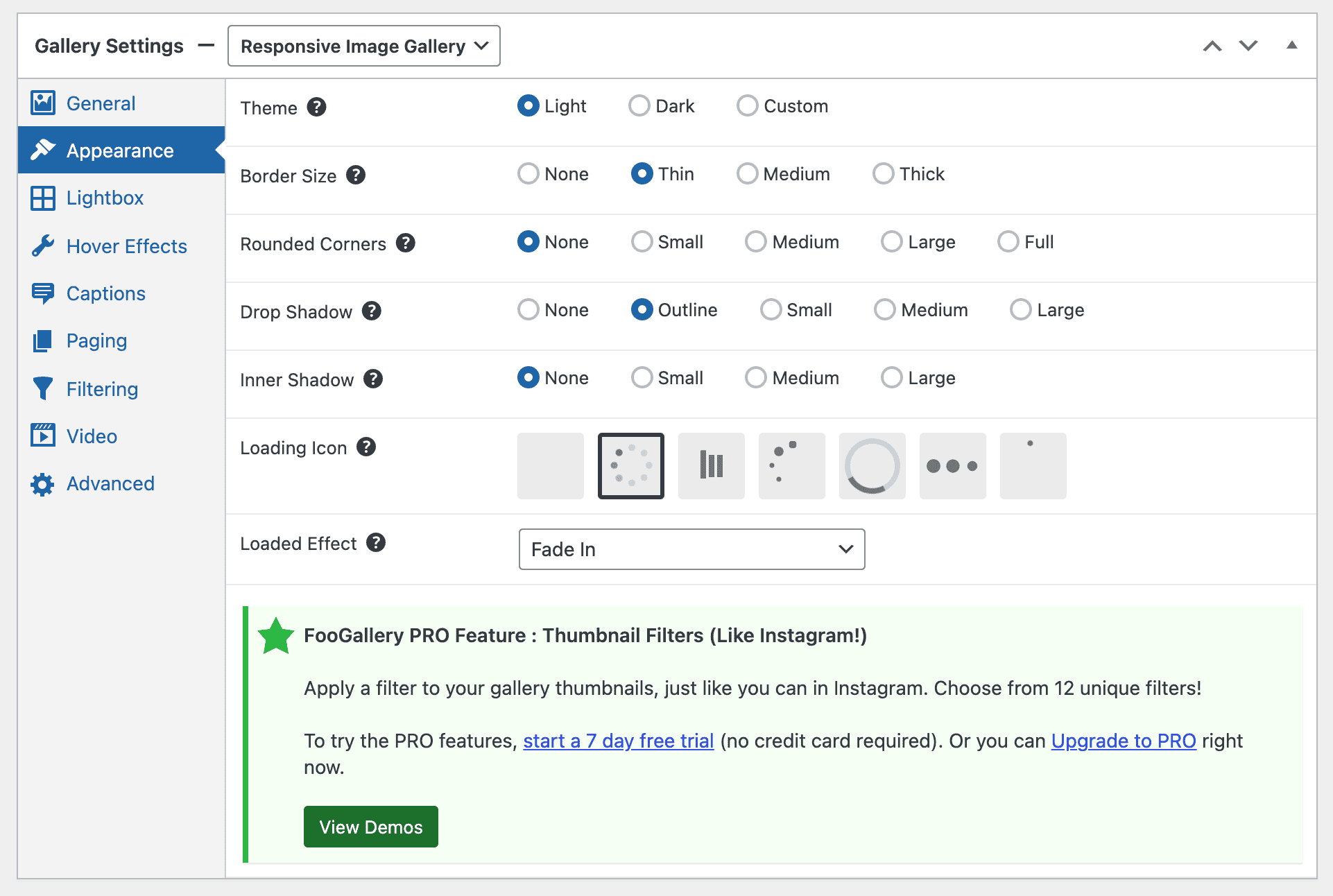 You might find that teasing paid features annoys some free users, but it also makes them aware of what else they're missing out on. Embrace that friction as part of your marketing strategy to find a balance with upgrade flow that works for your business.
Exclusivity, Scarcity and Urgency
Scarcity makes a product appear more valuable. Urgency encourages you to act now. Exclusivity drives up demand by making a product appear desirable.
eCommerce businesses employ these tactics to indicate stock shortages:
Almost gone!
Small; Medium (sold out); Large (sold out)
Courses and 1:1 coaching usually highlight capacity restrictions:
2 spaces left!
90% booked
Scarcity, urgency, and exclusivity work for the freemium model by promoting exclusive upgrade deals for free users:
Available for a limited time only!
Limited to 100 licenses
Exclusive upgrade offer for existing users!
For a blueprint to create demand and build hype, we can look to HEY, created by the team from Basecamp as an answer to the entrepreneur's gripes with email:
Invite-only — making it exclusive
Initially limited to 200 new users per day — making it scarce
Panic was rising to download the app in case it got pulled — making it urgent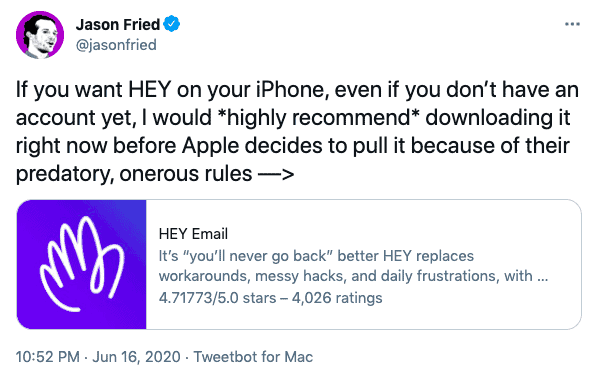 Partly through top quality pre-launch marketing and partly by riding the waves that were presented, HEY made the top 100 productivity apps by daily downloads the day after its launch.
Put It Into Practice With Discounts
Logic tells us that freemium customers will respond well to competitive pricing. The likelihood is they've chosen your freemium product, at least in part, because it is free, so it makes good business sense to offer some special deals for upgrades.
Because you have unlimited replication, you can't "sell out" when promoting a software product. This means the sense of scarcity and urgency has to be simulated. WPForms offers a huge artificial discount for free users using cookies and combines this with a countdown timer to add urgency. Their strategy is to start with a higher price that gives them plenty of room for a steep discount.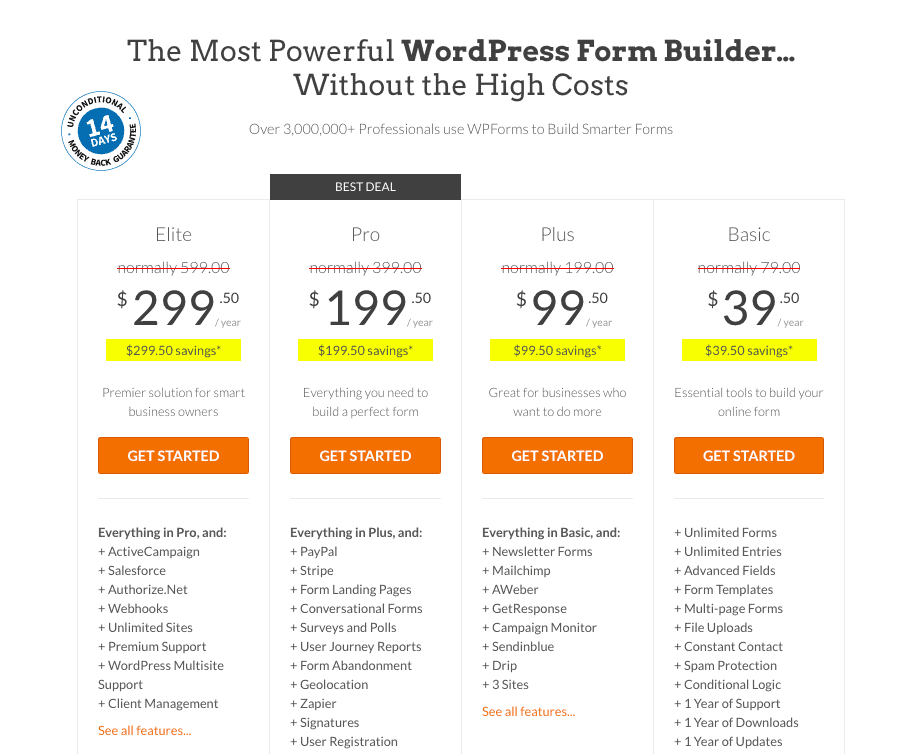 Be wary that exclusivity, scarcity and urgency can feel insincere, especially when simulated with digital products. They are effective and if you want to use them then that's a reasonable decision you can make. Here are some tips to counter this and keep your promotions feeling genuine:
Consider valid reasons for applying limitations that also create scarcity. For instance, without the right infrastructure to support it, an influx of free customers can be bad for business if:
problems with scalability cause downtime
your support team gets overwhelmed with new requests
customers who joined impulsively do not stick around for long
Creating limitations for deals to help your business manage the fruits of marketing is sensible, even though you aren't going to run out of stock.
Work with your brand, not against it. You don't need to simulate such urgency that you create panic by promoting your deals in all capitals with multiple exclamation points and less than an hour's countdown. Instead, you can create offers that match your brand image and values while boosting sales.
Tailor your campaigns to reflect what your target audience really likes, wants, or needs. You can create offers that are genuinely useful and appropriate, showing them value while using sales tactics to encourage them to make the decision to buy.
WPForms are comfortable with discounts, and this enables them to get creative, for example by adding gamification to their offers. In this example, you get the chance to win a discount after you provide your email.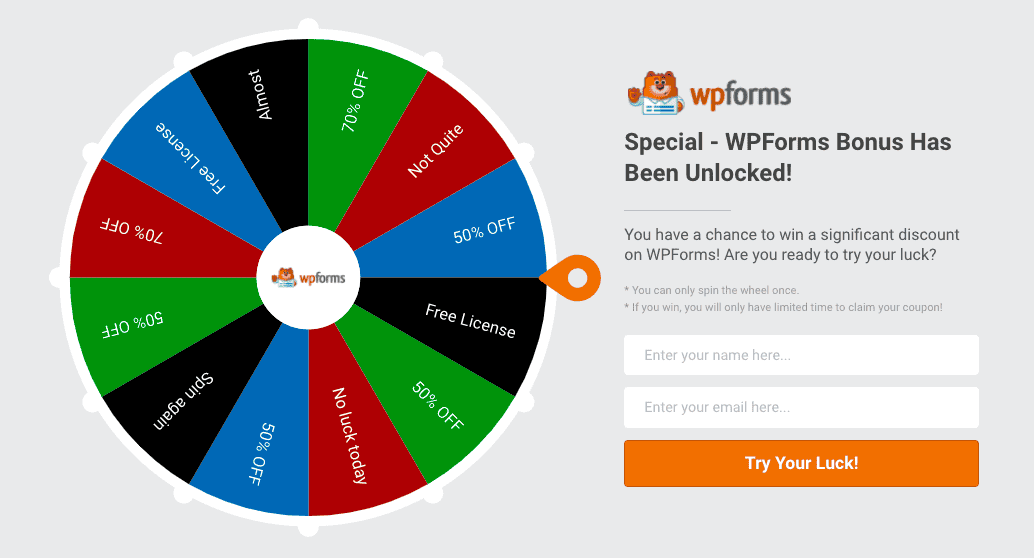 If you win, you get a coupon to redeem your discount. They use your email to follow up if you don't go on to make a purchase: "I noticed you still haven't purchased WPForms. Is there anything I can do to help you get started?" This kind of gamification – the opt-in is literally a roulette wheel – is moderately manipulative but probably very effective.
This gives you a second chance to make the most of the discount, and it's nicely done. While this particular campaign is not limited to existing free users, it's worth mentioning purely for its creativity.
Even if you don't want to offer such large price cuts, consider a modest discount of 5-10% on upgrades for free users. Run this offer with limited availability, such as for the first 24 hours after sign up, and it will almost certainly boost your conversion rates.
Be sure to read up on rules or regulations around sales promotions. For instance, discounts offered to UK consumers must present genuine price reductions and be limited to set periods of time.
Visibility: Use SEO, Installs and Reviews
Get More WordPress.org Installs
A simple formula for improving sales is to focus on increasing WordPress installs from free users, because more installs mean more conversions. You can do this by making your product increasingly visible in relevant search rankings.
While we don't know how many people search for each keyword on WordPress.org or within their WordPress Dashboard, we do know what those numbers are for Google searches. Therefore, we can use Google searches as a proxy.
Typically, this involves adding words or terms that are not needed when searching on WordPress.org – such as "WordPress" and "plugin". As an example, you might search "WordPress security plugin" on Google but just "security" on WordPress.org.
I recently wrote about a huge increase in searches for WordPress solutions — specifically, a 52.29% increase in one month and 85.10% increase over one year. This acceleration opens up the WordPress ecosystem to new commercial opportunities, including a ~20% increase in searches with high purchase intent.
A lot of progress has been made in this area within the last year or so, and the big innovation has been Plugin Rank.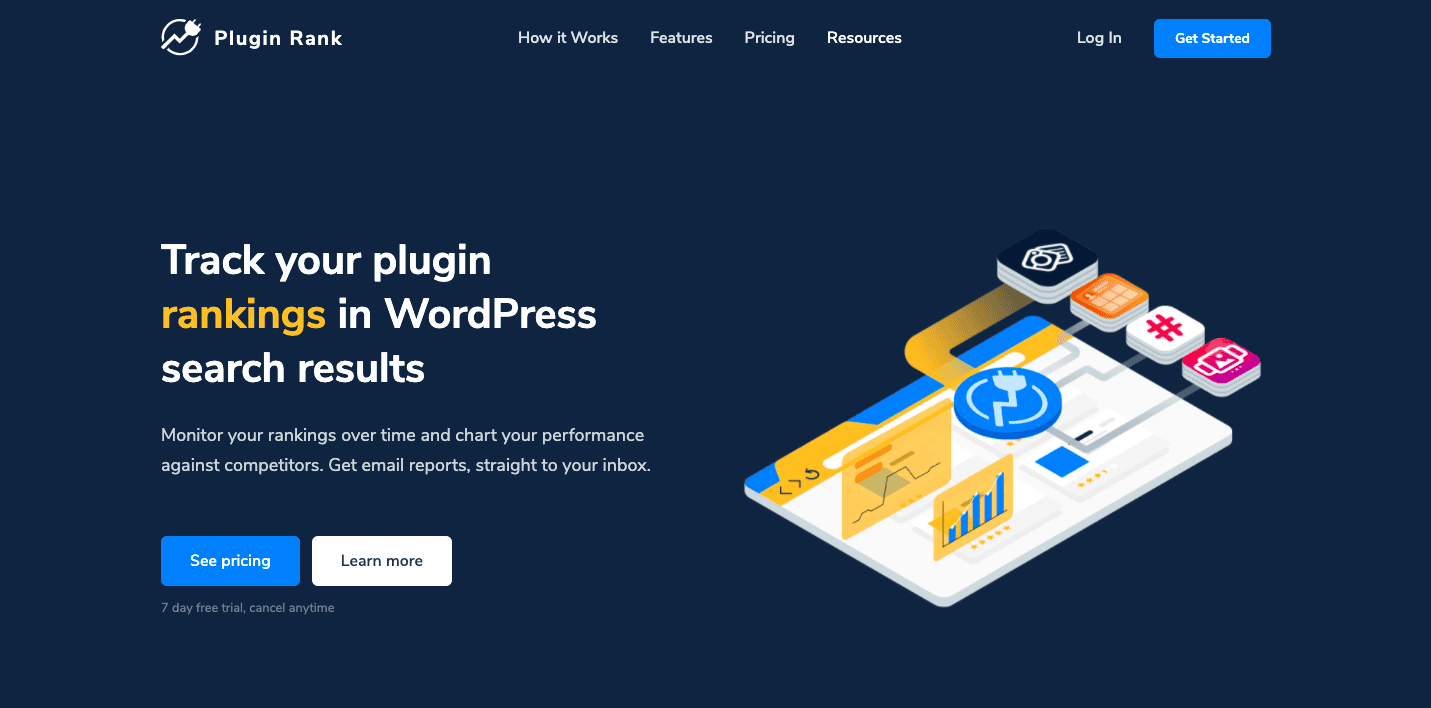 We helped Iain at Plugin Rank (now part of Awesome Motive) turn our clunky WordPress.org keyword identifier spreadsheet into a part of his product. While our sheet version does work, it is fairly unintuitive. Signing up for Plugin Rank will get you easy-to-use recommendations for which keywords your plugin should focus on, and then easy tracking of those rankings so you can optimize for the keywords and track your progress.
Improve WordPress.org Ratings
In my opinion, the number of 5* reviews a plugin or theme has is a slight red herring, and people probably care a little too much about this. Ratings are important, but they're not the most important thing.
That said, there are some tactics you can use here. Getting good reviews and ratings helps you demonstrate that your brand has a solid reputation. It's a form of social proof and it works as part of a cycle that attracts more free users, including the percentage who will convert into paid users. 5* reviews help with rankings too.
If you want to get more 5* reviews, reach out and ask for them. Here are a few ways to do so:
In the WordPress dashboard, add a:

banner
permanent footer link

Use emails and two-way communication platforms:

through your automated onboarding email sequences
after providing top quality support
for one-to-one outreach that gives a personal touch
Grab a free copy of our
Cheat Sheet for Selling Themes and Plugins
A growth roadmap with concise, actionable tips for every milestone of WordPress product development.
Share with a friend
Enter your friend's email address. We'll only email them this book, scout's honor.
Thank you for sharing
Awesome - a copy of 'Cheat Sheet for Selling Themes and Plugins' was just sent to . Want to help us spread the word even more? Go on, share the book with your friends and colleagues.
Thanks for subscribing!
- we just sent your copy of 'Cheat Sheet for Selling Themes and Plugins' to .
Have a typo in your email? click here to edit the email address and send again.
Your Next Steps for Getting More Freemium Upgrades
Some of the topics I've covered here are explored from different perspectives elsewhere on the Freemius blog, such as nailing first-time user experience, using contextual discounts to increase conversion rates and getting the most out of reviews and testimonials. These are worth a read, and it's also worth taking a closer look at freemium features like software licensing, taking payments and subscriptions and analytics.
If you want more help with marketing strategy and implementation, the Ellipsis blog has regular content. If you need expert marketing help, get in touch for a no-obligation chat. Our clients range from some of the fastest-growing WordPress products to the biggest WordPress product and service businesses in the world, and we'd love to help you.
Have any other tips and techniques to increase freemium upgrades for your WordPress products? Let us know in the comments below!
Alex Denning is the Founder of Ellipsis, a marketing agency for WordPress businesses. Alex also co-authors MasterWP, the weekly newsletter for WordPress professionals. He's @AlexDenning on Twitter.