A proven practice for improving conversion rates is showing user ratings and reviews. Freemius helps you gather reviews automatically, out of the box and with zero setup.
Managing Reviews
Your product reviews can be managed via the Reviews section of the Developer Dashboard: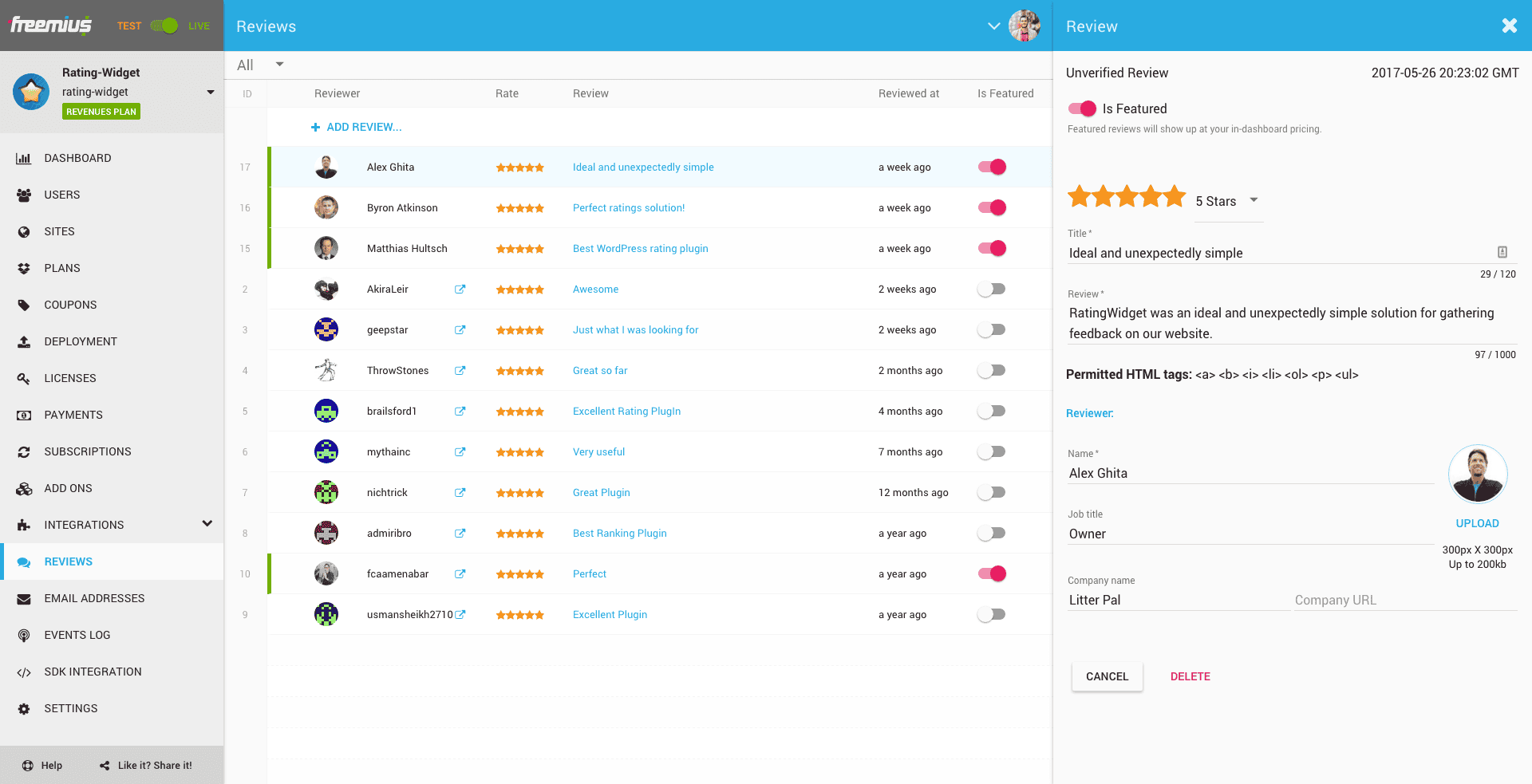 Reviews Collection
Verified Buyer Reviews
A week after a purchase is made, Freemius will automatically send an MAP (Mail After Purchase) email to the customer, asking them to review your plugin or theme. To make it as easy as possible for customers to provide feedback, we use a technique that embeds the review form directly in the email.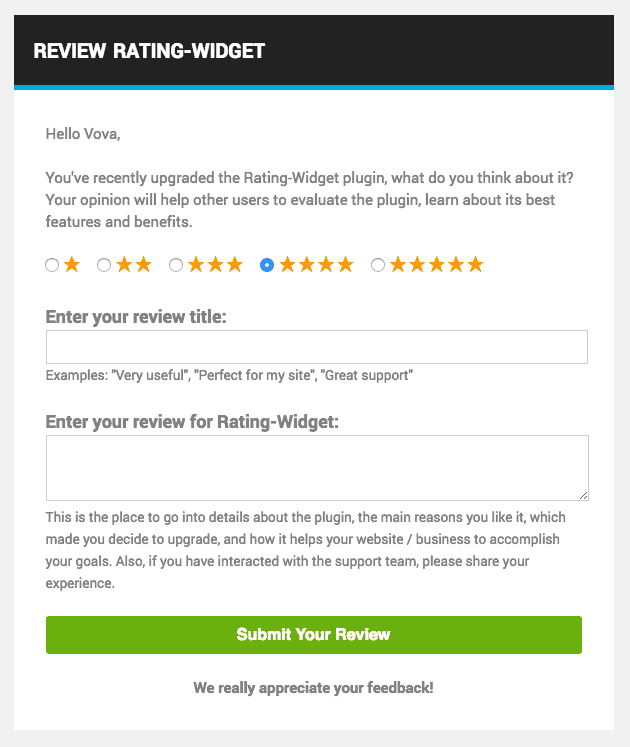 This lets customers review your plugin/theme without leaving their inbox, which is proven to increase conversion rates for reviews by more than 100%.
If for any reason you'd like to turn off the automated review request emails, you can do so in the Notifications center in the Developer Dashboard.
If the customer only submits a partial review from their email, they'll be forwarded to a review form to complete the required details:
No feedback will fall through the cracks, and you'll be notified via email every time a customer leaves a review.
By replying to the email notification, you can easily engage with a reviewer to thank them or ask for follow-up details.
This is yet another feature that you receive for free! If you shop around, you'll find that other services charge hundreds of dollars a month for this functionality.
WordPress.org Reviews
If your product has a free version available on WordPress.org, verified reviewers who left a 5-star review will receive a personalized automated email. The purpose is to encourage them to copy their review and re-post it on WordPress.org, which will have a huge impact on search ranking.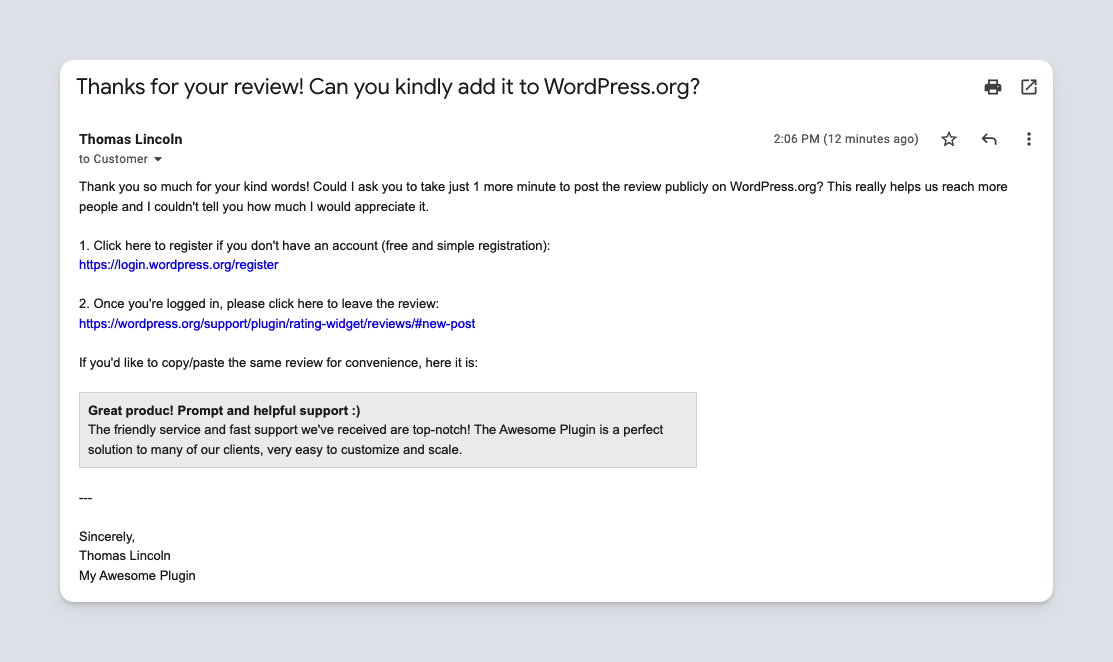 In addition, Freemius will automatically import your most powerful recent reviews once a week. This helps you manage your best reviews from one centralized place.
Featuring Reviews
You can flag your best reviews as 'featured' to include them in a testimonials carousel on your in-dashboard pricing page.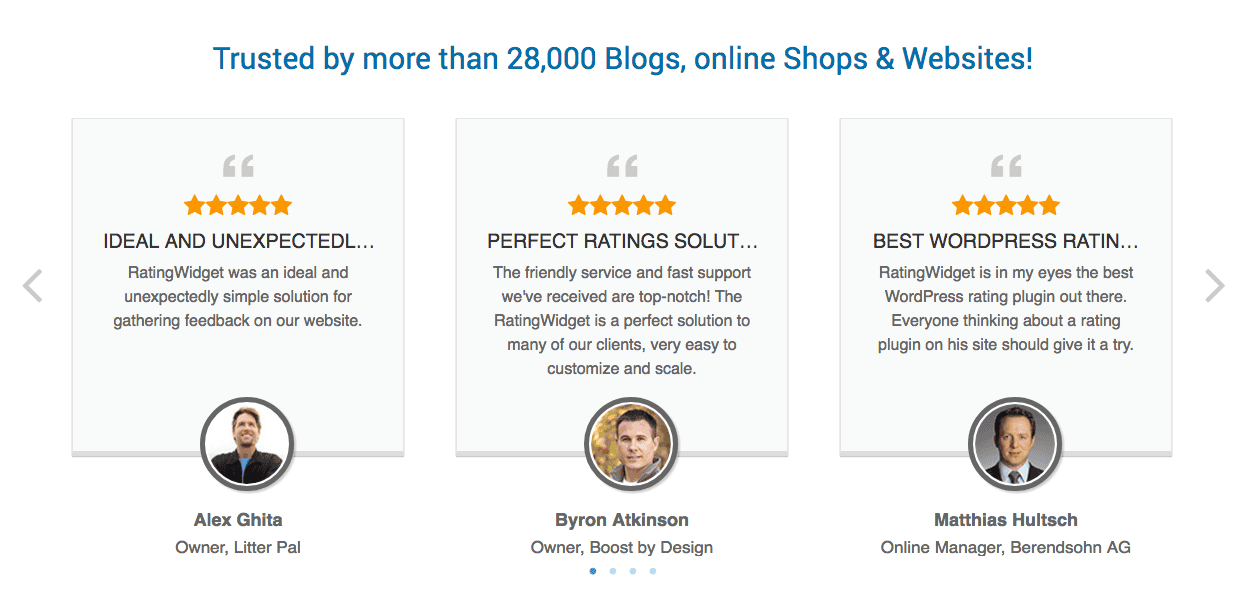 In future, we also plan to include feature reviews in certain transactional emails (e.g. Cart Abandonment Recovery emails).
Shareable Cards for Social Media
Received an awesome review? That's great! Next to every review is a SHAREABLE CARD button that creates an image card. You can share these on your social media channels to spread the love received from your customers.

FAQ
Can I manually add reviews?
Yes! Simply hit the [+ ADD REVIEW] button at the top of your product reviews list to add new reviews.
Can I edit reviews?
Only manually added reviews, or reviews imported from WordPress.org, are editable. For integrity, verified buyer reviews collected from customers can only be edited by their reviewers.
Do we need to ask for permission to use verified buyer reviews publicly?
Verified buyer reviews are meant to be used publicly. When a customer reviews your product, they are effectively consenting for it to be made public after submission.
How can I send a "thank you" to a customer who left a review?
When a customer submits a review, you'll receive an email notification with the review's rating and content. The notification's replyTo email header is set to the customer's email address, so you can easily hit the reply button to message the customer. Note, if you are replying from a support system, some of them strip the replyTo header, so make sure to verify the address is not [email protected] before sending the message.
Can I automate a "thank you" email to customers who leave a review?
The easiest way to automate a "thank you" message to customers who leave a review is by leveraging your email client's filtering capabilities by setting an autoresponder template. If for some reason, your email provider doesn't support this functionality, you configure a webhook, listen to the review.created event, and trigger any programmatic logic you wish.